It often happens in a rush to remove a file and retrieve it from the recycle bin later, but when you also empty the recycle bin and the file you were interested in was mistakenly in there? You deleted the file you shouldn't have removed, now what? Don't worry, when you delete data from your hard drive or hard drive it is not removed immediately; if the portion of the disk that hosted the deleted file has not already been rewritten with other data, to make everything unrecoverable, you still have a chance and it is called: EaseUS Data Recovery Wizard.
It is a free utility that allows you to recover deleted files on hard disk and that should allow you to easily restore all those files that have been mistakenly deleted.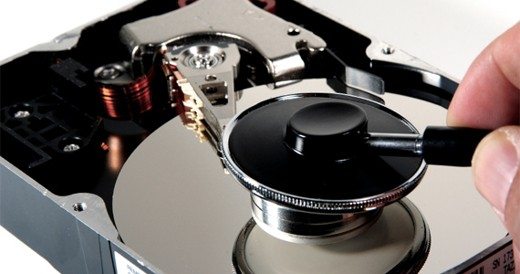 Easus Data Recovery Wizard is a tool that in a few simple steps allows the safe and effective recovery of lost data on hard drives, SSDs, SD cards and USB sticks, whether they have been accidentally deleted or inaccessible due to a hard disk crash or due to the presence of a virus.
The first step to take for recover deleted files on hard disk, is to download for free EaseUS Data Recovery Wizard Free and install it on your PC.
Go to the page ofHard Drive Recovery and click on the button Download Win Version to download the file drw_free.exe for Windows operating systems. At the end of the download click on it to start it and after selecting the language, press the button Ok. The program will inform you that EaseUS Data Recovery Wizard will be installed on your PC: click on NEXT, Then To accept (for the license) and then on Confirmation e Install, to start the installation process.
Warning: avoid installing the software on the disk where the files are lost, you may overwrite them.
How to recover deleted files on hard disk with EaseUS Data Recovery Wizard Free
After starting the application you will notice that you can select the type of file you intend to recover. The formats are classified into 6 different categories: Graphs, Audio, Documents, Video, Email e Other. By default all categories are selected, but for a specific search you can choose the category inherent to the file you are looking for in order to speed up the scanning process. Attention you can have 1GB of additional free data in case you decide to share the Data Recovery Wizard program on social networks.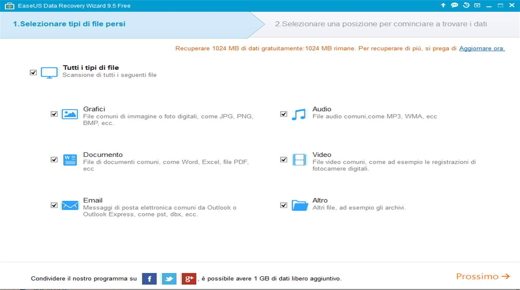 Clicking on Next access the screen where you can select the disk drive for recovery with the free version of 2GB of data. After selecting the hard disk press Scan to start searching for the file you are looking for.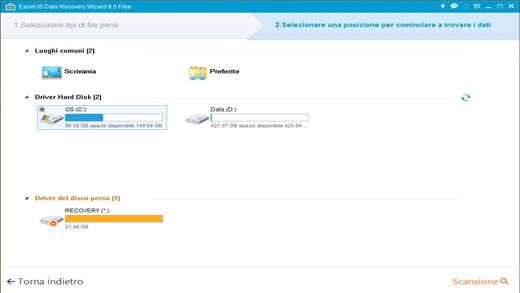 During the scanning phase a bar, positioned at the top of the panel, will show you the speed with which the software is working. In addition to the estimated time, you have two buttons: Continuation e To stop.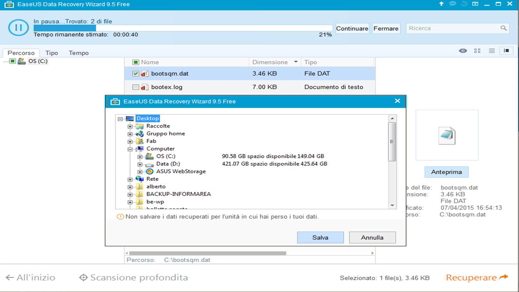 Once the operation is complete, you will be able to view the list of all recoverable files. Select the one you want to recover and click on Recovery. To avoid overwriting the data on your hard drive, I recommend that you save the recovered data to another data drive.
To learn more, take a look at the video tutorial
EaseUS Data Recovery Wizard Free supports all the latest Microsoft operating systems, including Windows 7, 8 and 10, and allows recovery on all common file systems such as FAT12, FAT16, FAT32, NTFS / NTFS5.
Have a Data Recovery Software it facilitates the recovery of data not only deleted but also damaged or stored on a hard disk with faulty clusters.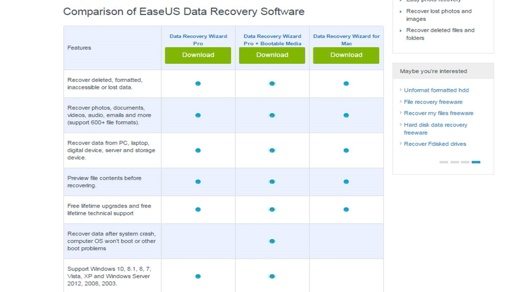 An advanced recovery software like EaseUS Data Recovery Wizard Free also allows the recovery of compressed and encrypted files on NTFS, lost partitions, missing folders and much more. The $ 69.95 professional version, the EaseUS Data Recovery Wizard Professional, on the other hand, in addition to recovery on dynamic volumes, it also allows data recovery on EXT2 / EXT3 file systems, technical support, periodic updates and no data recovery limits.
Also to be considered Data Recovery Wizard Professional + Bootable Media ($ 99.90), which also allows recovery of files after a system crash or other boot problems, and Data Recovery Wizard for Mac, ($ 89.95), specific to Apple operating systems.