You are using the app TikTok for some time but you still don't fully understand how to do live on TikTok? If you already have a good following on this social network and sharing your 15 second clips is generating a good result, it's time to focus on how to do live on TikTok.
Il TikTok live will allow you to create live videos and exploit all the potential of the social network of the moment. If used well, you can get more followers and maybe start selling on TikTok.
Everything you need to know (including tricks) if you want to start successful lives on TikTok
Before revealing how to proceed in detail, it is important that you know that direct streaming on TikTok is only allowed to popular tik tokers. Unlike Instagram where everyone can make live video live, TikTok users must have at least 1.000 followers.
How to live on TikTok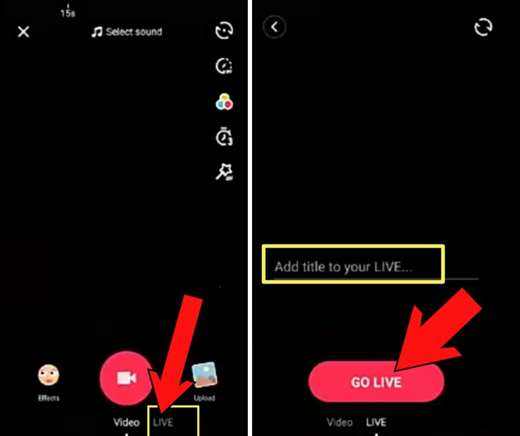 The steps to do live on TikTok are really simple and fast, if you are already an experienced or novice tik tokers, you shouldn't have any problems applying the information below.
In case you haven't yet managed to reach the 1.000 followers threshold to start live broadcasts on TikTok, this guide on how to get more followers on TikTok might be useful. Also to increase your popularity I also recommend how to become famous on TikTok.
How to see live on TikTok
Before throwing yourself into live on TikTok, it's always good to check out the lives of other influencers or musers and try to take a cue from their entertainment skills. Let's see how to see live on TikTok and how to receive live notifications from Followed profiles.
Push notifications for broadcasts can be set on the TikTok app Live recommended. Stop on the icon Me i went his Settings and privacy (icon with the three dots, top right). In the menu that appears, select Notifications push. Scroll down to the section LIVE and stop on LIVE notification settings. In this screen you can decide to receive the LIVE notifications of all the accounts you follow or indicate which account to receive notifications from.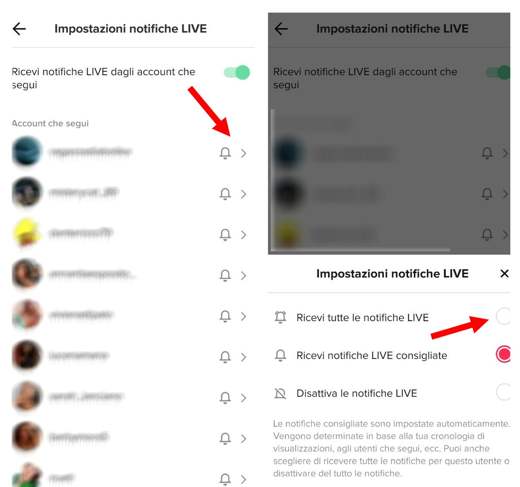 By selecting one, a window will appear where you can select one of the following items:
Receive all LIVE notifications.
Receive recommended live notifications (set automatically by the app)
Turn off LIVE notifications.
Of course, if you always want to be notified when one of your followers is In Live, I suggest you check the item: Receive all LIVE notifications.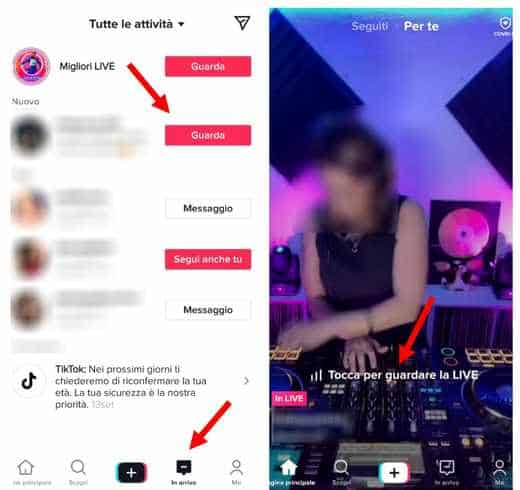 Other ways to go live on TikTok and follow your favorites are:
In the For you, on the main screen, by scrolling through the videos you can find the LIVE videos of the recommended users. The In Live box, at the bottom left, indicates that the user is broadcasting live video.
In the Home on the item followed, if someone you follow is online, you will see the icon LIVE. Tapping on it you will see a miniature list of all the users you follow and who are Live at that moment.



By pressing on the icon Arriving, below, in the section All activities you can see if among the followed there is someone doing a Live and press the button Guarda.
Always from the icon ArrivingIn section All activities, you can see the best LIVE pressing the button Guarda.
How to do a live on Tik Tok without having 1000 followers
To date, unfortunately, it is not possible to do live on TikTok without having reached at least 1000 followers. Given the global success, the developers of the Chinese app of the moment could decide in the future to remove this threshold to allow everyone a greater usability of TikTok Live.
How to live on Tik Tok in 2

TikTok also allows you to do double live (also called Shared Live) by sending a request to your friend, who must necessarily be online.
Start the TikTok app and press the button capacitor positive (+) lead, bottom center, on the main screen.
On the screen where you shoot the videos, press the option LIVE, at the bottom right next to the button Video.
Click on pink and blue circles, lower left
Start directing with your friend by pressing the button Invite.
How to do a successful live on TikTok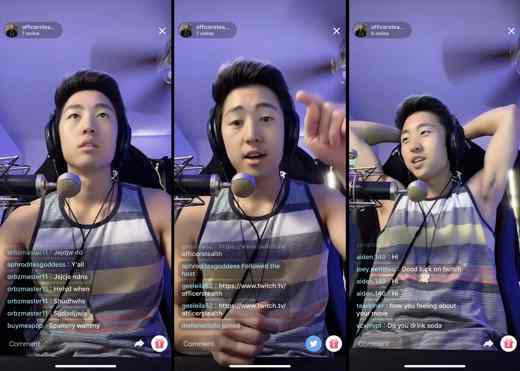 Here are some short and useful tips to make a successful live social.
Camera: To get high quality footage, even a top-of-the-range smartphone is fine. But remember, professionals use cameras that automatically connect to the Internet or have an HDMI output.

Connection: Before starting a live show, make sure you have a good Internet connection. Ideal for transmitting in high quality and without blocks and relying on a Wi-Fi network.

Microphone: a good microphone will help you broadcast your lives and avoid latency or audio loss. I recommend this guide on the best microphones for streaming.
Tripod: Do you want to avoid blurry or flickering footage? Then it is the case to get a compact tripod for devices, in order to have your hands free and move with ease. Alternatively, for those on a tight budget, you can take advantage of a stick per selfie.

Luce: lighting is essential. Try to have the right light to convey: one on you, one behind you and one opposite. Always test before starting a live broadcast. Broadcasting a video in low light will prompt users to leave your live.

Scaletta: always prepare something to follow, as if it were a script, but also leaving space forimprovisation e spontaneity.

Originality: go live on TikTok by creating gods video original will make you enter the special section of recommended, namely i Te. If you post short videos made with originality, spontaneity and the right technique, you will be immediately found by a high number of users and you can increase your followers in no time.

Choose a time: analyze the insight of your page and after a careful study, choose the most suitable time to broadcast in order to involve as many users as possible.

Interact with those who follow you: in addition to reading and answering questions, say hello to your followers and maybe call them by name creating horizontal communication.

Create expectation: try to arouse curiosity among your audience with one preliminary advertising that reveals very little of what your live broadcast will be.