Advertising in free Android games and apps is increasingly aggressive, here are some solutions to put an end to inappropriate in-app ads that drain both your data connection and battery.
Blocking advertising on websites with different ad blockers is possible, but if you want block Android app advertising? In this tutorial I will reveal which tool to install on your smartphone to eliminate the annoying ads that appear when you are on an app and I will give you some tips on how to disable them through the device settings.
How to block advertising Android apps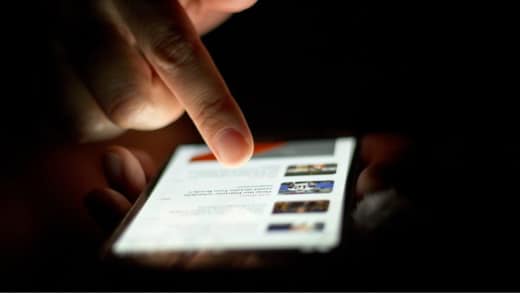 Unfortunately, free apps feature invasive advertisements whose purpose is to push you to in-app purchases, purchase of additional content or services, that's why I want to advise you how to block android app ads. Are you ready? Then let's get started.
How to use Blokada on Android without root

The first method you can apply for remove Android app ads, without the root of the device, is to use Blockada. This is an ad blocker that you will not find on Google Play but that you will have to install manually.
To do this, open your smartphone's default browser and go to the blodada.org site. Press up on the Menu and stop on Download and then Download Blockade.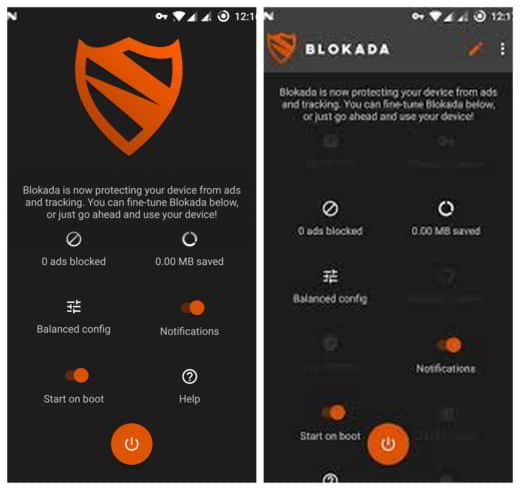 The APK file will be downloaded to your smartphone. At the end of the download, step on the file APK to start the Blokada installation. Remember to activate Unknown Sources, to allow the installation of applications from sources other than the Play Store, from Settings> Lock screen and security> Unknown sources. At the end
How Blokada works. Once Blokada is installed, start it and after specifying whether you are a new user or an advanced user, stop on Continue. Once in the app, tap the shield icon at the top left and confirm with OK to start connecting to the VPN.
After starting it, Blokada will block all the advertisements of your apps, also protecting your privacy and saving you data.
For web browsing from an Android smartphone or tablet you can also try: AdBlock Browser for Android.
How to use AdAway on rooted Android

If your Android device has root permissions, you can try AdAway. First check if the root permissions are set correctly with Root Checker and then download the latest version of AdAway.apk.
Come learn AdAway. After installing it, you can download lists to block advertisements for your games and apps, integrating them into the Hosts file. Click on Download the files and set the ad blocker starting the download of the lists.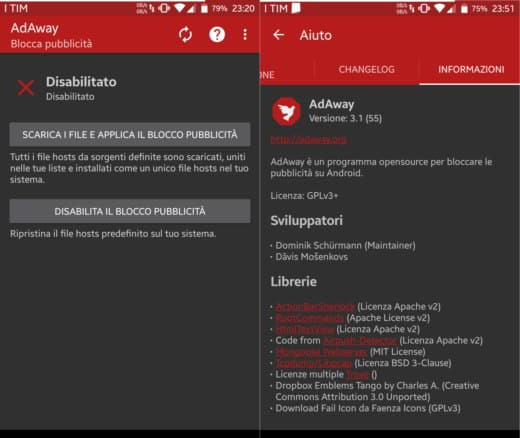 By exploiting the root permissions, the relative changes will be applied. When finished, restart your mobile device.
At startup you will see that by browsing websites or websites or opening games or apps, all types of advertisements will be blocked. I recommend that you activate the automatic updating of the lists by going to Pref Renze and ticking all the items under the section Servizi in background. Remember that a Wi-Fi connection is required for the update.
Block Android apps with a Firewall
If you don't want to install third-party apps, you can use a firewall app that will prevent the offending apps from connecting to the internet. If you want to work without root privileges, I recommend NoRoot Firewall. This is a free app that will allow you to continue to have an active connection and to be able to open apps and games without ads, whether they work with a connection or those that also work offline.
How NoRoot Firewall works. NoRoot Firewall uses its own secure local VPN which it uses to control and route your Internet traffic.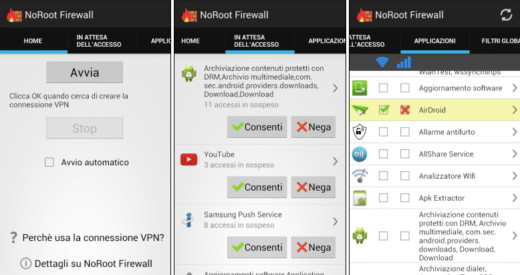 After downloading and installing NoRoot Firewall, go to Start and immediately check the item Automatic start, to enable it every time the phone is started.
Then go to the Applications tab and check the item Authorize applications. Select the ones you deem necessary, for example WhatsApp, Facebook and so on. For all other apps, a notification will appear each time whether to allow them to connect.
Block android in-app ads with airplane mode
The least invasive solution to block advertisements on Android is by disabling the data and Wi-Fi connection so as not to allow the app or game to receive the advertising content to offer.
This solution only works with some apps and especially with those games that also work offline.
If you have an extra mobile device, you can achieve the same result by setting the flight mode, reminding you that you will not be able to receive neither messages nor calls.
Other useful articles