In this simple article I will explain to you how Google Translate works both with the desktop version that can be used from the PC and through the app for smartphones and tablets.
Google Translate or Google Translate is a free service offered by the US company for the translation of sentences, documents and entire web pages into multiple languages.
How Google Translate works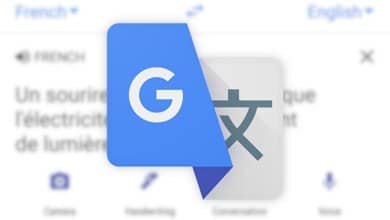 At the time of his birth, back in 2006, Google translator it only allowed translations of single words or short sentences and the option offline it used a series of phrases preset by default on a database, with a high percentage of errors.
After fourteen years we can say that the service has considerably evolved: the company has worked hard to improve the quality of its translator, implementing machine learning even in the offline version and expanding its functionality.
Currently the functions offered by Google Translate include:
Offline translation (without internet connection).
Translation of a document or web page.
Translation of text on an image captured with a camera.
Translation of a freehand written text.
Possibility to carry out a vocal translation.
Using Google translator as a dictionary, with meaning of each word, synonyms, antonyms and use cases.
Google Translate supports 103 different languages ​​and is used daily by over 200 million users.
In this guide we will see together how google translator works, analyzing the different functions offered by both computers and smartphones, in order to make the most of its potential.
How to use Google Translate on PC

Let's start with the web version of Google translator: it can be used by any browser at this address.
To request the translation of a text, you can take advantage of several options:
1. Freehand translation

Freehand translation: the ideal choice for languages ​​with different alphabets or ideograms. In this case you will have to press on button in the shape of a small triangle pointing downwards (located next to the keyboard icon at the bottom right) and choose the item Freehand language-writing.
2. Voice translation

Voice translation: you can enter the text to be translated by voice. To take advantage of this option you have to click microphone icon, lower left. This option is only active on Google Chrome.
3. Translation of a document

Translation of a document: to be able to translate a document on your PC you simply have to click on the button Documents. At this point, all you have to do is choose Detects language and then the language in which you want to be translated: to upload the document click on Search on your computer and open the file to get your translation.
4. Translation of a web page

Web page translation: to be able to translate a web page, simply enter the URL in the text field on the left and click on the URL to be translated.

Once the translation of a text has been completed, it is possible in the screen where you will find the translated text copy the translation, suggest a change o share the translation.

Furthermore, in the area to be translated, the number of words you can enter is clearly visible at the bottom right. Beyond 5000 words, Google Translate will continue to translate creating a sort of pagination.
A really cool aspect of Google translator is the ability to hear the pronunciation of a text, which is quite useful for those wishing to learn a new language. To do this, just click speaker icon (next to the microphone).

The only limitation of the web version of Goggle translator is that it does not allow offline translations, an option offered by the version for smartphones and tablets, which we will analyze in the next paragraph.
How to use Google Translate on smartphones and tablets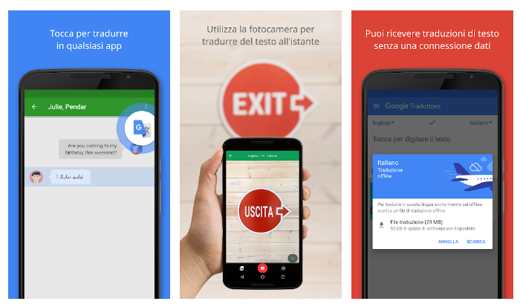 Now I'll explain how Google Translate works on smartphones and tablets.
In order to take advantage of the mobile version of Google Translate, you need to install the specific app on your smartphone (currently only available for Android and iOS).
At the first start the app will ask you to set your native language and the one we translate most frequently: for example Google English Spanish translator, Google English Spanish translator and so on.
The interface of the Google Translate app is organized in a simple and intuitive way: at the top you will find the choice of languages, in the center an icon that allows you to reverse the order and at the bottom the text entry field (maximum 5000 words ).
Immediately below you will notice four interesting icons:
Camera: useful for taking a photo of any text to be translated.
Free hand: to be able to write the sentence to be translated by hand (useful with ideograms).
Conversation mode: an innovative mode that translates everything you say, perfect to use during a conversation in another language or on a trip abroad. Just set the two conversation languages ​​and touch the app's microphone icon to start speaking: the app, thanks to the improved voice recognition, is able to provide the translation of the conversation in real time. In summary, you and your interlocutor speak freely and Google translate listens and translates for you.
Voice: to be able to enter the text to be translated verbally.
But it didn't end there.
If you press on menu key you will find several items:
Home page
Favorite phrases: to be able to save all the phrases you use often and always have them at hand.
TSMS translation
Offline translation: function not available for the web version that allows you to download packages for the translation of the various languages ​​so that the app can work even without an Internet connection.
For further information, I invite you to read: tricks to better use Google Translate.
Alternatives to Google Translate
Although Google Translate truly a great translation tool, it's not the only app designed to deliver instant translations to users. There are other apps to translate and can offer a service similar to that of the Mountain View company.
Among the main competitors of the Google translator we find:
Microsoft Translator: a free app available for both Android and iOS, which uses microphone, camera and keyboard to enter text and translate into 45 different languages.
iTranslate: equipped with the Text-to-speech function with which you can know the perfect pronunciation of a sentence in a foreign language. It supports over 90 different languages.
Reverso translator: app available for both IOS and Android, famous for its rich dictionary where you can find idioms and contexts of individual words so that you can perfectly learn the language and master it.
Vocre Translate: an app that in addition to translating the voice, offers an intelligent interface that can be used simultaneously by two people facing each other.
dict.cc dictionary: takes its name from the online dictionary of the same name and offers translations for 51 different language combinations. Useful for travelers as it offers the ability to download dictionaries for offline use.
Also check out: Online Latin Translators.