How Amazon Prime Student works: Prime subscription for university students, for 90 days free and up to 4 years at half price. Let's see together who can subscribe to the service, what are the advantages and what is the cost.
Amazon Prime Student arrived in Spain in September 2019 and works like Amazon Prime but at a significantly lower price for students. Compared to Amazon Prime, if you are enrolled at the University, you can take advantage of an affordable price and have a free 90-day trial period.
How Amazon Prime Student works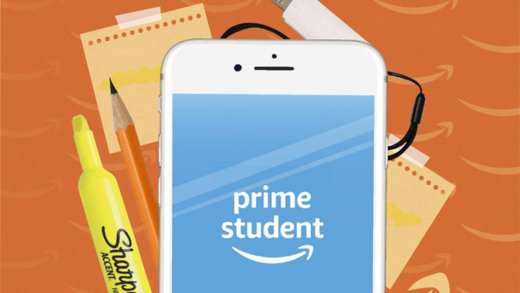 Il servizio Amazon Prime Student is aimed at all students who have an Amazon account and can enjoy the same benefits as those who are subscribed to Amazon Prime: shipments within 1 day, Amazon Prime Video, Amazon Music Unlimited, access to lightning offers, Twitch Prime and much more .
How to sign up for Amazon Prime Student

To switch to Amazon Prime Students, go to this page and enter your university email address and the expected graduation year. You must then specify a payment method and your billing address.
Enrollment is reserved for university students of at least 18 years of age, high school students and vocational institutes and elementary schools are not admitted.
There is also a refund if you have already signed up for Amazon Prime as a student:
"By signing up for Prime Student your Amazon Prime membership will end and you will receive a repayment proportional to the remaining months of your Amazon Prime subscription, unless you received it as a gift. You will continue to have access to Amazon Prime benefits such as unlimited one-day shipping, Prime Video, Prime Music and Twitch Prime. ".
Furthermore, you will not be able to share the benefits received from Amazon with other accounts, Amazon is clear:
"Amazon Prime benefits received through Prime Student membership cannot be shared with other Amazon accounts. If you share your benefits with others, they will no longer be able to use them once you sign up for Prime Student. ".
Documents required for registration
You will need to prove that you are regularly enrolled in a university in Spain and be up to date with the payment of fees. The scanned copy of the documents to be sent to the mailbox: amazon-student-verification@amazon.com are these:
Certificate of registration.
University booklet.
Student identification card issued by the University.
Documentation can also be sent from the email address associated with your Amazon.com account. If you don't have a university email address, read here the instructions on how to register.
If you have created an Amazon.com account with a mobile number, you can add the email by following the instructions on this help page.
Before providing this information, make sure your credit card is correctly entered on your account by verifying its details and accessing the My Payment Methods page.
If you are eligible for registration, you will receive an email, within 3-5 working days, with the direct link to join Prime Student. With this link you can complete the registration without entering the personal email address provided by your University. You will need to complete your registration within 14 days of receiving this email; otherwise you can contact Customer Service to proceed with the registration again.
How much does Amazon Prime Student cost
The price of Amazon Prime Student is 50% of the Amazon Prime subscription (16 euros per year) and includes the same services. The offer has a limited period of 4 years within which you must complete your studies to avoid switching to Prime and therefore paying 36 euros per year.
By subscribing you will accept the conditions and terms of Amazon Prime and you will authorize charges to your credit card or other payment method after the 90-day trial period. The charge of 18 euros per year will be automatic.
How to deactivate Amazon Prime Student

You can unsubscribe from Amazon Prime Student at any time by visiting "My Account"And changing the subscription settings.
Here are the steps to follow to unsubscribe from Amazon Prime Student:
Log in to My Account> My Prime.
Go to Manage Amazon Prime Settings.
Click on Unsubscribe - Waiver of Prime benefits at the bottom left of the page.
Press on End my benefits.
Then click on Unsubscribe.
Please note: if you decide to restore your Prime Student membership, you will no longer be able to take advantage of the 90-day trial but you will be able to join Prime Student for only 18 euro per year (50% off the regular Amazon Prime price).