Among the dozens of video converting software you can find on the market, Freemake Video Converter is worth mentioning. It is a simple and well-designed tool that offers numerous options and high-quality conversion results.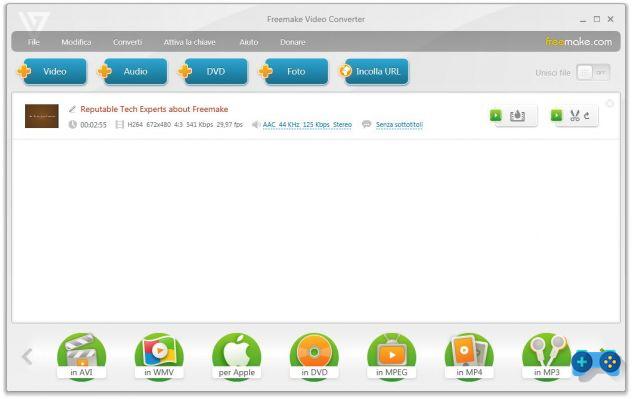 It's a choice for anyone who doesn't want to deal with difficult settings and needs something quick and easy to convert offline videos from one format to another, save YouTube videos, rip and burn DVDs and Blu-ray discs. , edit videos, create presentations and much more. Now let's take a detailed look at the program.
Convert videos between formats
Freemake Video Converter accepts over 500 input formats and converts them to popular extensions such as AVI, MP4, WMV, MKV, MPEG and others. Each major format choice is clearly visible on the formats panel. The additional output options will appear when you click the arrow sign. You can mark the extensions you need, so that they always appear on the main software screen.
When you click on a certain format, you will be given the available conversion options. All options can be easily customized. Alternatively, you can create a preset with the necessary settings like bitrate, frame size and frame rate, video and audio codec and so on. Then just save the profile for future use. To apply the changes you have made, go through the conversion process.
Convert video for portable gadgets
Apart from common output options, Freemake Video Converter also offers ready conversion settings for portable gadgets made by Apple, Samsung, Blackberry, Nokia, etc. You just need to add videos, choose your device and the software will do the job for you.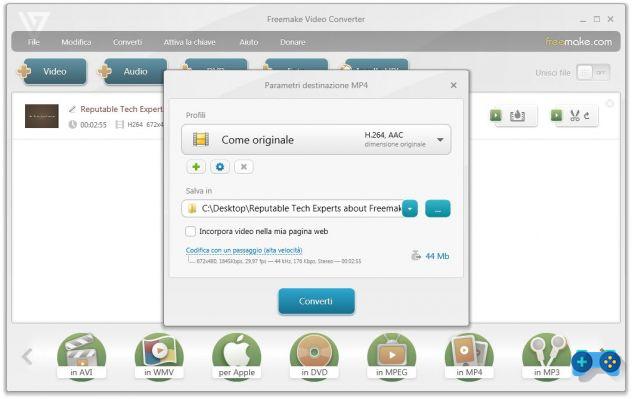 The software can also convert video for TVs, but you need to know the precise settings of your model. Pay particular attention to the video and audio codecs supported by the TV.
Burn and rip DVD and Blu-ray
Freemake Video Converter can help you burn your favorite videos to DVD or Blu-ray disc. Although the Blu-ray menu options are not numerous, the video to DVD conversion offers the ability to create a DVD menu with a custom background. For example, you can use personal photos for DVDs with weddings or anniversaries or photos from the Internet for various movies.
As for DVD copying, please note that the software does not support protected discs. For everything else, simply choose the output option and proceed with the conversion. In case the disc has some audio and subtitle tracks, select the necessary ones before making a copy. Freemake Video Converter can save DVDs with one audio track and one subtitle track.
Convert videos online
With Freemake Video Converter you can save your time. Most users first download a video with an online service and then convert it to a necessary format. Now you can reduce the number of steps. Freemake's software is capable of downloading YouTube videos and saving them in both video and audio (MP3) format.
You can also burn YouTube to DVD or Blu-ray or convert online video for smartphone or tablet.
Create a photo slideshow
This option is quite rare for software of this type. More likely you won't find it available for free in any other video converter. Freemake allows you to create simple presentations with your images and an audio track. While there aren't too many transition effects, a slideshow feature can be useful when you need to do something simple and in a short period of time.
Cut, Merge, Rotate video
Freemake Video Converter comes with a built-in video editor that allows users to perform the most popular editing tasks.
In case you shot a video in the wrong orientation, just open it in the Freemake editor and rotate 90 CW / CCW.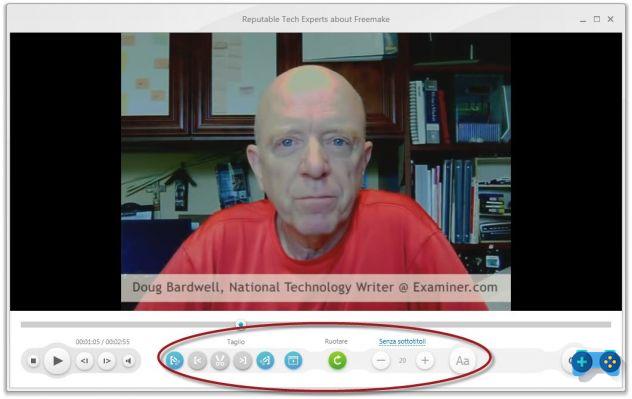 Another editing option is video trimming (read how to trim video here). If you have a video with ads that you would like to delete or you need to delete some parts of your video, choose Freemake Video Converter. All you have to do is select and delete the unnecessary parts and then convert your video to save the changes.
As for the "Merge Video" feature, simply enable the Merge button in the top right corner of the software and the parts of the movie will be saved as one long file.
Upload videos online
Another interesting feature of Freemake Video Converter is a direct upload of videos to YouTube and a conversion of videos to HTML5.
The first function (YouTube video) allows you to upload the clip to YouTube directly from the software. To do this, you will need to add your login information to the software.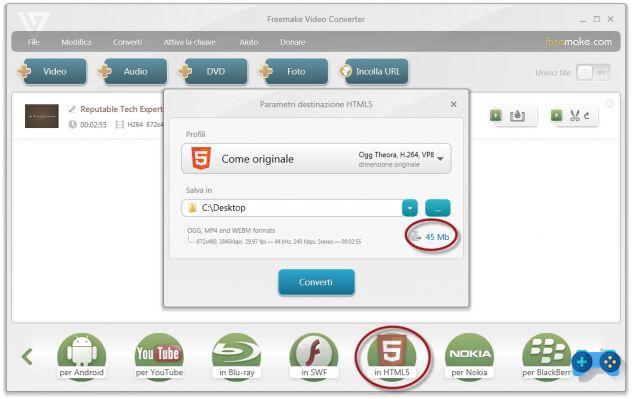 A conversion from video to HTML5 is a must for any website or blog owner. Freemake Video Converter creates a ready-to-insert code and player on your site and converts the videos to 3 formats (MP4, OGG and WebM) so that they can be played in any popular web browser.
Add subtitles to videos
If you like watching movies in a foreign language, the subtitle option is just what you need. With Freemake, you can convert any movie with subtitles for further playback on PC, TV or portable gadget. The software accepts subtitle files in SRT, ASS, SSA formats.
Please note that Freemake Video Converter creates a movie with embedded subtitles which cannot be turned off.
With an additional Freemake package, you will be able to change the font and size of the subtitles.
Resize the video
With Freemake Video Converter, users will resize any video in just a few clicks. There is a ready feature that allows you to choose the video size needed to meet your goal: upload a video online, send it to a friend, save place on your hard drive and so on.
Just don't go beyond the recommended minimum size to not lose video quality.
All in all, Freemake Video Converter is a great useful tool for video amateurs. It can literally perform any tasks that may be needed. Besides that, there are the additional features for DVD conversion and subtitle integration. But even without them, Freemake should definitely be installed on the PC due to its speed and simplicity