Videoconferencing has become very popular today, in fact it is often used to improve communication and hold conferences with colleagues, customers and partners in different geographic locations around the world. Precisely for this reason, there are numerous videoconferencing solutions on the market, and among many exists ezTalks.
ezTalks Meetings was designed for start-ups, small businesses and large corporations with the aim of simplifying video conferencing and remote collaborations.
What makes ezTalks Meetings better than other
Super HD Audio and Video Quality

Audio and video quality is the essential feature for any online meeting. EzTalks meetings satisfy both of these elements. The HD resolution is 1920 x 1080 pixels, making audio and video transmissions crystal clear. However, other resolutions are also available, such as 1280 x 720 pixels, this means that you can make adjustments based on the bandwidth - this is a very important setting as having an HD experience during a video conference is essential. The various options still allow you to use the 720 pixels, which is already sufficient.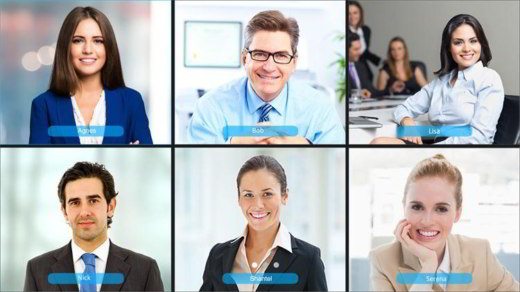 Quick access to meetings

Joining a meeting is easy enough. Whenever you decide to send for a meeting invitation, users can easily access their browsers without registration: this facilitates contact with the user, who is not always willing to want to register an account or install software , to have the opportunity to attend a meeting with you. This will also avoid any wasted time and will allow the user to enter a meeting quickly and without any hassle.
When the meeting invitation is made (via email or by copying visitors from the meeting details) recipients can click on a link, select their names and meeting number and, within less than a minute, go online . Another important factor to consider is that ezTalks Meetings is available not only for Windows PCs, but also for Android devices, iPads, iPhones and even Macs.
Easy Screen Sharing and Annotations

This is one of the best features of ezTalks Meetings. Videoconferencing helps save time and money that would otherwise have been used to travel to meet your business partners. Screen sharing increases productivity and allows you to present PDF and PPT files to colleagues after drafting and finalizing ideas. While using this feature, simply open the file and click the "Share Desktop". Later, you can present your ideas to the guests and make notes to illustrate them.
Interactive Whiteboard
In addition to sharing screens with all attendees, you can also use the built-in whiteboard tool to draw your thoughts and instantly share them with all meeting attendees by incentivising other meetings, brainstorming, presentations, tutoring or training, regardless of your physical location.
Ability to plan meetings
ezTalks Meetings allows you to schedule meetings in advance and send invitations to attendees. By doing so, the meeting organizer ensures that each invitee has an idea of ​​the upcoming meeting. This also allows you to obtain confirmation of participation from the people who will actually be available, or the refusal by those who decide to cancel.
All you have to do is click on the "Schedule a Meeting"And an e-mail will be sent to the chosen people, giving them all the details related to the scheduled meeting. The best thing about this process is that you can select several participants in just one click.
Cross Platform Text Messages
During video conferencing, you will not only feel like you are talking to people face to face, but you will also feel that you are actually communicating. All this is possible thanks to the instant messaging tool. You can send instant text messages to one participant or everyone, regardless of whether you are using an Android phone, an iPhone, an iPad, a Windows computer or a Mac. Overall I am sure you will have a great experience with this tool.
Meeting recording
The reason why meetings are usually recorded is because if two partners are holding a videoconference, and a third person is unable to attend due to unavoidable circumstances, the registration could be useful to allow those who have not attended to recover part or the whole conversation.

Sometimes recording conversations during a meeting is useful to analyze in detail some points that are not exactly clear. This feature is essential for those who have secretaries and above all avoid taking notes continuously during the meeting.

Once the meeting is complete, to stop the recording you have to click on the button "Stop"And the video will be automatically saved on your personal computer. The forwarding of the video obtained can be sent to other users at any time. With ezTalks you can also record two-hour meetings by saving them in WMV format; in case the meeting is too long to be saved in a WMV file, the file will be split into several bits to be saved in different files.
Other characteristics

The host of a meeting controls the meeting, this means that they can block the meeting, choose the participants or have another person do the role of presenter, or in case of need to share files.
ezTalks Meetings it is definitely a platform to try. It offers a free service to 100 participants with no time limit. It also provides customer support available within 48 hours of reporting (usually it is possible to receive feedback even in less than 24 hours). Customer service is available through either a phone call or email. It is also possible to contact him through a live chat.
Conclusions
ezTalks Meetings is one of the best video conferencing solutions on the market. Its professional features distinguish it from other videoconferencing services, it is the videoconferencing solution that replaces all those software that are not reliable at all. The best way to learn more about ezTalks meetings is to try it out now!