Best programs to update PC drivers. Updating PC drivers for free with the programs in this guide will help you avoid having to search for the make and model yourself.
Ever since Windows became popular, the drivers of the various hardware elements that make up the computer have always been a problem.
Microsoft provides code that allows you to install Windows, but it is not always the latest version or the best version for optimal computer operation. And, if you use technology that isn't mainstream, you may find that there are critical features in the operating system.
The solution is to use the best programs to update PC drivers where the latest driver versions are detected and then automatically installed.
Many of these products also bundle drivers into installation packages and can be placed on a USB stick or centralized server for easier distribution.
Best programs to update PC drivers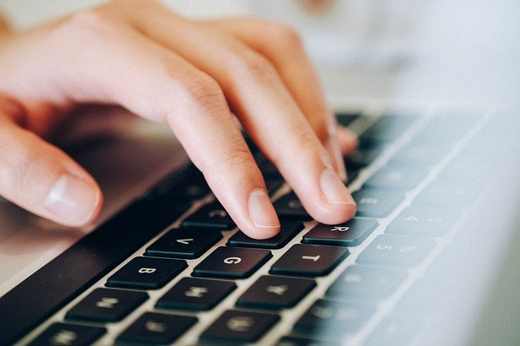 Here are some Windows 10 driver update solutions to help keep your operating system in the best possible state.
1. Driver Genius 20 Platinum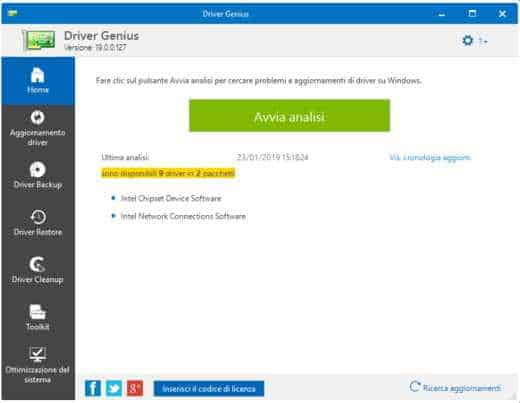 The best program to update PC drivers around.
For
Very easy to use
One million drivers in the database
Cons
Occasional false positives
As the title suggests, this is the twentieth version of driver Genius, by Avanquest Software. What Avanquest offers is a small but effective tool that manages driver updates on your PC and tracks over a million hardware drivers to make sure the right ones are on your computer. The database contains drivers for most hardware devices such as motherboards, video cards, sound cards, network cards, modems, monitors, mice, keyboards, digital cameras, video capture cards.
The level of user intervention is very low, as this solution is practically automated. Once installed, the application scans for installed drivers and compares them to a database of driver versions, then downloads and installs the latest ones.
Driver Genius improves PC performance with powerful Windows Driver Manager by backing up, restoring and automatically updating device drivers with just a few mouse clicks. This powerful and easy driver management tool scans your system to recommend suitable drivers for your PC.

2. AVG Driver Updater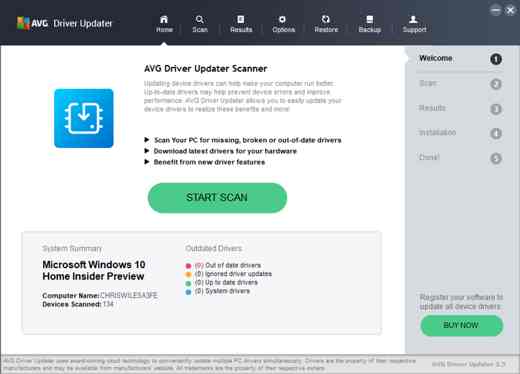 For reliability it is the best program to update PC drivers.
For
Cons
Only 127 thousand drivers
The trial version only scans
AVG is a very popular antivirus suite exclusively for PC that also offers a driver management tool, AVG Driver Updater.
As the name suggests, this utility scans the system and identifies outdated drivers to replace them with the latest versions. It checks your computer with over 100 hardware manufacturers to get the latest official drivers and also creates snapshots of the drivers working on your system, in case they need to be reinstalled for any reason.
AVG has a good reputation for creating reliable code, and this utility works tirelessly in the background to keep your computer performing at its best.
However, the main weakness of AVG Driver Updater is that the driver database contains only 127 drivers, while most competitors have more than 400.
If the weak point of this product is the driver database, this limitation is not reflected in the price. AVG Driver Update costs 34,99 euros per year, making it one of the more expensive options.
AVG provides a trial version to download and install which will scan your system and report drivers that require an update. But the process won't update them without a purchase.
3. Driver Reviver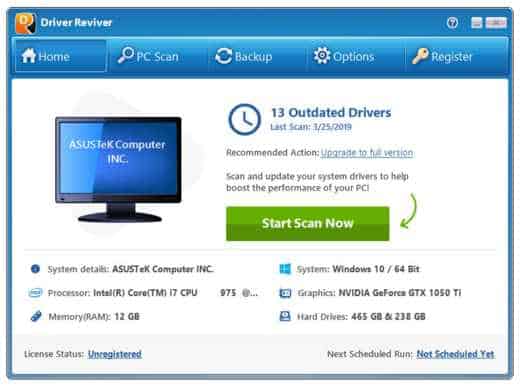 It is among the best missing driver programs.
For
Huge driver database
It is available in many languages
The drivers are also updated with the free version
Driver reviver is a driver maintenance tool ReviverSoft, a subsidiary of Corel since 2014. It makes a wide range of other Reviver-branded software products for both PC and Apple Mac, although Driver Reviver is exclusively for PC.
The goal is to keep the drivers on the system at the same time and prevent corrupt or malware-infected drivers from being accidentally installed.
One feature that I really like about this software is that it creates a restore point before installing the drivers. This will make it easier for you to restore your system in case new drivers cause a problem.
It also has a useful option to perform automatic scans when Windows starts, allowing you to update your drivers before you start working on your computer.
ReviverSoft claims its driver database contains over 10 million files. However, let's assume this includes all versions of many drivers because we don't think there are that many hardware devices for Windows. Whatever the truth, its driver database is very comprehensive.
And so is the language support which includes Danish, Dutch, English, French, Finnish, German, Italian, Japanese, Portuguese, Russian, Spanish, Swedish, Turkish and Traditional Chinese.
You can download and start using Driver Reviver immediately, having fun with the free version or buy it with all the features at the price of 60,99 euros.
4. Driver Booster 7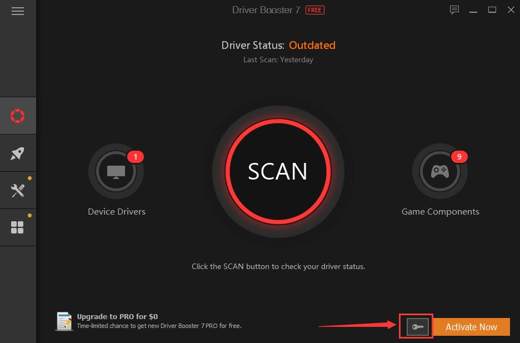 An economical solution for driver management.
For
Free trial version
3 million device drivers
Silent mode
Cons
Two drivers per day in the trial version
IObit is a software house that has created several improvement and optimization products including Driver Booster 7.
This is a driver maintenance tool from official manufacturers' websites. Before passing them to your computer, IOBit verifies that they are intact and that they have passed the Microsoft WHQL test.
Version 7 supports Windows 10 and earlier versions. Where this product deviates from the norm in driver support applications is that the free version will update the drivers, but only two per day.
The version "For"Paid has no usage limits, works on multiple drivers and starts a backup before installing new drivers, but the free version has many useful features.
One feature to appreciate is that it has a silent mode that you don't have to interrupt while you're working with other applications, even in full screen mode.
The free version of Driver Boost 7 will download and install the drivers, but if you want to avoid the advertisements you will have to pay for the additional features of Driver Boost 7 Pro for 26,99 euros. And that license will cover you for one year on three computers!
5. DriverFinder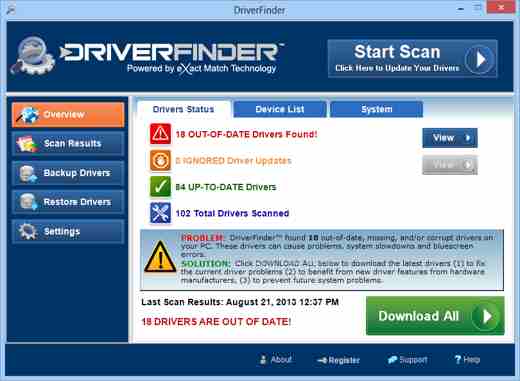 It is one of the best to update PC drivers with advanced scanning.
The one stop shop for driver problems
For
Great driver scan tool
Checked updates
Cons
No options install everything
No programming
DriverFinder is a basic tool that scans your Windows system and identifies drivers that are missing or require an update. It is able to find the latest versions and install them.
Most drivers come directly from hardware manufacturers, so they are generally the ones you need. In addition, it can also back up all currently used drivers, which is ideal for those who need to promptly reinstall an operating system.
However, there are some weaknesses worth mentioning. DriveFinder doesn't have any full installation options, which means that if you find that your system needs twenty updates, you'll have to click twenty times to fix them.
This problem should not be considered serious, as after running it several times it is likely that the program will find only one or two drivers that need to be updated with each scan. Other problem: it doesn't include one scheduler to run scans automatically, although it can be run automatically when Windows starts.
DriverFinder has several payment systems, the cheapest being $ 29,95 for a 1 year license. Alternatively, you can get two years of coverage on three computers for $ 39,90.