Lo Yotaphone looks like a traditional Android smartphone with display from 4.3 inches and white or black plastic shell.
In the back, where the battery cover is located, there is a second display similar to that of a monochrome ebook reader with shades of gray.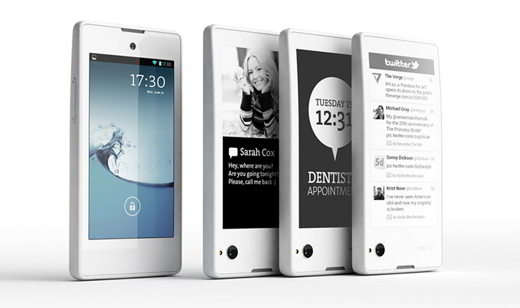 The presence of this second display allows you to consume less battery.
The battery in fact offers extremely long autonomy with the device in stand by or for reading ebooks. Many users often turn on the screen to read incoming messages or check the time, which causes a lot of battery life.
The second display only needs power if the content changes, as it allows you to permanently view information such as the time, appointments or weather forecast while remaining on. This screen offers an autonomy for reading eBooks of about 60 hours.

The only drawback of this mid-range smartphone is thecomplicated use it is not possible to manage it by means of the keys, but only by touching the virtual keys with the fingers.
Cost: 499 €.
Technical features:
Qualcomm Snapdragon S4 1,7 GHz dual core processor with Krait technology
Android 4.2.2 Jelly Bean installed by default
Adreno GPU 320
4,3-inch LCD main display with HD resolution of 1280 x 720 pixels
4,3-inch e-Ink secondary display with a resolution of 360 x 640 pixels
RAM Memory from 2 GB
Internal memory from 32 GB
13 megapixel rear camera with LED flash
Front camera with 1 megapixels
WiFi, Bluetooth 4.0, LTE, GPS, GLONASS e DLNA
Battery pack from 1.800 mAh

Accelerometer, Magnetometer and Gyroscope
Micro SIM
Weight of 140 grams
Dimensions of 133,6mm high x 67mm wide x 9,99mm thick