Here is a guide on how Aptoide works, one of the best Play Store alternative stores to download third-party Android apps, and which are the best repositories for Aptoide.
There are many unofficial Android Play Stores such as Aptoide, which allow you to download free apps and games at will. In addition to the Play Store which is the official Google store for downloading apps and games for Android mobile devices, there are many other alternative stores, which you can install manually and which allow you to access many applications.
In many cases these are apps that Google has not allowed to publish on the Play Store, in other cases, instead, they are modded versions of games that offer unlocked levels, infinite lives and much more.
Read also: App for cracking games
How Aptoide works
Aptoide is a store where you can find free apps that would otherwise be paid. Aptoide is an additional market for Android devices (not to be confused with apdoide, apptoid, aptpide, ap toide), which installs through the mobile browser and allows you to add the best repositories around to find servers full of apps and games of all kinds.

Is Aptoide safe and legal?
Unlike the Play Store, on Aptoide anyone can distribute their apps and create their own Repository. On this store, you will find everything from legit apps to user-modified ones.
To be sure of what you are downloading you need to check some elements that inform about the reliability of the app and which are:
Le user reports
Certification Great App Guaranteed
The presence of one shield green with tick to indicate that the app is reliable.
The ideal is to have an antivirus, in this regard I suggest you take a look at the best Android Antivirus. Alternatively, you can always check if the app you are downloading is trusted and free from viruses, read this guide on: How to check if the APK is a virus.
Legal side, the store does not have control of the material deposited in the various repositories. For this reason it cannot be considered an illegal store, although users should avoid downloading illegal and modified apps.
How to install Aptoide for free Android

Since Aptoide cannot be installed from the Google Play Store, the option must be enabled on an Android smartphone Unknown origins, present in Settings> Security. This option allows the installation of any apk app, even those not present in the official Google store.
It might interest you: How to activate Unknown Sources Android
To install Aptoide apk download, launch the browser of your Android mobile device and go to the official website. Stop on the orange button Download to download Aptoide on your PC or smartphone or download the QR code to install it directly on your mobile device. At the end of the download, step on the file .apk Aptoide Android to start the installation. Continue with NEXT and complete with Install. Your store is now ready.

How to add new repositories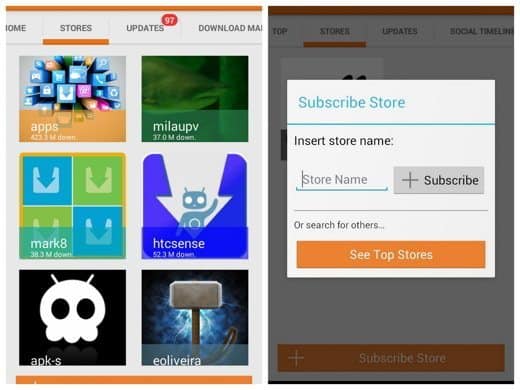 To have more choice of apps and games for free, you can add some to Aptoide Repository. To do this, you need to go to the tab Store, plug up Add Store and Store Name, type the URL of a new repository by tapping on Add to confirm. This way you can add other application stores.
Best repositories for Aptoide
http://afshar.aptoide.org
http://android-es.com/repo/apk
http://androidvinotinto.aptoide.org
http://antarido.aptoide.org
http://apps.bazaarandroid.com
http://apps.store.aptoide.com
http://atalanta1907.aptoide.org
http://bazaar.aptoide.org
http://darkkiller.store.aptoide.com
http://htcsense.store.aptoide.com
http://italian.store.aptoide.com
http://yohanes.aptoide.org
http://mark8.store.aptoide.com
http://nicvolk86.aptoide.org
http://onairda.store.aptoide.com
http://repoman.aptoide.org
http://repo2.altMarket.mobi
www.beyazkahraman.com/repo
Le alternative ad Aptoide per Android

Besides Aptoide download APK there are many other stores that are worth mentioning:
APKMirror: is another brilliant alternative to the Google Play Store for downloading Android apps. This app store is very popular with those who want to download geo-restricted apps; so if you are looking for the best Google Play Store alternative to download geo-restricted apps, APKMirror is perfect
F-Droid, is a store where you can find free and open source licensed Android apps.
APKPure: a third party app store where you can find popular apps like Whatsapp, PUB Mobile, Facebook Messenger and Brawl Stars etc. It comes with a simple user interface and with a decent search option to search for all the great apps you need. Host more apps than Google Play Store.
GetAPK: is one of the leading app stores that, in addition to providing apps for Android mobile devices, also provides apps for Android tablets and other Android-based devices. You can access it via the official website or using the GetApk app, also available for free.
Aptoide iOS?
If you are wondering if Aptoide also works on iPhone and iPad, the answer is unfortunately no. However, there are valid alternatives let's see what they are.
In iOS since many functions are blocked there is the Jailbreak that allows geeks to install an alternative store to the App Store, called Cydia, from which you can download many tools and tweaks to unlock the potential of the device. It is also possible to install commercial apps such as AppCake, TeawkBox e TuTuApp. Another valid alternative is to take advantage of online services such as regmyudid, iosreg.com that with a few euros register the UDID of their device in order to make it recognized as that of a developer. In this way you can install cracked apps by downloading them from stores such as iPA – STORE.
For Windows Phone, in addition to the official marketplace where you can download apps, games and multimedia content, there are alternative markets where you can download Homebrew applications and more, among the many it is worth mentioning DevStore 8.

Other useful articles
Eat scaricare giochi for free payment
Sites to download games