In this article I will reveal to you the best profiles of the most followed VIPs on Instagram. The Facebook app is now becoming, with its over 500 million active users, an increasingly present social network even in the world of celebrities. There are many shared shots and selfies, sometimes even sexy, that celebrities decide to offer via Instagram to their fans.
Among the most followed stars there are Kylie Jenner, Taylor Swift, Khloè Kardashian, Kendall Jenner, Beyoncé, Arianna Great, Rhianna, Kim Kardashian e Justin Bieber.
The best profiles to follow on Instagram to not miss the trends of the moment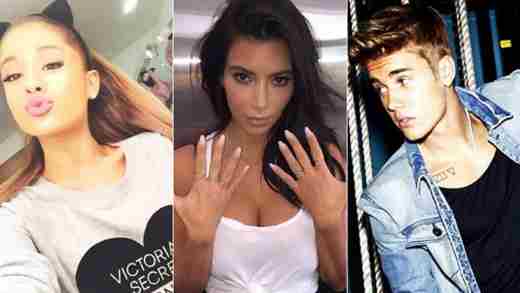 All these celebrities choose Instagram to tell about themselves and post photos and videos to increase their followers more and more. Even in Spain there is no shortage of VIPs who love to show off with risque photos and sexy poses. Among the most famous accounts are those of Belen Rodriguez, Chiara Ferragni, Fedez, Alessia Marcuzzi, Emma Marrone, Aurora Ramazzotti and Elisabetta Canalis, also present among the VIP profiles with the most followers on Twitter.

Also to be considered Khaby Lame, the second most famous tiktoker in the world on TikTok and for some time also on Instagram.
Below you will find one complete list of the most followed VIP profiles on Instagram.

50 Cent : @50cent
Abbie Cornish : @abbiecornish
Adam Levine : @adamlevine
Alex Perry: @ alexperry007
Alexa Chung : @alexachung_
Alicia Keys : @aliciakeys
Andy Cohen : @bravoandy
Anna Kendrick: @ annakendrick47
Anne Hathaway : @annehathaway1982
Ariana Grande : @arianagrande
Ashley Tisdale : @ashleytis
Ashton Kutcher : @aplusk
AshtonKutcher: @mrkatalyst
Barack Obama : @barackobama
Ben Watts : @wattsupphoto
Benji Madden : @benjaminmadden
Beyonce : @beyonce
Bob Harper : @trainerbob
Brad Goreski: @mrbradgoreski
Brandy : @4everbrandy
Britney Spears : @britneyspears
Britney Spears : @bspears
Cameron Diaz : @camerondiaz
Cara Delevingne : @caradelevingne
Cary Hart : @hartluck
Cash Warren : @cash_warren
Channing Tatum: @channingtatum
Charlize Theron : @charlizeafrica
Charlotte Dawson : @mscharlotted
Chelsea Handler : @chelseahandler
Cheryl Cole : @misscheryl
Chris Hemsworth : @chrishemsworth
Christy Turlington : @cturlington
Ciara : @ciara
Cody Simpson : @codysimpson
Dakota Fanning : @fanningdakota
Darren Criss : @darrencriss
Delta Goodrem: @deltagoodrem
DJ Pauly D : @djpaulyd
Drew Barrymore : @drewbarrymore
Ellen Pompeo: @ellenpompeo
Emma Roberts : @emmaroberts
Emma Roberts : @emmaroberts6
Emmy Rossum : @emmyrossum
Erin McNaught : @mcnaughty
Fergie: @fergie
First Lady Michelle Obama : @michelleobama
Foo Fighters : @foofighters
Ginny Goodwin : @ginnygoodwin
Gisele Bundchen : @giseleofficial
Guy Sebastian : @guysebastian
Gwen Stefani: @gwenstefani
Gwyneth Paltrow : @gwynethpaltrow
Hamish and Andy : @hamishandandy
Hamish Blake : @hamishblakeshotz
Harry Styles : @harrystyles
Heidi Klum: @heidiklum
Hilary Duff: @hilaryduff
Hugh Jackman : @thehughjackman
Ivanka Trump : @ivankatrump
Jackie Gilles {RHOMelb} : @jackiegilliestv
Jaden Smith : @theaquaticstevezissou
Jaime King: jaime_king
James Franco : @jamesfrancotv
Jamie Foxx : @iamjamiefoxx
Jamie Oliver: @jamieoliver
Jared Leto: @jaredleto
Jenna Ushkowitz: @jennaushkowitz
Jennifer Hawkins : @jenhawkins_
Jennifer Lopez : @jlo
Jesse Tyler: @jessetyler
Jessica Alba : @jessicaalba
Jessica Alba : @jessicalba
Jessica Biel : @jessicabiel
Jessie J : @isthatjessiej
Jimmy Fallon : @jimmyfallon
Jodi Gordon : @jodigordon
Joel Madden: @joelmadden
John Legend: @johnlegend
John Stamos : @jockostamps
Jools Oliver : @joolsoliver
Jordin Sparks : @jspeezy22
Josh Kelley : @joshbkelley
Justin Bieber : @justinbieber
Justin Timberlake : @justintimberlake
Kaley Cuoco: @normancook
Karis Eden: @kariseden
Kate Bosworth: @katebosworth
Kathy Griffin : @kathygriffin
Katie Couric : @katiecouric
Katy Perry : @katyperry
Ke$ha : @mynameiskesha
Kelly Osbourne : @kellyosbourne
Kelly Rowland : @kellyrowland
Kelly Slater : @kellyslater
Kendall Jenner : @kendalljenner
Kevin McHale : @kevinmchale
Khloe Kardashian : @khloekardashian
Kim Kardashian: @kimkardashian
Kourtney Kardashian : @kourtneykardash
Kourtney Kardashian : @kourtneykardashian
Kris Jenner: @krisjenner
Kyle Richards : @kylerichards18
Kylie Jenner : @kylizzle
Kylie Minogue : @kylieminogue
Lady Gaga: @ladygaga
Lara Bingle : @larabingle
Lara Bingle : @mslbingle
Lauren Conrad : @laurenconrad
Lea Michele : @msleamichele
Lena Dunham : @lenadunham
Liam Hemsworth : @liamhemsworth_
Lily Allen: @lilyallen
Lindsay Lohan : @lindsaylohan
Lisa {The Veronicas} : @lisa_veronica
Lisa Wilkinson : @lisa_wilkinson
Lord: @lordemusic
Ludacris : @itsludacris
Lupita Nyongo: @lupitanyongo
Madonna: @madonna
Mark Zuckerberg: @zuck
Mary J Blige : @brooklennblige
Matt Moran : @mattjmoran
MC Hammer : @mchammer
Megan Fox : @the_native_tiger
Melissa Doyle : @melissadoyle7
Michelle Rodriguez : @mrodofficial
Miley Cyrus: @mileycyrus
Miranda Kerr : @mirandakerr
Miranda Kerr : @mirandakerryverified
Naomi Campbell : @iamnaomicampbell
Natalie Bassingthwaighte: @natbassingthwaighte
Nicki Minaj : @nickiminaj
Nicole Richie: @nicolerichie
Oprah : @oprah
Oprah Winfrey : @oprahwinfrey
P!nk : @pink
Paul Walker : sea_walker
Peaches Geldof : @peachesgeldof
Pharrell Williams : @pharrell
Rachel Zoe : @rachelzoe
Rebel Wilson : @rebelwilson
Reese Witherspoon : @reesewitherspoon
Ricki Lee : @therickilee
Rihanna: badgalriri
Rita Ora: @ritaora
Rob Lowe : @rhl64
Rosie Huntington-Whiteley : @rosiehw
Rove McManus : @instarove
Ruby Rose : @rubyrose86
Rumer Willis : @ruelarue
Ryan Gosling : @ryan_gosling
Ryan Seacrest : @ryanseacrest
Samantha Ronson : @samantharonson
Sarah De Bono: @sarahdebono
Sarah Jessica Parker : @sarahjessicaparker
Scott Disick : @lethelordbewithyou
Sean Diddy Combs : @iamdiddy
Sean John Combs : @iamdiddy
Selena Gomez : @selenagomez
Serena Williams : @serenawilliams
Seth Rogen: @sethrogen
Snoop Dogg : @snoopdogg
Snoop Lion : @snoopdogg
SofiaVergara: @sofiavergara
Stacy Keibler : @stacykeibler
Taylor Swift : @taylorswift
Tony Hawk: @tonyhawk
Tori Spelling : @torianddean
Tyra Banks : @tyranbanks
Usher : @howuseeit
Vanessa Williams : @vwofficial
Victoria Beckham: @victoriabeckham
Will i am : @iamwill
Zac Efron : @zacefron
Zac Efron : @zefron
Zooey Deschanel : @zooeydeschanel