The best free trekking and hiking apps to never lose the compass and to locate your position. With the arrival of summer, going out into the open air and immerse yourself in nature with long walks is ideal for hiking lovers.
For those who love trekking, having the necessary tools to follow a georeferenced route, locate their position or track their movements is essential if you have the right apps on your smartphone.
In the stores there are several: some allow you to mark POIs with descriptions or photos, others offer GPS navigation, others allow you to share the itineraries made on social networks.
Best App for Trekking and Hiking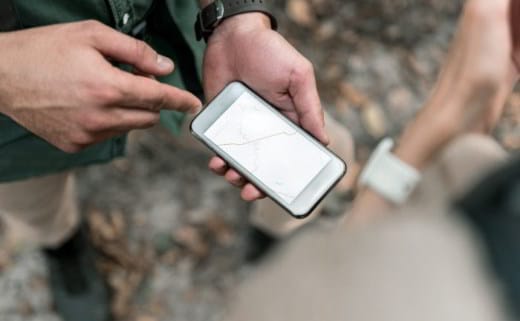 Below you will find a guide to best apps for trekking and hiking compatible with almost all mobile devices. You will be able to discover apps to not get lost in the mountains, CAI trails app, mountain trail maps, apps for tracing walking routes, free gps trail maps and much more.
Before starting I remind you that for the safety of hikers the National Alpine Rescue Corps e Speleological and Club Mountaineering have released the Georesq app to allow you to locate your position and track your movements by sending an alarm with geodetic coordinates to the Alpine Rescue stations.
Gaia GPS (Android, iOS)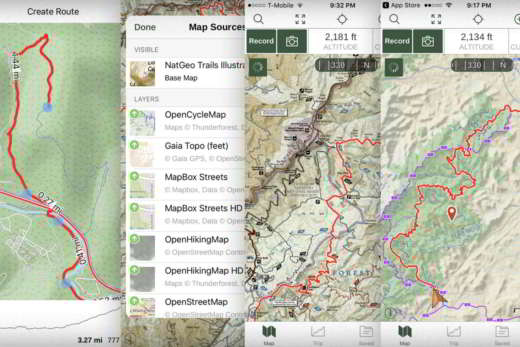 Gaia GPS is a free app for Android and iOS released in 2009 and can also be used on PC and Mac from a browser. The main section is that of the maps which can also be consulted on the site gaiagps.com/map. Gaia is also available with a subscription Basic at 19,99 euros a year and Premium at 29,93 euros a year. In the subscription versions you can download topographic, road and area maps from around the world. You will also have the ability to record routes, waypoints, take geo-tagged photos, import and export GPX / KML files and customize default settings such as use of measurement units or coordinate types. The maps and routes can be used on any device and on the gaiagps.com website thanks to the backup and synchronization system. Finally, Gaia GPS offers sharing functions to send links and routes and photos with Facebook, Twitter, E-mail and so on.
BackCountry Nav Topo Maps GPS (Android)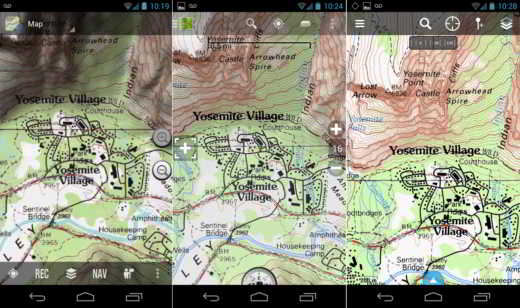 BackCountry Nav Topo Maps GPS is an app available on Android in two versions: the demo participation, which allows trial use for 21 days (it remains active even at expiration but shows the word DEMO in the background), the Pro version at a cost of 12,99 euros, which offers topographic maps developed with the geodata of Open-StreetMaps and satellite data from NASA. This latest version also allows you to create custom maps with the tool Mobile Atlas Creator. You can add custom waypoints to your path in longitude and latitude, import them from GPX files and apply the most popular UTM (Universal Transverse Mercator) or MGRS (Military Grid Reference System).
OruxMaps (Android)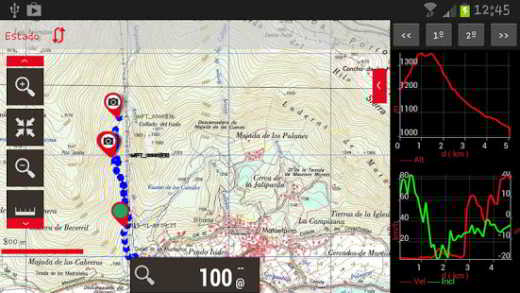 OruxMaps is the app, compatible with all Android mobile devices, most appreciated by both experienced and novice hikers. Its functions are easy to use and allow you to record tracks and follow them in the field, creating waypoints, including photographic ones, to geo-locate points of interest (POI), save them in a database and have statistics to analyze them. The app has a predefined archive of maps inside and you can download others from the Net to consult them online and reuse them offline. Finally, you can share your route on various social networks or upload it to track sharing sites. OruxMaps is available for free by downloading the file APK from the official website oruxmaps.com or in the version OruxMaps Donate cost of 3,09 Euros.
Locus Mal Free GPS Outdoor (Android)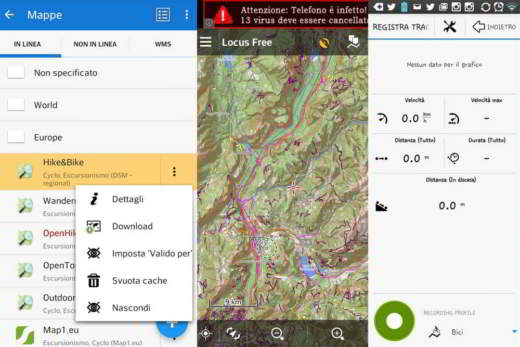 Locus Mal Free GPS Outdoor is the most complete free outdoor app for Android. Among the best trekking applications, it offers many maps that can be consulted online or downloaded offline. You can import your GPS tracks for navigation or record new ones containing plano-altimetric data. The functions are many and all to be explored. The app can be customized and you can activate the function to be guided by a voice along the path. The function consumes energy, so the use of a buffer battery is recommended. Among the useful tools we also have weather data.
MyTrails (Android)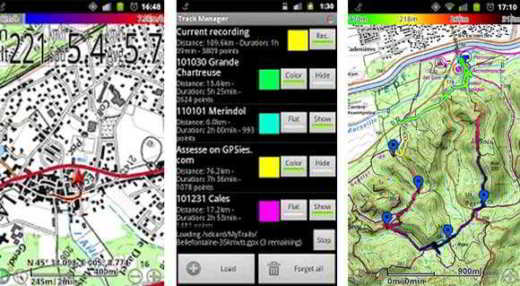 MyTrails is an app for hikers compatible with Android devices. It allows you to view the map of the route in full screen and is available in version participation e For for 2,99 euros. The use of free online predefined map sources (such as Yahoo, Bing, Google, OpenStreetMap) or configurable (WMS or URL) that can be saved offline within the app is foreseen. You can record GPS tracks and check them both during the activity and immediately after. While recording on the map you can view significant values ​​of the route such as altitude, speed, rate of climb, slope, accuracy of GPS data, and so on. The Statistics section of the free version offers 16 parameters in a single screen, for the Pro version you can find even 40.
Maps 3D (iOS)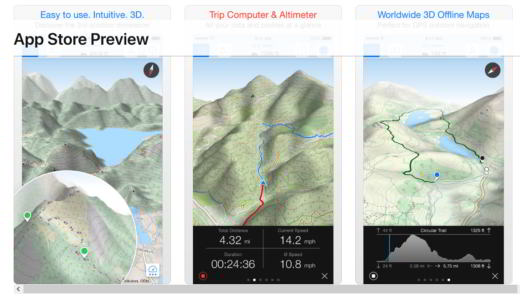 Maps 3D, downloadable on the App Store, is the app you can use if you have an iPhone. It costs 4,99 euros and presents maps and routes also in 3D, thanks to the combinations of NASA scans of the earth's altitudinal profile with Outdoor OSM (OpenStreet Map) cartography. Upload the maps, you can also download them offline. With Maps 3D you can also record routes by keeping track of position, distance traveled, elevation gain and speed. You can change the map, plan and consult the routes, add points of interest and much more. In the settings you can choose the units of measurement and customize the map in every aspect by changing the parameters of the recording of the route.