manage your household utilities by avoiding overspending, there is the possibility of register on the supplier's website and access the various online services including the one dedicated tocar rental.
You can also check the amount of your next bill, the archive of those already paid, the consumptions made, the details of your supply and much more.
For example by connecting to the site, gas supplier, Enel Energia, we can click on the button Sign Up and select the type of user for which registration is requested.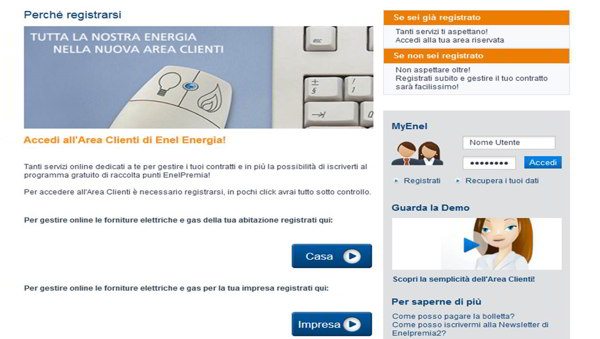 In our case it is a domestic user, for which we select Home.
From the next page we fill in the fields by entering the data of the bill holder and put a check mark on the various items to accept the rules concerning the contract. We click on Sign me up.
To complete the registration, click on the link sent to our e-mail.
Su https://my.enel.com we log in by entering as Username our email and then the Password inserted during recording. Go to Services for you and go to Enel Energia: online services for Home and Family. At the first access, you must complete the profile by entering the user data.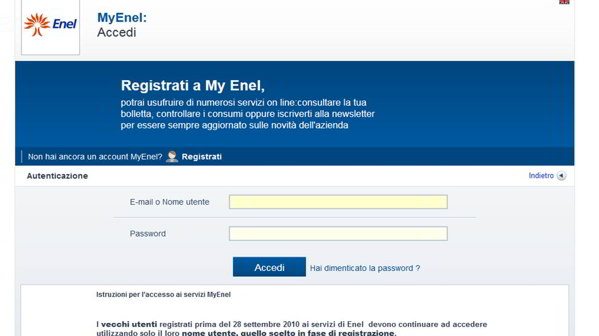 We will now be able to access all online services. To carry out the self-reading of the meter, click on the icon Car rental. All that remains is to enter the consumption indicated on the meter and send it to the supplier. Self-reading can usually be done within 10 days before the bill is issued.
Here the best apps of the different electricity suppliers:
That Energy, available for iOS and Android, allows you to view bills, pay bills and self-read consumption.
Enel Energia, available for iOS and Android, in addition to viewing self-reading and checking bills, you can find the nearest Enel Point and subscribe to the EnelPremia2 loyalty program.
Eni Gas and Light, available for iOS, Android and Windows Phone, offers gas self-reading, bill reading, reading history, next bill issue date, account statement and domiciliation services.
Energy Control, available for iOS and Android, is Edison's application to check electrical consumption in real time and know how much it is consuming.
MySorgenia, available for iOS and Android, is the official app for Sorgenia customers through which it is possible to self-read, view the latest invoices and find useful contacts with Customer Service.
Iren, available for iOS and Android, is the app for Iren customers. It offers access to all online functions such as gas and light self-reading.
Up Mobile, available for iOS and Android, is the Banca Sella app through which it is possible to pay A2A Energia bills simply by framing the QR Code.