You are a fashion lover and you are looking for the right opportunity to save on Online shopping? On the web there are many offers with ecommerce services and sites specialized in shopping online able to satisfy your every need by offering clothing of the most prestigious brands at prices never seen before and with the convenience of buying them directly from the sofa at home.
In this guide we propose you the best apps for online shopping, from those able to select opportunities and last minute promotions to those that allow you to buy clothing via your mobile device, passing through the official collections of major brands to those dedicated to "fashion victims" who love to keep up with the times .
But let's not waste time and see what they are the best apps for online shopping that will allow you to find offers at an advantageous price.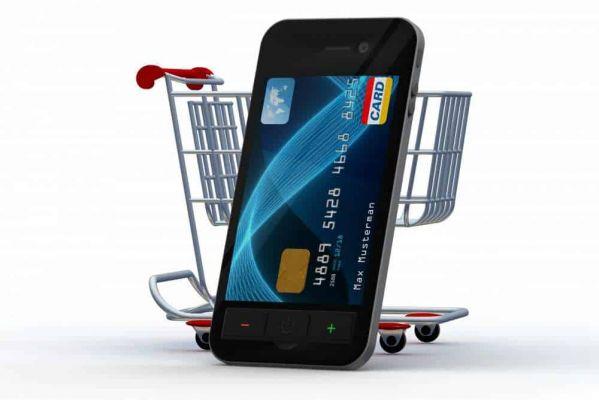 Privalia Mobile, compatible with iOS, Android and Windows Phone, is a free app where you can find great clothing, original fashion accessories and prestigious design objects ready to buy at discounted prices (70% less) than those offered in the shops. After registering, you can choose the showcase you prefer among exclusive offers and promotions, promotional companions, or scroll through the offers and buy with a simple tap.
Amazon BuyVip, compatible with iOS and Android, is a free app that allows you to monitor the many offers on clothing for men, women, children and household items, staying up to date on sales available in the future. Through the application you can make the purchase of the product concerned, specifying the shipping address and the payment method, viewing the orders placed or the vouchers available, as well as the ability to send your friends to subscribe, by e-mail, Facebook or Twitter, to receive additional sales discounts.
Glamoo, compatible with iOS and Android, is a free app that allows you to select thousands of offers and exclusive promotions on major brands. Every day you can take advantage of the opportunities, get discount coupons and interact with friends to exchange tips and discuss purchases. Based on geolocation, the app includes various functions, including "Featured" for discounts and best offers, and "Nearby" with discount coupons to use in the area where you are.

SaldiPrivati, compatible with iOS and Android, is a free app where every day you can find clothing, shoes, accessories, jewelry, but also hi-tech and home products at super prices. You can shop wherever you are, without ever losing sight of the best offers with discounts of up to 80%, to pay by credit card or PayPal. The alert function which, via notification, warns about the start of sales is very useful. The promotions are visible only to members of the Club, after free registration.
Fancy, compatible with iOS and Android, is a free app able to offer fast access to the contents of the design portal which over the years has gained much acclaim on the net. It is a virtual catalog of products, not only related to fashion, from which to be inspired for purchases. A very fun way to view many products, buy them, comment on them and interact with the large community. But also a way to express your preferences thanks to the section where you can "collect" everything that represents your style.

Net-A-Porter, compatible with iOS and Android, is a free app available for smartphones and tablets of one of the most popular and visited online stores in the fashion industry. Browse the huge catalog and choose the product that interests you most and buy it with simple steps. The high-resolution images allow you to check all the selected garments in detail, while with the related information for each garment, you can decide whether to buy them or not.

Stylish Girl, compatible with iOS and Android, is a free app that allows you to create an account to provide information about the clothes you have at home with related brands. The app will provide you with advice on future purchases, and the high-impact graphical interface is essentially an original idea for buying online.
Etsy, compatible with iOS and Android, is a free app developed with the idea of ​​providing support to the user during the search for the product to buy. In this case, there is a real and well-stocked and varied database, thanks to the 800 thousand resellers spread all over the world. Another important aspect is the graphical interface that makes it pleasant to browse the catalog full of high-resolution images.

Svpply, compatible with iOS and Android, is a free app in English with a vast database of over 5 products from major stores around the world. A quick and easy way to find new products and maybe some shopping ideas. With Svpply you can create your own collection where you can put everything you like and want to buy.

Glamour Personal Shopper, compatible with iOS and Android, is an ideal free app for all shoppers who want to be informed about the latest trends. The application is a set of tips made by the Glamor editorial staff on the most interesting garments of the moment. In this app you will find lots of information on the products of the season and useful tips to update your look. Through the geolocation function for a specific item, you can locate the store closest to you where to go to buy. For the more demanding, there is the possibility to share photos in the community and compare with other users.

Zara, compatible with iOS and Android, is a free app to browse the catalog of Zara Clothing on your smartphone or tablet, access the latest fashion collections and find out about the latest company and brand news. With a few taps, you can view the photographs of the catalog, the look book, the seasonal collection and buy online the new clothes that arrive every week in Zara stores. The catalog is divided into the categories Man, Woman and Child.

Stylight, compatible with iOS, is a free app called the "Fashionable Social Network". It is the reference point for fashion lovers, thanks to a community that has millions of users from which it is possible to know and receive advice and suggestions. A real "Facebook", where you can find the right inspiration for your look, thanks to thousands of photos and posts.

Vente-Privee.com, compatible with iOS and Android, is a free app where you can find products belonging to the fashion and design sector with more than 2.000 major international brands of clothing, accessories and home furnishings. A virtual logo for your purchases where you can find innovative, original ideas at discounted prices, up to 70%. You need to register for an average 3-day sales event to receive push notifications about its start and shop wherever you are.