Do you want spy on an Android mobile phone for parental control purposes? If you are looking for a solution to monitor the activities carried out by a minor on their mobile phone, you should know that there are several parental control applications that are not only dedicated exclusively to remote monitoring, with relative limitations, but are also useful in case of theft or loss.
KidsGuard Pro is a monitoring app for Android e iOS able to spy on and keep an eye on your child's phone in real time to protect it from the dangers of the network.
What is KidsGuard Pro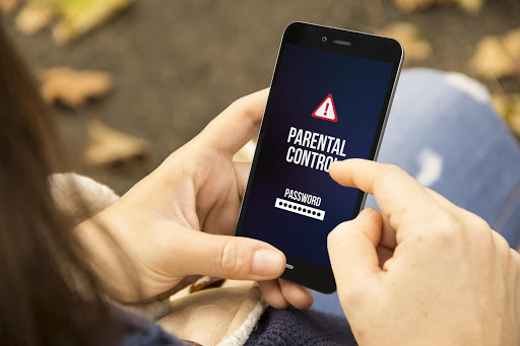 There are many reasons for a parent to use KidsGuard Pro. It is an easy to install phone locator, even for inexperienced users, which does not require the target device to be rooted.
Without having to touch the target device, the software allows you to:
Track remotely and in real time a phone and view the location history in detail (GPS tracking).
Monitor over 30 files, including SMS, photos, videos, browser history, calls, installed apps and social media apps (WhatsApp, Facebook, etc.). If necessary you can also export this data and save it on your computer.
Track account activity and app notifications.
Check your phone data. You will be able to catch even an unfaithful partner in fragrant.
Take screenshots, record calls and take pictures. Useful to be able to act in advance in case of dangerous situations.
Synchronize data in real time tramite rete Wi-Fi o 3G / 4G.
The main advantages are also the invisibility of the app on the main screen after installation, support for multiple languages ​​to cover different users, data encryption to protect them and ensure their privacy and undetectable.
All these features are offered by KidsGuard Pro at a low price and with a 24/24 customer support team both via email and live chat.
How to use KidsGuard Pro for Android

Spying on a cellphone Android for parental control purposes with KidsGuard Pro for Android it is very easy, the steps to follow in the initial phase are:
Access the device to be tracked for 5 minutes.
Verify that the target device has an Internet connection
Register a valid account for KidsGuard Pro.
1. How to create a KidsGuard Pro account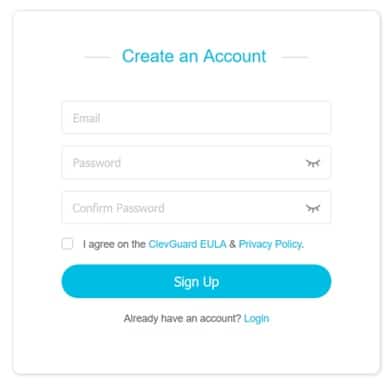 To use KidsGuard Pro you must register for an account by entering a valid e-mail address. Connect to the KidsGuardPro for Android page and press the button Sign Up Free.
In the account creation screen you will need to enter a valid e-mail and repeat the same password in the two fields below and then check the item I agree on the ClevGuard EULA & Privacy Policy.
Press the button Sign Up and complete your subscription by purchasing the monthly subscription for $ 29.95 (€ 36,77 including VAT). Alternatively you can purchase a quarterly subscription at a cost of $ 49.95 (61,33 euros including VAT) or annual cost of $ 99.95 (122,71 euros including VAT).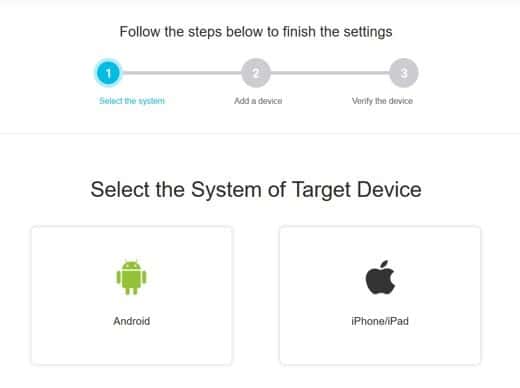 After paying with PayPal or credit card you can select Android, but also choose iPhone / iPad if you want to install KidsGuard Pro for iOS.
2. Download the KidsGuard Pro Assistant app on the target device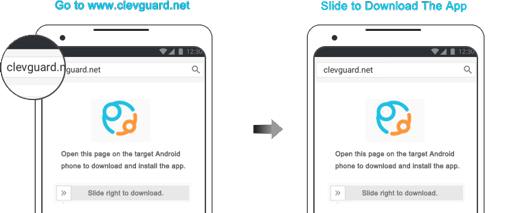 Go to the official site page with the browser of the target smartphone and download KidsGuard Pro (swipe up Slide right to download).
Tap the file APK downloaded (usually it is in Archive> Installation file or folder Download) and allow installation of apps from unknown sources. At the blocking message, tap on Settings and check the item Allow from this source. Go back and press up Install.
3. Install KidsGuard Pro Assistant on the target device
In case the app is blocked because it is blocked by Play Protect, you will need to disable it. From the phone, go up Play Store and first menu at the top (the three horizontal lines) and select Play Protect. Then go up Settings (gear wheel icon) at the top right and on the screen Generali, disable the voice Analyze apps with Play Protect. Confirm by pressing on disable.
Once the app is successfully installed, log into your account and follow all the setup procedures.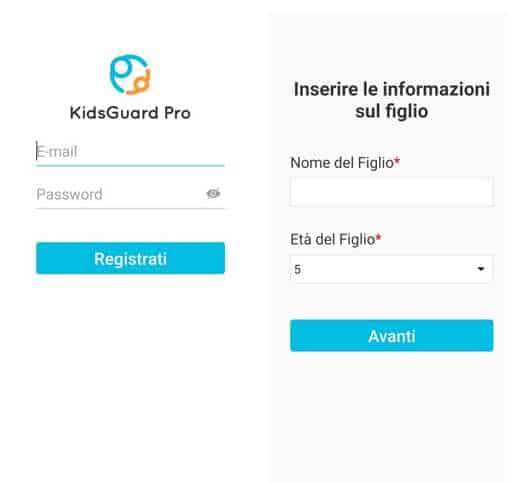 At the end of this article you will find in detail all the steps for the correct configuration of KidsGuard Pro to help you complete this process.
Note: To prevent KidsGuard Pro from being deleted on the target device, it is renamed as "System Update Service". And once the installation is complete, the app icon disappears automatically. So it will work in stealth mode.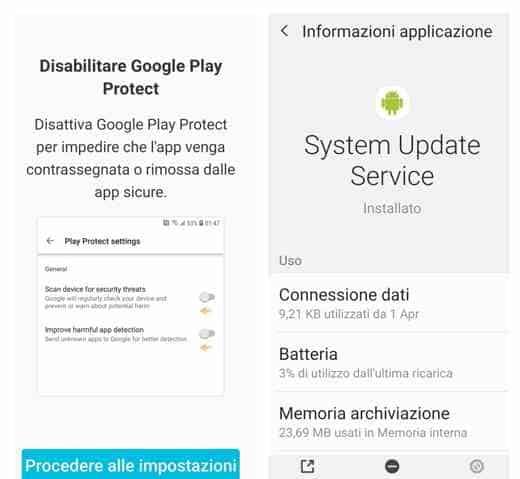 If you have installed on the target phone, click the button Or under the Dashboard to check and connect the device. If set up correctly, you will enter the KidsGuard Pro Web Dashboard, where you can check the activities and files of the target device.
Top it all off by deleting your browsing history in your browser settings and the APK files downloaded to your phone. It will prevent anyone from detecting the monitoring in the device.
I recommend, activate Position (GPS) in the target smartphone.
4. Start spying on android cellphone with remote control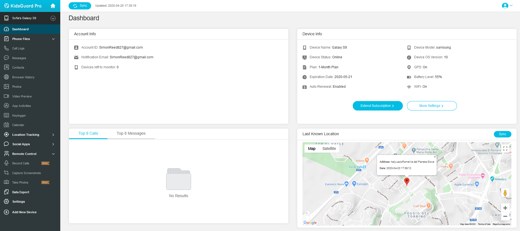 After completing the installation on the target phone, log into the KidsGuard Pro web control panel, where you can remotely control all collected data and phone activity. If it is the first time you enter, wait for the synchronization with the phone data to be completed, in case you can always press the button Sync above for new updates.
La Dashboard is divided into four panes:
The device account information.
The device information (battery percentage, GPS, WiFi).
The history of messages and calls made and received
The satellite map where your child is.
In the left sidebar you can see many other options useful for getting more details:
Phone Files: files downloaded or shared on the phone (photos, videos, calls, contacts, pages visited, etc.)
Location Tracking: information on moving around on the map.
Social Apps: everything related to Facebook, Instagram, etc. apps (messages, photos, videos, stories, etc.).
Remote Control: To take screenshots, take photos or record calls.
Data Export: to export a reporting file in CSV format.
Conclusions
As you could see from this guide KidsGuard Pro is a complete app on how to control your child's cell phone and protect it from the dangers of the network.
The app turns out to be very useful especially in cases where the minor finds himself in difficult situations that he cannot and does not want to face. Think cyberbullying or the Dark Web.
That's why the amount of features and the simple and intuitive dashboard make KidsGuard Pro one of the best apps to spy on an Android mobile phone for parental control purposes.
How to set up KidsGuardPro on the target phone
Here are the detailed steps to follow to install the KidsGuard Pro APK.
After downloading the app, click on it and hit Install. At the end of the installation click on apri and then Agree to accept the terms of use of the app.
Log in with your account pressing on Sign Up and follow all the configuration procedures. Enter your child's information: Your name ed Age and press pulsating NEXT.
Accept all authorization requests and click on Got it.
The system will ask you to disable Google Play Protect to continue (which you already did at the time of installation). Confirm, and press the button Proceed to settings to continue and then press on Already Set to e dai confirms.
Now you need to activate
The System Update service (System Update Service), in order to allow the app to monitor the status in real time. Press on Go to Settings> Installed Services> System Update Service, tap on this last item and from Disabled pass to On confirming everything.
The service Allow Usage Tracking (Allow usage tracking) so that the app can monitor the app's activities on the target device. Press on Proceed to settings. On the screen Usage data access, activate the voice Consenti monitoring use in the option System Update Service.
Access to notifications. Press the button Go to Settings> System Update Service. Move the cursor up ON. Confirm everything.
Access as Administrator to monitor the phone in real time. Press on Proceed to settings and immediately after pressing on Attiva. In this way the System Update Service will monitor all screen unlock attempts.
Screen capture to capture everything that is displayed on the screen. Press the button Proceed to settings and then Start now. Confirm with OK e Start now again.
Access to data. Stop on the button Allow everything.
When everything is done, click on Ignore not to consider theBattery optimization and then Start Monitoring.
You can start using KidsGuard Pro.