Best Android keyboards for tablets and smartphones. A selection of the best virtual keyboards for mobile devices with Android operating system (Samsung, Huawei, LG, Motorola, etc.).
If you are tired of the usual Android keyboard with which to send messages, know that it is possible to change it and download other easily customizable ones. The best virtual keyboard applications for Android are available on the Play Store, some for free, some for a fee, for a better typing experience.
With the best Android virtual keyboards you will be able to exploit the potential of your device and test them to verify their main functions. the best keyboard for Android is not necessarily the pre-installed one, you may find other virtual keyboards that use support for multiple languages, emojis, gifs, symbols, Internet searches, and much more interesting.
Read also: Emoticon per Android
Best Android keyboards for tablets and smartphones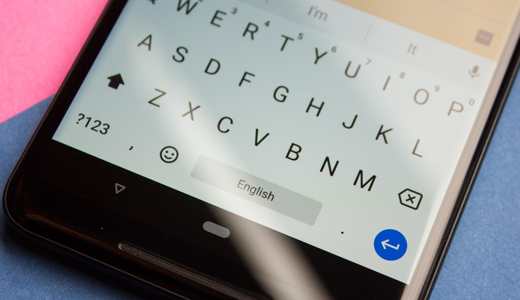 I hope you can find something interesting among the best android keyboards for tablets and smartphones proposals. I recommend installing them and trying them out. Enjoy the reading!
1. Gboard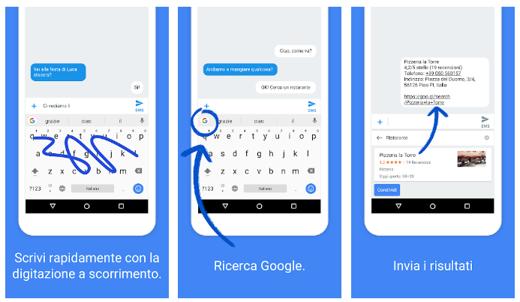 The Google keyboard is the best Android keyboard, it's free, and it's no longer limited to just stock Android devices. In addition to the pleasant appearance, Gboard it also offers a smooth and responsive typing experience with predictive voice dictation which gets smarter over time. Of course, this keyboard will automatically correct and predict words as they are typed, and there's also a handy gesture typing option that lets you slide all the way through.
Download if you hate the custom keyboard on your device! Also excellent as a WhatsApp keyboard.
2. SwiftKey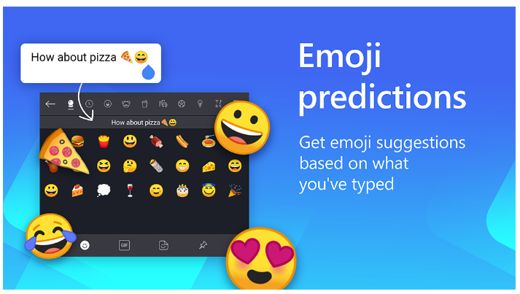 Imagine Google's awesome keyboard, but infused with the power of all the typing you've ever done in Gmail, Facebook, Twitter, or text messages to help you predict the next thing you're going to type. This is the power of SwiftKey (free), the award-winning keyboard that almost rivals the stock one for Android.
SwiftKey, as well as being a free keyboard for Android it is fast and accurate. It also offers tons of themes available through in-app purchase.
Download if you like bright looking themes.
3. Smart Keyboard Pro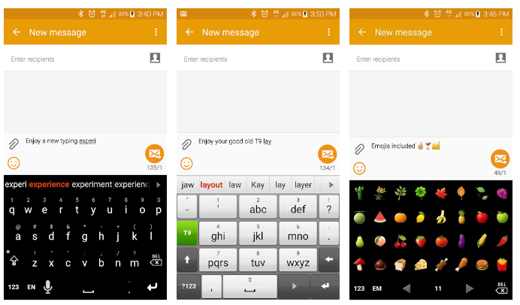 Some may find it bold to call your app Smart Keyboard (€ 2,39), but Google Play's ratings don't lie. There is support for multiple languages, voice input, a Smart dictionary, custom autotext, and the kind of predictive typing we're all used to.
What makes Smart so smart? For starters, this is one of the few keyboards I've come across and that actually allows users to adjust the height of the keys, making them smaller or larger depending on the size of the digits. Hey, if you miss the T9 input from your old phone, this is the keypad for you.
Download if you want to check the size of your keyboard.
4. Flexible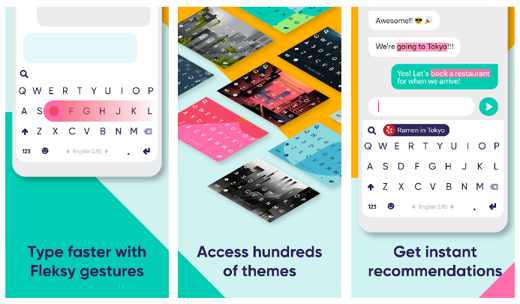 Any app that bills itself as "the fastest keyboard in the world" definitely deserves a closer look, especially when it holds a Guinness World Record for that result. The keyboard app Fleksy, available for free, goes beyond predictive writing hoopla by offering GIF support, licensed themes such as Frozen, Peanuts e The Hunger Ranges and a Rainbow Pop effect you have to see to believe.
It is a lot of fun to use and efficient enough that you can take your eyes off the screen as you type. If you can adapt to the flat and square keys, it's definitely worth a look.
5. Thumb Keyboard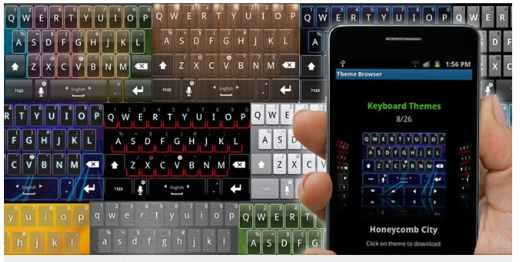 Forget about emojis and all the other gimmicks - we just want a clean keyboard that doesn't require too much thumb movement. Look no further Thumb Keyboard (€ 2,14), it is the perfect companion for your phablet or tablet thanks to the insane number of layouts available.
With this keyboard for Android, users can toggle between portrait and landscape views, each with custom themes and wallpaper combinations for seemingly endless variety. There are also special layouts designed strictly for larger displays and a one-handed mode, for typing text on your phablet's screen. .
6. GO Keyboard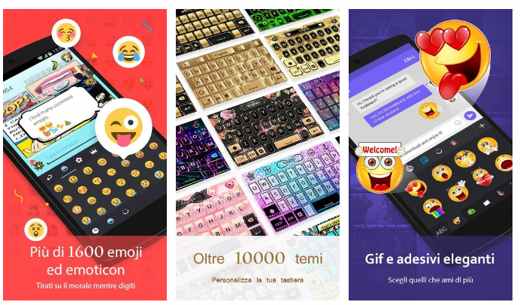 Literally packed with themes, emojis, emoticons and more, GO Keyboard (free), also called Go Keyboard, has the highest positive ratings from Google Play users of any other keyboard app. It supports over 60 languages, over 1.000 themes with weekly new arrivals and keyboards QWERTY, QWERTZ e QWERTY. It is one of the few apps that can add special characters and sounds to messages without causing you to lose the right typing rhythm.
Clearly oreturned to teenagers and younger Android users, my only real complaint is the space GO takes up on the screen to make sure you purchase custom themes and more in its online marketplace.
7. Minuum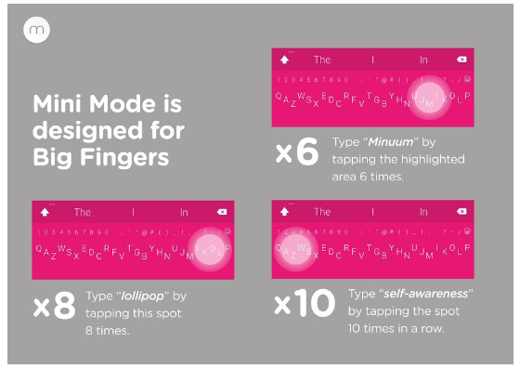 Designed for users with larger fingers, Minuum ($ 3,49) is great if you have a device that helps you type with one hand.
The developer promises you'll be up to speed with Minuum after a simple 15 second tutorial, and I have to say I was pleasantly surprised at how accurate it is. If you have an Android Wear smartwatch, buying it will be money well spent - just join the mailing list and you'll be ready to tap those little buttons on more than 10 different wearables.
Downloadable if you are not a perfect typist and mostly have big fingers.
8. Kika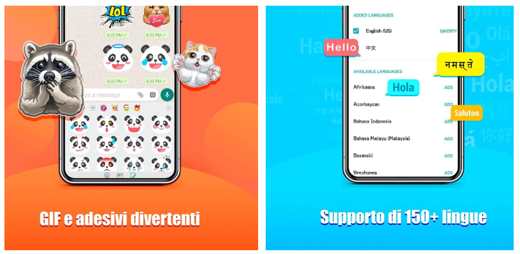 The keyboard keyboard Kika is another very popular virtual keyboard for Android smartphones. It differs from all the others in that it focuses heavily on Gifs, emojis, stickers and so on. It integrates with Android mobile themes, and best of all, it's free.
It also offers several customization possibilities that allow you to change keyboard layouts as often as you want. Download if you are looking for a fun virtual keyboard.
Other useful articles
Best Android Widgets
Android screen recorder
Best calendar apps