Samsung has finally unveiled the fourth generation of what looks like the most accredited rival of the iPhone 6 Plus: the Samsung Galaxy Note 4.
Made with a sleek metal frame, unlike the older Galaxy, the Samsung Note 4 has a back shell in faux leather replaceable with other colors, and a technical equipment not to be underestimated.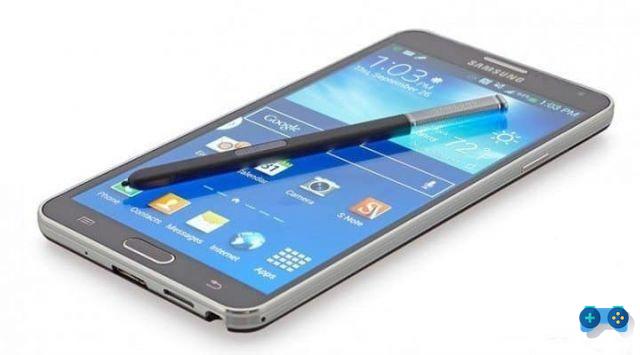 Under the body there is a Quad Core 2,7 GHz processor, 3GB RAM and an ability to 32 GB expandable with microSD.
The display is 5,7 " with a panel Super AMOLED with a resolution Quad HD pari a 2.560 x 1.440 pixel and a density of 515 ppi, in essence it is four times more defined than an HD screen; it has also been optimized for browsing the web and reading eBooks.
To take advantage of this screen size, Samsung has thought about implementing new ways to manage multitasking. You can split the screen in two to display as many applications or use a pop-up window to control a second app without exiting the first.
Recent apps are also displayed as a carousel that is very reminiscent of the mode introduced with Android Lollipop 5.0.
La rear camera take photos from 16 megapixel, is equipped with an optical image stabilizer and is capable of record video in UHD. The front camerasinstead, it has been optimized for i Selfie with 3.7 megapixel sensor and an opening F 1,9.

The feature that most distinguishes the Samsung phablet is the stylus. The S Pen system it is not only used to take notes or make some sketches, but allows you to interact with the device to select and organize content in a faster and more practical way. Through function Smart Select, you can copy parts of a website to save and read them later. The Note 4's nib also offers greater pressure sensitivity for a more realistic writing experience. The Note 4's S Pen can use two different tip types, one rubber for gaming and multimedia, and one of plastic more suitable for writing.
As for connectivity, the Note 4 supports theLTE and is able to read the fingerprints digital. The battery should last 7% longer than the previous model and a system has been implemented that makes the approximately 30% faster charging than other smartphones. The only drawback: the lack of a microUSB 3.0 connector.
In conclusion, the Samsung Note 4 al price of about 750 euro, has superior technical characteristics to the iPhone 6 Plus and the S Pen is the ace in the sleeve of this phablet with a considerably superior design compared to other Samsung smartphones.
Technical features
Operating System Android 4.4 (KitKat) with proprietary TouchWiz interface
Display Quad HD, 2560-inch 1440 x 5.7 pixels
Processor 2.7 GHz Quad-Core or 1.9 GHz Octa-Core Processor (1.9GHz Quad + 1.3GHz Quad-Core) with 3GB of Ram
Connectivity 4.5G (GSM/ GPRS/ EDGE) : 850 / 900 / 1800 / 1900 MHz, 3G (HSPA+ 42Mbps): 850 / 900 / 1900 / 2100 MHz, 4G (LTE Cat 4 150/50Mbps) o 4G (LTE Cat 6 300/50Mbps)
Memory 32GB expandable up to 64GB via microSD
GPS, Wi-Fi, Bluetooth e NFC
Camera 16 megapixel with Smart OIS image stabilizer and 3.7 megapixel front with f / 1.9 aperture for panoramic selfies
Battery from 3220 mAh with the ability to recharge 50% in 30 minutes and 90% in less than 60 minutes
Sizes: 8,5 × 153,5 × 78,6 mm
Weight: 176g
Colors: black, pink, white, gold
Sensors: UV detector and heart rate detector