Do you want to know how to do a survey on WhatsApp? Here are the instructions for surveys: how to take and share them from Android, iOS and PC.
Interaction with friends and acquaintances can in many cases help to improve and choose the right path to take. For this purpose, surveys are born, questions posed to a small number of people able to understand the most interesting answer. Unfortunately, WhatsApp does not have the function to create polls, very useful for interacting with your contacts and creating useful and fast interactions.
In the next lines we will analyze in a practical way how to do a survey on WhatsApp and we will try to better manage this mechanism not only from smartphones but also from computers. We will also dedicate a paragraph to the most interesting services and applications to create and manage surveys, so as to give you the greatest possible knowledge of this topic and choose according to your needs and preferences.
Surveys on WhatsApp? How to make and share them from Android, iOS and PC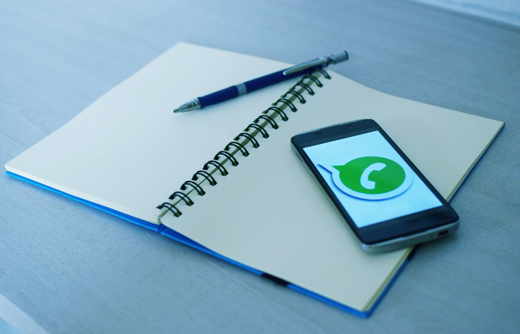 As anticipated in the introduction, WhatsApp it does not have a real function for conducting surveys, whether private or public. However, you can use alternative methods that give the same result in a very short time. Many third-party services are not free but today we will focus on those that you can use without spending anything and get excellent results both in terms of quality and features.
Let's see how to carry out a quick survey from smartphones and computers.
How to create a WhatsApp group survey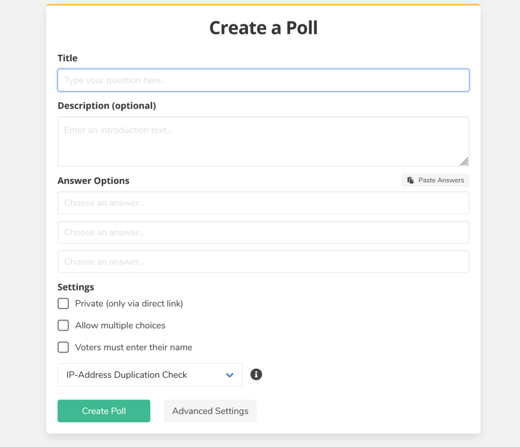 Go to the official page of Straw Poll I awarded her Create Poll in the top menu. The form will open Create a Poll to fill in and where to enter the main question of the survey in the field Title.
In the Answer Options instead you have to enter the different answers that will be an integral part of the survey. To block duplicate votes select the item IP Address Duplication Check and click on Create Poll at the bottom of the window to end the survey.
Premendo il pulsating Advanced Settings you can also add images, set an expiration, create a PIN Code for sharing and much more.
By pressing on Share you can share it directly on the WhatsApp app. Finally pressing on Results you will be able to see the results in real time.
The process is very simple and you can use it whenever you want. Many are convinced that you can use, create and send surveys on WhatsApp only to your friends, in reality third-party surveys are born with the intent of speeding up interactions in groups, allowing the participants of the conversation to keep in the foreground the 'topic treated without getting lost in the very long chat.
Read also: How to create a group on WhatsApp
Services for taking surveys
As we have just analyzed, to obtain optimal results you need third-party services, but as you can imagine not all of them are identical and some differ in very specific characteristics. Besides Straw Poll here are other services loved and used by users for take a survey on WhatsApp.
Google Forms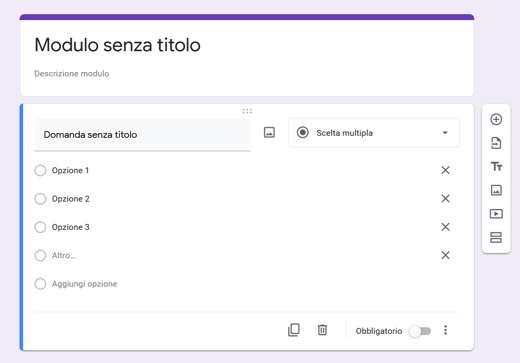 Google Forms allows you to analyze and create polls for your social networks or instant messaging programs. By taking three simple steps, you can create quality surveys. All you have to do is open Chrome as your primary browser and go to forms.google.com. Press the button New module to insert your quiz, save it and send it to whoever you want. For more information, I suggest you read our guide on how Google Forms works.
Doodle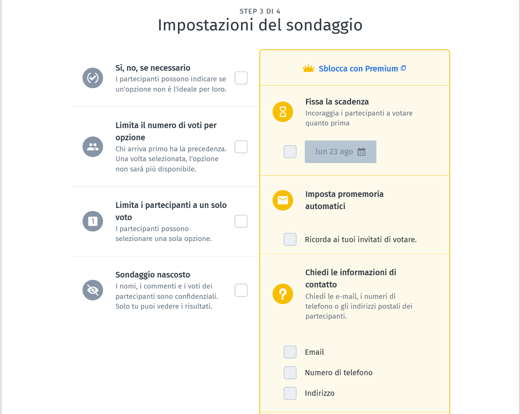 Also Doodle is a great online service to create surveys for WhatsApp. By selecting the option in the upper right part of the site Create a Doodle you can give life to your survey, also adding a predetermined place unlike the others limited to simple text. Definitely a reliable solution that offers excellent graphics and additional features that the most geeks will appreciate.
SurveyMonkey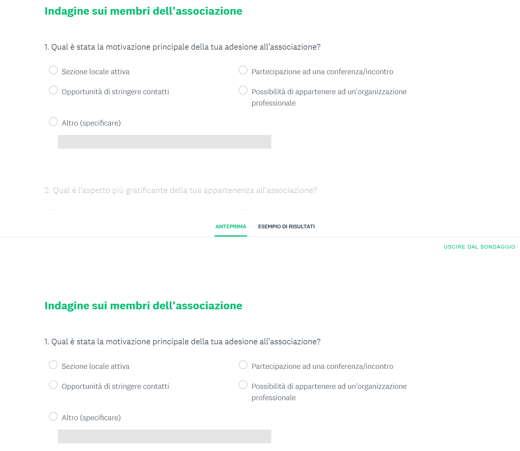 SurveyMonkey is another website where you can create online surveys. It is excellent for market surveys as through surveys it allows you to collect feedback by analyzing the results that you can export at any time.
By clicking on Get started, you will be able to enter your question and set 10 answers. At the end you can share the survey via email or via social media. For each response, you will receive an email notification and the ability to check the progress of the survey. Create your free account and start taking surveys.
If you are looking for professional surveys for your business, SurveyMonkey also offers some monthly and annual payment plans.
Tally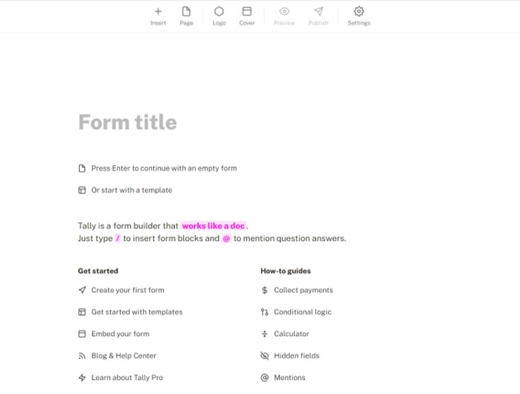 Log in Tally e pigging your pulse Create form you can start working on your survey by taking advantage of one toolbar at the top of the screen. It is a professional service where you can create not only surveys but also questionnaires with titles, images, comments and much more.
A real free form builder with advanced options will allow you to develop a survey to share via email or on social media. By signing up for the platform for free, you can get unlimited questions and answers and much more.
How to send surveys on WhatsApp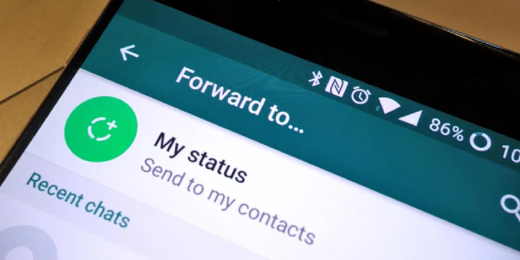 The sending function of these programs is often subject to the software itself. Sharing is in most cases present in both the Android and Apple versions but it is appropriate to examine it in more detail to be prepared for sending without technical errors.
Android
Assuming that you have created your survey with one of the services listed above, you must necessarily copy the survey link and keep it.
Consider that some of the services illustrated allow you to access WhatsApp directly and select the group or users to send the survey to.
apri WhatsApp and select a tab of the Chat, you will find it at the top left, press on the speech bubble and select the contact or name of the group you want to send the survey to. Press on the text field and holding your finger in that area select Paste by entering the survey link in this way. Awards email and you will have sent your survey to the group and to your friend.
We inform you that you can also enter the survey link in the WhatsApp Status, making it a real place for information. To do this, go up WhatsApp> Status I awarded her My status. Press on pencil symbol to create a status update with the survey URL. When finished, press the button Send.
iOS
apri WhatsApp and select a tab of the Chat, you will find it at the bottom right, press on pencil and select the contact or group name you want to send the survey to. Press on the text field and holding your finger in that area select Paste by entering the survey link in this way. Awards email and you will have sent your survey to the group and to your friend.
PC
If you feel like sending your surveys through Web WhatsApp o desktop you could do it without much hesitation. Copy the survey link and accessing WhatsApp from the web version for PC or macOS enters in the Chat e share the survey link pasting it in the text field and then sending it to a WhatApp group. If you have never used WhatsApp Web, read this guide on using WhatsApp on PC.
App for taking surveys
Although using third-party sites can be useful and fast, if you are looking for some additional functionality you will need dedicated applications. Let's see the best ones you can count on to get quality surveys.
Simple Straw poll (Android)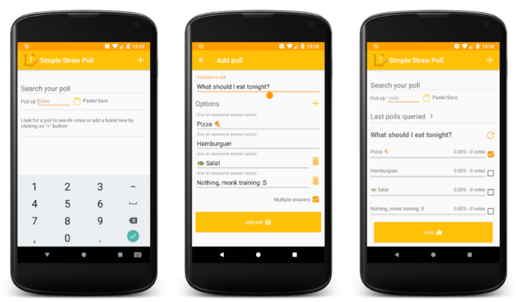 In addition to the online version of Straw poll, already illustrated, there is also the mobile version for Android: Simple Straw Poll. You will be able to generate the link of your surveys quickly and easily, with four choices and the function of adding a deadline.
Poll For All (Android, iOS)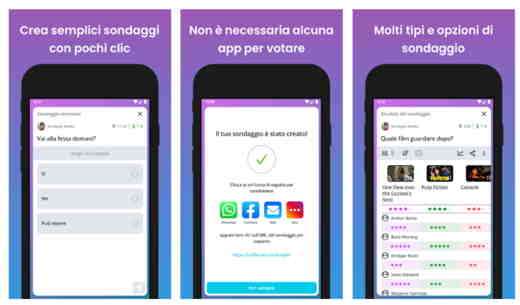 Among the best apps on how to take a survey on WhatsApp is certainly one Poll For All, for Android and iOS. It allows you to create multiple choice surveys with predefined backgrounds that are very nice to see or to insert your own image in the gallery. You can associate images and links, get notifications for each vote and set deadlines. You can send the survey (private or public) also on social networks or via e-mail by showing or scanning the QR Code.
Asking (Android, iOS)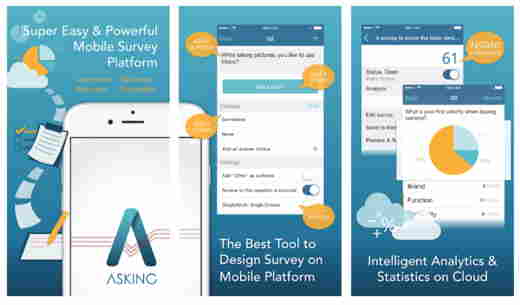 If you are looking for an application to create workplace surveys, this is the smartest solution. Asking, for Android and iOS, provides several features for intelligent compilation and adds convenient graphs to analyze and monitor the survey over time.
Pollie Creates Polls (Android, iOS)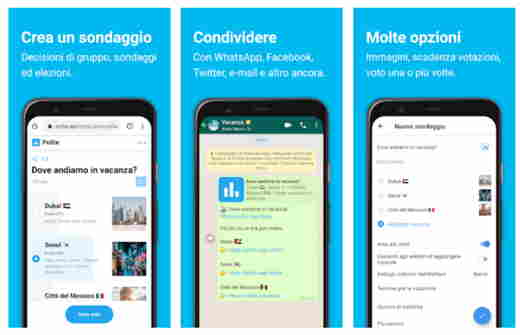 Application particularly loved by those who want to know different opinions is Pollie Creates Polls for Android and iOS. Create polls for WhatsApp, Facebook, Twitter and other social networks. You can get Charts, set deadlines, insert images and much more. It is a community-based system that guarantees excellent graphics and unparalleled ease of use.
Easymind (Android)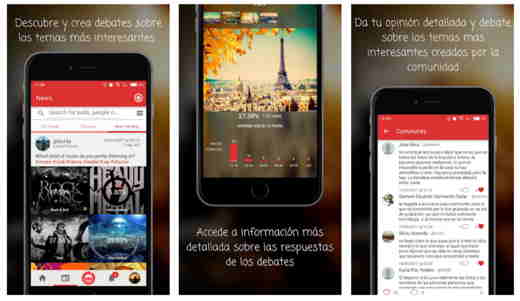 Last on the list but certainly not the least important is Easymind. This was born with the intention of creating and sending polls for social networks connected to both Android and Apple operating systems. In addition to the traditional response features, Easymind differs from the competition by limiting unwanted people within the survey.
Read also: How to make money with apps
Conclusions
WhatsApp it's not the only messaging app to survey with. Telegram for example, it has a native function called Survey that allows you to make questionnaires to your followers. But that's not all, even social networks offer special sections where you can create surveys: Twitter Polls, of Twitter, allows users to create mini surveys to collect the opinions of your audience on different topics, the same goes for Facebook and Instagram, whose stories can host real polls.