How to rotate a video on iPhone. A guide that will help you explain how to rotate videos shot with iPhone on PC or directly on iPhone.
You downloaded a video shot with your iPhone to your PC and noticed that videos are rotated horizontally instead of vertically or vice versa?
You want to remedy this inconvenience and you want to know how to rotate a video on iPhone? To rotate video you will have to use programs that we will tell you about in this article. Just read carefully below to straighten your videos on iPhone and PC.
How to rotate a video on iPhone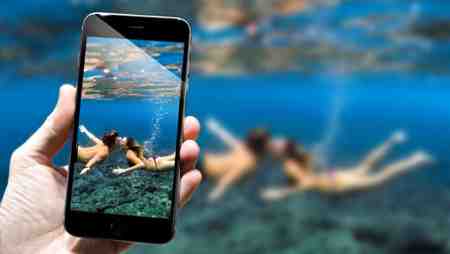 If you've captured video in portrait rather than landscape mode, you can take advantage of using iMovie or third-party apps in iOS 13 or later and easily rotate a video, even using the editing tools in the Photos app.
I'll show you how to rotate iPhone video using the editing tools in Photo, but also how to do it with iMovie and if these methods don't suit you check out our app tips at the end.
iMove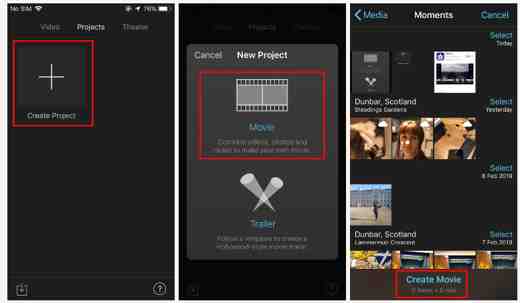 If you haven't already installed iMovie, open the App Store and search for it, then tap Get and wait for it to install.
Open the iMovie app and tap Create progetto. Stop on Film.
Tap on Create Movie at the bottom of the screen.
Stop + to add videos, then tap Video, Then All and double tap the video you want to rotate.
You should see your video at the top with the timeline below. You need to place two fingers or a finger and thumb on the video, then rotate them and swipe left or right to move the image. Don't worry if it's not right the first time - you can keep turning it in the same motion.
When you're happy with the orientation, tap Done top left.
Finally, tap Share (the up arrow icon in the center) at the bottom of the screen and choose where you want to save or share it (in your case in Camera Roll).
Photo app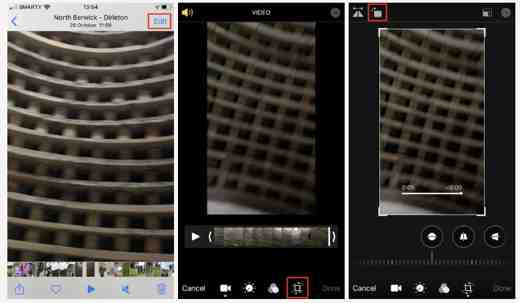 For recent iPhones, you can rotate a video directly on iPhone with the Photos app.
Open the Photos app, find the video you want to rotate and tap on it.
Tap Edit in the top right corner.
Tap the crop tool icon at the bottom.
You can swipe along the bottom ruler to adjust the angle.
There is also a rotate icon at the top which will rotate the video 90 degrees.
When you're happy, tap Done and the new video will be saved.
It's simple, but it's only valid for those iPhones that have iOS 13 or later.
Video rotate + flip video easy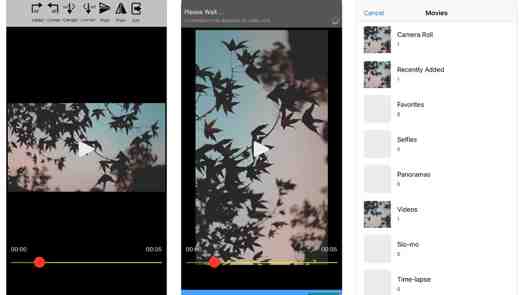 Video Rotate + Flip Video Easy is a third party app that you can download from the App Store. Its use is very simple. After installing it on your iPhone open the video and use the rotate tool. At the end you can export it to your phone roll and the rotation will be permanent and compatible with all Mac and PC video players.
The conversion is quick and allows you to rotate even large videos.
How to rotate iPhone video on PC
If you prefer to rotate iPhone videos on PC here are 2 good software that can help you in your intent.
Avidemux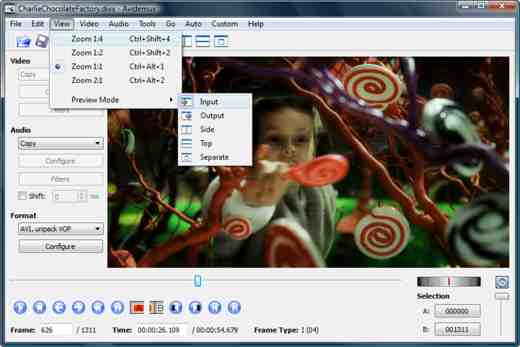 A good solution to rotate videos shot with iPhone directly on PC is to use Avidemux. It is a free Open source software capable of editing all video formats.
Start Avidemux and select the video you want to rotate. Click on the menu Fillet and then apri. Set the option AVC MPEG-4 from the drop-down menu Video, the option MP4 from the drop-down menu Size and click on the button filters. In the window that opens, double-click on the item Rotation and select the number of degrees you want to rotate the video. Click on OK and then Close to confirm. Select Save> Save Video from the menu Fillet di Avidemux.
Now choose the folder on your PC where you want to save the video and click on Save, including the .mp4 extension, to wait for the movie to be re-encoded.
Freemake Video Converter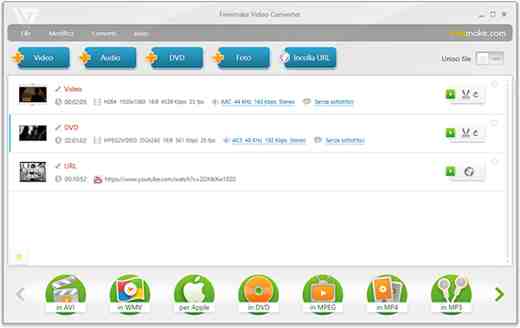 Freemake Video Converter is a great program to rotate videos for free in three simple steps. You can convert movies to AVI, MP4, WMV, MKV, MPEG, SWF, 3GP, DVD, MP3, PSP, rip and burn DVD / Blu-ray and upload to YouTube.
Start Freemake Video Converter and clicking on the button + Videos insert the video you want to rotate by clicking on the "Edit / Play". Click now on "Rotate 90 ° CCW"Or"Rotate 90 ° CW"To rotate the video left or right, and click on OK.
To save the changes you will have to choose the output file format (better the original one) and convert the video. Choose profile and click on "OK".
Other useful articles