How to log in on TikTok are you wondering? Do you also want to be part of the millions of users who have made this social network become a real revolution in the sector? Do you want to follow all the trends of the moment and have fun enjoying all the best video clips?
Very well, in this case all you have to do is keep reading. We will show you now, in fact, how can you register on this social network and become part of it taking just 5 minutes of your time. What are you waiting for then? Read on!
The 3 basic steps to enter TikTok and get started on your new social network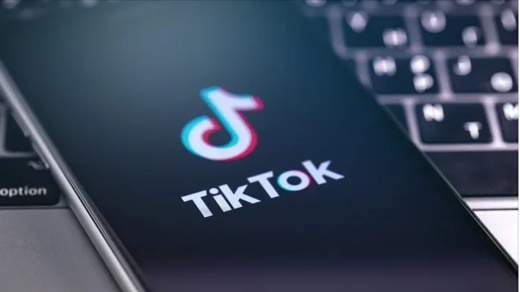 When we told you you can register on TikTok in just 5 minutes, we weren't exaggerating at all! You must know, in fact, that this social network is characterized by extreme usability from the initial stages. By following our advice carefully you shouldn't find any difficulties.
If you are a new user and intend to register for the first time on TiktTok, it will be enough for you follow 3 very simple basic steps and you will be immediately operational and ready to dive into this fantastic world.
#1 Step
First, of course, download the official app TikTok. Don't worry, you will not have to pay anything, it is in fact a totally free app available on the App Store, Google Play and Amazon Appstore, then proceed with the download of the application that adapts to the mobile operating system of your device.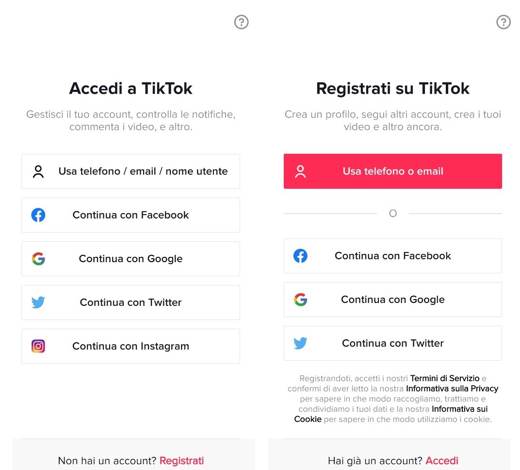 Once the installation is successful, open the app and in the screen Register on TikTok. You will immediately notice the great variety of methods available to register, choose what you want, whatever your choice the final result will be the same. Then create your account, provide yours date of birth and yours number of cell phone and, after entering the verification code received, your account will be duly created.
#2 Step
The second step has to do with theactual access to the service. On the Register on Tiktok screen, tap on Log in, next to the item Do you already have an account?
Select the access method with which you registered, enter your login credentials in the appropriate spaces and confirm to access the service. You may be required a check which consists of drag the scroll bar to fit the puzzle piece.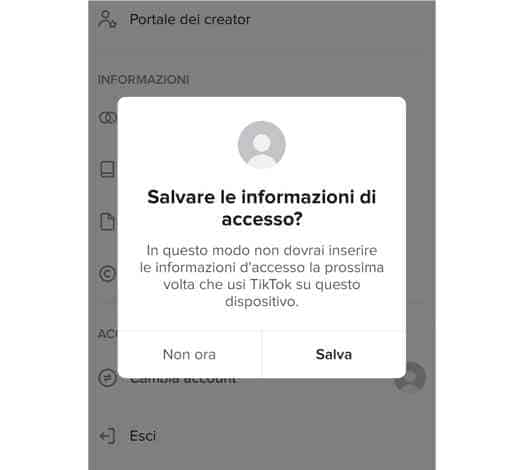 Note, if you want to avoid repeating this procedure all the times, when you tap on Logout, we advise you to click on Save in the window Save your login information, iin such a way that, whenever you want, you can always come back to TikTok without having to enter your login details.
#3 Step
The third and last step concerns the eventual disconnection. No, don't worry, logging out of TikTok has nothing to do with deleting your profile. It will just make sure that the next time you want to connect you will have to re-enter your login credentials or just click on Log in where you have chosen to keep them stored on the device.
You may want to choose to disconnect from TikTok to safeguard the life of your battery or maybe you are in class or at work and it is better to eliminate any possible temptation in the bud, we certainly do not want to be reproached!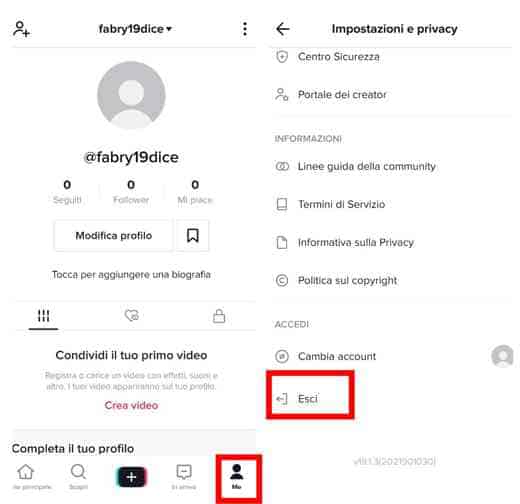 To disconnect from TikTok, all you have to do is click on the item Me, locate i 3 iconic dotsat the top right, and select Logout to log out correctly, that's all. We told you it was a very simple procedure, right?
Log in to TikTok, as you may have noticed, it also includes being able to choose the methodology you want among the many available and if you prefer to register using a specific one, you will certainly want to know how to do it. We will explain it to you immediately.
How to log in on TikTok by phone or email
Register on TikTok using your phone or email address it is certainly the most chosen option by most users and this method is also characterized by very high standards of usability and comfort.
First of all you will obviously have to get the official app, download it for free as it is available for both devices Android both for those iOS.
Once installed, you will immediately see the Register on TikTok. Select the method Use phone or email, choose between the two the one you prefer, enter yours date of birth and confirm your choice by clicking on NEXT.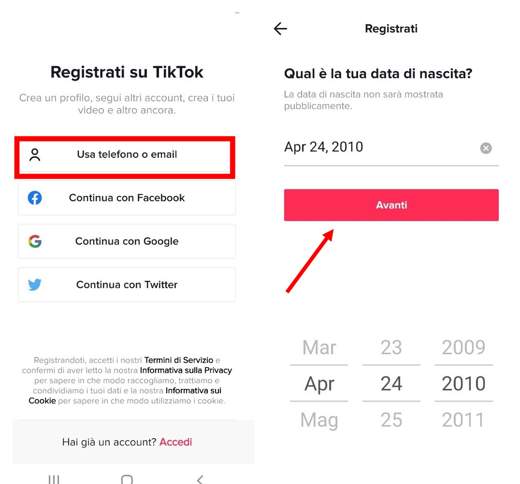 If you have opted to register via your email address, all you have to do is enter it in the specific required field and continue choosing one Password composed of a minimum of 8 characters and a maximum of 20 which will then be entered in the field Password. Once this step has also been completed, click on NEXT.
You will now notice how you will be assigned a default username, generally deriving from the email address, you can still change it by clicking on the button Me and selecting Edit Profile> Username which will allow you to make all the changes you want.
Now click on Sign Up and the procedure will be successful.
The steps we have just explained to you are of course valid even if you had to choose to register with your mobile number. In this case, of course, you will have to select the item Use Phone and enter your number on which you will receive after a few seconds a code of confirmation that you will report to authorize the registration process.
How to log in on TikTok with Facebook or Twitter
If you do not want to use your email or prefer not to create an ad hoc one to register on TikTok, you can always consider the possibility of accessing the service simply by using your account di Facebook o Twitter.
No, we are not kidding, it really is possible and now we show you how.
First start the app, which you will have previously downloaded to your device, and, on the screen Register on TikTok, select the option Continue with Facebook.
If your device already sees the presence of the proprietary Facebook app, you won't need to take any further steps. Just click on the item Continue as username and it will appear automatically.
If, on the other hand, you are using a different device than your usual one or you simply forgot to install the Facebook app, you can still complete the procedure. Enter your Facebook account credentials in the required fields and continue by clicking on the wording first Log in and then on that Continue as username.
Now there is nothing left to do but specify your date of birth, press on NEXT, change the username if you do not like the default one and finish by clicking on Sign Up.
The procedure just illustrated is valid in every step. If you decide to opt for a registration through your Twitter account, in this case, of course, you will have to select the item Continue with Twitter and faithfully repeat the above steps.
How to log in with TikTok with Google
How to log in on TikTok without using your social accounts, your email address or your phone seems to you an enterprise that can be classified as mission impossible?
Fortunately for you, TikTok has thought of even the most demanding users and has provided a convenient recording mode that can take advantage of your account Google.
Curious to know how this is possible? Let's go take a look then!
To be able to log in on TikTok using the Google account you only have to start the app previously downloaded on your device. Then select the item that shows the writing Continue with Google and click on the button Continue.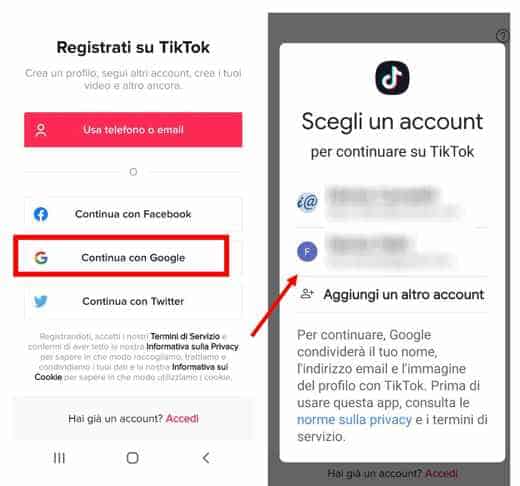 At this point the app should automatically recognize the Google account on the device. If this is not the case, you will only have to select the wording Use an altro account and proceed by entering the necessary credentials in the required fields, now finish by clicking on NEXT.
As usual, at this point in the procedure, you will need to specify yours date of birth and continue by clicking on NEXT. Change your username if you don't like it and then select the wording Sign Up to complete the procedure.
How to log in on TikTok without an account
No, we have not become magicians nor are we going to reveal a magic trick to you, but know that it really is possible log in on TikTok even if you don't have an account.
If for privacy or other reasons you have not yet decided to create a TikTok account, this does not mean that you will necessarily be excluded from all its contents. In fact, it will be enough to use a little trick to be able to have full access.
First worry about download the official TikTok app according to your device's operating system. Once installed, don't go one step further! Don't start it and move on Google by opening the search engine you usually use.
Also search on Google for the name of the VIP or star whose content you are interested in. In case you don't know the exact link you can always type the name of the character followed by the TikTok entry (eg "Fedez TikTok").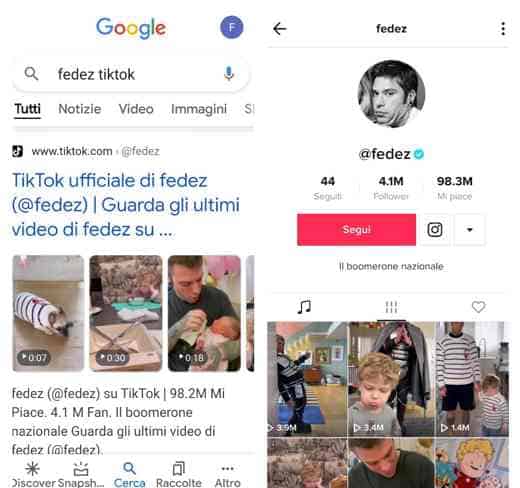 At this point, the one you are looking for should appear among the first results obtained. Feel free to click on link and you will notice how you will have a complete overview on all published content, even videos that will be correctly played and displayed by the search engine.
Then there is also another precious possibility. In fact, when you click on the artist's link, the device will automatically recognize the presence of the previously installed TIkTok app. By selecting the item View with TikTok app you can comfortably enjoy all the various contents via the app even without having an account.
Problems logging into TikTok
If despite all our indications, you still have problems logging in on TikTok, tapping on Me and then on the icon of three dots, at the top right, you can choose the option Report ProblemIn section Quick.
Find the section Select a topic and then stop on Account and Profile> Create an account > Problems creating an account.
Press on the item The problem persists. In the screen that appears, describe the problem you are experiencing by telling your feedback and also attaching a possible error image.
At the end click on the button Report And that's it.
TikTok in a short time it went from being a simple social network for young people to a real global phenomenon that is increasingly sought after by prominent figures on the international scene.
If you want to fully know all its secrets and fully understand how it works, we recommend that you read our article with the eloquent title How TikTok works, fully focused on the subject.