Do you want scaricare Office for free without spending a euro? If you do not know, Microsoft has decided for some time to make the online tools of the famous suite available for free to all users on any PC or tablet (both Android and iPad).
In this article I will explain to you how to download office for free in a few steps, all you need to do to access the Office Online platform is to connect to the address https://www.office.com, and squeeze the power of Word, Excel, OneNote, Power point, Outlook e Calendars and People.
How to download Office for free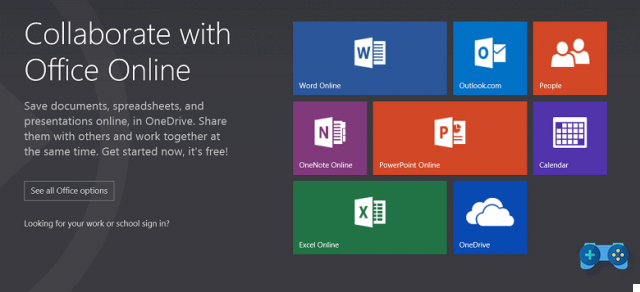 But what are the features of Office Online?
It's free, you just need a Microsoft account;
The programs are available in almost complete form. Missing functions are not essential for daily work;
It is possible to work in a team thanks to the sharing and synchronization functions in the Microsoft Cloud.
All files are always available in the Cloud;
It is possible to publish on the Web;
In addition to Word, Excel, OneNote, Outlook is also available to manage e-mails.
The free suite we are talking about joins the paid ones for Office 365, as this allows work on the Net and allows you to download software on one or more PCs using various functions. The differences in the use of the most famous applications are very small. For example, some advanced functions that we find in the desktop version are missing: in Word in the menu Inserisci the tools for the use of symbols and equations as well as those of WordArt graphics are not present. Some options are also missing in the menu References and Letters and Show, such as the possibility of inserting Macro or the option to view the document on two pages.
Word Online
Word Online contains the most important tools for creating and managing text documents compatible with the desktop program of the same name. In addition to making files that can be read by any past and present version of Word, you can open those files created with a desktop version of the application.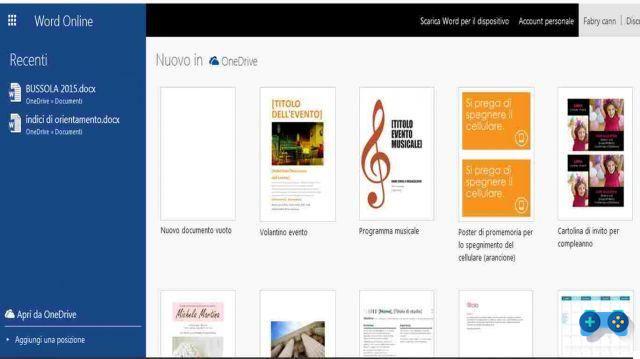 Excel
Like Word, too Excel offers all the tools to create spreadsheets and analytical documents in a practical and precise way. You can take advantage of the formulas that allow you to automatically calculate the values ​​entered in the tables, but also the options to insert graphs and histograms.
Power point
In Office Online, you also have a platform available Power point complete with everything, useful for viewing compatible files and for designing and creating graphic screens for work, school or fun. As with Word and Excel, the differences in using the program compared to the desktop version are slight. You can add drawings, writings, graphics, texts and diagrams created with the other applications of the suite and publish them all online. There are many predefined templates available that allow you to create a presentation, a text or calculation sheet starting from an already ordered structure from both a graphic and structural point of view.
from Office Store, accessible every time you open a new Word, Excel or PowerPoint document, you can browse the themes by choosing them by application or by category. In the first case, those usable for each software will be selected, in the second case, however, they will be defined by topic. Using Word you can make calendars, business cards, diplomas, FAX covers, certificates and much more. With Power point you can use the graphic scenes to elaborate by customizing them. With Excel you can create organizational plans, statistics, company budgets, tables for the management of the financial budget and so on.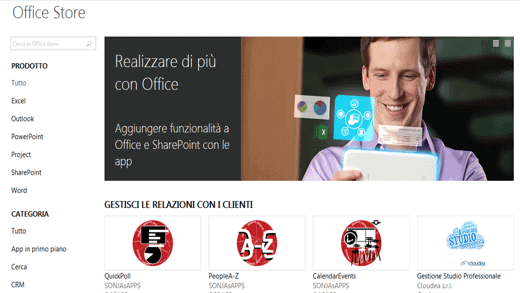 The advantage of use Office for free is that you do not have to spend a euro to download the available models, because you can find them for free. Just select one and wait for it to open in the default program interface.
Another interesting aspect of Office Online is the synchronization e sharing.
OneDrive
Synchronization is ensured by Office Online's interoperability with the service OneDrive. Each document created will be saved on the Microsoft Cloud allowing you to access it with any device and from anywhere. The saving procedure takes place automatically so there is no risk of losing it even if the connection is unexpectedly interrupted. If you then decide to download the files created locally, you can easily export them to PDF.

Outlook
To complete the range of programs available on Office Online, we also find Outlook.com, Calendar e Contact Us.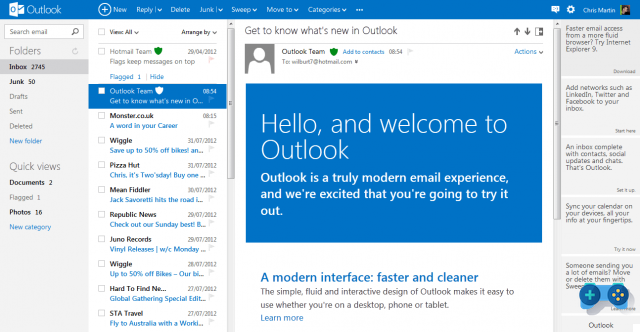 Outlook it is completely online and the potential for organizing and managing e-mails makes it truly functional. The instrument Calendar it is one of the most versatile and practical to use to organize your daily tasks. The view is in the classic style divided by days, on which you just need to click to enter the details of a memo, an appointment or a meeting. Contact Us it is similar to a new generation digital address book whose function is to contain all the references of friends, relatives, colleagues or acquaintances.
To import contacts, you can connect your Skype account and add a connection to your Facebook, Twitter, Google, Linkedin and Yahoo! accounts. Address books can also be imported safely into Outlook.com from other sources or from other versions of Outlook itself, whether we used the 2010 version or the 2013 version.