Do you want to know how to leave Instagram? If your enthusiasm for the photo social network has waned and you have decided to delete your Instagram profile, then I advise you to carefully read the instructions I am about to tell you.
I am sure you will eventually be able to understand how to delete instagram account in a very short time. Are you ready? Then let's get started.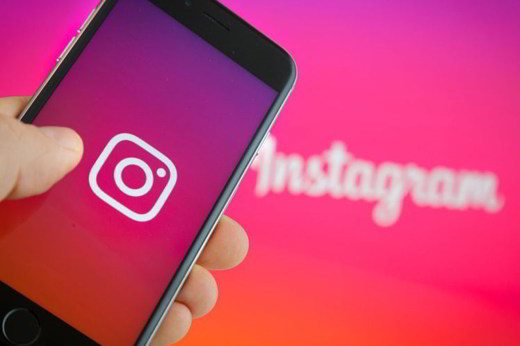 Delete Instagram account it is not difficult at all, indeed. All you have to do is focus and have an active internet connection. Then you can decide to go two different ways: delete an Instagram account permanently or delete an Instagram account temporarily.
HOW TO MAKE THE INSTAGRAM PROFILE PRIVATE
Before making this decision I want to reveal to you that if you are not fully convinced you can make your Instagram profile private. In practice, no one will be able to find you unless you yourself provide your friends with the link of your Instagram account.

To make your account private, you need to open Instagram and from your smartphone press the little man icon, at the bottom right, and then the icon with the three horizontal dots. (...), located at the top right. Move up ON Private Account option, by doing so your photos will be visible only to users you have decided to approve.
HOW TO DEACTIVATE AN INSTAGRAM ACCOUNT TEMPORARILY
To deactivate an Instagram account only temporarily you must connect to the Instagram website and log in (from PC or smartphone). Once inside, click on the little man icon, located at the top right, and press on Edit the profile. On the page Temporarily disable your account, scroll until you find the link Temporarily disable my account. Click on it and choose the reason why you want to deactivate your profile by choosing a reason in Why are you deactivating your account?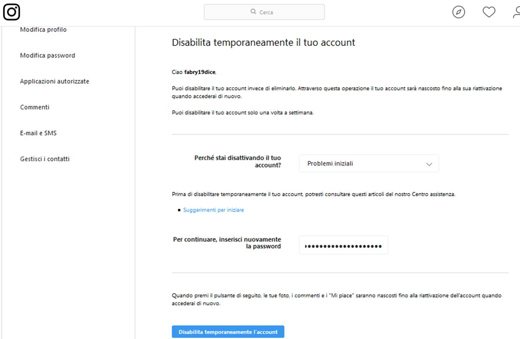 Note that doing this will disable your account instead of deleting it. In addition, your account, photos, comments and likes will remain hidden until reactivation which will take place when you log in again with your Instagram profile. Account disabling can be done once a week.
HOW TO DELETE INSTAGRAM ACCOUNT PERMANENTLY
To know how delete Instagram account definitely click on this page. Log in if necessary and on the page Delete your account specification in the drop-down menu Why are you deleting your account?, the reasons that push you to do it.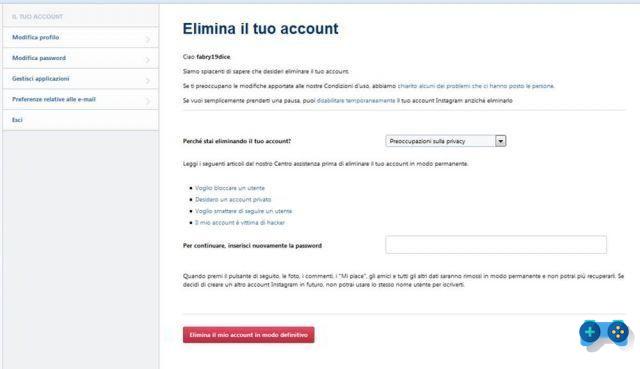 After choosing one of the many items, including Privacy Concerns, Too Much Busy Distracting Me Too Much, Initial Problems, and so on, type your Instagram password in the field To continue, enter your password again e premium pulsating Delete my account permanently to unsubscribe from Instagram.
After this operation, all photos, likes and saved data will be deleted. Furthermore, you will no longer be able to use the same account to re-register on Instagram.
Before closing your Instagram account for good, I strongly recommend that you save the photos on your computer.
Other useful articles