How to create Instagram gifs to enrich your expressions and test your creativity? The question might seem strange to you since Instagram is a social network mostly known for photos and videos.
You must know, however, that among its features there is also the one that allows you to upload gifs created personally by users so that you can share them with your followers.
Do you also want to test your artistic skills and create a personal gif to export to your Instagram profile?
In this case, the only thing you need to do is sit back in the chair. Take some time to read our guide and then, as always, put what you have learned into practice.
Are you ready for a journey to discover the artist hidden within you? Let's start then.
Read also: Free animated gifs for WhatsApp
Guide to creating gifs on Instagram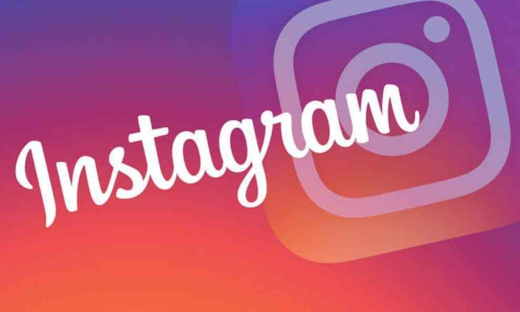 Create Instagram gifs it is not a complicated procedure, of course, there are a few steps to follow slavishly, but in the end we assure you that you will be able to create as many as you want in no time.
So, first of all a small clarification: in order to concretely proceed with the upload of a gif on Instagram you can use a single tool, that is the GIF sticker present in the stories.
This feature does not contain proprietary gifs, but draws directly on one of the best known and largest platforms in the industry, GIPHY.
What does this mean concretely? It means that before diving into your creativity you will have to go to the aforementioned portal, proceed with the registration thus allowing you to verify your new account. Verified users will be able to upload their creations and only after approval your gif will be available on Instagram.
Don't look at it as a nuisance, rather as a form of safeguarding overall quality. In fact, every day, GIPHY receives hundreds and hundreds of requests for acceptance of new gifs and the verification mechanism allows the portal to maintain quality at excellent levels.
After this necessary preamble, let's actually see how to make your first gif.
How to make a gif with GIPHY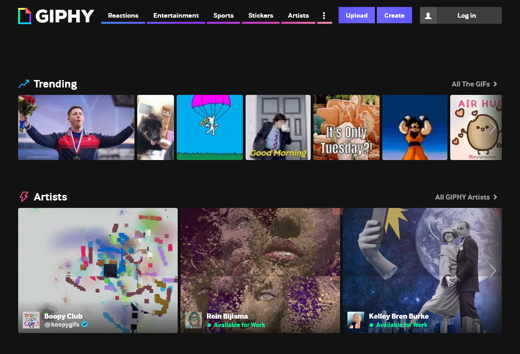 As mentioned, first go from your PC to the official GIPHY website or download the GIPHY app for Android or iOS, click on the button Log In, at the top right, and in the newly opened window swipe to the right to see the item appear Sign Up through which you can register for the service.
It will be sufficient to enter your email address, a username and its valid password, alternatively you can also decide to proceed with your account Facebook o Apple.
After logging into the site with your new credentials, you can immediately take action.
If you want to create a gif from scratch, you will need to upload a video file with relative duration less than 15 seconds in such a way that it can be converted into a gif automatically or enter the link of a Youtube video at your choice and through editing proceed until it meets the minimum requirements.
Now a fundamental aspect, remember to set a suitable resolution.
Think what a surprise if you find that after all the work done your gif is barely visible due to its low resolution. Obviously, the higher the resolution, the better the quality of the gif. We recommend a size of 1080 × 1080 a 72 dpi.
If you are on the app, tap on Create, at the top right, to start the camera and make a video or load one already present in the Gallery of your phone.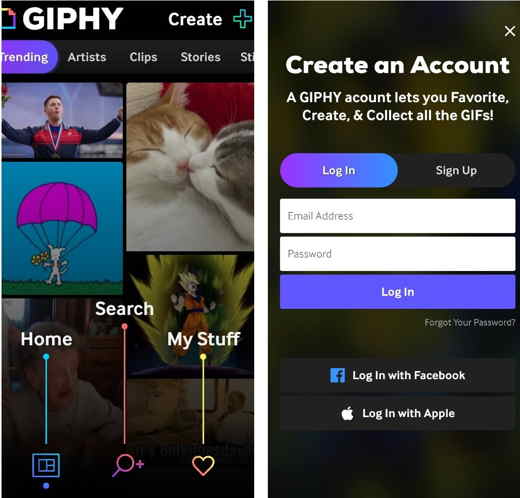 Now the part that perhaps requires more inventiveness and speed of thought, that is, that of the gods tag.
What are? Simply the terms with which other users will be able to identify your creation among the others, you certainly don't want your gif to end up in oblivion, do you?
Before saving your gif, press the button Upload to GIPHY. Tax Visibility su Public and in the box Add Tags, enter the tags that will allow you to find your gif when you are on Instagram. Touch Upload GIPHY And that's it. Wait for the operation to complete and above all a few hours to find it among the loaded GIFs or Stickers.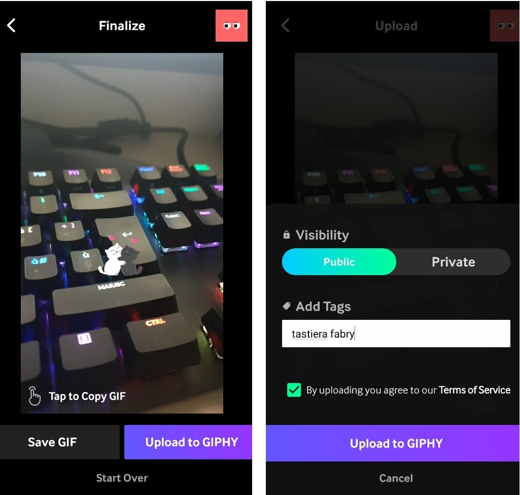 For further information read this article: My gifs do not appear in the searches in GIPHY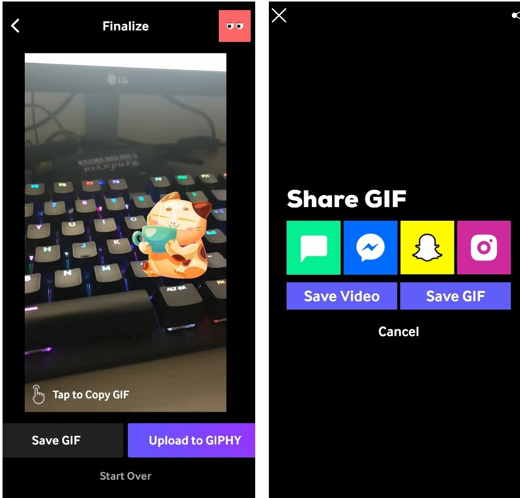 By tapping on Save GIF, you can share the gif directly on social networks, such as Instagram (Feed and Stories).
Think of targeted terms that could possibly make your gif one of the viral ones used by thousands and thousands of people on Instagram. It would really be a great satisfaction.
If you don't notice any improvement in diffusion immediately, don't despair.
It takes some time before a new gif is able to impose itself on the others. Let users and followers gradually get used to the novelty and let your art speak for you.
Read also: How to have a beautiful Instagram profile
How to upload gifs to Instagram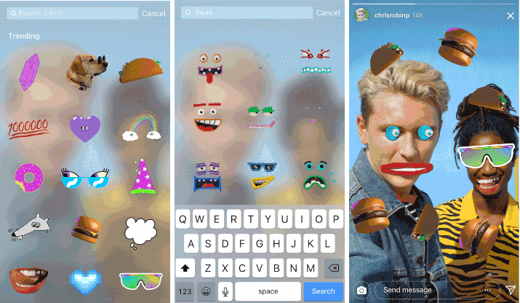 Let's move on from theory to practice and finally see how you can actually upload your gifs to Instagram.
First start the Instagram app on your device, which we remind you to be available for free both on the Play Store and on the App Store, and log in by entering your credentials if you have not already done so.
Now, via touch the circle + above your profile photo, at the top left, take a photo or make a video for your story or to share it on Reel, or alternatively upload a file stored on the memory of your device, by doing tap on Add content, (in the story) icon on the right of the round button to take photos or videos.
At the end of the shooting, swipe from bottom to top or stop on the cartoon icon to view the gifs you like best.
You can have fun with other users' creations or highlight your gif. Tap on the item Search and type one of the tags you have chosen for your gif.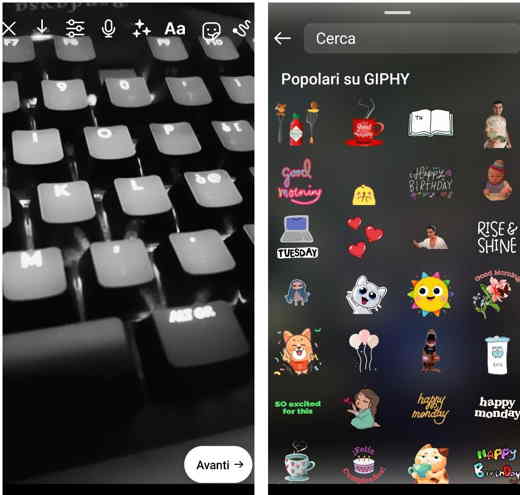 The search is almost immediate and fluid and therefore you will have no problem finding it.
Once identified, just click on it and confirm your choice, that's all, with these very simple moves you have just uploaded your first gif to Instagram.
Finally, a clarification that perhaps you will be pleased to know: know that all the gifs can also be used during live shows and even sent via private message!
What are you waiting for to make your gif go viral? Now it's your turn!
Read also: Instagram does not upload photos: how to fix
Best apps to create gifs on Instagram
How to create Instagram gifs with ease and upload them to the social network with equal simplicity?
No, you can rest assured, we are not crazy at all and we are not about to repeat what we have already explained in detail a little while ago, you must know, however, that there is also another way to make what the title suggests possible, that is to use third-party app.
Obviously you have to think that the growth in popularity of gifs has inexorably led to an exponential increase of solutions through which they can be created with extreme simplicity, even apps designed specifically for those who had no knowledge of video editing.
Now we will show you the most popular and functional apps, suggesting you try some of them and see if they can be right for you.
Gif Me!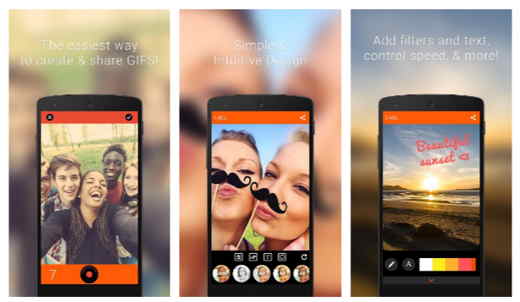 Gif Me is one of the best known apps in the industry, because it has several features and has the great advantage of being totally free.
The app is available for both Android and IOS and will allow you to create gifs starting either from images and / or videos stored on your device or through photos and / or videos taken on the spot thanks to the camera.
After starting it, the app will present an immediate usability and if you want to use a file on the device, all you have to do is select the item Import your Android or Import video from library su IOS; if you want to record a video on the spot, then click on Camera on Android or on Record animation see IOS.
In the first case, proceed immediately to editing using the tools made available to the app and then select the item Import; in the second case, instead, use the characteristic icon in the shape of a circle to determine the frame and resolution of the gif and then continue if you want to make further customizations. Among the customizations present there is also that of text and to the sticker secondary.
Once you are satisfied with your artwork, click on the button Download at the top, proceed by selecting the format MP4 and finally press on Save in album on Android o Save in iOS. If, on the other hand, you want to share your creation directly on Instagram, GIf Me also presents this advanced function. To activate it, all you have to do is click on its icon on the screen in order to directly call up the social network.
Motion Stills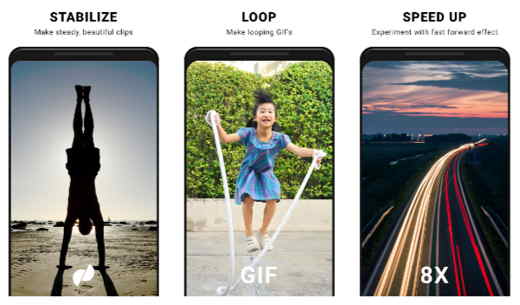 Motion Stills is a completely free app and available for both Android and iOS.
The strengths of this application are undoubtedly its great ease and a perfect balance of basic functionalities together with other more interesting and innovative ones. Finally, we cannot fail to mention the possibility of creating gif loops or the fast forward mode with which to reduce the various videos.
ImgPlay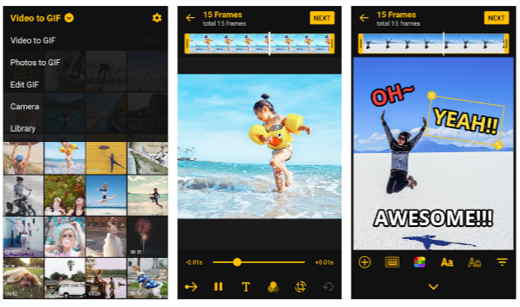 ImgPlay is a free app available for both Android and iOS.
Among its features is that of being able to create gifs both through the camera function and by uploading a file stored on the device. It also allows for frame frame adjustment as well as fast playback. Present the possibility of exporting files in video format so that they can be uploaded to Instagram. If you also want to use the watermark for the export of your gifs, you will have to bear an additional cost by switching to version For of the app with an outlay of € 2,19 on Android and € 3,49 on iOS.
Pixel Animator: GIF Maker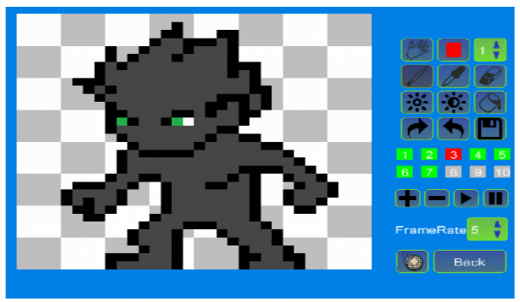 The app Pixel Animator: GIF Maker it is totally free and available for Android and iOS with the possibility to purchase additional features, filters and effects in-app.
It allows you to create pixel art and turn them into GIFs for a unique and retro, video game style atmosphere. With this app you can indulge yourself in creating pixel avatars or putting together existing characters in its library. You can turn your design into a moving GIF and export it to social media or save the file to your phone. The app is super easy to use and gives a fun twist to GIFs with its retro style shape.
Other useful articles
How to recover Instagram chats
Sites to have free Instagram likes