Deleting a Telegram account is very easy and does not require complicated steps. If you are tired of using the WhatsApp competitor with its secret chats and bots, keep reading because in this guide I will reveal you how to cancel a Telegram account definitely.
Have you tried Telegram and realized that it is not for you? Well, I want to anticipate that though delete a Telegram account it means losing exchanged images, videos, conversations and files, as well as telegram bots and telegram groups with secret chats. But if you are determined and still want to see how to unsubscribe from Instagram, then read the next lines carefully.
How to cancel Telegram

delete a Telegram account you must first visit the deactivation page at this web address, enter your phone number in the box Yout Phone Number with the addition of the prefix spain +34, before the number. Press on Next.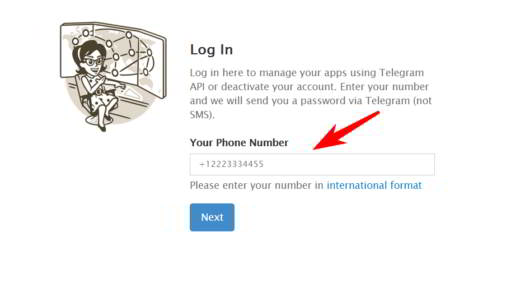 You will receive an SMS with the Confirmation code to be entered in the appropriate field, and then press the button Sign. The code can be used to delete your Telegram account.
On the next page you can fill in the box Why are you leaving? Indicating the reasons that lead you to leave the messaging app and then press the button Done.
Consider that by deleting your account you can still go back to using Telegram, you will keep the same name and phone but the app will recognize you as a new user and you will no longer be able to access old messages sent or received.
In case of second thoughts or any account limitations due to illegal activities, you can always contact Telegram support, from Settings; scroll down until you find the button 'Ask a question'.
What are the alternatives to elimination
A valid alternative to deleting a Telegram account is theaccount self-destruct. In case of inactivity for a long time (you do not enter the app) Telegram will take care of it directly to deactivate the account. However, if you are certain that you will not be able to use the app for 6 months or more, you can specify the deletion yourself after a certain amount of inactivity time.
Start Telegram and press on Settings> Privacy and Security> Delete my account to then plug up If far for. Now indicate the number of months of inactivity - you can choose between 1 month, 3 months, 6 months or 1 year beyond which you would like your account to be deleted.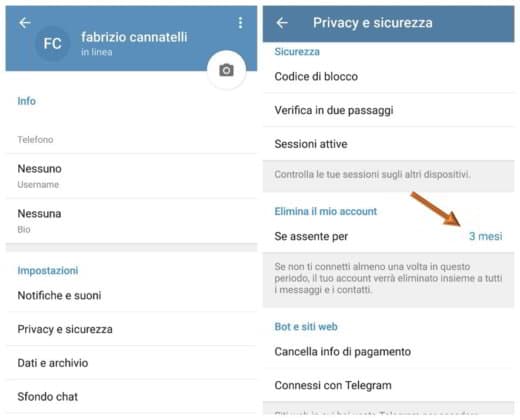 By setting your account to self-destruct, Telegram will automatically delete it after the time period you set.
I confirm that even this method of deleting the account will remove all media, messages, contacts and everything that has been stored in the Telegram cloud. And if even this mode doesn't convince you, you can always uninstall the app from your Android or iOS mobile device and that's it.