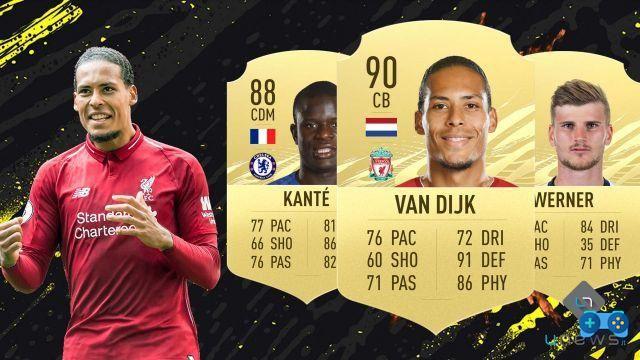 Let's go back to talking about FIFA 21. After the guide to the strongest team in Serie A, it's time to analyze another championship, that of Premier League. The goal is to tell you what it is the strongest team in the Premier League that FUT - Ultimate Team credits can allow you to build.
We talked about buggy players, the cheapest ones to buy but we know that nothing can compete with the pride of having a team made up of top players. Those who will accompany you in a thousand battles, and could make you get great results especially in the Division Rivals and in the FUT Champions.
So let's find out which Premier League players will be able to transform your team into the most competitive Dream Team in FUT Ultimate Team.
Please note: - next to each player you will find the relative purchase price. The one on the left refers to the PS4 version, the one on the right, the Xbox One version!
It might interest you:
How to recognize a Walkout
How to start earning credits with the Web App and the Companion App
The cheapest Serie A players to start
The cheapest Premier League players to start
The best Ones to Watch (OTW) to bet on
The cheapest La Liga players to start
The cheapest Bundesliga players to start
The best team in the Premier League for 100.000 credits
Advice on buying and selling
The best team in La Liga for 100.000 credits
The best team in Serie A for 100.000 credits
The most buggy players in Serie A
Eight economic "beasts" absolutely to buy
How to make a lot of credits with flipping
The most buggy players in the Premier League
The most buggy players in the Bundesliga
The strongest Premier League / Ligue 1 / La Liga Hybrid Team by 200000 credits
Module 4-3-3
Goalkeeper
Alisson (OVR 90) - 90.000/88.500. The Liverpool goalkeeper is the best choice. An incredible player who will easily manage to defend your goalposts.
De Gea (OVR 86) - 17.250/19.750. The alternative is called David De Gea. One of the goalkeepers who has always stood out for his performance. This year it will not be at past levels but at such a price, for us, it is the best possible alternative.
Left back
Andrew Robertson (OVR 87) - 45.000/53.000. The best left back available. Speed, dribbling, passing, defense. Really unbelievable.
Alex Telles (OVR 84) - 9.500/9.800. Moved to the court of the Red Devils this year. He has very similar stats to Robertson, the only slightly lower is the defense. But the price is much cheaper. Think about it.
Central Defenders
Virgil Van Dijk (OVR 90) - 467.000/445.000. Price to say the least crazy but there is everything. An impenetrable defender, we do not believe there is more to add. We wish him a speedy recovery after the serious injury he sustained in the last championship game.
Aymeric Laporte (OVR 87) - 20.000/28.500. He has from his defense and physique, less handsome in terms of speed. For us it remains an essential element for any defense of the BPL and in particular to create the strongest team in the Premier League.
Alternatives
Gomez (OVR 83) - 99.500/87.000. The Liverpool defender has an OV of only 83 but has top player performance. We recommend it as an alternative exclusively for the price, much higher than Laporte. From a performance point of view, however, he is more balanced, above all he has a good 82 speed which also allows him to go on the break when the right opportunity presents itself.
Thiago Silva (OVR 85) - 6.000/6.800. It's not as fresh as it used to be but as a last resort it's just fine.
Right back
Trent alexander-arnold (OVR 87) - 43.250/52.500. The Premier League has an abundance of right backs. Good Trent is the perfect option. between speed, dribbling and his very high pass, he is very capable both defensively and in attack. To be taken at all costs.
Kyle Walker (OVR 85) - 134.000/106.000. It costs almost three times the previous one because it is a beast. Yes, it's really bestial. Too bad for that dribbling 77; otherwise it has incredible characteristics.
Ricardo Pereira (OVR 85) - 11.000/16.000. Another alternative to BPL but at a very advantageous price.
Semedo (OVR 83) - 49.750/43.000. He left Barcelona to join the Wolves. It has nice stats but at such a price we prefer Alexander-Arnold. In any case it is impossible not to recommend it!
Midfielders
Kevin de bruyne (OVR 91) - 297.000/278.000. We move on to the main course, not that the other BPL departments are nothing short of sublime. But here we are in front of the purest and most crystalline class. The perfect midfielder, capable of both building and finalizing the game. High price but not impossible to achieve.
N'Golo Kantè (OVR 88) - 362.000/306.000. "The Beast", the midfield tank. Almost impossible to move and sometimes also very capable of finishing with a nice goal.
Bruno Fernandes (OVR 87) - 120.000/129.000. From any midfielder to top champions. He cannot fail to be present in the strongest team in the Premier League.
Alternatives
Fabinho (OVR 87) - 31.750/41.000. Speed ​​has never been his forte but he can have his say in both defensive and proactive phases. With some understanding style that increases its speed, Fabinho can become lethal to say the least.
Paul Pogba (OVR 86) - 187.000/179.000. The "Octopus" is one of those players that you have to aim for during the year in FIFA. The price is high, but the good Paul can be a good alternative to midfield.
Thiago Alcantara (OVR 85) - 27.500/35.250. An advantageous price despite being a top. The magician of the midfield, too bad for the body and the speed so low. In the right hands it can really make a difference, even in a game like FIFA 21 that prefers speed and physique.
Ndidi CDC (OVR 84) - 10.750/13.500. The Kantè of the "poor". A valid alternative to N'golo.
If you use the COC:
Kai Havertz (OVR 85) - 90.500 / 91.000. Substance and quality for Kai. Theoretically it could also be adapted as a CC but its role is behind the strikers and that's where it can make a difference
Left wings
Sadio Mané (OVR 90) - 390.000/349.000. One word: devastating. He sees the goal as few and there is hardly a defender who holds up.
Raheem Sterling (OVR 88) - 106.000/104.000. A valid alternative to Mané. While in the other years the goal was seen little, this year with its beautiful 81 should make the joy of the players of FIFA 21.
Heung Min Son (OVR 87) - 208.000/179.000. With the credits that can be spent only for the Mané you could take home the Sterling / Son combo. The latter in front of goal is incredible and for some he could even be a normal attacker. He can also play both as a starter and be used as a super sub.
Marcus Rashford (OVR 85) - 189.000/155.000. It is growing more every year. It has a high price tag but as a substitute it is really crazy.
Right Wings
Mohamed Salah (OVR 90) - 361.000/325.000. The other 90 piece from Liverpool could not help but be part of this team. Increasingly devastating statistics make it a real thorn in the side of the opposing rearguards.
Lucas (OVR 83) - 58.500/39,000. Lucas is one of those useful and above all flexible players. In a fast-paced game like FIFA 21 it is the ideal reserve to let in at the seventieth minute.
Gareth Bale (OVR 83) - 51.500/54.500. His Overall has plummeted but still has great stats. Still incredible speed and devastating shot make it a real wild card. Together with Lucas they can be valid alternatives for players who are not willing to spend a lot of money on Salah and Mané.
Forwards
Timo Werner (OVR 85) - 244.000/215.000. For us the perfect striker. It was already in the Bundesliga let alone now in BPL. When he starts at speed it is almost impossible to stop him.
Sergio Aguero (OVR 89) -81.000/80.000. We do not understand this downgrade in speed, now it has only 78. We recommend it because as a replacement it can be very useful.
Roberto Firmino (OVR 87) - 99.500 / 93.000. Good Bobby is the best striker for anyone looking for that player who can pick up the team and defend the ball. He certainly does not focus on speed but has a very high dribbling and an excellent finalization.
The Jolly: Aubameyang (OV 87) - 279.000/258.000. Insane price but superlative performance. We consider him the wild card of this team, not being unlike Werner, we preferred to put him in fourth place. If you like fast players with an incredible shot, the good Pierre is the one for you. If you have a lot of credits, you could alternate it with Werner; we are sure that any defense will have a really bad time.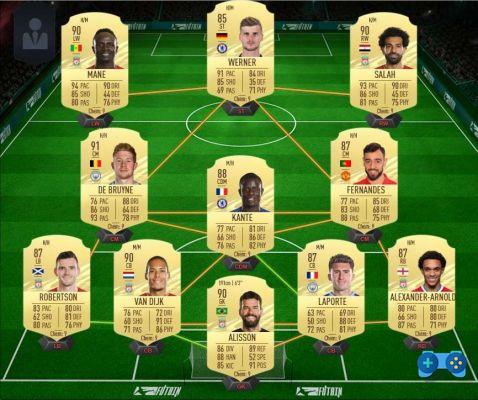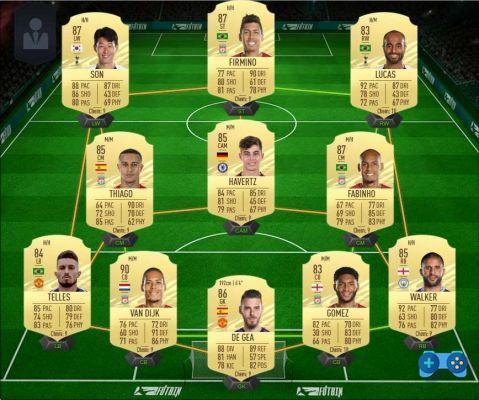 Module 4-4-2 - For those on a really big budget, we recommend this monstrous team: