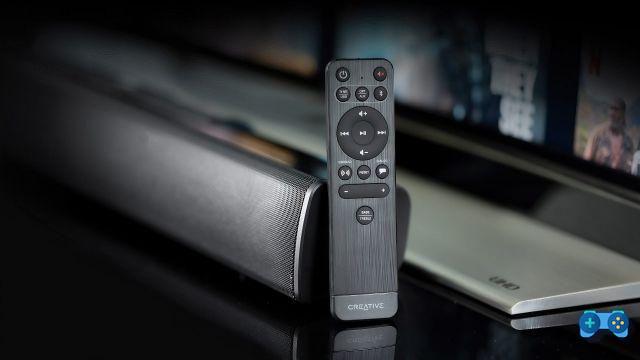 Creative Technologies Limited is a technology multinational based in Singapore. It began operations in the mid-80s producing peripherals for Apple and IBM. She then moved on to digital audio technologies and launched her first Sound Blaster sound card in 1989 and Sound Blaster Live in 1998.
Creative was among the first to bring a portable digital audio player to the market. Its first offering was NOMAD, launched in 2000, followed by the MuVo and ZEN portable media players. Suffice it to say that Apple's iPod has only been marketed since October 2001.
In addition, Creative has expanded its product lines over the years by marketing computer hardware and peripherals and has become a highly listed company in the consumer electronics market. Among the best-selling products, we find: earphones, headphones, sound cards and speakers.
In recent years, the company has also decided to devote itself to multimedia products not specifically designed only for PCs or for portability. In particular, with the explosion of the market for soundbar, Creative also wanted to have its say, first with Creative Stage Soundbar in 2019 and then with the Stage V2 version, announced a few months ago. The new soundbar is longer and heavier with an updated Bluetooth from version 2.1 to 5.0.
What's in the box
Creative Stage V2 Soundbar and Subwoofer (1)
3,5mm AUX-in cable (1)
IR remote control (1)
USB-C to USB-A cable (1)
Power cord (1)
Quick Guide (1)
WW Warranty (1)
There is no wall mount. So it must be purchased separately.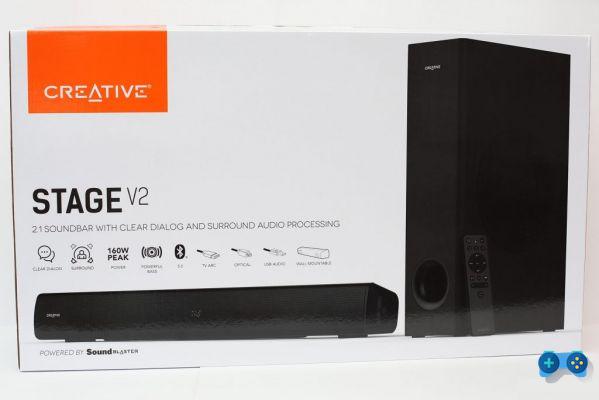 A closer look:
Creative Stage V2 (2020) and Creative Stage (2019) specifications
Parameter
Creative Stage V2
Creative stage
Price
€ 109.99

€ 89.99

Configuration
2.1
2.1
Availability
November 2020
2019
Power
Main unit: 2 x 20W
Subwoofer: 1 x 40W
Total power: 160W
Main unit: 2 x 20W
Subwoofer: 1 x 40W
Total power: 160W
driver
Dual 2.25 ″ Soundbar Speaker Driver, 5.25 ″ Subwoofer Speaker Driver
Not available
Frequency response
55–20,000 Hz
55–20,000 Hz
Signal to Noise Ratio (SNR)
≥ 75 dB
≥ 72 dB
Size
Soundbar: 680 x 78 x 100 mm
Subwoofer: 116 x 250 x 423 mm
Soundbar: 550 x 78 x 70 mm
Subwoofer: 115 x 250 x 420 mm
Cable length
USB-C to USB-A Cable: 1.2m, 3.5mm AUX-in Cable: 1.2m, Power Cable: 1.5m
AC Power Cord: Approx 1m; connect it to the soundbar, Subwoofer cable: Approx 2m; connected to the subwoofer
Weight
Soundbar: 2.0 kg, Subwoofer: 3.3 kg
Soundbar: 1.2 kg, Subwoofer: 3.07 kg
Bluetooth
5.0AVRCP (Bluetooth Remote Control), A2DP (Wireless Stereo Bluetooth
2.1AVRCP (Bluetooth Remote Control), A2DP (Wireless Stereo Bluetooth
Supported codecs
SBC
SBC
Input connectors
Bluetooth, AUX IN, Optical-in, USB-C, HDMI ARC IN
AUX IN, OPTICAL IN, HDMI ARC IN
EQ Presets
Bass and treble can be controlled separately
Music, Cinema, Concert, Gaming
Soundbar unit
The soundbar unit is made of black ABS plastic with a wrap-around metal mesh grille that protects the speakers. The upper part is black with a glossy finish and particularly prone to retain fingerprints and dust. The Creative logo has been placed on the left side of the metal grille.
The soundbar has been assembled and mounted on a thick gray plastic back plate and secured with screws which gives it a sturdy and well made look. Aesthetically, it's a marked improvement over the 2019 Stage Soundbar.
The soundbar unit of the Creative Stage V2 soundbar weighs 2kg compared to the Creative Stage's 1,2kg. It is longer and wider and there are no slits for the air outlet.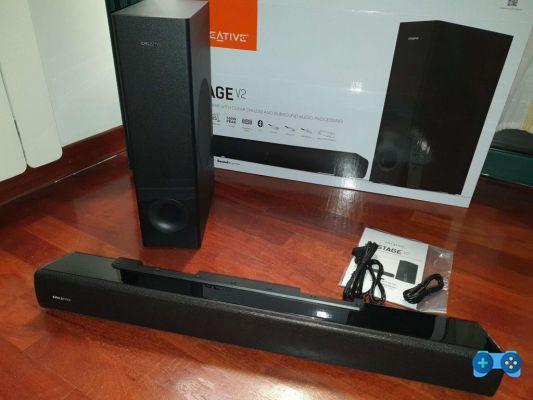 In addition, it has a rhomboid cross section with the long edge facing the user in an upward sloping configuration.
All physical controls are located on the right side. It has 4 buttons, power, volume +, volume - and Bluetooth. An LED display is placed at the front behind the wire mesh grille. Allows you to view basic information.
The soundbar unit is powered using normal mains power with the help of the included power cord. There is no separate DC adapter and all AC to DC conversions take place inside the soundbar. Since there are no DC adapters, installation is simpler and also looks neater.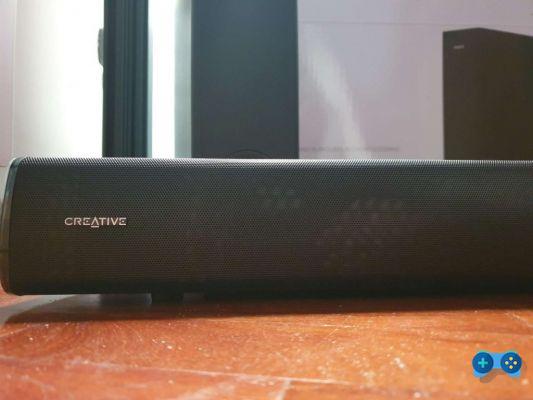 Subwoofer unit
The Creative Stage V2 soundbar comes with a 3,3 kg and 40 watt subwoofer. The subwoofer does not need to be powered separately but receives power directly from the soundbar. It has only one connecting cable that goes to the soundbar unit's subwoofer out port.
The subwoofer cable connector is proprietary and is approximately 2 meters long. Therefore, the subwoofer cannot be physically placed more than 2 meters from the center unit. This may be an element to consider when purchasing the Creative Stage V2.
Installation and wiring
The Creative Stage V2 soundbar can be placed next to the TV or on a desk (for PC), as well as hooked to the wall using a compatible screw mount.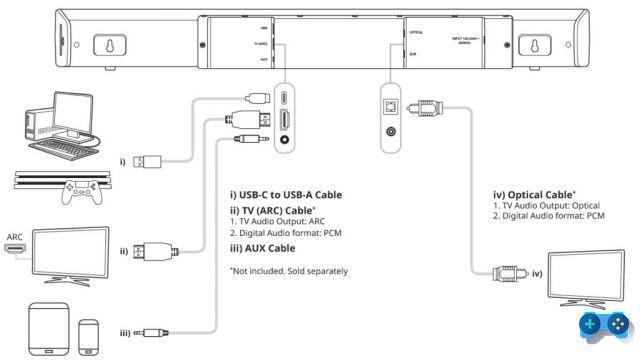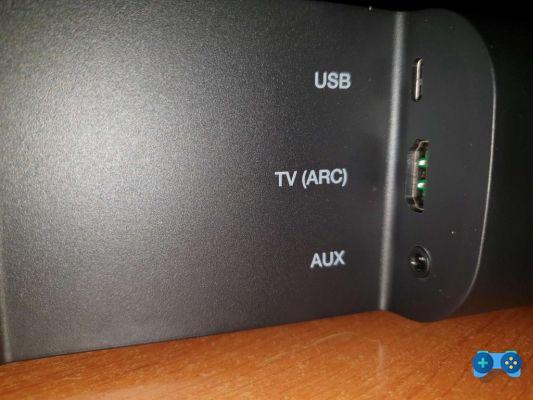 Connection with 3.5 AUX In
You can connect the device to the TV using the AUX cable (supplied) and selecting the OPT / AUX mode on the remote control. If the soundbar is turned off, the audio output stops. The TV speakers will naturally not be active.
Connection via HDMI
The other possible connection is through an HDMI cable (not supplied) which then allows you to select the HD mode using the TV ARC / USB button on the remote control. If the soundbar is turned off, the TV speakers will turn on automatically.
Connection via optical cable
Creative Stage V2 also features an optical input. When you connect the device to the optical port of the TV you have to select the source from the settings of the TV itself. Do it, otherwise you might find yourself, as happened during our test, listening to an almost metallic "double audio". An annoying effect to say the least that can happen when connecting devices with optical input.
Features and use
The soundbar it is rated at 80 Watts including 40 watt subwoofer 20 watts x 2 n. stereo speakers in the soundbar. Has a peak power of 160 watts (RMS)
Connectivity options: USB C, HDMI ARC IN, AUX IN, OPTICAL IN, Bluetooth v5.0.
Bass and treble can be adjusted (-5 to 5) independently using the remote control.
To watch movies, you can activate surround mode by pressing surround on the remote control. You can adjust the surround mode level from 0 to 10.
For standard use on the TV there is a dialogue mode which enhances the voices. This can be activated using the dialogue button on the remote control. You can set the level from 0 to 10.
The default settings are all maximum for bass, treble and surround.
Sound: film
Movies are fun and the audio is clear and accurate when you use HDMI ARC connectivity. The Creative Stage V2 soundbar cannot process Dolby Digital or DTS. Instead, uses proprietary Sound Blaster surround technology. Creative said its technology can identify and enhance the spatial information of incoming audio through Sound Blaster's audio filters and optimize the listening experience for 2-channel and multi-channel source content.
Creative Stage V2's surround mode fills the room but fails to deliver an immersive experience from a 5.1 setup. Movies on online streaming platforms like Netflix, Amazon Prime etc. they have an overall good quality but don't expect a Dolby Atmos-like experience.
The dialogues are clear and the voice of the speaking characters is clearly distinguishable even from the ambient sound effects.
Sound: music
The soundbar is able to provide satisfactory stereo separation especially if you play with the bass and activate its surround function. The bass level is precise, clear and balanced. Don't expect powerful and very deep bass though.
The range of sounds is good. The soundbar is capable of generating sound that can easily fill a small to medium sized room.
Overall, the soundbar works satisfactorily and delivers fairly accurate and enjoyable music, albeit not audiophile quality.
Sound: games and everyday use
Creative has advertised the Stage V2 soundbar as a "soundbar suitable not only for TVs but also for monitors". This soundbar does a great job of replacing computer speakers. On the gaming side, the audio is very pleasant. In addition, the dialogue mode is useful for improving the voice perhaps while listening to daily news or audio books.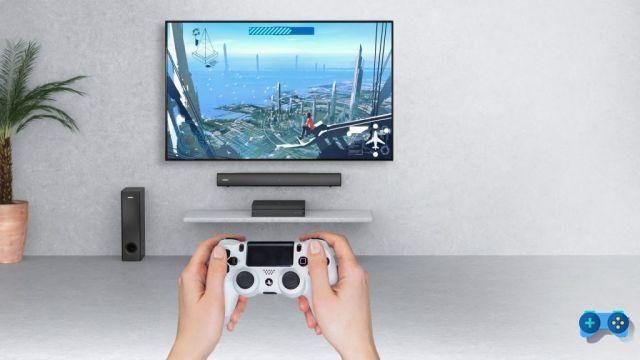 Bluetooth
The soundbar has Bluetooth 5.0. Connection is easy. Just press and hold the Bluetooth button on the soundbar or IR remote for 2 seconds to enter Bluetooth pairing mode.
The built-in LED will start blinking blue. Select "Stage V2" from the list of detected Bluetooth devices to pair. Once paired with a device, the soundbar's LED will remain solid blue.
Creative Stage V2 will automatically connect to the last paired device when in Bluetooth mode.
We tested it with a Samsung Galaxy Note 9, and in particular with Spotify, YouTube and other services and it always performed very well.
Remote control
The remote is made of plastic with a brushed aluminum finish. The buttons are smooth and responsive and presenting the dual function make the device easy to use. However, the remote control is not wireless but only IR.
Final comment
The 2 Creative Stage V2020 soundbar is an improved version of the 2019 Creative Stage soundbar. Creative Stage V2 has Bluetooth 5.0 and Sound Blaster technology which offers an overall good virtual surround and, thanks to the dialogue function, clear dialogue. It is beautiful to look at, thanks to the contrast between matte and glossy plastics and it is easy to install. The separate subwoofer delivers convincing bass and dramatically improves not only the movie and gaming experience but also the sound experience.
The surround sound is of course not comparable to a 5.1 system but overall it greatly improves the listening experience offered by standard TV speakers.
Considering the price: 109,99 €, the Creative Stage V2 soundbar is the optimal solution for anyone looking for a device that is all in all compact and capable of connecting to virtually any device.