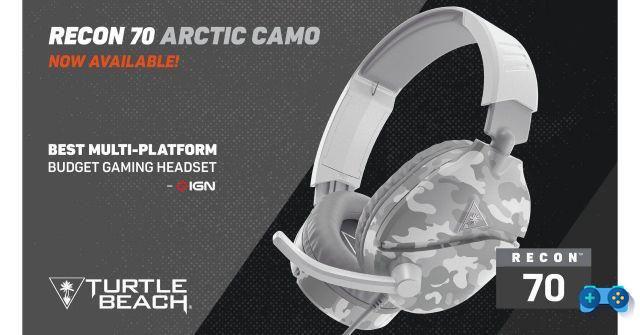 The Recon 70 remains the ideal choice for all gamers looking for a cross-platform headset with powerful sound, maximum comfort and an ultra-competitive price - now available in a large variety of colors
Turtle Beach today announces the latest addition to the range of colors of its best-selling headphones *, the Recon 70. The brand new ones Recon 70 Arctic Camo are available now on www.turtlebeach.com and at selected retailers in various European countries. The new Arctic Camo represent the tenth color option of the Recon 70 gamers around the world can choose from, each delivering the best of sound power and comfort fans have come to expect from Turtle Beach.
Specifications
Powerful 40mm over-ear speakers, crystal clear chat, leather-like ear pads, cross-platform compatibility with Xbox One, Xbox Series X | S, PlayStation 5, PlayStation 4, Nintendo Switch, PC and mobile devices, with a suggested retail price of € 34,99. All this makes the Recon 70 a simple choice for gamers looking for a new and reliable gaming headset.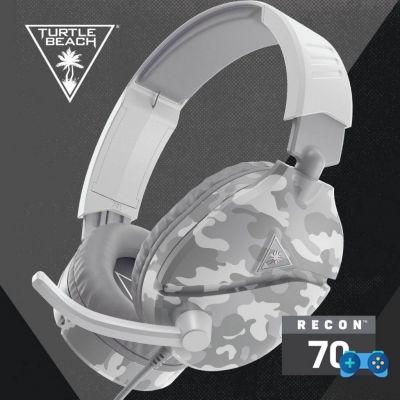 "Our gaming headset from the series Recon 70 have settled at or near the top of every monthly sales chart since their launch in April 2019, making them the company's best-selling headphones * across multiple platforms. Keeping adding options to this product is really important to us and our fans, "he said Juergen Strong, President and CEO, Turtle Beach.
Other colors available
The gaming headset of the series Recon 70 they are available in the widest variety of colors of any headset on the market. The Xbox and PlayStation models are available in white or black with green and blue inserts, respectively. The Nintendo Switch version has a black frame with red inserts. Available at participating retailers, in addition to the just announced Recon 70 Arctic Camo, there is also a unique version Midnight Red for PS5 | PS4, along with versions Silver, Blue e Green Camo. All versions of Recon 70 they are compatible with all gaming systems, PCs and mobile devices that have a standard 3,5mm jack.

For more information on the latest Turtle Beach products and accessories, visit www.turtlebeach.com and the Facebook, Twitter and Instagram pages.
* Source: The NPD Group / Retail Tracking Service / Video Games / Headset Series / Dollars & Units / NA / Jan-Dec 2020; YTD 2021