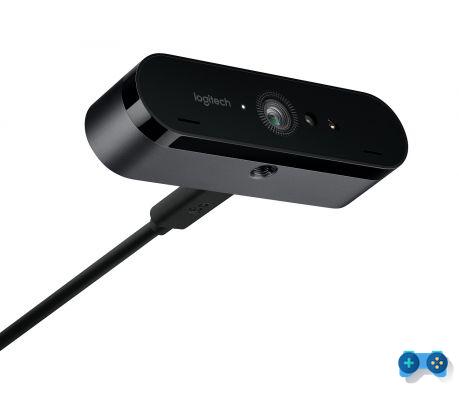 Logitech expands its webcam family by introducing a new 4k cam.
Aimed at gamers and streamers, the new BRIO 4K STREAM Edition expands the Logitech specialist's webcam family by allowing users to choose between two different modes, 4k and 30fps, or 1080p and 60fps for much smoother and more dynamic images. The camera is also equipped with HDR that allows you to capture variations in contrast and brightness with greater precision.
For all the information on this product and to know the price, we refer you to the press release below.
From Logitech the BRIO 4K STREAM EDITION webcam
The new ultra-defined webcam for exceptional video quality ideal
for gamers and streamers
Milan, 24 August 2017 - Logitech (SIX: LOGN) (NASDAQ: LOGI) announces
Logitech® BRIO 4K STREAM EDITION, the new ultra HD 4K webcam that allows you to create perfect streaming videos for gamers and live broadcasts. BRIO 4K STREAM EDITION even captures micro-expressions of the face and transmits them in 1080p at 60 fps.
"Broadcasting has become a social phenomenon. Gamers spend twice as much time watching challenge videos among other players and live streams on Twitch ™, Youtube® and Mixer are becoming the next generation TV, "said Guillaume Bourelly, Senior Portfolio and Product Manager of Webcams at Logitech. "With BRIO 4K STREAM EDITION, we have optimized our BRIO webcam. We have created a device that integrates everything a video enthusiast seeks to engage his audience more and more. In addition to capturing all the details in 4K, the frame rate priority mode allows you to transmit at 1080p / 60fps with a constant ratio and a fully integrated solution with XSplit Broadcaster ".
With Ultra HD 4K and high dynamic range (HDR), BRIO 4K STREAM EDITION ensures four times the resolution of full HD video and automatically adjusts the brightness, so that the person does not appear in shadow when positioned at the back or when it moves from the outside to the inside. Ultra HD 4K then captures even the smallest details of the face in vivid colors and maintains full HD quality when zooming in and out, so that subscribers of a YouTube channel can watch the video clearly regardless of the background light.
Logitech BRIO 4K STREAM EDITION produces sharp video with hyper-fast frame rate at 1080p / 60fps when using the frame rate priority mode. This mode reduces lag and delays when recording or making slow-motion or replay videos. The webcam also includes ChromaCam, a Personify AI neutralizer application that can blur, remove or replace noise when you want to create a professional image, wherever you broadcast. Furthermore, it is possible to customize the viewing angle by reducing it to 65 ° or 78 °, so that the focus is on the person, the protagonist of the video, or to enlarge the frame beyond 90 ° so that subscribers to a channel can view the whole scene.
Working with leading broadcast gaming company SplitmediaLabs, XSplitTM Broadcaster and XSplit Gamecaster have been optimized to create an all-in-one streaming solution compatible with 4K and the high frame rate of Logitech BRIO 4K STREAM EDITION. Logitech BRIO 4K STREAM EDITION is sold with a 12-month (free) premium XSplit license subscription that includes XSplit Broadcaster and XSplit Gamecaster apps. Finally, OBS ™ supports Logitech BRIO STREAM to start producing video as soon as you open the box.
Price and availability
Logitech BRIO 4K STREAM EDITION is available on Logitech.com for a suggested retail price of € 249 including VAT.