Creative Technology recently presented the new ones ultra light headphones on-ear Sound Blaster JAM V2. It is a multifaceted device which should make gaming fans, music lovers and office workers happy. The long battery life, the useful functions and the low price are interesting factors in themselves but of course in this review we will show you in detail the performance of the JAM V2.
Sales package
1 pair of Sound Blaster JAM V2 headphones
1 spare bearings
1 x USB Type-C to Type-A Cable
Quick start Guide
Conformity booklet
Warranty booklet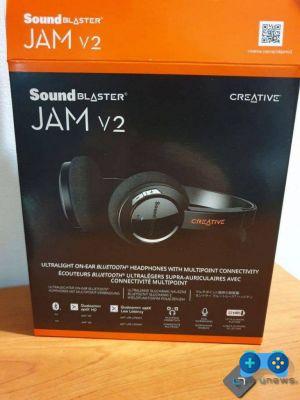 Constructive quality
Creative is now back to the glories of the past, not only as regards the sound quality of its products but also for the construction. Sound Blaster JAM V2 is a device from minimal design (very reminiscent of the headphones that were used in the 90s) and has an adjustable plastic headband. The pads are soft and comfortable on the ear (there are also spare ones in the package). The total weight of the product is really feather, only 84 g. This makes them nothing short of very comfortable; it's almost like not holding them. Furthermore, they can be positioned both traditionally to cover the head and by orienting them towards the back of the skull. The seal will always be firm.
Sound Blaster JAM V2
Sound Blaster JAM
Bluetooth version
5.0
4.1

Supported codecs

aptX HD, aptX LL, aptX, SBC
FastStream,
SBC

Multipoint connectivity

NFC

Bass boost with a touch

Battery life

Up to 22 hours

Up to 12 hours

Microphone
Double
Single
SmartComms Kit (Creative app)

Noise cancellation with Qualcomm cVc ™ 8.0
Connection for cable playback and charging
USB-C

Microphone
USB

Sound Blaster JAM V2 VS Sound Blaster JAM
Functionality
On the right side of the device we find the multifunction keys. In particular: volume up and down, power on / pause / pairing and Bass (we will talk about the latter very soon). Sound Blaster JAM V2 headphones come with advanced audio codecs for all genres of use.
Thanks to the codec aptX HD the sound is quite crisp, clean and deep. Also, thanks to aptX Low Latency codec, the delay of the Bluetooth audio is minimized, without affecting its quality and user experience. With aptX Low Latency codecs, audio and images are synchronized for maximum movie and gaming enjoyment.
Of course, don't expect total immersion. They fail to reach the levels of other products such as the Creative SFXI Gamer nor are they designed to do so. They are suitable for those looking for a headset that is not super performing but still with an excellent value for money. And it must be said that Creative with the JAM V2 has succeeded in full.
In addition to having integrated advanced audio codecs, the company has equipped the Sound Blaster JAM V2 headphones with Bluetooth 5.0 for seamless wireless audio playback.
The headphones can be connected to two different devices at the same time via the feature Multipoint, which allows you to easily switch from one source to another. Just stop the audio on one device and start playback on the other. Those who regularly switch from smartphone to PC will be happy with this feature.
Creative supplies the headset with two high quality microphones. They offer VoiceDetect and they should be able to be turned on and off automatically thanks to this technology. Furthermore, the function NoiseClean it should reliably filter out bothersome background and side noises (obviously they can't "mask" all noises on the street).
In any case, if you are at home you will be able to speak undisturbed and in an understandable way during the game, but also during video conferences. Thanks to Qualcomm cVc 8.0 (and noise suppression technology), noise and croaking are also suppressed. Battery life is nothing short of incredible. The headset has a life span of up to 22 hours. Should the battery be discharged, it can be conveniently recharged via the USB-C cable Supplied.
The sound quality is truly "premium"?
Of course, if you ask Creative's experts about their latest headphones, they'll be thrilled. For example, the company itself describes the sound quality as "premium". However, we initially doubted that this could really be possible for a headset at a price of just under 40 euros. Let's take a look at the specs to see if you get (at least in theory) "premium audio". The beating heart of sound is a neodymium driver from 32 mm. This should be able to cover the frequency range from 20Hz to 20.000Hz. Such a feature is impressive considering the low price.
That said, the audio quality was above our wildest expectations. Whether it was a game, specifically we tried them with Demon's Souls, Need For Speed ​​Hot Pursuit Remastered or a movie / TV series (we have gone through our extensive list of entertainment apps), the JAM V2 have done theirs. figure. Regardless of whether or not they may like the low frequencies offered by the product, what really left us speechless was the clarity in the dialogues. Every word and in any context is clearly audible to the listener.
Last and not least, they also performed very well with the Smart TV. It is not very recent, it is a Samsung 4K HDR from 2017, so with a Bluetooth module that is not exactly the latest. The JAM V2s didn't hesitate even for a second while maintaining the connection perfectly.
Lower down at the touch of a button
If the headphones don't "rumble" as you would like, you can make them more performing by means of Bass boost. To activate it, you need to press the button on the earcup of the Sound Blaster JAM V2.
Obviously, given the low price, don't expect miracles in terms of sound. But it's a feature we appreciate, which once again demonstrates the manufacturer's obsessive care for its sound products.
CreativeApp
The Creative app allows you to adjust the equalizer according to the user's preferences in wired mode.
You can access the graphical customization of the equalizer, the SmartComms kit, and other playback and microphone settings of the Sound Blaster headphones from CreativeApp.
Too bad it only works from PC and Mac and only if the headphones are connected with the cable.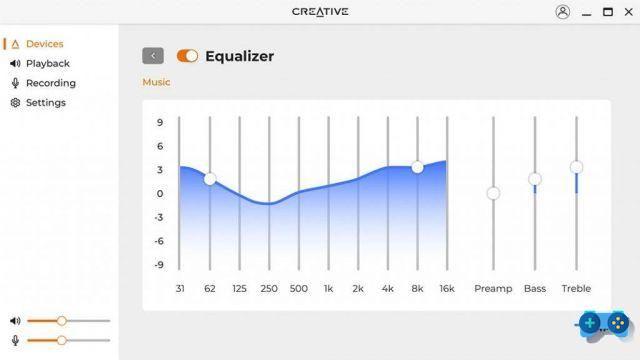 Price and availability
Sound Blaster JAM V2 is now available for a suggested retail price of $ 39,99.
Final comment
Headphones Creative Sound Blaster JAM V2 albeit at a budget price, they are equipped with a concentrate of technology: Bass Boost, VoiceDetect, NoiseClean, Bluetooth 5.0 and so on and so forth. The performances are more than good and hands down we would like to recommend them both to those looking for a headset to play and to those who want to listen to their favorite TV programs or shows on Netflix, Disney + & Co. Dulcis in Fundo are also perfectly suited for business and pleasure conference calls. For us it is the all in one device that you absolutely must not miss!