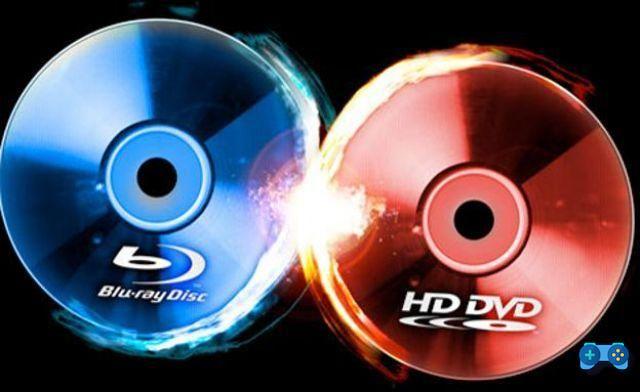 Technical analysis of the two video formats that compete for the gold standard for high definition video
Introduction
On November 26, 2003, the "DVD Forum", the organization of over 230 companies operating in the home video sector, voted to decide the successor of the DVD format by majority deciding that HD DVD would be the designated heir.
Everything would have gone smoothly for consumers if Sony hadn't decided to introduce its alternative format, Blu-Ray, to the market, persuading many of the studios to support its format with two main arguments:
-Sony would have incorporated this format into the PS3, thus giving the format a significant head start over the competition
-The Blu-Ray format would have had two other levels of DRM protection in addition to those of the HD DVD, including the BD + capable of even blocking a player completely if used to read pirated copies, and the bd-rom mark, an analog protection which makes it impossible to print fake discs like they do today in Taiwan or China.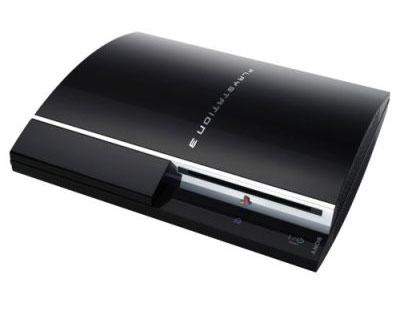 Many Studios believed him and left the DVD Forum, forgetting that all the formats that Sony had tried to impose in the past (Betamax, HiFD, MicroMV, Minidisk, ATRAC, SDDS, MMCD, the format of timed DVDs DIVX, the forerunner of Blu -Ray PDD, and the recent UMD films) had been overtaken by the competition.
Soon, however, above all technical problems, with the new format began to appear:
First of all, the fact that the laser in order to read Blu-Ray discs had to be much closer to the disc surface than DVDs, forced the disc to do without its 0.6 mm layer of protective coating. Sony initially solved the problem by boxing the media in a plastic case similar to that of ZIP disks, later it was realized that this solution would somehow alienate consumers accustomed to the usual DVDs and CDs; it was therefore decided to use an expensive 0.1 mm coating produced by TDK, called Durabis, more resistant to scratches but which increased the production cost of Blu-Ray discs by three times.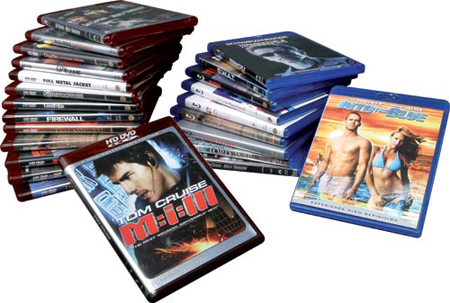 Then it was the turn of the players, who having to read slits almost half as small as HD DVD ones, required a very sophisticated technology (blue laser, HD DVD uses the traditional red laser ed) that made assembly line yields extremely low. . The production problems were so serious that the Playstation 3 was delayed for almost a year, while the first Blu-Ray players arrived on the market two months after the HD DVD ones. In addition, the prices of both PS3 and BD players were much higher than competitive HD DVD players, to the point that an exasperated studio president stated in an interview: "The PS3 played a big part in our decision to go up. aboard Blu-ray, but I'm not sure we would have signed if we had known then what we know today ".
To further annoy majors and consumers was Sony's absurd decision to supply the studios with encoding software for Blu-Ray with the now obsolete MPEG2 codec. When the first Blu-Ray films hit the market and were compared to HD DVD films released until then, they received such a shower of criticism for the video quality, that some journalists went so far as to define the game won for HD DVD.
Sony then decided to go on the counterattack, putting the first films on dual layer Blu-Ray discs on the market around November, which doubling the capacity, made it easier for encoders to hide the compression artifacts of MPEG2. Obviously, DL discs were more expensive for studios, being even more difficult to produce than SL discs.
Furthermore, to achieve the quality level of HD DVD, which used the more advanced VC-1 codec, it was necessary to have double the disk space. Despite the greater capacity (50 GB of current BDs compared to 30 of HD DVDs), no Blu-Ray MPEG2 movie has managed to match the quality of the VC1 video format used in most HD DVDs. The results in terms of the market were evident: HD DVD sold 7 to 1 compared to Blu-Ray.
The scenario therefore seemed to be outlined: better video quality and lower prices, HD DVD had won from the start. So much so that some Digital Trends analysts in December declared the HD DVD format as an inevitable candidate to win. However, things changed unexpectedly during Christmas. The sale of six hundred thousand PS3s in the United States prompted PS3 early adopters to throw themselves into the purchase of Blu-Ray discs. The sales of Blu-Ray films, thanks to this strategic move by Sony, suddenly spiked and the sales figures for the end of December and January reversed in favor of the BD went around the world.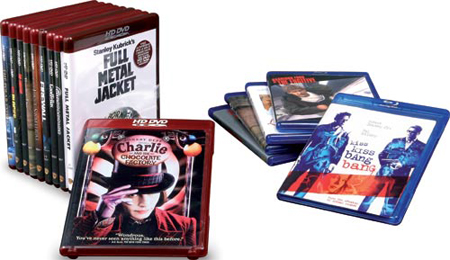 But while it was true that the trojan horse effect of the PS3 had been there, it hadn't been with the intensity that the Studios had believed when signing the deal with Sony. In fact, sales never managed to go much further than HD DVD, and even by early February, HD DVD the two trends were almost equal.
In short, the format war, with Chinese low-cost players arriving at the end of 2007 and already announced at CES by the HD DVD consortium, is still to be played.
In the following pages you will find an examination of the various technical aspects that differentiate the two formats
Technical characteristics in comparison
HD DVD
Resolution: 1080p (1920x1080 progressive)
Frame Rate: 24 fps
Capacity: 15GB (single layer), 30GB (dual layer), 51GB (triple layer, since 2008)
Video Codec: MPEG-4 AVC (H.264) / VC-1 / MPEG-2
Audio Codec Required: Dolby Digital Plus / Dolby Digital / DTS / MPEG Audio / Linear PCM / TRUE HD
Optional Audio Codecs: DTS HD
Secondary Video Decoder for the PIP: Mandatory
Protective Scratch Surface: 0.6 mm (same polymer as DVD)
Copy and DRM protection: AACS-128bit
Menu Format and Interactive Contents: HDi
Blu-Ray
Resolution: 1080p (1920x1080 progressive)
Frame Rate: 24 fps
Capacity: 25GB (single layer), 50GB (dual layer)
Video Codec: MPEG-4 AVC (H.264) / VC-1 / MPEG-2
Audio Codec Required: Dolby Digital / DTS / MPEG Audio / Linear PCM
Optional Audio Codecs: TRUE HD / DTS HD
Secondary Video Decoder for the PIP: Optional
Scratch Protective Surface: 0.1 mm (Durabis)
Copy and DRM protection: AACS-128bit, BD +, BD-Rom Mark
Menu Format and Interactive Contents: BD-J, mandatory profile 1 only (profile 2 and profile 3 optional)
Differences in audio format support

Region Coding and Studios support
REGION CODING:

HD-DVD
region free
Blu-Ray
Blu-Ray movies have a region coding system divided into 4 categories:
A / 1 - North America, Central America, South America, Korea, Japan, Taiwan, Hong Kong and South East Asia.
B / 2 - Europe, Greenland, French territories, Middle East, Africa, Australia and New Zealand.
C / 3 - India, Nepal, Mainland China, Russia, Central and South Asia.
NO REGION - region free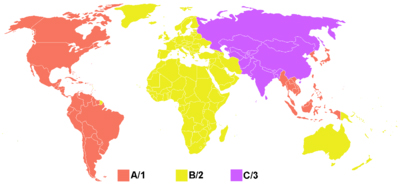 The war of the studios
Some producers have decided to exclusively prefer one format over the other. Below is a summary table of the choices of the main Hollywood studios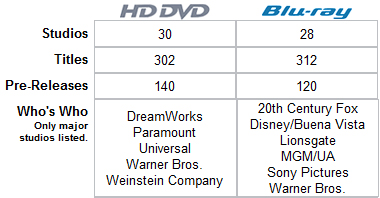 Cecchi Gori (HD DVD)
Medusa (HD DVD)
01 (HD DVD)
MondoHE (Neutral)
Eagle Pictures (Blu-Ray)
Difference between codecs
MPEG2: This is the old video compression standard created in 1994 by the Motion Pictures Expert Group (MPEG), used in cable and satellite TV broadcasting, and DVDs.
AVC: This is the MPEG-4 Part 10 standard (technically known as H.264 AVC), created by the Motion Pictures Expert Group (MPEG) in collaboration with ITU-T Video Coding Experts Group (VCEG) in 2004 to replace the obsolete MPEG2.
VC-1: is the name of the standard SMPTE 421M video codec created by Microsoft on April 3, 2006.
AVC and VC-1 are advanced next generation codecs, very similar to each other, which compared to the old MPEG2 have the following advantages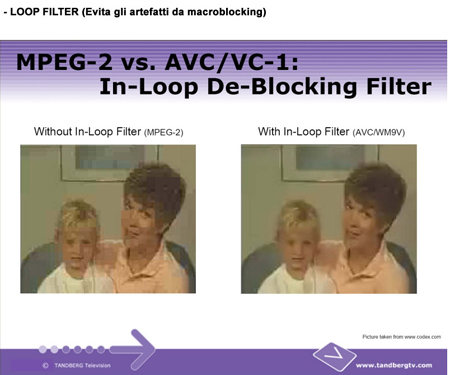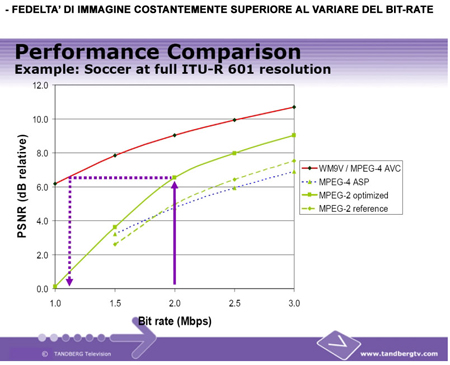 source: http://video.ldc.lu.se/pict/WM9V-MP4AVC-MP2V_comparison-Goldman.pdf
Examples of MPEG2 artifacts that the VC-1 and AVC don't have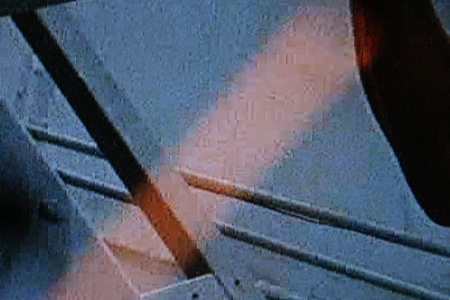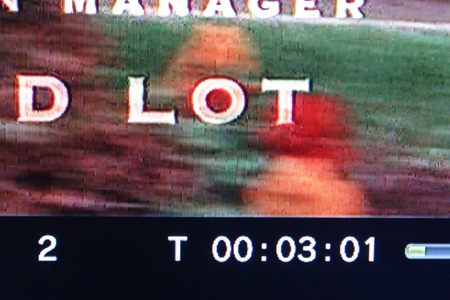 From a distance a Blu-Ray movie in MPEG2 may look okay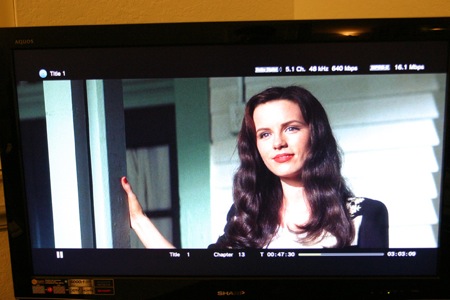 But if you get closer to the screen, the artifacts reveal themselves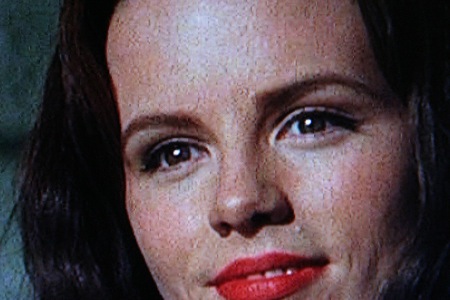 The difference is even more evident if you directly compare images from the same Blu Ray movie and HD DVD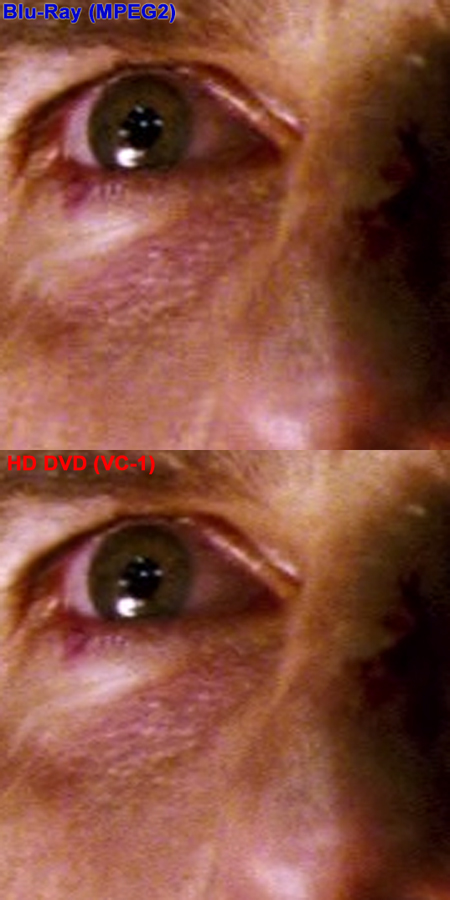 VC-1 vs AVC
Even between the two next-gen codecs there are performance differences, albeit minimal compared to the differences with MPEG2. From the comparisons of the films released in two versions (both in AVC and in VC-1), VC-1 demonstrated greater efficiency managing to obtain the same quality as AVC even when the video file size was 58% less. Here are some comparisons:
http://www.mbmg.de/hd-discs/ (per apprezzare la differenza tra Codec Mpeg2 e VC1 confrontate il dettaglio ingrandito al 200% di uno qualsiasi degli esempi)
Grain treatment
The rendering of the codecs with the film grain is different: the MPEG2 codec for example, due to the macroblocks, artificially highlights the grain blocks compared to the modern VC-1 and AVC codecs (same frame from the Mission Impossible III film in HD DVD and Blu- Ray):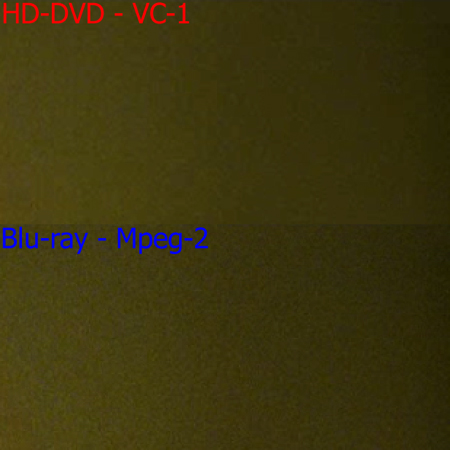 The table below shows the percentages of use of the new Codecs in HD DVD and Blu Ray discs
For a complete list of titles and codecs they use, please refer to this AVSForum page
Interactive content
Also in terms of interactive contents, the two formats are profoundly different, this is due in particular to the technical choices made by the two producers. In fact, Toshiba has made a strong alliance with Microsoft for the development of a new system called HDi, Sony instead preferred to develop a proprietary system based on Java
HD-DVD
Features of HDiT
- Interactive menus
The user can open the menus while the movie is playing, and change all parameters. Doing this on DVDs required stopping the movie.
- Interactive Overlay
Animations and windows can be superimposed on the film to show details and interactive content, navigable with the arrow keys on the remote control. Examples of these options are Universal's U-Control, Warner's In-Movie-Experience, and 3D-rotating planet earth with animated captions from the Chronos documentary.
- Picture in Picture
A second video with contents such as the director's commentary, behind the scenes, art direction sketches, special effects, etc. it is displayed together with the film with direct comparisons scene by scene thanks to a second video decoder. For example, you can simultaneously view the scene of the film and its version without special effects to compare them. Or the original scene next to the art direction sketches on which the sets were created (as in the HD DVD of 300). And so on. It is also possible to allow the viewer to swap the two video streams, passing the video of the PiP window in full screen and the film in the PiP box (as in the HD DVD Freedom).
- Interactive bookmarks
Interactive bookmarks of your favorite scenes with mini thumbnail image of the saved scene. These bookmarks remain stored even after the movie disc is removed.
- Time Progress Meters
At any time it is possible to view a time bar that shows the current position in the film since it started and the total duration, all in a graphic and intuitive way.
- Zoom
Users can interactively zoom from 2X, 4X and 8X simply by pressing A on the remote control button.
- Mandatory Network Connection
The internet connection allows you to check for available updates when you insert the disc and to download them automatically.
- Download of Extras and new HD trailers
Also thanks to the network connection it is possible to download extra content for HD DVD movies and new HD trailers
- Downloading of new audio languages ​​and subtitles
The ability to download new audio tracks and subtitles
- Videogames
HDi offers advanced interactivity for making laser-game style video games, such as Dragon's Lair on HD DVD:
http://www.digitalleisure.com/contents/pressRelease/press_061107.htm
source: http://www.thisishddvd.com/hdi.aspx
Here are some videos of HDi in action:
[YOUTUBE = uZ81wjD4IFU] Tokyo Drift [/ YOUTUBE] [YOUTUBE = suRcec4wPe0] Children of Men [/ YOUTUBE] [YOUTUBE = 7A4UKRwSZZo] Terminator 2 [/ YOUTUBE]
Blu-Ray
Features of BD-JT
BD-JT is based on a subset of Sun Microsystem's Java 2 Micro Edition (J2ME), specifically it includes the 8000 functions of the Connected Device Configuration (CDC) profile. BD-J executables are called Xlets, by analogy with the Applets of web pages, and are part of the larger family of GEM (Globally Executable Multimedia Home Platform), the set of standard specifications defined by the DVB Project consortium for of software applications on cable, satellite, disc or video on demand TV. (see: link)
Blu-Ray specifications provide 3 different profiles for BD-JT
Profile 1.0

This is the profile with which the first Blu-Ray players were manufactured. This profile supports only basic functions and requires 64K of persistent memory for applications. After October 31, 2007 this profile will be considered obsolete.
Profile 1.1 (mandatory since November 2007)

This profile adds more advanced features, such as PIP (which requires the player to have a secondary video decoder), support for secondary audio streaming, (used for interactive audio and commentary), and more persistent memory for applications. (minimum of 256MB). This profile will be mandatory for players from November 2007, but currently no compatible player with this profile has been announced yet (UPDATE: the first 1.1 player announced by Denon, the DVD-3800BDCI). Of the existing players, however, currently only the PS3 has sufficient hardware capabilities to be updated via firmware to the new profile, although nothing has been announced about it.
Blu-Ray movies made with the 1.1 profile interactive features will be playable on older 1.0 profile players, but the interactive features will be disabled.
Profile 2.0 (aka "BD-Live")

Profile 2.0, otherwise known as "BD-Live", adds internet connectivity to the aforementioned features (which requires the mandatory presence of an ethernet socket on the reader) and increases the persistent memory for applications and updates via internet to 1 GB minimum. No readers have currently been announced with profile 2.0 support, and it is unknown when it will be standardized. Currently only the PS3 is potentially capable of supporting 2.0 features via firmware upgrades, although nothing has been announced.
source: http://en.wikipedia.org/wiki/Blu-ray_Disc#Profiles
Currently very few Blu-Ray movies use BD-JT, and in a very limited way, in the form of mini java games or using tricks to simulate the PIP, such as the presence on the disc of the same video file in two different versions, one with the picture in picture superimposed on the film and a version without pip (as shown here: link). This is to compensate for the fact that no player yet supports PIP functions.
These are the movies that make use of BD-JT:
Dragon's Lair (Game, Authored entirely in BD-J, PiP Video Commentary)
Behind Enemy Lines (enhanced menu)
League of Extraordinary Gentlemen (enhanced menu, game)
Speed ​​(enhanced menu, game)
The Descent (fake Interactive PiP video commentary, requires firmware update)
Guardian (Filmmaker Q&A)
Chicken Little (Game, filmmaker Q&A)
Pirates of the Caribbean: Curse of the Black Pearl (Interactive in-movie feature)
Pirates of the Caribbean: Dead Man's Chest (Game)
Crank (BD-J enhanced menu, fake Interactive PiP video commentary)
Weeds: Season One (BD-J enhanced menu, two discs)
Ultimate Avengers (BD-J enhanced menu)
source: http://en.wikipedia.org/wiki/BD-J
Authoring
HD DVD
The HD DVD format enables playback of HD DVD movies burned to HD DVD-R or HD DVD-RW on all players, complete with all the features of commercial movies.
Blu-Ray
There are two types of disc formats for Blu-Ray authoring: BDMV and BDAV.
The only type of Blu-Ray on BD-R or BD-RE readable on desktop players will be the BDAV format, which is that of Blu-Ray digital cameras, which has no menu, no interactive features, but only naked video. and raw.
The BDMV format (that of actual Blu-Ray movies, with menus, interactive features, etc.) will instead be rejected by home players.
So officially explains the thing from the Sony insider on AVS:
Blu-ray players were never supposed to support BDMV authored content using ordinary data type BD-R or BD-RE media. An exemption was made for a number of months so that available blank discs could be used for testing and other promotional activities; this exemption expired recently.
Consumers will be able to record their own authored movies using recorded media designed for this purpose (as specified by AACS). This media is designed to stop copies of copies of copyrighted material, something we can't prevent right now with the current media and drives.
Blu Ray players were never intended to support BDMV authorized content using ordinary BD-R or BD-RE media. An exception was made for a number of months in order to allow existing blank disks to be used for testing and other promotional activities. This exception recently expired.
Consumers will be able to record their movies using media developed for this purpose (as specified by AACS). These media were developed to block copying of copyrighted material, which is impossible with current media and drives
There are some rare players, such as the PS3, that can currently read them, but this option will be disabled by a future firmware update, as, as said by the insider, it was only enabled for initial testing and use. with discs for promotional activities.
Readers on the market
HD DVD
Xbox 360 HD DVD External Player - 1080p, Component & VGA (HDMI with the 360 ​​Elite), DVD upscaling, $ 199
Toshiba Toshiba HD-A35 - 1080p, HDMI, DVD upscaling, $ 499
Toshiba HD-A30 - 1080p, HDMI, DVD upscaling, $ 399
Toshiba HD-A1 - 1080i, HDMI, DVD upscaling, $ 399
Toshiba HD-XA1 - 1080i, HDMI, DVD upscaling, $ 396
Toshiba HD-A2 - 1080p, HDMI, DVD upscaling, $ 299
Toshiba HD-A3 - 1080i, HDMI, DVD upscaling, $ 299
RCA HDV5000 - 1080i, HDMI, DVD upscaling, $ 499
Toshiba HD-XA2 - 1080p, HDMI, DVD upscaling, $ 799
LG Electronics (LGE) BH100 Hybrid Player - 1080p. HDMI, DVD upscaling, $ 1199
Samsung BD-UP5000 Universal Player - 1080p, HDMI, DVD upscaling, - $ 793.99
Venturer SHD7000 - 1080i, HDMI, DVD upscaling - $ 169.00
Blu-Ray
Sony Playstation 3 - 1080p, HDMI (excluding cable), DVD upscaling, $ 600
Sony BDP-S500 - 1080p, HDMI, DVD upscaling, $ 699
Samsung BD-P1000 - 1080p, HDMI, DVD upscaling, $ 899
Samsung BD-P1200 - 1080p, HDMI, DVD upscaling, $ 600
Philips BDP9000 - 1080p, HDMI, DVD upscaling, $ 799
Panasonic DMP-BD10 - 1080p, HDMI, DVD upscaling, $ 599
Sony BDP-S1 - 1080p, HDMI, DVD upscaling, $ 899
Sharp Aquos BDHP20U - 1080p, HDMI, DVD upscaling, $ 499
Pioneer Elite BDP-94HD - 1080p, HDMI, DVD upscaling, $ 599
LG Electronics (LGE) BH100 Hybrid Player - 1080p. HDMI, DVD upscaling, $ 999
Samsung BD-UP5000 Universal Player - 1080p, HDMI, DVD upscaling, - $ 793.99
Difference between players with 1080p output and 1080i output
Some players output at 1080i instead of 1080p. In both cases the video streams carry frames at 1920 × 1080, but in the first case the signal is interlaced, in the second progressive. This might suggest that there is a lower image quality between the two video signals when playing high definition movies. In reality there is no difference if the TV deinterlaces the signal correctly and reconstructs the original video stream, as this is encoded on the disc at 1080p24 (the film being always recorded at 24 frames per second). Both 1080i and 1080p have enough bandwidth to carry 24 fps without any loss of information (which would not be true in the case of sources at 30 fps or higher). The resulting video from the two high-definition formats is therefore identical, thanks to a reconstruction process called 3: 2 inverse pull-down.
Sales trend of the two formats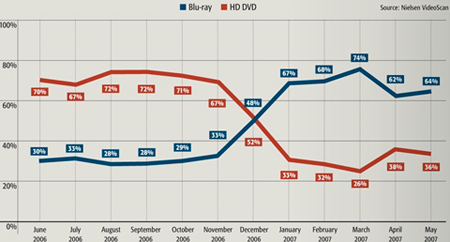 Sales on major US online retailers (DVDEmpire.com and Amazon.com) can be tracked in real time from here, even if they don't reflect the entire market:
http://dvdempire.com/Content/Features/hidef_wars.asp
http://www.eproductwars.com/dvd/
http://www.hdgamedb.com/amazon/history.aspx
Conclusion
At the end of this long special on what has been called the "format war" we report the thoughts of some important magazines and commentators and our personal opinion in the appendix
"HD DVD is cheaper and offers much better video quality content than Blu-Ray. We don't know which of the two will win the format war, but as things stand HD DVD looks fantastic. "
- HomeTheatre Magazine
"Despite the great improvements in Blu-Ray discs and players recently, I have to say that, based on my experience with the Toshiba HD-XA2, I still think HD DVD is visually better."
source: Perfect Vision Magazine, April / May 2007, p. 64: http://www.avguide.com/the-perfect-vision-download/?EMC-Issue77email&attr=reportfromlabstitle
"The HD DVD format wins because it is truly the most genuine article. Blu-Ray hardware and software lag behind HD DVD, which offers genuine benefits to users. "
- Steve May, editor of Home Cinema Choice, UK
source: http://www.t3.co.uk/news/247/entertainment/dvd_-_player/hd_dvd_beats_bluray
"Sony has attracted support from multiple studios because it has made its media friendlier to them in terms of DRM and content copy protection. Sony certainly doesn't have consumer needs in mind "- Wayde Robson, Gizmodo
source: http://gizmodo.com/gadgets/home-entertainment/a-rant-against-bluray-vs-hd-dvd-235144.php
70.3% of users of AVS, the world's largest forum for home video enthusiasts, prefer HD DVD to Blu-Ray according to this survey: http://www.avsforum.com/avs-vb/showthread.php?t = 772755
"The war between Blu-ray and HD-DVD is a bloody battle that won't be resolved anytime soon"
- Reggie Fils-Aime, president and chief operating officer of Nintendo of America
source: http://blogs.mercurynews.com/aei/2007/02/dice_interview_.html
"Some studio buyers have claimed to have won, but honestly, the war continues," said Mandato, who began his speech by making it clear that his point of view does not necessarily represent Paramount's. Mandate predicts that the number of hardware units in homes by the end of 2007 will be 1.7 million for each of the formats. On the HD DVD side, this includes 1.2 million stand-alone players and 500.000 add-on drives for Xbox 360. For BD, Mandato only counts 22%, or 1.2 million, of the 5.5 million PS3 units projected to be sold. during this year, more than 500.000 stand-alone players, because his analysis suggests that only 22% of families with a PS3 buy HD movies regularly. " - Vito Mandato is Executive Consultant of Paramount Studios
source: http://www.videobusiness.com/article/CA6422896.html
Our view is that HD DVD will eventually make its way onto the mass market, while Blu-Ray will remain a niche format with Sony exclusive movies only. HD DVD technology is not only better in terms of quality thanks to the VC-1 and the much more advanced interactive menus, but it has a huge price advantage, being the underlying technology almost the same as DVD, and will tend to further decline with the passage of time. The price advantage to consumers is not yet perceptible for now, but at the end of the year it will be enormous. The cost of HD DVD drives is already in free fall and you can get a good deal for just over $ 350. A further price drop to $ 200 is expected by the end of this year thanks to the announced arrival of Chinese HD DVD players on the market; Blu-Ray players, due to their sophisticated technology, are doomed to cost around $ 600-900 in the long run, less than exceptional economies of scale which in the short term are truly unthinkable; the only lucky exception is represented by the PS3, which with its Bluray player is leading the recovery of Blu Ray.
Despite the fact that sooner or later HD DVD players will reach the critical price of $ 100, Blu Ray will continue to dominate thanks to PS3 and its games. In short, the war is destined to continue for a long time.