Best smart bulbs. A buying guide on the best smart LED bulbs and smart lighting that will help you find out how to control the lights in your home.
Smart lighting is an area of ​​home automation that allows you to control the lights in your home at any time directly from your smartphone or through your voice. Depending on the type of smart bulb you have, you will be able to change its tone, brightness and even color.
Smart lighting works by connecting to a central hub connected to the Internet. In this way you can connect the lights and the app allowing you to manage the smart lights from your smartphone and above all at any time. In this regard, I suggest you read this guide on How to turn on the house lights with your smartphone.
Among best smart bulbs, the ones that deserve more attention are the Philips Hue and luci Hive, the latter through theapp Hive they can be controlled by simulating your presence even when you are away from home.
They aren't the only smart bulbs to consider though. There are also other excellent offers from companies such as Lifx e Nanoleaf which should not be underestimated.
Best smart bulbs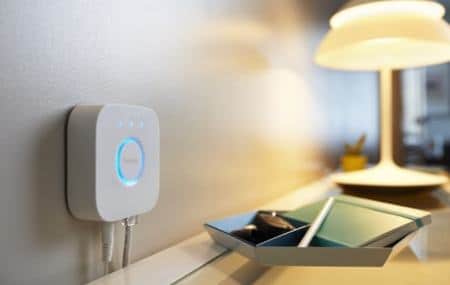 Here is an always updated list of smart light bulbs that shouldn't be missing in your apartment. If you love lighting effects, shades and want to turn the bulbs on or off at the same time from an app or with Alexa and Google Home, then have fun discovering which ones might be right for you.
1. Philips Hue Color Ambience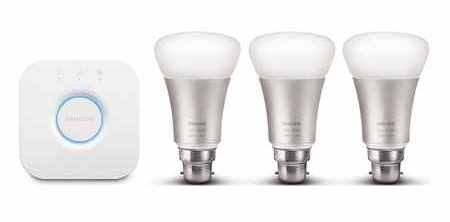 It is the best smart led bulb.
Potenza: 10 W | Color: +16 million colors | Temperature color: 2.000-6.500 K | Exit lumen: 806 | Duration: 25.000 hours | Height: 109,2 mm | Diameter: 62 mm.
For
Easy to set up
Good integration with other services
Cons
Requires a hub to function
Expensive
There is a very good reason why Philips Hue it's the biggest name in the smart lighting scene - it's arguably one of the biggest offerings on the market. The lights produce the most natural tones of any other smart bulb on the market. The app is easy to use and installation is a breeze.
That said, it's not possible to make use of Hue lights without the hub, meaning the only way to get started is with a starter kit that will give you a lot more than just a light bulb would.
Consider that there are a variety of different lighting kits and bulbs available in the Hue range, so you can choose between White (shines only white light), Color (offers over 16 million colors) e Ambient variants of both (gives the possibility of softer, softer tones).
They all work from the same hub, so you don't need a new hub for every lighting set. You would certainly make a good investment.
Buy on Amazon
2. LIFX A19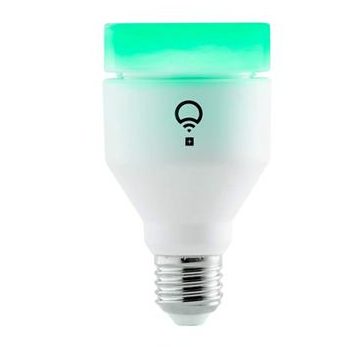 Among best smart bulbs with night mode.
Potenza: 11 W | Color: 16 million colors | Color temperature: 2.500-9.000 K. | Lumen output: 1100 | Duration: 25.000 hours | Height: 114,8 mm | Diameter: 62 mm.
For
Easy single bulb setup
Vibrant color options
Cons
No natural lighting options
Great form factor
Lifx is an attractive proposition in the smart lighting market. It doesn't try to replicate the standard warm glow of a filament bulb, but focuses solely on bright, vibrant colors.
If you are looking for a signature light, something that will illuminate your room with a warm deep red or purple glow, this is the one for you. With a fun color wheel and brightness settings ranging from 1 to 100%, the customization options are so varied that they can be overwhelming at times.
Turning it on for the first time you will see a very warm light and it will be a real pleasure for you to relax.
As Hue, there are several options with light bulbs Lifx, including a '+' version of its bulbs, which include a night mode that improves the night vision of indoor security cameras by emitting low-frequency light.
Buy on Amazon
3. Nanoleaf Light Panels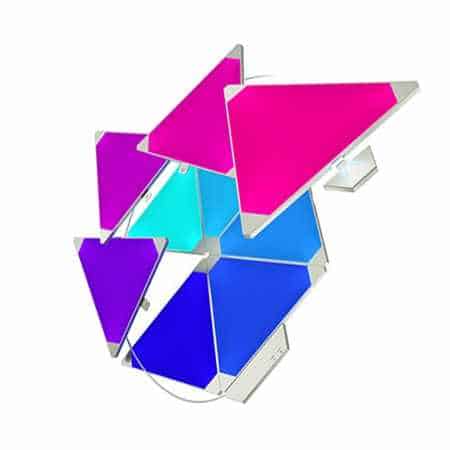 Adapt to your mood or your music.
Potenza: 60 W | Color: 16,7 million colors | Color temperature: 1200-6500 K | Lumen output: 100 LM / Panel | Duration: 25.000 hours | Height: 210mm | Width: 240 mm.
For
Makes lighting fun
Easy to set up
Cons
Difficult to remove once mounted
Not perfect app
You like light but hate light bulbs, then you definitely need to know Nanoleaf.
Nanoleaf light panels (formerly known as Aurora) take up the concept of lighting and completely transform it. Using a collection of triangular panels, you create a dynamic shape on the wall (or ceiling or both) that can move through over 16 million different colors.
Furthermore, with the Rhythm Module separate, the Nanoleaf can even respond to audio cues from the room it is in, so it can respond to music, putting you at the center of your music video.
If you'd rather decide in advance what the light panels will do, you can choose from a vast repository of user-created scenes spanning several aesthetically pleasing configurations.
The original set comes with nine panels, but you have the option to add more and there are also corner clips that allow you to create configurations that fold around corners, crawl around walls and even ceiling if you like.
Buy on Amazon
4. Hive Active Light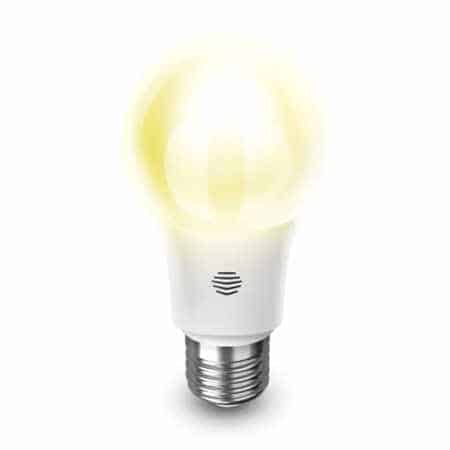 An affordable addition to the Hive ecosystem
Potenza: 9,5 W | Color: 16 million colors | Color temperature: 2700 K-6500 K | Lumen output: 806 | Duration: 25.000 hours | Height: 130mm | Diameter: 60 mm.
For
Affordable bulbs
Easy to use app
Cons
Necessario hub Hive
Light pulses when switched on via a switch
Unlike the other lights in this collection, theHive Active Light is the one I recommend if you are already in the Hive ecosystem. If you're the proud owner of a Hive thermostat, plug, motion sensor, or Hive View camera, you'll know that all Hive devices can be controlled from a single app, simplifying the smart home control process.
Since all devices in the Hive ecosystem need a hub to function (you can get a hub basic o 360 Hub, which doubles as a security system and is much nicer), you won't need a separate hub for your lighting.
Another plus is that Hive recently announced that Philips Hue bulbs can be integrated into the Hive ecosystem, so if you are still undecided, I recommend that you buy them right away.
Like the other ranges, Hive has a variety of bulbs, with some that change color and others that simply do white. Their light is very pleasant, although the bulbs "pulsate" slightly if you turn them on using a light switch. I therefore recommend that you leave the switch in the "on" position and turn the lights on and off using the official app.
Buy on Amazon
5. Sengled Element Classic Starter Kit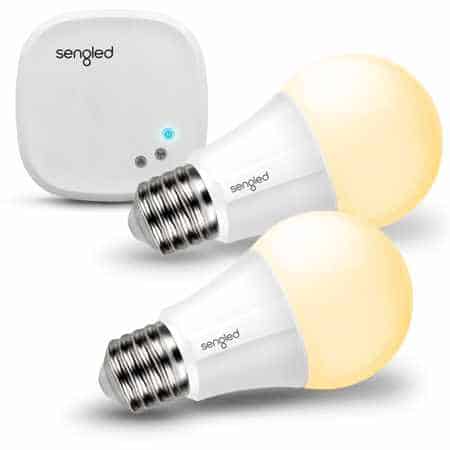 Basic smart lighting for those on a budget.
Potenza: 9,0 W | Color: white | Color temperature: 2700 K. | Lumen output: 800 | Duration: 25.000 hours | Height: 130mm | Diameter: 60 mm.
For
Cheap!
Compatibility with Google Home and Alexa
Basic white color
Cons
Not as stylish as Philips Hue
If you are looking to save money with smart lights, you should look at the light bulb series Sengled Element Classic. These bulbs don't cost much and once you buy the kit you will find that they are only available in a basic white color. But if you are just entering the world of smart lights and are interested in including compatibility with most major smart home systems - Amazon Alexa and Echo Plus, Google Assistant and IFTTT included, these bulbs are perfect.
That said, Sengled bulbs are a bit cheap, and the app itself isn't the most user-friendly you'll download.
Buy on Amazon
6. LIFX Mini Color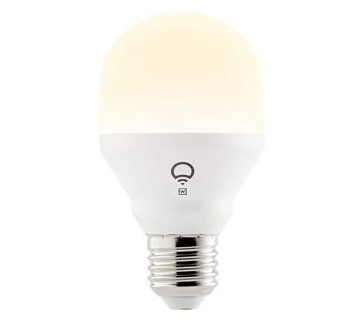 An economical alternative to full-size bulbs.
Potenza: 9,0 W | Color: 16 million colors | Temperature color: 2700 K-9000 K | Exit lumen: 800 | Duration: 25.000 hours | Height: 104mm | Diameter: 60 mm.
For
Lights that change color!
Economic
Cons
Semi confusing installation
Speaking of cheap and versatile smart bulbs, it is also worth mentioning the LIFX Mini. It's the smallest member of the LIFX family, but also the most affordable starting point for smart home owners.
What separates the mini from the full-size fixtures is, of course, the size of the bulb and how much light it can put off. However, if you don't need to light up a huge living room these bulbs are more than good.
Each bulb can produce 16 million colors, selectable by a scroll wheel within the app LIFX, or, if you want to control the lights hands-free, Mini supports Amazon Alexa, Apple HomeKit, Google Assistant e IFTTT.
LIFX is sold at a remarkably economical price.
Buy on Amazon
7. IKEA Tradfri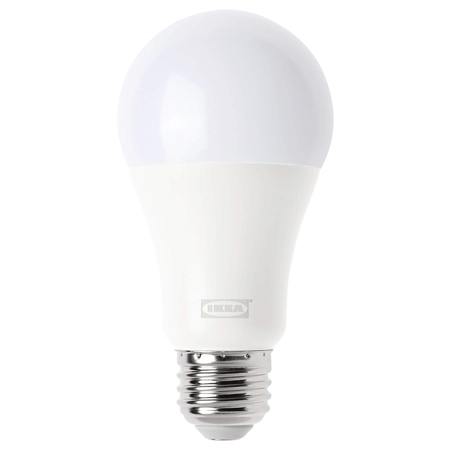 Best IKIA smart bulb, simple, minimal and reliable.
Potenza: 8,9 W | Temperature color: 2700 K. | Exit lumen: 806 | Duration: 25.000 hours | Height: 11 cm | Diameter: 60 mm.
For
Very simple
Different accessories
Cheap
Cons
No color options
You need a separate device for advanced functionality
IKEA has immersed itself in the home automation market with the range of smart bulbs Tradfri. Surely they may not come with all the features and colors of leading brands, such as Philips e LIFX, but they offer a simple and easy to use system that will integrate well with IKEA furniture.
You can get both white and colored options and they fit E14 and E27 fittings. There are also panel lights and spotlights in the range and you can select those that fit directly into wardrobes, sideboards and other IKEA panels.
This range is popular because it is inexpensive, simple and easy to use. To take advantage of some of the more advanced features, you'll need to sync the bulb to a separate device so it can access your router, but we also find plenty of other options available, including Alexa support.
Buy on Amazon
8. Eufy Lumos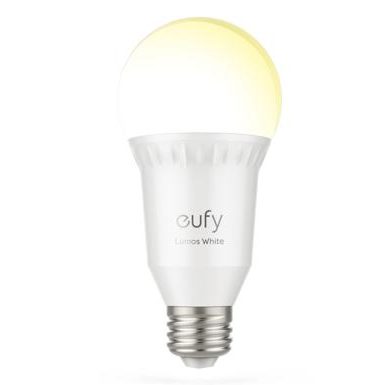 A simple smart light bulb for beginners.
Potenza: 9 W | Color temperature: not tunable Lumen output: 800 | Duration: 20.000 hours | Height: 140mm | Diameter: 65 mm.
For
Cheap
Alexa and Google Assistant enabled
Simple to use
Cons
Only one option
Without colors
Eufy (owned by Anker) is really making a name for itself by producing some of the best competitors of iRobot. But it's also trying to stand out with its smart bulbs.
We currently find only one smart bulb from Eufy to choose from, but it's still a solid and simple to use offering. If you are not particularly sure about home automation technology and want a simple and affordable option, then I recommend you give it a try.
Buy on Amazon
Best smart bulbs on Amazon
Below is an always updated list of the best-selling smart bulbs on Amazon.