Best gaming routers. A buying guide on routers that will help you have a user experience
If you spend a lot of time playing the best PC games, you've probably encountered drops, spikes, freezes, or whatever. With the selection of the best gaming routers below, I am confident that you will no longer have to go through the grueling interruptions that have happened in the past.
The best gaming routers thanks to a feature called Quality of Service (or QoS) guarantee priority to network traffic for your games, and also avoid interruptions in gaming sessions even when your roommate is downloading a game or watching Netflix.
How to choose a gaming router
Before buying a gaming router you need to take into account several factors, which are:
The maximum connection speed is essential to understand at what speed you can download new games.
RAM and Processor are elements present in modern gaming routers and guarantee power and memory to manage more connections and reduce latency or use advanced QoS features.
With wireless connections, the further away you are from the router, the worse your connection will be. Routers guarantee hundreds of square feet of radius, but if there are load-bearing walls, ceilings, doors, and so on, you may have problems. For gaming routers it is preferable to use an ethernet cable connection unless the game is based on speed and accuracy.
Gaming routers have automatic updating software that offers firewall protection, function management and network optimization.
MU-MIMO technology, acronym for Multi-User, Multiple Input, Multiple Output, indicates the possibility of connecting multiple devices to the router via Wi-Fi connection, without worrying about having to occupy too much bandwidth. Gaming routers offer this technology to ensure connection consistency and without lag spikes and unstable ping.
Best gaming routers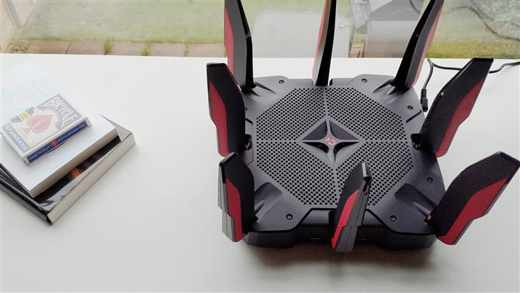 Below you will find the best gaming routers with evidence of the most famous brands and all those factors that determine their quality, such as: speed of data transmission, connectivity (Gigabit Ethernet ports, Wi-Fi standard, antennas to manipulate signal strength) e features. Enjoy the reading!
1. TP-Link Archer C5400 v2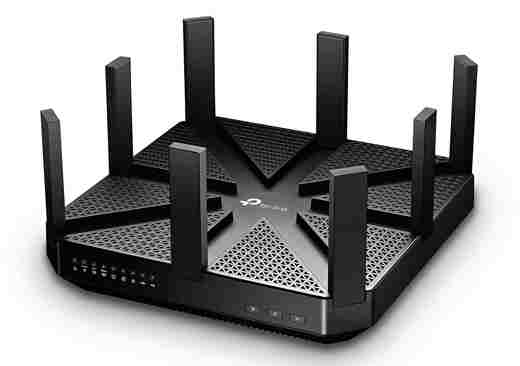 Speed: 802.11ac: 2.167 Mbps, 802.11n: 1.000 Mbps | Connectivity : 4 x Gigabit Ethernet, 1 x WAN, 1 x USB 2.0, 1 x USB 3.0 | Features: support MU-MIMO, Alexa integration, IFTTT.
For
Fast and powerful
Support Alexa and IFTTT
Cons
If you are looking for the latest router technology and still love the look of the old models, then the archer TP-Link Archer C5400 v2 it might be perfect for you. It is one of the best gaming routers that combines level features and accessible configurations in a package that almost everyone likes. If you then add the support as well Alexa, you have a router that can adapt to any situation, whether you're focusing on winning the last game in Apex Legends, whether all your guests connect to your network.
Buy on Amazon
2. Asus RT-AC86U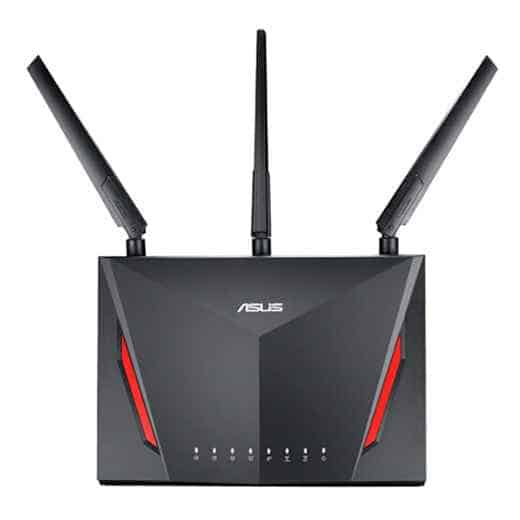 Speed: 802.11ac: 1.734 Mbps; 802.11n: 450 Mbps | Connectivity : 4 x Ethernet, 1 x WAN, 1 x USB 2.0, 1 x USB 3.0 | Features: MU-MIMO, AiDisk, Adaptive QoS, Private network for WTFast players.
For
Super fast transfers
Long range
Cons
Expensive
Excessive features
THEAsus RT-AC86U is one of the best gaming routers and supports all wireless standards currently in use ((802.11a / b / g / n / ac). It has four LAN ports, a multifunctional USB 3.0 port and even supports Internet sticks. It offers MIMO technology and beamforming for optimize bandwidth management when connections are simultaneous. The web interface is clear and allows for complete device and network management. There is no lack of security features, such as firewall, DoS protection, parental control and QoS function.
Buy on Amazon
3. TP-Link Archer C5400X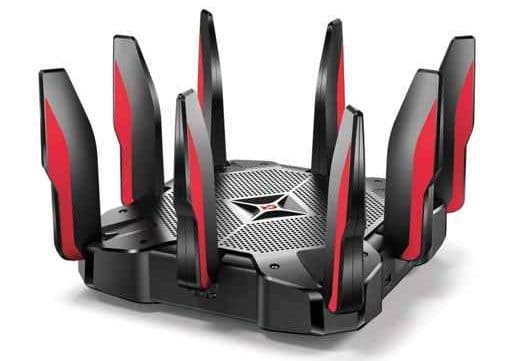 Speed: 802.11ac; 2.4GHz: 1.000 Mbps; 5GHz: 2.167 Mbps | Connectivity : 1x Gigabit Ethernet WAN, 8x Gigabit Ethernet LAN, 2x USB 3.0 | Features: MU-MIMO, advanced wireless AC beamforming, tri-band network, VPN acceleration.
For
Cons
The router TP-Link Archer C5400 v2X compared to the previous model (the one without the "X") has had a significant increase in performance. It's a lot more expensive, but it may be one of the highest-end and best gaming modems out there. With eight Ethernet ports on the back, it's perfect for wiring a fleet of gaming equipment. Also, the support MU-MIMO e Tri-band, it means that wireless connections are also top of the line.
Buy on Amazon
4. Netgear Nighthawk Pro Gaming XR500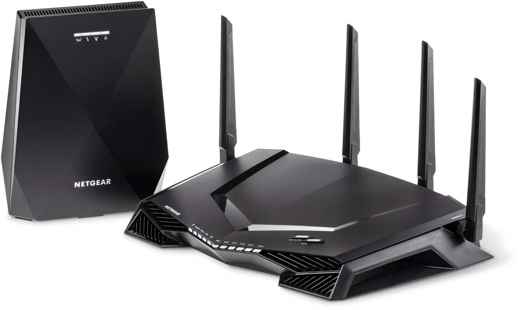 Speed: 802.11ac: 2.6Gbps | Connectivity : 4 x Gigabit Ethernet, 1 x WAN, 2 x USB 3.0 | Features: support MU-MIMO, QoS, geographic filter.
For
High performance
Incredible software
Cons
If you are a hardcore gamer, a great way to play your best without interruptions is to consider the router Netgear Nighthawk XR500. This elite gaming router not only provides an awkward 2,2Gbps speed, but also MU-MIMO support and unique gaming features, such as location-based connection filtering and QoS. You will be able to play all night without having any peaks of delay. Just be aware of the high price and make sure you can handle such an aesthetic.
Buy on Amazon
5. Asus RT-AC5300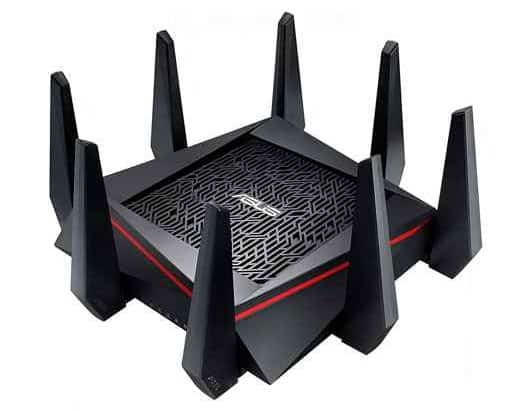 Speed: 802.11ac: 2.167 Mbps, 802.11n: 600 Mbps | Connectivity : 4 x Gigabit Ethernet, 1 x WAN, 1 x USB 2.0, 1 x USB 3.0 | Features: support MU-MIMO, Link Aggregation, traffic analyzer, WPS, 512MB RAM, 8 external antennas.
For
Powerful gaming features
Excellent Wi-Fi coverage
Cons
Requires space
Single USB 3.0 port
THEAsus RT-AC5300 is a fantastic high-end gaming router packed with advanced features. It includes a simple yet powerful interface, as well as comprehensive QoS settings. The spider-like design isn't for everyone, but the eight antennas serve a purpose, as they can be used to direct the Wi-Fi signal throughout the home, giving this router excellent range.
Buy on Amazon
6. Zyxel Armor Z2 AC2600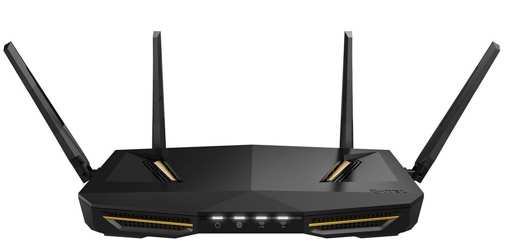 Speed: 802.11ac: 2.167 Mbps, 802.11n: 800 Mbps | Connectivity : 4 x Gigabit Ethernet, 1 x WAN, 1 x USB 2.0, 1 x USB 3.0 | Features: Support MU-MIMO, StreamBoost, 1,7GHz dual-core processor, 512GB RAM, Zyxel One Touch app-based configuration.
For
Good wireless MU-MIMO speed
Traffic analysis software
Cons
Average USB port speed
Few devices use quad-stream 802.11ac
It looks like an alien, but in reality the Zyxel Armor Z2 AC2600 is a router for gamers. Thanks to the latest MU-MIMO support, which improves speed when multiple devices are connected to the same network, this gaming router offers high performance. It can handle many devices, prioritizing bandwidth based on the needs of each device. It is certainly one of the best gaming routers you can buy today.
Buy on Amazon
7. Asus RT-AC88U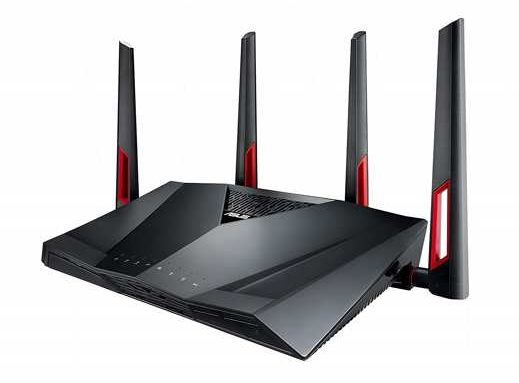 Speed: 802.11ac: 2167 Mbps 802.11n: 1000 Mbps | Connectivity : 9x Gigabit Ethernet, 1x USB 2.0 1x USB 3.0 | Features: 1024-QAM, MU-MIMO, WTFast Gamers Private Network, Asus AiProtection, AsusWRT Software.
For
Faster wireless speeds
Full software user interface
Cons
Expensive
Requires special hardware for faster speeds
THEAsus RT-AC88U It's an expensive gaming router, but it justifies the price with crazy 802.11 wireless performance. With four antennas e tecnologia NitroQAM, which pushes the speed further, this gaming router enables wireless performance that can exceed the 1GB / sec limit. But there is a problem: you will have to grab an adapter wireless NitroQAM, like the Asus PCE AC88, to get you close to these powerful speeds. But with speeds like this, it's easy to see why we're dealing with another of the best gaming routers.
Buy on Amazon
8. D-link DIR-885L / R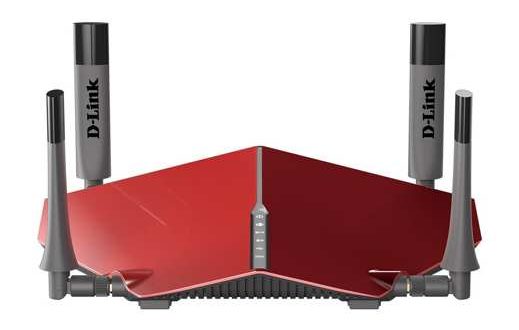 Speed: 802.11ac | Connectivity : 4x Gigabit Ethernet, 1x USB 3.0 | Features: MU-MIMO, beamforming AC wireless avanzato, SmartConnect.
For
Several features
Good performance
Cons
Il D-Link DIR 885L / R is a reliable mid-range gaming router with high range and speeds. If you are looking for the best gaming router on the market, I recommend it. Not only does it come with a good variety of ports but it also has a well-designed user interface. It also features DD-WRT open source firmware, which makes this router as flexible as it is powerful.
Buy on Amazon
Best Selling Gaming Modem Routers on Amazon
After having listed the best gaming routers on the market, to be taken into consideration before your purchase phase, below you will find an always updated list of the best-selling online gaming routers of the moment on Amazon.