Best apps to order shopping online. A tutorial that will help you no longer have to go to the supermarket to shop, because you can comfortably order it from your sofa at home.
Are you alone at home and you cannot go shopping? I know if you want to survive you absolutely have to eat something as your refrigerator is completely empty. Therefore? Don't worry, if you have a mobile phone just download one of the many apps that I will reveal to you in this guide, these are the best apps to order shopping online and get it straight to your home.
Yes, you got it right, all you have to do is choose, through an app, one of the affiliated supermarkets in your area and a shopper will take care of shopping for you and deliver it directly to your home. Payments can be made by credit card, PayPal and in some cases also in cash on delivery.
Best apps for shopping online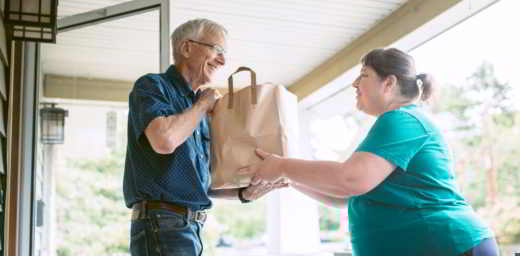 Do you want to avoid traffic, stress, queues and heavy bags? If you want to order from the best supermarket in the area and have products from the best brands directly at home, read carefully the applications that will save you time and money.
1. Amazon Prime Now (Android, iOS)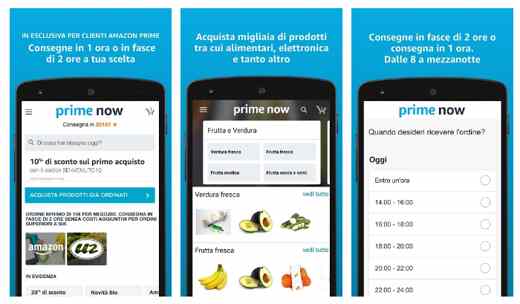 Amazon Prime Now is one of the best services in Spain for purchasing products. To access the service, you must be a Prime member and have downloaded the Amazon Prime Now app, available for Android and iOS.
The purchased products are delivered in a very short time: about 1 hour or 2 hours, from 8:00 to 24:00, with a minimum purchase of 15 euros.
You can buy food products, both fresh or frozen, drinks, gift ideas, personal care products, electronics and much more.
The service is active in Milan and its hinterland, Rome and Turin.
2. Supermercato24 (Android, iOS)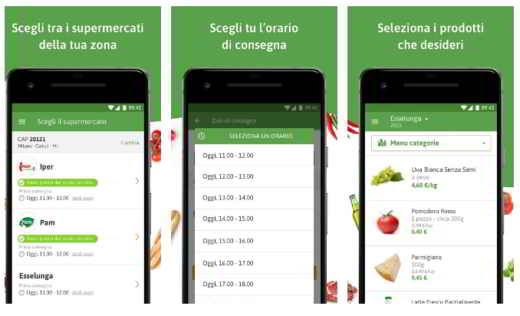 Supermarket24 is definitely one of the best apps to order shopping online on Android and iOS. Its operation is really simple: after downloading the app and launching it, you have to enter your zip code to find supermarkets near your area. Then you can choose and order the products you want, also taking advantage of the offers present and specifying the delivery time. One of the shopper will do the shopping on your behalf and deliver it directly to your home.
Supermarket24 at the moment it is active in Rome, Milan, Turin, Verona, Bologna, Padua, Genoa, Vicenza, Brescia, Modena, Varese, Bergamo, Monza Brianza, Treviso, Venice, Mantua, Forlì-Cesena, Catania, Rimini, Ravenna, Pordenone, Pesaro, Trieste.
How much does home delivery cost? Basic delivery costs 4,90 €. Costs under 30 euros exclude the cost of delivery but a surcharge of 2 euros applies. Any supplements, such as delivery within 2 hours from the order, are in any case indicated before confirming the purchase.
3. Esselunga Online (Android, iOS)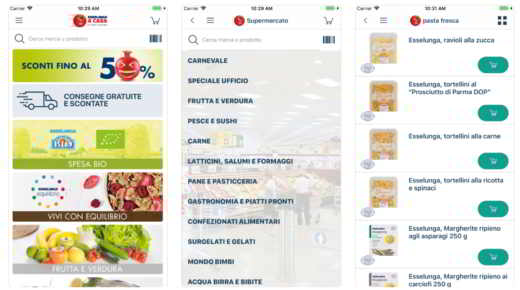 Esselunga Online is an online shopping app consisting of about 13 items ranging from over 2.500 fresh products, such as fruit, vegetables, fish, dairy products to traditional products such as bread, pasta, detergents and so on. You will also find an assortment of around 700 wines.
Order your products on Android or iOS smartphones and comfortably receive your shopping at home on the day and time slot requested. Delivery will be made from the yellow "Click the tomato" van or you can pick it up at one of the centers indicated in the app.
Other advantages are the ability to find the same promotions online as the Esselunga stores and the addition of exclusive discounts.
Esselunga Online is a service currently available in Piedmont, Tuscany, Lombardy, Veneto and Emilia Romagna.
How much does home delivery cost? The shopping service can be used with a cost of at least 40 euros. The cost for delivery is 7,90 euros (6,90 euros for orders over 110 euros). The concessions concern the disabled and the elderly over 70 (the cost is 3,45 euros).
4. EasyCoop (Android, iOS)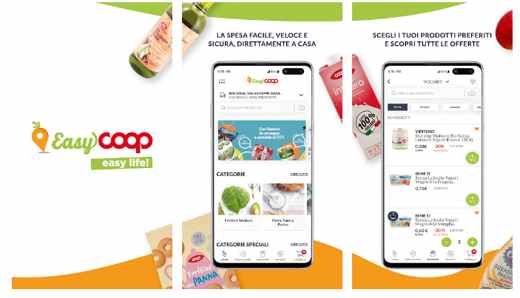 EasyCoop is another good app for your online shopping. It is available for Android and iOS and has a search field to indicate the food products you want to buy.
Add the products to the cart and at the end of the shopping press the button with the van icon to book your delivery. Complete the wizard for payment and delivery information.
Delivery costs start at € 2,90 and vary according to the date and time chosen.
The service is active in Lazio, Veneto and Emilia Romagna. You can also check if the delivery service is active in your area by entering city, street, house number and post code.
For further information, you can also visit the easycoop.com website.
5. Conad Online Spending (Android)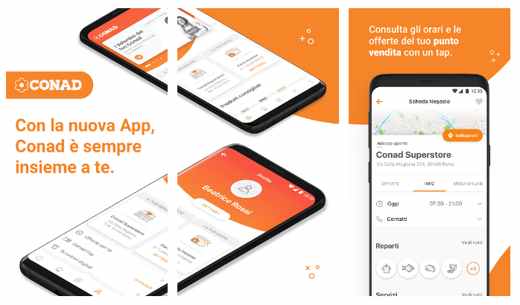 If you want to have your shopping at home from the Conad supermarket, you can shop online by visiting the altuoservizio.conad.com website.
To use the service you must register and enter the required data following a simple procedure. At the end you will receive an email to confirm the registration. Then go to the site and choose the Conad store closest to you to order your shopping online and receive it either at home or in the store ready.
You can also buy from the Conad app for Android.
Attention: the service is also valid for those who do not have cards Together Conad and is valid in the following cities:
Arezzo, Cagliari, Caserta, Catanzaro, Cosenza, Crotone, Florence, Frosinone, Grosseto, La Spezia, Latina, Livorno, Lucca, Massa-Carrara, Naples, Nuoro, Olbia-Tempio, Oristano, Palermo, Perugia, Pisa, Pistoia, Prato , Rieti, Rome, Salerno, Sassari, Siena, South Sardinia, Viterbo.
6. Cortilia (Android, iOS)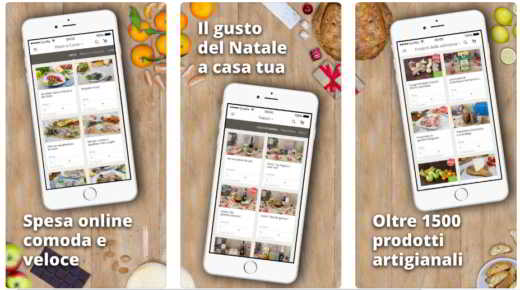 Cortilia is among the best apps for online shopping by organic products and close to nature. The service is active in the cities of Milan, Turin, Bologna, Modena, Novara, Lodi, Piacenza, Pavia, Monza and Brianza, Como, Varese, Bergamo, Brescia and is a real online agricultural market where you can shop from trusted farmers.
The catalog is very vast, you can find boxes of fresh fruit and vegetables every day but also healthy and genuine products with authentic flavors and high quality. Receive the campaign directly to your home, by downloading Cortilia on Android or iOS and discover the products of the week by composing your box as you wish and then planning the home delivery.
How much does home delivery cost? By subscribing to Cortilia you can get significant discounts and take advantage of a free time slot for delivery. You also have no spending limits. While for single expenses the minimum limit is 29 euros (if it is the first expense the minimum price can be 19 euros).
7. Glovo (Android, iOS)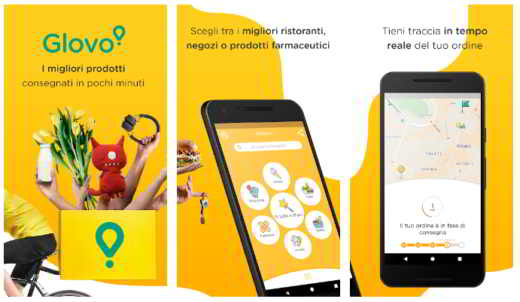 Di Glovo we have already talked about it in this article: Best apps to order food at home. This is an app for Android and iOS where you can order any product from the best restaurants, shops and supermarkets in your city. The service is present not only in Spain but also in Spain, France, Portugal and Latin America.
To use Glovo you must register on the official website by entering your personal and personal data, a credit card and the delivery address. Then choose your city and click on Enter. Select the category you are interested in and start ordering your shopping online.
You will see a series of products open for you to select. At this point you will activate the Glovers, Glovo's delivery men, who will leave for the nearest supermarket to buy the requested product and deliver it to your home. Payment can be made by credit card and the money will be deducted upon delivery.
If you are an avid frequenter of Mc Donald's, Glovo has a strong partnership with the US fast food restaurant chain and even delivers its special sandwiches to your door at no shipping cost.
How much does home delivery cost? The delivery cost varies according to the price of the products purchased and ranges from 0 to 4,90 euros. If you have more than one delivery address, € 3,60 will be added to each address.
8. Shooppi Spesa (Android, iOS)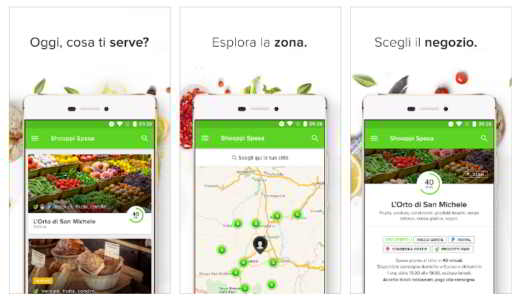 Shooppi Spending is an app for shopping from small grocery stores in your city directly from iOS mobile devices. Download it and choose the store to do your shopping by browsing the rich catalog available. You can decide whether to collect your shopping in the store or have it delivered to your home.
The service involves mini-markets, small supermarkets, butchers, fruit and vegetables and much more. You will find packaged products and artisan specialties but also lactose-free, gluten-free and zero-km products.
You can easily make online reservations the day before but also last minute. Download the app and find out if Shooppi Spesa is active in your city and happy shopping. For home delivery you can pay the delivery boy with cash or Satispay.
How much does home delivery cost? Delivery costs vary according to the choice of purchase products.
9. Amazon Pantry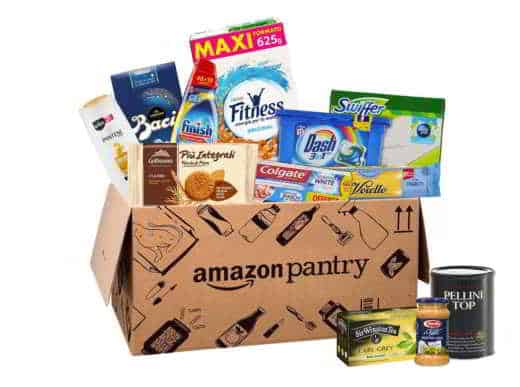 Amazon Pantry is not an app but an Amazon service available for those who are subscribed to Amazon Prime where it is possible to buy food and products, for daily use and at advantageous prices, to fill the Pantry box. Also present in Spain for some years, Amazon Pantry allows you to order up to 20 kg at the cost of a delivery fee of 4,99 euros per box.
You will find a variety of products to select from within the program. Each product lists the percentage of space it will occupy inside the delivery box. The delivery charge remains the same regardless of the fill percentage.
For more information, visit How Amazon Pantry Works
Other useful tips
Those who live in Rome and its province can visit and register for Facebook Group You stay home! Let us take care of the rest, where it is possible to find all the merchants who deliver home in the Roman territory. And it is also possible to consult the deliveryroma.com website. In the group you can also exchange views or opinions on merchants.
In Punta di Forchetta FAIC is an online product sales site on which it is possible to shop only for residents of Rome and the Province.
Other useful articles