If you are looking for the best android smartwatch? Then it is the case to rely on a model with Google's Wear OS operating system. You must know that the Mountain View company does not make smartwatches, but you will find theirs OS on different products of famous brands such as Fossil, Huawei, Misfit e TicWatch.
- Android smartwatch they look like a common watch but also allow you to receive notifications from your smartphone and have features that allow monitoring of sports activity.
In addition, some models are also equipped with GPS and NFC technology and better performance in terms of autonomy than others, so it is always important to check the pros and cons of individual products to be sure of buying the best android smartwatches.
Before seeing what the Android Watch best currently on the market, we must make a clarification: Wear OS was previously called Android Wear, the new version of the operating system has brought improvements and a simple and immediate use experience. If you need to buy a smartwatch, make sure the latest version of Android Wear is installed.
Read also: Best GPS watch on the market
Ranking of the best Android smartwatches on offer at a good price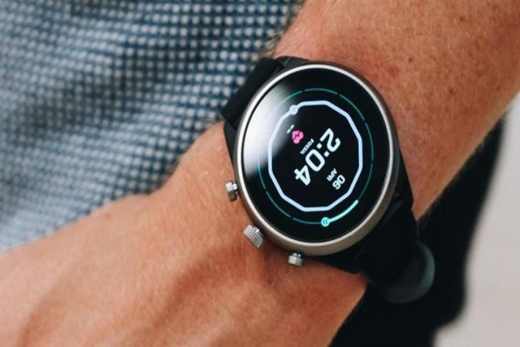 Now that you know what are the features to consider when choosing an Android wear, we offer you some of the best android smartwatches on the market to help you buy the one that best suits your needs.
1. Fossil Sports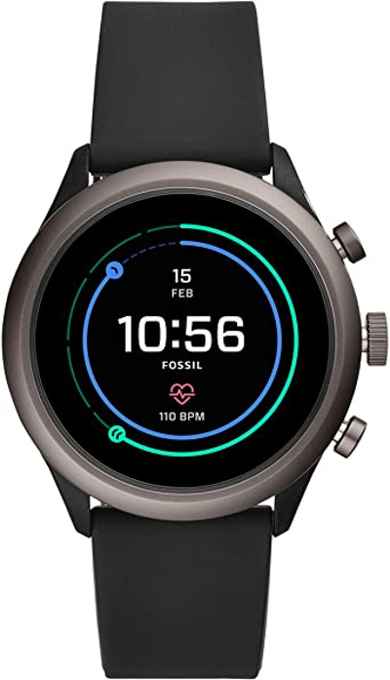 Best Android smartwatch value for money.
For
Powerful hardware
Lightweight and comfortable to wear
Cons
Slow GPS
NFC absent
No internal SIM
Fossil Sport is an Android Wear smartphone that offers excellent value for money, the hardware is satisfactory, although some functions are missing.
Structure and design are very elegant, it is worn without problems and is suitable for all occasions; is the first smartwatch that adopts the chipset Qualcomm Snapdragon Wear 3100, significantly better in terms of speed.
The display is from 1,2 inches with a resolution of 390 × 390 pixels with AMOLED panel; 4 GB built-in memory, Wi-Fi and Bluetooth connections available, built-in GPS, while NFC is missing.
The strap is 22 mm, Fossil Sport is a waterproof device with IP68 certification. The autonomy is about 2 days. All Wears OS apps are available.
Buy on Amazon Buy on Amazon
2. TicWatch Pro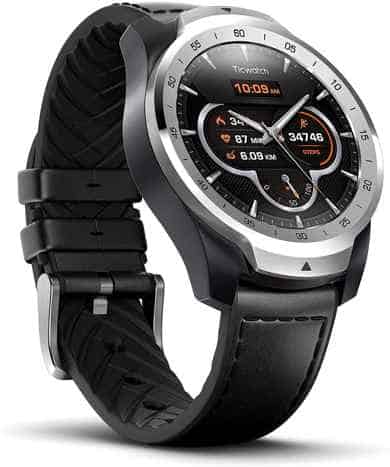 Best dual screen android smartwatch.
For
Refined design
Innovative display
Good autonomy
It has the SIM slot
Cons
TicWatch Pro is a great smartwatch, whose most interesting feature is to have a doppio schermo, which is a 1.4-inch 400 × 400 OLED display on top of an LCD. When the autonomy is almost at the limit, the LED turns off and the LCD remains on to display hours, steps and other information.
The second display ensures greater autonomy than any other model, if with the OLED you get to 48 hours and 5 extra days in Essential Mode, with the LCD it can be up to 30 days.
The processor is a Qualcomm Snapdragon Wear 2100, 4 GB internal memory, magnetic charging, IP68 waterproofing and WI-Fi and Bluetooth 4.1 connections.
Quality design, heart rate sensor and Integrated GPSalso, there is no lack of'NFC to use Google Pay and all the latest Wear OS apps.
Buy on Amazon Buy on Amazon
3. Huawei Watch 2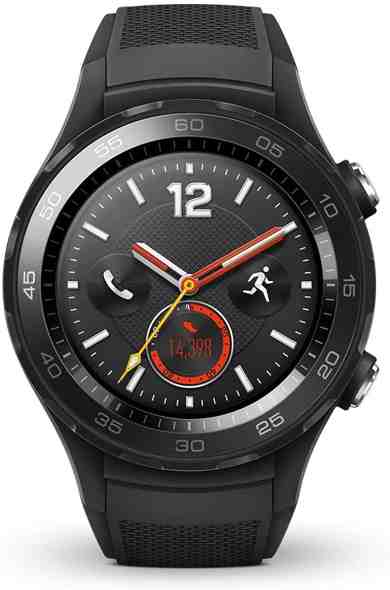 Best Chinese Android Smartwatch.
For
Integrated GPS and NFC
3G / 4G LTE
Available in 3 versions: with eSIM, with nano-SIM, without SIM
Cons
Small display
Sometimes it is slow
Huawei Watch 2 is the smartwatch for you if you are looking for a Huawei wear, this is the second Huawei smartwatch launched on the market by the Chinese company that has tried to include several new features compared to the first version.
The design is very attractive, the strap is light and comfortable, and the entire smartwatch has the IP68 certification.
Display from 1.2 inches and 390 × 390 pixel resolution, processor Snapdragon Wear 2100, internal memory of 4 GB, the battery ensures an autonomy of up to 48 hours. In addition to Wi-fi, Bluetooth, 3G + 4G LTE connections, we also find integrated GPS and NFC.
Buy on Amazon Buy on Amazon
4. TicWatch E2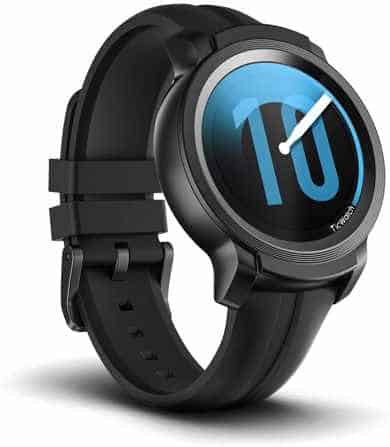 Best budget smartwatch.
For
Good autonomy
Good quality / price ratio
Cons
NFC absent
Unattractive design
No slot SIM
TicWatch E2 it is among the most interesting budget smartwatches on the market, as it is one of the few models, which at an affordable price, offers all the newest functions of Wear OS.
Display from 1.39 inches with 400 × 400 OLED resolution, Snapdragon Wear 2100 processor and 4 GB of onboard memory, certification of IP67 waterproof.
We find the Wi-Fi connection and the Bluetooth 4.1 connection available, there is no lack of Integrated GPS which allows you to check the position at any time, while the NFC is absent, so it is not possible to use it to pay with Google Pay. The battery provides 48 hours of autonomy with one charge.
Buy on Amazon Buy on Amazon
5. TicWatch S2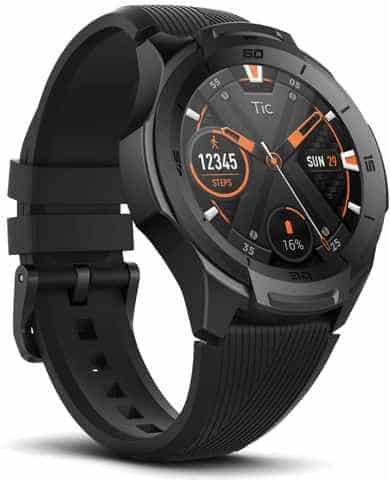 Best smartwatch compatible with Android.
For
Good display
Good autonomy
Cons
NFC absent
LTE absent
Non ha slot SIM
TicWatch S2 it's a smartwatch Android wear iOS very similar to the TicWatch E2, the technical characteristics are the same, the only difference is the structure which in this version is much more robust.
Display from 1.39 inches with 400 × 400 pixel OLED resolution, Snapdragon Wear 2100 processor and 4GB built-in memory.
As for the connectivity sector we find Wi-Fi connection, Bluetooth 4.1, there is no lack of integrated GPS, while there is no NFC for fast payments by bringing the smartwatch closer to a dedicated device. Autonomy is good, with a fairly intense use you get to about 48 hours with a single charge.
Buy on Amazon Buy on Amazon
6. Misfit Vapor 2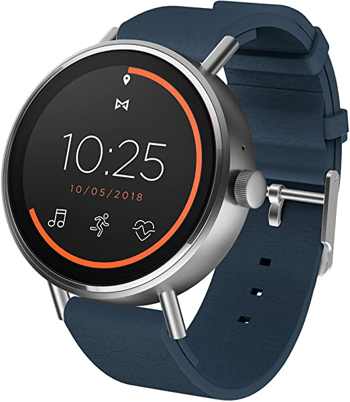 Best smartwatch with NFC.
For
Cons
No LTE option
Fragile
Not waterproof
Non ha slot SIM
Misfit Vapor 2 it's a smartwatch Android wear ios to consider if you are looking for something cheap but functional.
The design is very simple, this product was released in two versions, the one from 1,2 inches and those from 1,4 inches, in both cases there is more room to browse in Wear OS, the panel is AMOLED and the resolution 360 × 360 pixels.
In addition to Wi-Fi, Bluetooth and GPS, we also find NFC to use Google Pay, an extra feature on this device that is not among the high-end products but which does not have much to envy. Dual Core processor, 4 GB of memory. Too bad for the autonomy of just 24 hours and the non-waterproofing, but in general, it remains a good product if you are looking for all the essential features at a good price.
Buy on Amazon
7. Fossil Gen 5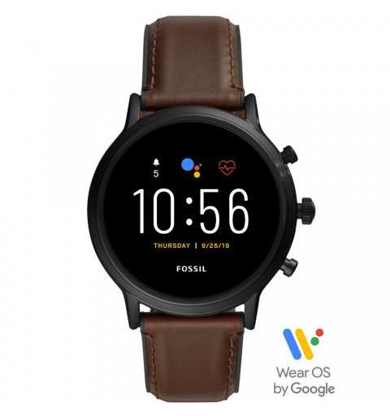 The best waterproof smartwatch
For
Great processor
Energy saving mode
Cons
High cost
Low-power audio
Fossil Gen 5 is the product for you if you are looking for the best android smartwatch, in this case we are talking about a high-end product that stands out for its classic style and its excellent performance.
The processor is Snapdragon Wear 3100 which ensures speed of execution, the built-in memory is 8 GB and allows you to save more apps and data. It is available in version Carlyle larger or smaller one Julianna, in both the display from 1.28 inches it is bright in quality.
Do not miss the WI-Fi connection, Bluetooth, integrated GPS and NFC to pay with Google Pay; autonomy is 24 hours but, thanks to the energy saving mode, you can go even further. In addition, it is particularly water resistant to the point of going to a depth of 30 meters.
Buy on Amazon Buy on Amazon Buy on Amazon
8. TicWatch C2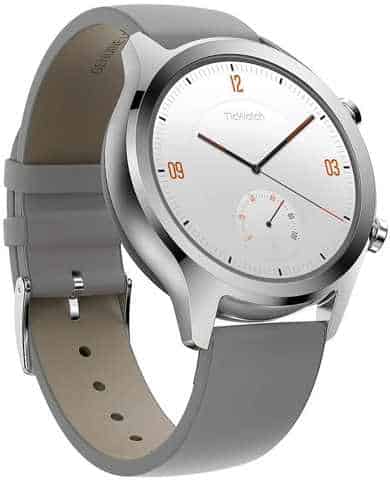 Among the best smartwatches with Android Wear OS.
For
Cons
System not updated
A little slow processor
Non ha slot SIM
TicWatch C2 is the best choice you can make if you are looking for a model of very cheap smartwatch wear, has nothing innovative compared to the TicWatch Pro, but the presence ofNFC and Google Pay which makes it the smartwatch with the most features available at an affordable price.
Display from 1.3 inches AMOLED; 360 × 360 pixel resolution, dual core processor which unfortunately makes the device a bit slow, but all in all acceptable, 4 GB of internal memory. Ideal for lovers of fitness, equipped with everything you need to control your workouts. Do not miss the Wi-Fi connection, Bluetooth and integrated GPS. The battery has an autonomy of 24 hours, which can last a few more hours with more moderate use.
Buy on Amazon
Which Android smartwatch to choose
Smartwatches Android Wear iOS they must be connected to a smartphone to work properly, because only in this way they offer all the additional and useful functions, compared to a normal watch.
Furthermore, in many cases theapp Android Wear for the first configuration, to be downloaded to your smartphone, from which it will be possible to establish the connection via Bluetooth and manage the various functions of the Google watch.
If you want to choose the best smartwatch, there are some considerations you need to make, as well as distinguishing the smartwatch models that use Android Wear and Android Wear OS, you also need to evaluate the differences in terms of functions, size, display and hardware.
functions
Each smartwatch can have some proprietary applications which vary by brand, but most Android watches have the following standard features:
Notifications: are those received on the smartphone such as messages, calls, alarms, agenda, ect ...
Voice Controls: being able to use Google Assistant for the operation of the smartphone is essential, since this possibility compensates for the small size of the screen that prevents more complex operations.
Email and messages: the Android Wear smartwatch they have support for instant messaging applications such as Whatsapp and Facebook Messenger.
Calendar: all the commitments saved on the smartphone can be easily viewed and managed on the Android watch.
Music: Smartwatches have an internal memory that allows you to save some playlists on the device, in addition, there is support for streaming music services such as Spotify and Play Music.
Payments via NFC: some high-end Wears OS smartwatches include the application Google Pay, which allows you to pay simply by bringing the watch close to a device.
Other features are: Maps, Calendar, Annotations, Physical Activity Monitor, Sleep Quality Monitor, Alarm, News, Weather and Wellness App.
Display
Most smartphone faces are round and have a diameter ranging from 40 to 43 mm with a thickness that varies according to the model chosen.
Some manufacturers allow you to choose between different variations of the same watch model, in order to meet the various needs of wrist size.
The display panel can be made with various technologies but the l'AMOLED it is the most popular, because it is perfect for wearable devices thanks to the excellent brightness offered and energy efficiency.
Connectivity
- smart watch they are equipped with various wireless technologies, the most widespread and indispensable is Bluetooth to allow connection and synchronization with your smartphone on which all the main functions depend.
In many Android smartwatches it is now also possible to find Wi-Fi Single Band connectivity, sufficient for online operations that can be performed from Wear OS. Some high-end smartwatches also integrate NFC connectivity for wireless payments, although a app Android Wear specific.
Battery
When you have to choose the best android smartwatch, the battery is certainly one of the most important features that you need to evaluate, since each model of smartwatch needs a proprietary cable and in an emergency it becomes difficult to recharge it.
The autonomy can range from 1 to 4 days, a lot also depends on the functions that are used or kept active. In case of intensive use of the smartwatch, you may also need one charge per day.
Best Android Wear OS smartwatches on Amazon
Below is a selection of the best and most sold smartwatches on Amazon. Please always check the reviews of those who have already bought before your purchase and check the lowest ratings.