The definitive product
We are certainly not the ones who have to remind you how important it is to back up your PC, both if you use your computer only for home use, and if you use it for work and study. A PC today contains much of the most important information of our life, photos, calendars, appointment book, business documents and so on and losing all of this to ransomware, or breaking a disk would surely be trauma for anyone.
Recently awarded as the best backup software, Acronis True Image updates to the 2017 version by introducing many new features including Cloud backup and mobile device backup and above all a series of advanced features to combat ransom ware, for the certification of their Backups through Acronis Notary and Blockchain and for digital signature
Interface and functionality
The 2017 version interface di Acronis True Image 2017 New Generation it has been further simplified allowing practically anyone to make their backup copy in a few clicks. In the left column we have access to the main menu, from which it is possible to view the computers that we have decided to keep safe with our backups, the archives (i.e. the heavy files that we have decided to keep stored), the synchronizations activated between folders, computer and now also between mobile devices, settings and the control panel. A special menu in the same column is instead dedicated to Tools, that is most of the features of True Image 2017 New Generation. In addition to the classics Clone disk e Rescue Media Builder, that creates a bootable disk on external media, in this section True Image offers a complete set of features that can solve virtually any problem.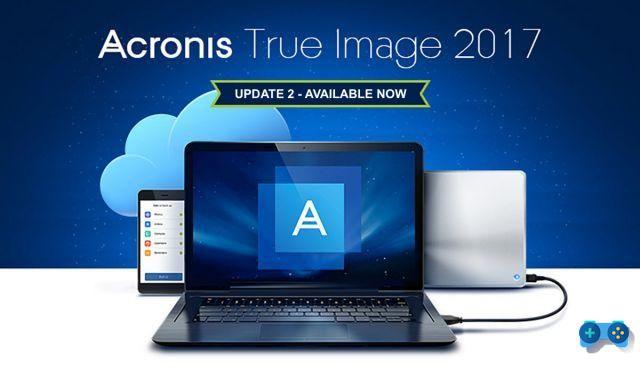 With Acronis Universal Restore for example, you can restore the computer to a completely different hardware - a laptop or another desktop - so that you can continue to work on the new PC without interruption. Still with Parallels Access, you can access a remote computer via a mobile device, as with Team Viewer, but with a much simpler interface and suitable for navigation on mobile devices.
With Try and Decide, in a way not unlike what is possible to do with Mac Osx natively, you can instead decide to create a virtual disk within your main disk, in which to perform risky operations that could compromise the integrity of our system and, a after verifying that they are working correctly, merge the two disks. Also from the Tools menu it is possible to access two useful tools to guarantee our privacy: the first is Acronis Drive Cleaner, a complete and safe disk cleaning / formatting tool, useful when you need to give up your PC or don't want to leave a trace of your activity on the machine. System cleaning instead, it simply clears the system usage history and all passwords, with just one click and without having to do it manually for each application. With Acronis Secure Zonefinally, you can choose to create a safe partition on your disk on which to load the machine backups, so that they cannot be deleted by mistake or affected by operating system malfunctions.
However, the main feature of Acronis True Image 2017 is to create backups in a simple and immediate way. Four clicks are enough to make the first backup of the machine, whether you have chosen to copy the entire disc, or whether you have chosen to select only specific files or folders. Those who want more in-depth control, on the other hand, will have a lot of fun with Acronis software. True Image 2017 is in fact probably the solution of backup most complete in circulation.
Of course, you can choose to start the backup at a specific time, or schedule a regular backup of the machine at set times and days: among the standard options we have daily, weekly and monthly backups but you can also opt for a backup at each machine shutdown. .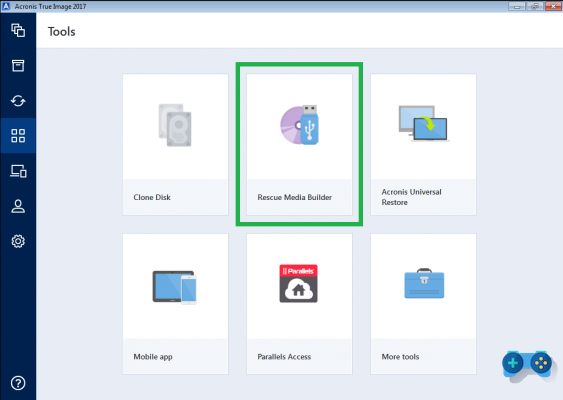 It is then possible in the Backup options section to specify the backup mode: single, connected, incremental, differential, or select a custom screen that, for example, allows you to make a single backup whenever the incremental one is greater than a certain number of giga. The saving of files can take place both locally and on specific servers, in this case it is also possible to program a series of customized notifications that inform us of the completion of particular activities. In the case of backup on the Acronis True Image 2017 cloud (50gb at 29euro for one year and in the premium version up to 1tb) the system also informs us of the space available on the target machine and can be scheduled with regard to bandwidth usage.
Performance
Performance is the real strength of Acronis software. Compared to other software used previously, they noticed not only an incredible responsiveness of the machine even during the backup phase, but above all significantly reduced times to make a complete copy of our 128 gb SSD system disk, even 30% lower than to the previously used NTI solution.
As we said, the innovations introduced in the 2017 version mainly concern new methods of encryption and control of the veracity of the backup, that is, the control that the backup stored on the machine or on the cloud, has not been altered in any way (a function certainly reserved for professional users. ) and the ability to backup our mobile devices and facebook.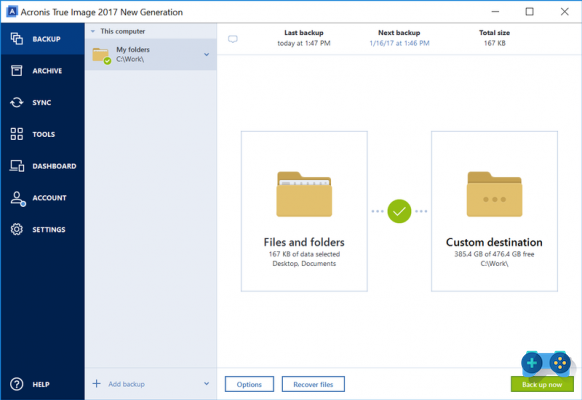 As for the backup of mobile devices, it is possible to copy files wirelessly, through the use of the appropriate app, Acronis Mobile, available for both iOS and Android. Just scan the QR code from the Mobile Device Backup menu to start copying your files locally.
The Facebook backup is the other novelty of the 2017 update. Once connected to the Facebook account, the software allows you to save all the multimedia files published on our wall, including the various statuses. Unlike the backup possible from the Facebook web interface, it is not possible to restore data directly to your account, but it is still a solution for those who fear that their account can be hacked, deleted and with it important memories.
Final comment
Acronis True Image 2017 - New Generation is probably the most comprehensive backup software and
management of personal files currently in circulation. It is an incredibly versatile software that can be used both by those who are not familiar with software of this type, and by a more aware user who wants to have full control of their data and who want a complete solution that is not limit only saving files, but allow complete management of your machine. Offered at a price of 39 euros for a single license, or 79 euros for five licenses, it is the software that we would surely recommend to a friend of ours if he asked us for a foolproof way to not lose his data.
For
Cons

- Simple to use

- Full functionality

- Exceptional backup performance

- nobody

Overall rating: 90