Do you have a house in the mountains and there is no telephone line there? Would you like to surf the Internet but you don't know how to do it? Well then it is the case that you take a look at this guide because I will explain to you what is satellite internet. Take a few minutes of free time and make yourself comfortable because at the end of the reading I am sure you will have an idea of how the satellite connection works.
After having shown you how the satellite connection works, if you want to deepen the subject I suggest you read immediately after the best satellite Internet offers.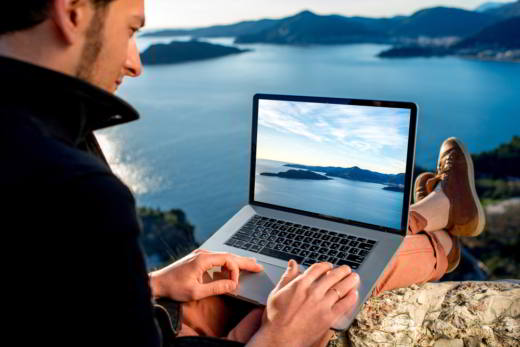 HOW THE SATELLITE CONNECTION WORKS

The satellite internet connection is a broadband connection service aimed at all users of spain. Consider that the satellite signal has high performance and covers 100% of the territory.
The satellite connection is a particular solution both to make up for the lack of a telephone connection and to use an ADSL in areas not covered by this service. The alternatives offered are speed and performance. Satellite Internet is a real alternative to terrestrial ADSL.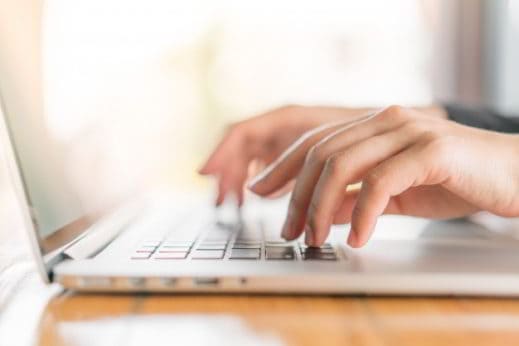 In the past the rates to take advantage of such access were quite high, today the situation has changed even if for obvious reasons a satellite connection is much more expensive than an ADSL or fiber optic connection. The connection speed may vary according to the subscription chosen and reaches up to 22 Mbps in download and 6 Mbps in upload.
Any Windows, Mac or Linux PC with a 10/100 Mbps network card can be connected to the satellite modem without necessarily installing hardware or software components. Internet via satellite can be integrated into a network, just connect an IP router between the home network and the satellite modem. Same thing if you want to connect a Wi-Fi router to the Open Sky modem for wireless surfing.
Finally, Internet via satellite is compatible with the use of voice traffic through VoIP operators.
THE BEST INTERNET OFFERS VIA SATELLITE

One of the best satellite connection providers is Open Sky. It is a service able to cover the entire national territory and which offers different purchase plans, based on your navigation needs, prices start from a minimum of 34,90 euros per month for 32 GB of traffic monthly with subscription Casa 32, 49,90 euros per month for 50 GB of monthly traffic with subscription Casa 50, and finally € 79,90 per month flat with subscription Flat house, which over the first 100 GB of traffic applies filters on video and streaming protocols with unlimited data traffic.
The kit you will need to use consists of a 77 cm diameter dish and a modem. To assemble everything you can contact an authorized Open Sky technician. The configuration of Ethernet devices, both a router and a computer connected to the Open Sky modem, requires this equipment to be set up for automatic assignment by the Open Sky network of the IP address and DNS. The connection will be limited or absent if defined IPs are configured.
Standard Open Sky subscriptions have private IP addressing while Open Sky Professional subscriptions have static public IP addressing.
Open Sky opera in banda Ka. The Ka-band is managed by the satellite Ka-sat di Eutelsat at 9 ° East. The Ka band guarantees 1 GHz of traffic per orbital band to each satellite, a significantly higher quantity than the other more widespread Ku band. The greater bandwidth allows for higher transmission rates. The higher frequencies of the Ka band require the use of smaller antennas. Furthermore, the necessary authorizations for user equipment can be obtained more easily and the cost of the terminals is much lower.
The platform and hub management activities for the Open Sky network are carried out under the responsibility of Eutelsat Broadband, in the SkyPark teleport in Turin. Eutelsat is the leading satellite operator in Europe. Its satellites provide fixed and mobile services for European, Asian, African, American telecommunications and so on.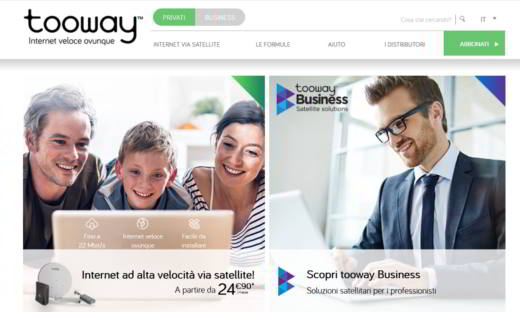 As an alternative to Open Sky you can try TooWay. It is a service that offers advantages for both private and professional use. The TooWay download speed is up to 22 Mbps and the Upload speed up to 6 Mpbs. It also does not require any terrestrial infrastructure and is available in any part of the Spanish territory.
To connect with TooWay you need a satellite antenna and a modem connected to your computer. You can use a specialized technician for the installation or do it yourself. Tooway as Open Sky offers the satellite Internet solution offered by Eutelsat, world leader in satellite telecommunications. The packages made available differ in the amount of Gigabytes and are as follows: Tooway 10 starting from 29,90 euro / month e 10 GB monthly at a maximum speed of 22 Mbps, Tooway Lite 16 starting from 34,90 euro / month e 16 GB monthly at a maximum speed of 10 Mbps, Tooway 25 starting from 49,90 euro / month e 25 GB monthly at a maximum speed of 22 Mbps (unlimited surfing at night), Tooway 40 starting from 69,90 euro / month e 40 GB / month at a speed of 22 Mbps (unlimited night browsing), Tooway Extra from 99,90 euro / month e 40 + 60 GB monthly at a maximum speed of 15 Mbps.
HOW TO CHECK COVERAGE
Tooway also offers the Internet speed test at the end of the page. By clicking on the relevant link and entering in the window that appears, telephone number, e-mail address and checking the conditions of use you can start the test. If you don't have a landline phone, you can enter the postcode, city of residence, a mobile number and email address after clicking on If you don't have a landline phone, click here.
At the end of the test, if yes you will see the message: Good news! You can have the internet at maximum speed, and the mega with which you can travel. Good luck.