The 10 best Android launchers and themes to download for free to personalize your mobile by changing the interface, notification menu and quick settings.
A particular feature of Android phones is that of being able to customize the home screen thanks to the launcher application, whose task is to manage the interaction between user and device by organizing and managing apps.
What is a launcher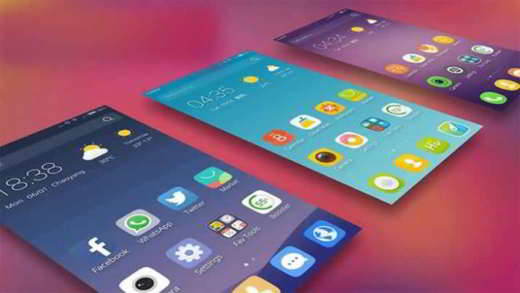 What is a launcher? A launcher allows you to manage icons as you see fit, insert widgets, set themes that will modify the graphical interface of your mobile. Thanks to the launchers you can choose to switch screens and add other functions.
The launchers after being installed will start automatically and become default. On Android you can use multiple launchers, but you can only use one at a time considering also the availability of internal memory you have available.
Every Android smartphone has its own launcher, for example Huawei smartphones have the launcher EMUI, i samsung it TouchWiz, the ASUS ZenUI and so on. You can of course replace the default launcher of these smartphone models by changing the start screen, widgets, icons and app list, simply by installing it after downloading it from the Google Play store.
How to change Launcher
Before going into the best launchers let's see how to change launcher going to change the home of your Android phone. You will then see how a new launcher is enabled and made default on your Android smartphone or tablet.
After downloading one of the launchers listed below, for activate a launcher you have to press on Home button of your mobile device. You will then be asked to select a launcher as the default. Press on Everlasting, in order to avoid having the message to set up a launcher appear every time, and enjoy the new Home of your mobile.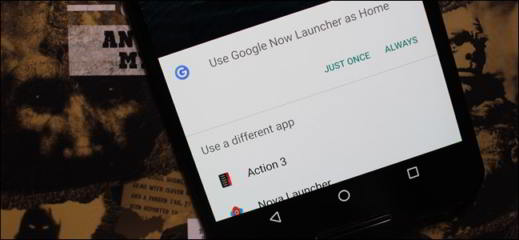 Please note:: if by pressing the key Home of your phone nothing happens, obviously either your smartphone blocks the installation of other launchers or you have only one launcher installed.
If you have set a launcher as your default but want to change it to another, just go to Settings> Apps> Default apps> Home screen for Samsung smartphones or in Settings> Apps> Advanced> Default settings> App launch, for Huawei smartphones, and check one of the launchers installed and listed to choose as default.
The 10 Best Android Launchers and Themes to Download for Free
There are various launchers that you can download on Google Play for Android mobile devices, you will find below the best Android launchers to improve the user experience of your mobile.
Apex Launcher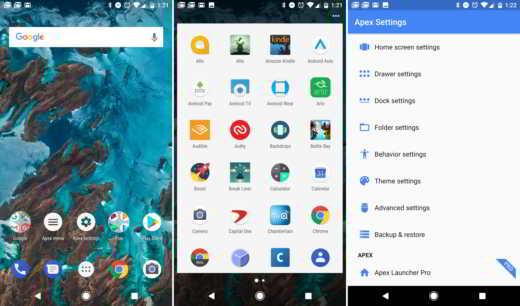 Apex launcher It is one of best android launcher and it is really easy to use, despite the many features. You can find free themes, icon packs, wallpapers, contact themes for free download. It is one of the best Android app launchers that supports up to 9 Home screens that you can customize. You can also hide and lock apps to protect your privacy, sort them by title, installation date or frequency of use. By purchasing the Pro version, you will be able to unlock other features and customizations.
Evie Launcher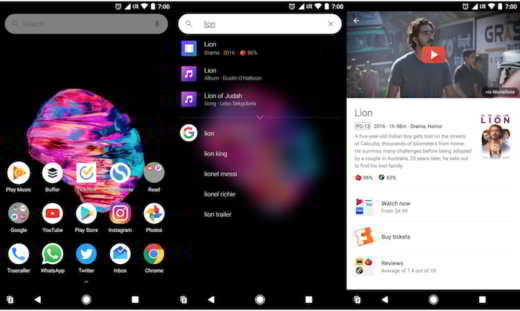 Evie Launcher is the best launcher for android. The app is packed with features that can help transform the look and user experience of an Android smartphone or tablet, such as the ability to select wallpapers and tabs in different styles. The interface is very simple and intuitive. Thanks to the sliding bar on the left side you can access all the apps and take advantage of a search function that is activated by swiping down. You can type the name of an app, a contact to start the call, a club or a movie. Also you can optimize your home screen and app list.
Nova Launcher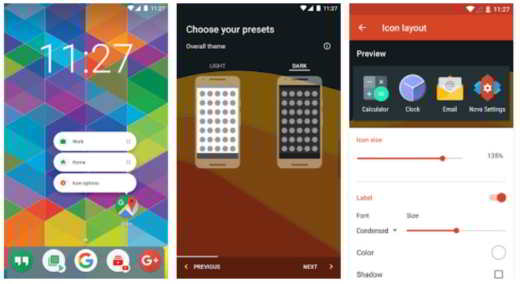 Nova Launcher is one of the best, simple and complete Android launchers around. It allows you to customize the home of Android smartphones and tablets according to your needs. In fact, you can speed up and optimize the activities you carry out every day with your mobile phone through advanced features such as swipe, gestures and shortcuts. Practically Nova Launcher simplifies the use of the smartphone without the need for technical knowledge. It also includes various scroll effects, the ability to set gestures to access apps, the creation and organization of tabs and folders and much more.
Very interesting is the import of the settings you have saved on another launcher, to transfer them to Nova, and the wide range of customization options for the sizes, fonts, colors of the backgrounds, icons and applications visible on the main screen of the phone. .
Smart Launcher Pro 3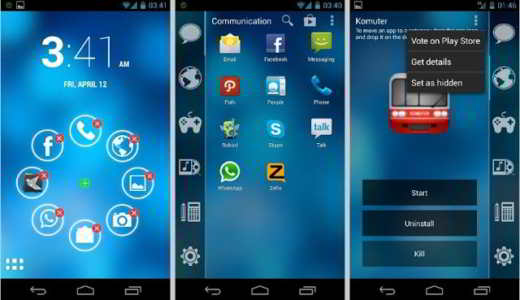 Smart Launcher Pro 3 is a lightweight, high-performance paid app. It integrates a lockscreen, and, thanks to the many downloadable mobile themes online, it is completely customizable. There are various animations to adapt the scrolling of 9 homescreens to your preferences. You will also have multitouch gestures and security options to hide apps and gestures. Finally, there is no shortage of an integrated screen lock, 20 new categories to add and 7 additional animations.
Microsoft Launcher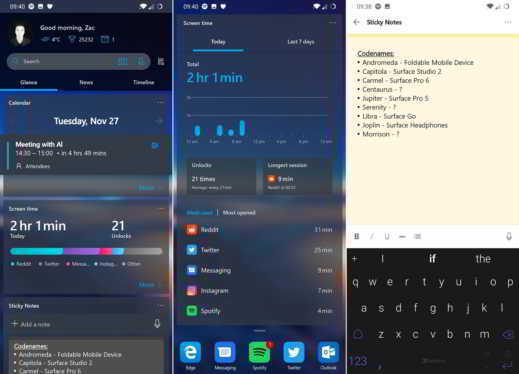 Microsoft Launcher replaces the pitcher Arrow Launcher and it is much more oriented towards the business world. In practice it differs from other launchers, more focused on animations and design, for its particular integration with the Office suite. It also offers few customization options, in fact there is no possibility to change the size of the app icons and the font.
Pixel Launcher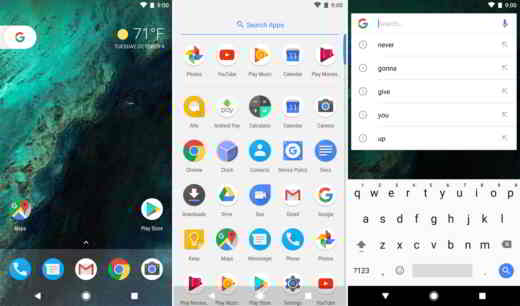 Pixel Launcher is the default startup app of smartphones Google Pixel and for this reason it cannot be installed outside of googlephones. Fast and efficient, it does not offer great customization possibilities. You can change the shape of the icons, rotate the screen according to the inclination of the smartphone and decide whether to show the apps by moving the home screen to the right.
It also offers quick access to Google search, notification points, shortcut support, favorites bar, menu bar and a round design.
ASAP Launcher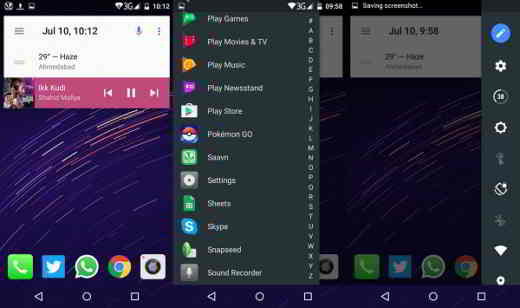 If you want to have a different launcher, ASAP Launcher for Android smartphones is one of the best candidates. Lightweight and with a simple design, this launcher offers preset pages: Contacts, Weather, Home, Calendar and Todo List to which two side panels are added (one for apps with a list of installed programs and one with quick settings and access to settings system).
It does not support widgets but only a proprietary Widget macro. The app bar presents, in the home, 5 links that through a swipe highlights the 10 most used apps.
ADW Launcher 2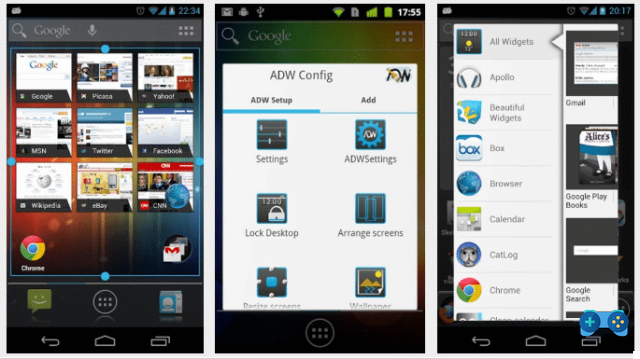 ADW Launcher 2 is a launcher for Android mobile devices that allows you to customize different elements in order to have a personalized home screen. After installing it for the first time, you will be able to choose the layout of the various desktop screens, the app-storage system to use and the way in which to switch between the screens. By tinkering with the various options of the app you will be able to make your Android smartphone similar to an iPhone or Windows Phone.
POCO Launcher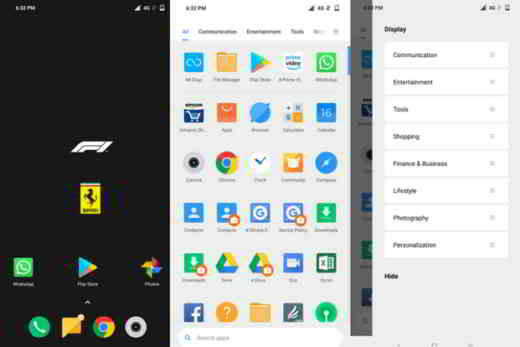 POCO Launcher is a customizable, fast and lightweight Android phone launcher. This launcher manages to make the home screen clean and tidy by putting all apps in the drawer App. It also resizes the home screen layout and app icons. You can customize the colors of the icons and find everything you need with incredible speed. Other main functions are: Protection privacy, to hide your apps, and Manage Whatsapp, group apps by category or create custom groups.
Buzz Launcher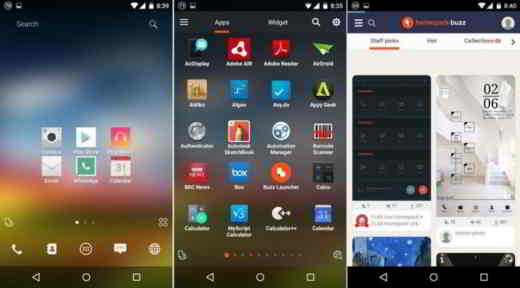 Buzz Launcher was born with the idea of ​​sharing the homescreen with other users of Buzz Launcher. By doing so you can download your setting and set it on other phones. It offers different templates with widgets, applications and over 500 thousand packs to customize this launcher.