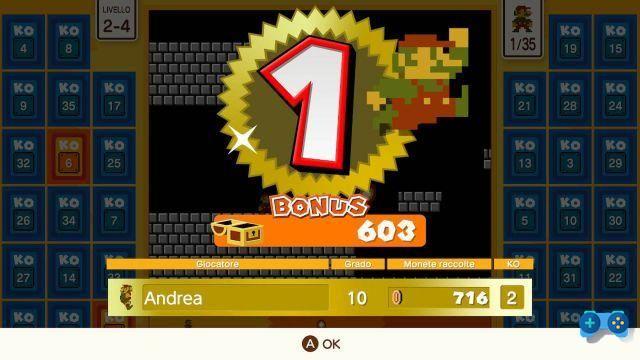 There will only be one left!
Super Mario Bros 35 is available from yesterday on the Nintendo Switch eShop and is part of the rich plethora of titles dedicated to the 35th anniversary of the nice plumber.
This fun free title draws its entire essence from the genre Battle Royale, very popular these days, just think of Fortnite and Call of Duty Warzone. The formula used is practically the same as Tetris 99, only in this case you will have to compete against others 34 players and win.
You will not have to face each other in direct clashes, in fact the interaction with other players is reduced to a minimum, in fact, by defeating enemies and accumulating time you will send Goomba, Bullets Bill, Bowser, etc. to your opponents and kill them as soon as possible.
In addition, if you plan to be smart and "camp" in places without enemies, the game will force you to move as quickly as possible, activating a timed mode dedicated to those who think of using this not very noble strategy. For the rest, you will not be asked for anything strange, you will only have to complete the levels that will be proposed gradually in a completely random way.
But is there a strategy to win? Of course, you will just have to follow these simple tricks and you will see that no one will snatch the victory from your hands.
1. Who goes slowly ...
As in all Battle-Royale Super Mario Bros 35 asks you for a certain calm, in fact, the newbies are those who start quickly and return to the main menu with the same speed. So, to avoid dying before the others, just pay attention to everything around you, come on tubes equipped with Carnivorous Plants to those small floating platforms.
Going slowly does not mean stopping, in fact you must always keep in mind the clock located at the top right of your screen. For this reason, our number one tip is not to do i Rambo, but to analyze each jump with intelligence and caution.
2. Power-up what a passion
If you are aiming for victory there is only one thing to do: collect the Power-Up. In fact, these items (Super Mushroom, Fire Flower and Star) are extremely useful in the game, especially the last two, thanks to the latter you can eliminate ranks of enemies quickly, gaining time and putting your opponents in difficulty. Also, remember that if you are in possession of a Super Mushroom or of an Flower of Fire, you can take a hit without dying.
This last aspect is very comfortable in moments of greatest excitement, in fact, after being hit you will be invulnerable for a few seconds, just long enough to reach a safer area.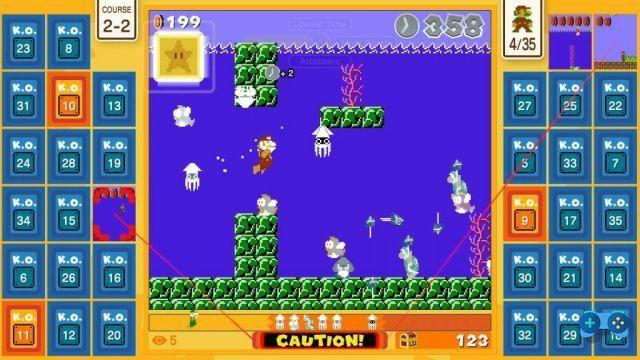 3. Koopas are your friends
The nice ones turtles protagonists of many curses could come to your aid thanks to theirs lethal shells. Once hit, their shells will splash around the game world, wreaking havoc. This last aspect will come in handy when you have the screen full of enemies, hitting them all will earn you coins and precious time.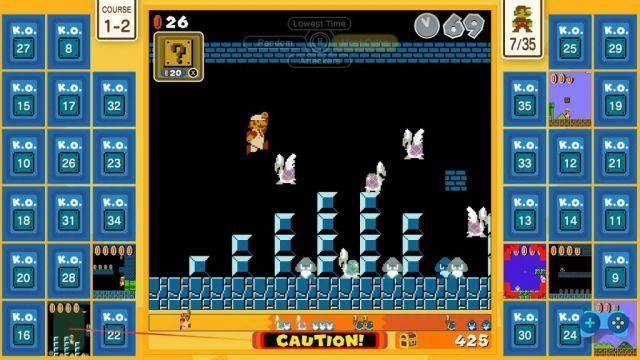 4. Sossoldi!
As the good would say I'm Capatonda, also 20 coins "Sossoldi", in fact, with this amount of coins you can buy a random Power-Up (POW Block, Star, Super Mushroom, Fire Flower). In this case you have to rely on the Lady Luck and cross your fingers, although admittedly it's a good deal.
The strategy in this case requires that you collect coins at the beginning of the game, to use them towards the middle of the game and try to stay alive. Furthermore, we advise you to use this possibility immediately after having suffered a blow, at least you can wait without worries for the Power-Up.
5. Study the levels
It may sound trivial, but not all Switch owners may have tried the good old one Super Mario in 2D. If you recognize yourself in this slice of players, you can learn the levels in two ways, by playing and persevering through the trial and error mechanics or by visiting the section "Work out" present in the game menu.
Knowing the levels by heart is extremely important, in fact, thanks to this session of "mad and desperate study" you will be able to discover the secrets that each level hides, from tubes to explore 1-Up scattered around the game world.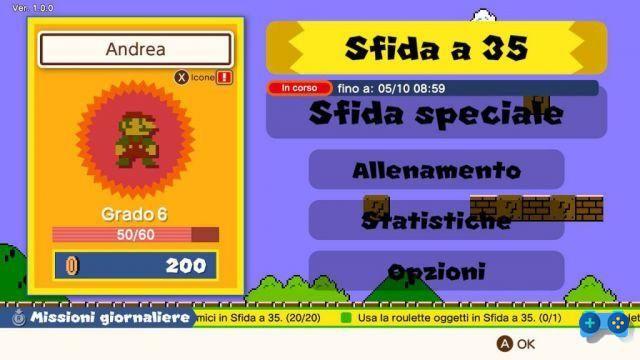 Bonus: Choose who to eliminate
Following all the above tips could lead you to victory, but we remind you that there are 34 other players with the same goal, so also check your opponents' mini-screens and try to give them the highest possible challenge rate. After understanding who your enemy number 1 is, select him with the left analog stick and have fun putting him in trouble. On the other hand, no hostages are taken in this war.
Let us know in the comments if you are having fun in the company of Super Mario Bros 35 and if thanks to our advice you have managed to earn the top step of the podium.