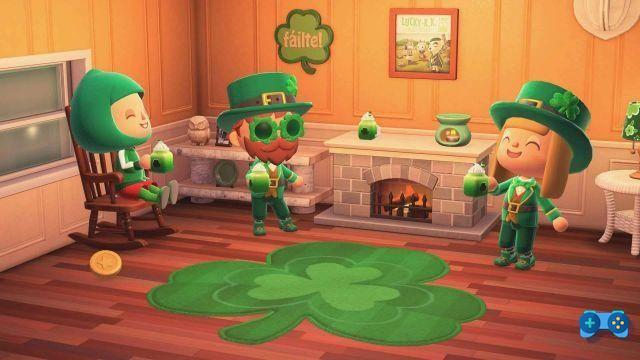 What is it, date and how to get all the articles.
Animal Crossing: New Horizons manages to keep itself fresh and updated thanks to the constant changes in the game. With the arrival of the month of March, players will have the opportunity to experience an exciting new season; new climate, insects, fish, sea creatures and much more. One of the most beautiful celebrations of the month is Super Mario's anniversary crossover event, which will give you the opportunity to purchase a variety of Mario themed items. But this is not the only celebration this month, in fact there will be: Pi day e Hinamatusri and l 'Animal Crossing Shamrock Day. The latter is among the most anticipated of the year!
What is Shamrock Day?
Shamrock Day is Animal Crossing's version of the famous Irish celebration of Saint Patrick. The event has been celebrated in Ireland and around the world for over 1.000 years and commemorates Ireland's patron saint, St Patrick.
When will the Shamrock Day event take place in Animal Crossing: New Horizons?
The Shamrock Day celebrations will take place on 17 March, however, players will have the opportunity to purchase both dedicated items and clothing starting the day 10 March.
What items will be available on Shamrock Day?
Players will have the opportunity to purchase a range of items from the Nook Shopping section of Animal Crossing: New Horizons. These will include a Shamrock Day rug, a door sign, and a soda.
In addition to the new items, players will be able to purchase and dress up in a variety of St. Patrick's Day inspired outfits. Clothing items should be bright green and will include clover shoes, clover glasses, a clover topper, and a clover suit. These items will be available for purchase from the store The Able Sister.
What other celebrations will take place in March?
Well, March 10 (MAR10) is typically Mario's day and Nintendo has anticipated that something interesting could happen on that date. Earlier this month, players had the opportunity to purchase Hinamatsuri items, and a Pi Day Pie will be available for purchase on March 14.
We remind you that Animal Crossing: New Horizon is currently available exclusively on Nintendo Switch.