Messaging applications such as WhatsApp offer significant advantages over SMS, starting with the fact that they are free (you pay only one annual subscription of € 0,89) and that you just need a 3G or Wi-Fi data connection to exchange unlimited messages in real time. With WhatsApp we can not only send messages, but also share voice messages, photos, stickers, colored faces and much more.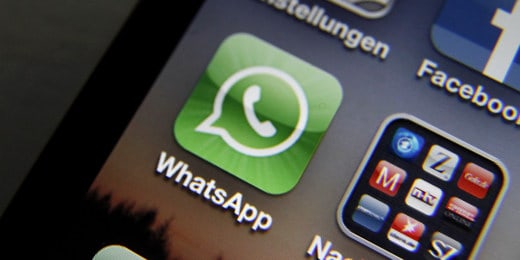 There are also many tricks that allow us to use it in a new and unexpected way, let's see them:
Invisible on whatsApp
With whatsApp it is possible to make sure that our contacts do not see us when we are online or when we read the messages received. The first way is to disable data connections of the smartphone by enabling the mode plane. The second way is to use the app WhatsShadow o W-tools. The first is paid, the second is free; both allow us to hide our presence on the net.

Spy on strangers on WhatsApp
To meet new people with whatsApp it is possible to create random numbers in our address book, in this way we can look at their profile picture and decide whether to try to contact them.

Sneak away on WhatsApp
If you want to hide WhatsApp to prevent anyone with access to your smartphone from spying on your conversations, you must have a device Android rootato and install from the Play Store, the app App-Hide Application Icon. After starting it, you need to grant root permissions and touch the icon + selecting WhatsApp. Touch Save and imposes a PIN to prevent access to the application. At the end, the WhatsApp icon will disappear and no one will know of its installation on the device. Always through App-Hide Application Icon you can make it available again.
Email chat with WhatsApp
To share a WhatsApp Chat from Android via email, just go to Menu and select Other. Then select Send Chat by email and fill in the email to send.

Change the background on WhatsApp
To change the background of the whatsApp Chat for Android just go to Menu and select Background. For iPhone instead you need to go up Settings / Chat Settings / Chat Background.

WhatsApp on tablet
Come on www.whatsApp.com/android and download the file apk of whatsApp for Android. Let's copy it to the tablet and perform the manual installation through a file manager. After starting the application we enter our phone number. WhatsApp will try to detect the SMS with the verification code to return an error message after a few moments. Now let's touch the button Chiam me. A phone call will arrive at the previously entered number which will inform us of the app activation number. Let's insert it in the tablet and finish the configuration.
A photo to the WhatsApp profile

Changing our profile picture on WhatsApp is very easy, just go to Settings / Profile and click on the default image. Select a new image by taking it from those available on your smartphone or take it with the camera.
Direct access to WhatsApp contacts
To start a Chat with our contacts immediately, with WhatsApp we can create shortcuts on the Home of Android. From the Chat window, touch the button Menu, we select Other and then click on Add shortcut.
Use the Enter key on WhatsApp
On Android it is possible with WhatsApp to send a message by pressing the key Enter. To do this just go to Settings / Chat Settings and check the item Enter is Enter.
How to hide the last access to WhatsApp
To hide the last access it is necessary disable the display of the time and date of the last visit in WhatsApp. Go to Settings / Chat Settings / Advanced and disable the option Date and time of the last access. The change will be active within 24 hours.
Block Spam on WhatsApp
To block a contact go to Settings / Chat Settings, tap the option stuck. Do Add new and select the person to be blocked from the address book. After adding it, it will no longer be able to send you messages.
Backup of conversations on WhatsApp
A smartphone reset could make you lose all conversations recorded on WhatsApp, to avoid it just make a backup by going to Settings / Chat Settings / Chat Backup.
Find out if you have been blocked on WhatsApp
To check if someone has blocked us, let's send them a message. If after some time we notice that the double sign next to the message does not appear, it means that it has blocked us. Other signs are: not being able to see the status of the contact or not being able to check the last time they logged in.
Create a Group on WhatsApp
To create a group chat with our best friends, you need to go to Chat and touch New Chat Group. Now we can insert the object and add an image.
How to send any file on WhatsApp
WhatsApp allows you to send photos, videos and audio, but with a little trick you can also send other types of files, such as PDF, ZIP, text documents and more. To do this, you need to install on the mobile device, dropbox e CloudSend from the Android Play Store. Start CloudSend and sign up for your account dropbox. Using a file manager then go to the folder where the file you want to share with WhatsApp is present. Tap on it and hold your finger to see the option Share: select it and recall it from the available options CloudSend. Then go in CloudSend, tap the file and from the window Share file link via select WhatsApp. You can thus send files through WhatsApp and have them downloaded by your friends.
WhatsApp Web even with the iPhone
For some time now, those who have an Android device have been able to use WhatsApp via their PC browser. With a tweak of Cydia, however, it can also be used with iPhone jailbroken. Just install WhatsApp Web Enabler from the BigBoss go to settings and put on On WhatsApp Web Enabler. Once this is done, you need to force close WhatsApp and restart it by going to the settings menu and tapping Web WhatsApp. All you have to do is connect from your PC on http://web.whatsapp.com and scan QR queues.