Someone sent you a blank message and you can not replicate? You must know that it is possible send a blank space on WhatsApp in single chats and in groups, using small tricks thanks to applications dedicated to this function.
Although WhatsApp is the most famous messaging application in the world, there are many tricks that not everyone knows, with which you can add features.
In this case for send a blank message on WhatsApp it is possible to use third-party apps, we have some of the most interesting and effective ones. Let's premise that on iOS there does not seem to be any applications that allow you to leave an empty space, at least not on the official Apple Store.
The three applications we propose are for smartphone e tablet Android, both simple to use and working perfectly.
Why send blank space on WhatsApp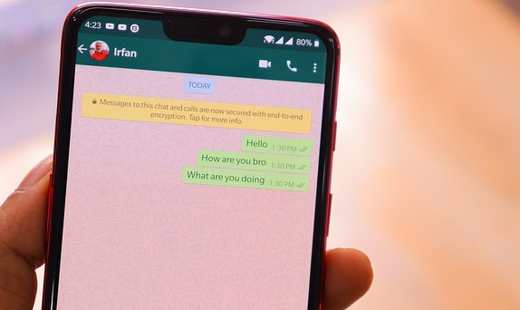 The reasons that can push someone to send a blank message on WhatsApp are various, for example, to make a joke, or, to check if a contact is online before sending him a text message.
Again, within the group chat, you can send a blank space to see if it is displayed or for check who is online with a reaction to the strangeness of the message.
In short, beyond the reasons, it is undoubtedly interesting to better understand how to access this function.
Recall that WhatsApp does not allow its to send blanks, but it is possible create more spaces within pieces of text of the same message before sending it.
Read also: How to put a blank space on Instagram
Blank Message (per WhatsApp)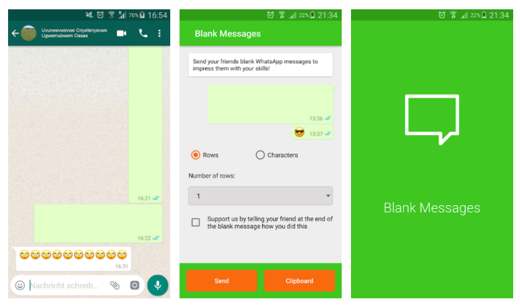 Blank messagge is an application available for free on the Play Store, whose operation is simple and based on a very specific logic.
This app does not send a blank as such, but it does insert a character on WhatsApp that mobile devices cannot interpret.
In fact, therefore, there is some text in the message but it appears empty, the content does not have any letter or symbol.
After downloading and installing the application on your smartphone, by opening it you will find a screen that allows you to select the number of empty lines that you can insert in the message.
After creating the space, a button is shown that serves to copy the message and paste it on WhatsApp within single or group chat as a blank message.
A trick that also works on other instant messaging apps like Facebook, Messenger, Telegram and Skype mobile version.
Empty Text! – Send Blank messages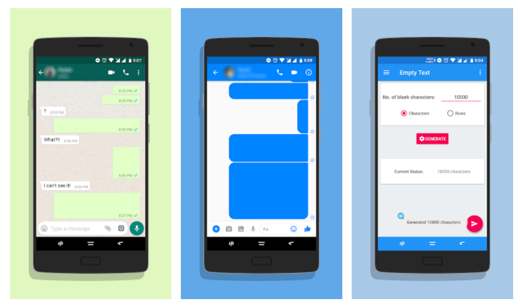 Empty Text and another one Android application that allows send blanks on WhatsApp in a simple and immediate way. It works by choosing the empty space and the contact to send it to.
After downloading and installing the app, a screen with the button is shown SEND, by clicking on it you can scroll through the list of numbers WhatsApp contacts and confirm the sending of the blank message.
It is not necessary to do any other operations. Also this application allows, alternatively, to create text with empty space and then manually paste it into conversations on WhatsApp.
Blank Text Creator: Send empty message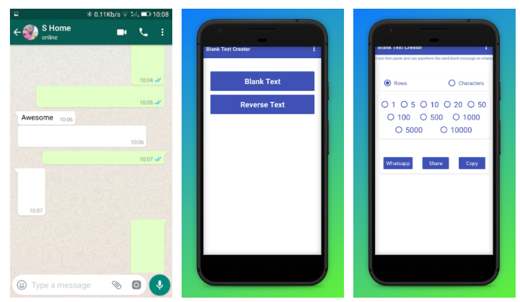 Blank Text Creator, Free Application to send an empty space on WhatsApp in a few seconds, just like the other two mentioned above.
It's possible copy blank text, paste it on the conversation and use it to send a message with blank space.
It doesn't just work on WhatsApp, the empty text created can be used on any other messaging application, or, to create spaces in profile descriptions. You can choose the number of blank lines to create from 1 to 10.000.
Other applications to send empty space on WhatsApp
As you will have understood, the functioning of this type of app to create blanks on WhatsApp it's the same: either you create invisible and unreadable text for mobile devices and paste it into conversations, or, you send the empty space directly from the third-party app in use, to a WhatsApp contact, selectable from a list.
Here are others useful apps to send blanks on WhatsApp and other instant messaging applications:
Invisible Text
Send Empty Text
Empty – No Word For WA
Blank Message
Blank Message – Empty Chat
Empty Text – Send Blank Texts
Word Repeater & Blank Text
Empty Empty Chat
How to send blank space on WhatsApp Web
Open WhatsApp Web from your PC and then go to your smartphone and after opening WhatsApp press on the menu (icon with the three dots) and touch Web WhatsApp. Frame the QR Code to access and see your contacts from your computer.
Below, copy the space between the two square brackets: [] and paste it in the WhatsApp chat and then send it.
Read also: How WhatsApp Web works