Vehicles, karts, DLCs, characters and unlockables: everything you need to know.
Time to warm up the engines too Nintendo Switch: after having dabbled for over a month with The Legend of Zelda Breath of the Wild, another great title meant for Wii U lands on the new Nintendo flagship. Mario Kart 8 Deluxe it is in fact the definitive edition of a game that we have already had the opportunity to flesh out for good at the time on the previous console. It comes naturally in the most updated version possible: new characters, new tracks, all the contents of the previous DLCs arrived on Wii U, a completely new mode (the Battle Mode) and finally a decent technical update. Let's see all the main news together, and also how to unlock the most interesting characters and karts.
From the very beginning you will have ben available 42 playable characters in Mario Kart 8 Deluxe: all those of the former standard version for Nintendo Switch, with the addition of the additional characters arrived in the three DLCs published by Nintendo in the summer of 2015. Similarly, right now you will have the opportunity to compete in all the tracks released up to this moment (those of the DLC included). What is there to unlock, then? Do not worry for collectors: Mario Oro and all the parts of the selectable karts will be carefully found in the game, completing challenges, races and collecting coins scattered around the tracks.
What did we have on Nintendo Wii U?
On Wii U we had 14 characters to unlock, and we could find them almost completely randomly. "Almost" completely, because the eighth player that was unlocked was always our Mii. In Mario Kart 8 Deluxe instead we will have, as we mentioned before, 42 characters available immediately: among these also Baby Rosalina, Rosalina, all the Koopalings (Iggy, Roy, Larry, Lemmy, Wendy, Ludwig and Morton), Toadette, Lakitu, Pink-Gold Peach and Metal Mario, and finally our Mii.
With the DLC, additional interesting characters had arrived on Wii U, which were going to rebalance the multiplayer mode of the title: Mario Tanooki, Peach Cat and Link had been introduced in the expansion dedicated to The Legend of Zelda; the Villagers (male and female) of Animal Crossing and Bowser Skeleton had instead arrived with the expansion dedicated, in fact, to the world of Animal Crossing.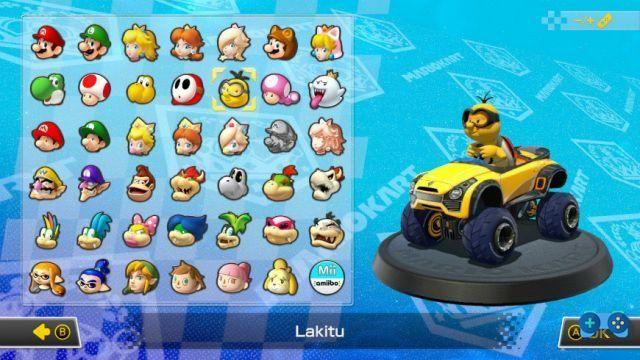 Furthermore, if you remember correctly, the purchase of both DLCs had introduced eight colored variants for both Yoshi and Shy Guy. All this goodness will be in your hands immediately as soon as you insert the Mario Kart 8 Deluxe cartridge into your Nintendo Switch console.
Great, so what changes in Mario Kart 8 Deluxe?
We've left behind the days of unlocking random characters by collecting coins along the tracks. We all have our heroes right away. Indeed, we have them all except one: Mario Oro is missing. To unlock him too you will have to sweat a few shirts.
But it doesn't stop there. They joined the team as playable characters King Boo, Tartosso and Bowser Junior. And if that's not enough for you, for the first time they also arrive in a title of the Mario Kart series Inklings from the famous new IP Splatoon.
But we were talking a little above about Golden Mario, or Mario Oro. How do you unlock it? Quickly said: first of all you will have to finish first in all the 50cc, 100cc, 150cc and 200cc Cups. Once all modes have been completed, Gold Mario will replace Metal Mario on the character selection screen.
How to unlock karts and components
Mario Kart 8 provides from the beginning seven basic vehicles between motorcycles and karts, four sets of wheels and a glider (yes in short, that tarpaulin to glide with our vehicle from great heights). You can unlock other 18 basic pieces for kart / motorcycle, 17 sets of wheels and 10 tarpaulins. To do this you will need to collect coins during the races: each new piece will require 50 sparkling coins, up to a thousand coins. From there on for each new piece you will need another thousand coins.
But it doesn't stop there: there are 3 other interesting components, all of them entirely of gold. These are basic for the kart, glider and golden wheels. Since we are good we also tell you how to unlock them and make a great impression online: to have the gold kart you will have to get a star in every single cup for every speed class. The gold wheels will unlock, however, by winning against the ghosts of the staff in each time trial. Finally, by collecting 10.000 coins, you will also have the glider for you.
The DLC included in the package still add new vehicles and accessories, in detail 11 vehicles, three sets of wheels and two gliders. In Mario Kart 8 Deluxe completely new, rather, there are the Koopa Clown (coming directly from Mario Kart 7), the Inkstrider (Splatoon) and also from Splatoon lo Splat Buggy.