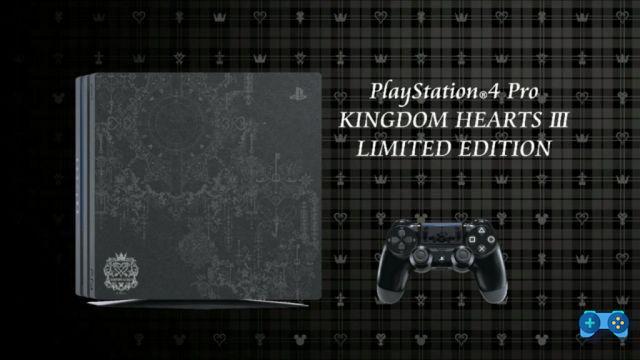 I have been having strange thoughts lately… This is all real… Is it not?
The wait for the new chapter of Kingdom Hearts is far from dormant, in fact the hype train runs faster than ever and the passengers are more and more numerous.
Is it also thanks to us? We really hope so, making this epic series known to as many gamers as possible is a duty, before being a pleasure.
For some time the lovers of the series had been fascinated by the PS4 Pro screen-printed with the Kingdom Hearts logos, until a few days ago it was not known if this beauty would also land on European soil.
Sony has finally announced the console and game bundle, inside there is a PS4 Pro "in matte black is decorated with an intricate pattern that describes the emblem of Kingdom Hearts and is characterized by leather-like finishes. The matching glossy black DUALSHOCK 4 wireless controller features decorative motifs on the touch pad "and a physical copy of the game in a Deluxe version, with the protagonist's exclusive pin, artbook and steelbook.
Let us know in the comments on our Facebook page what you think, if you will buy it and if you are also on board the hype train.