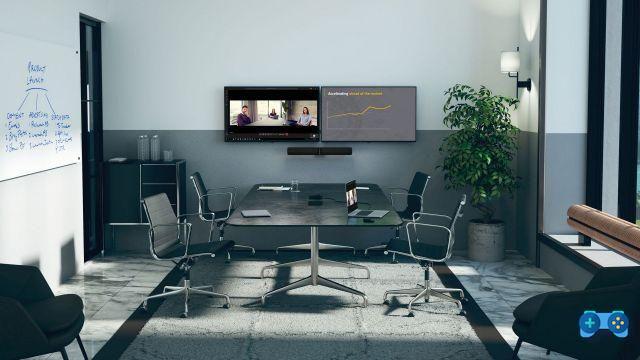 Jabra today announces the new PanaCast line of professional video cameras worldwide, designed to reinvent meeting room video, audio and intelligence for what is now called the "new normal" business.
The new range includes: Jabra PanaCast 50, designed to be the first smart video bar for the new normal, e Jabra PanaCast 20, an innovative smart personal camera.
Today, hybrid work is, as mentioned, the "new normal". The teams collaborate more and try to do so in a flexible and hybrid network, from coffee bars, to their homes, to satellite offices. Since the onset of the global pandemic, there has been a significant increase in the use of video: the 66% of professionals in the office used a standalone webcam or a video camera integrated into the PC before the COVID era, and today 86% of smart working workers do the same1.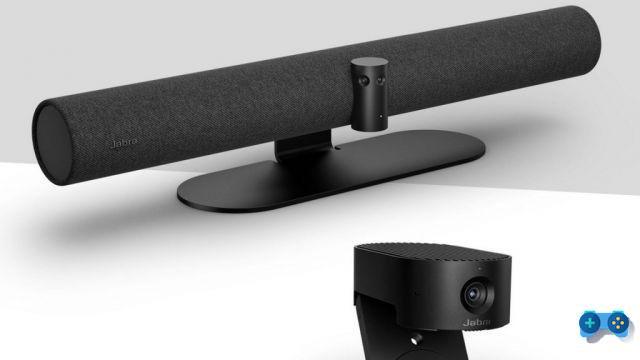 The Jabra PanaCast range has been designed to help businesses navigate this hybrid and flexible business environment by combining immersive video views, industry-leading audio technologies and cutting-edge Artificial Intelligence to completely reinvent professional meetings and collaboration.
When the theme is an office solution, businesses are often forced to choose between great audio and high-definition video. The Jabra PanaCast 50 addresses this problem by offering a Plug and Play solution capable of guaranteeing both, without penalizing either component.
PanaCast 50: Immersive video and audio
The Jabra PanaCast 50 can effectively assume the role of meeting "director" by intelligently adjusting the video stream to follow the action in the meeting. There Virtual Director function uses both AI-based video and audio streams, as well as Jabra's proprietary AI algorithms, to automatically adjust the shot based on what's happening in the meeting. This allows the Jabra PanaCast 50 to detect the figures taking turns speaking and the flow of conversation, thus providing a remote meeting experience that is completely engaging and stimulating.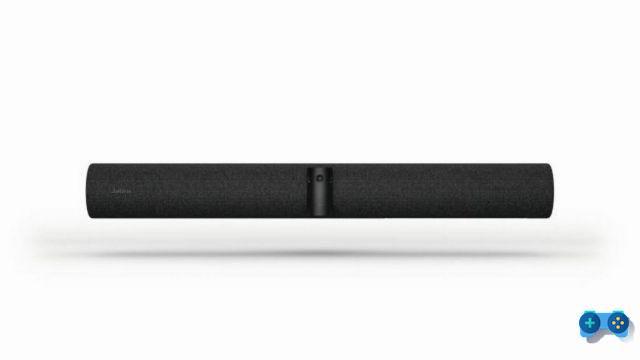 Three 13 megapixel cameras mounted in a high-precision multi-camera array they create an immersive 180 ° Panoramic-4K field of view that spans the entire room. Patented high definition, crisp real-time video stitching technology uses advanced algorithms with ultra-low latency. From one-person calls to entire team meetings, this intelligent technology includes all participants in the most optimal way.
Jabra PanaCast 50 presents nine powerful Edge processors, including two state-of-the-art Edge AI processors designed specifically for audio and video. This ultra advanced system architecture allows the smart video bar to integrate audio, video and data in real time. The function is thus powered Intelligent Zoom which always frames the user perfectly even in the distance. The function Virtual Director ensures the transition of video frames by framing the speaker from time to time. This makes it much easier for remote participants to follow the discussion and allows the Jabra PanaCast 50 to deliver an immersive and immersive video experience, without distractions.
Jabra PanaCast 50 can deliver two video streams simultaneously. This allows the device to perform multiple functions at the same time, so while one video stream is busy focusing on meeting participants, the second can be used to focus on a particular area of ​​interest within the room. The two video streams allow also the whiteboard sharing function: this feature - integrated into the device itself - allows you to capture the content that is then broadcast live within the meeting, so that each participant or student can contribute to the discussion, without putting those not present in the room at a disadvantage .
Intuition-driven behavior
In addition to the dual video stream, PanaCast 50 also guarantees an independent 180 ° data stream that focuses on people count as numerical information in real time. Thanks to its 180 ° field of view, PanaCast 50 can achieve 100% meeting room coverage and provides the best opportunity to count everyone in the room. This information is anonymous because the device simply counts people and does not recognize them.
The function PeopleCount of the PanaCast 50 allows the system to compare this count with a limit number of room capacity defined by the customer to determine if this number is greater than the capacity identified and, if necessary, make the correct decisions for safety and correct spacing.
Powerful sound
PanaCast 50 is equipped with eight microphones equipped with beamforming technology, supported by intelligent algorithms that remove disturbing noise. Four powerful Jabra-designed speakers - two 50mm woofers and two 20mm tweeters - in one zero vibration stereo configuration, fill the room with high-quality audio and definition, while the latest two-way audio technology delivers more natural conversations. PanaCast 50 works with all major UC platforms such as Microsoft Teams and Zoom.
PanaCast 20: quality and safety at your fingertips
With Jabra PanaCast 20, smart working professionals can benefit from secure, high-quality video collaboration, no matter where they are - through a stylish, compact, portable and easy-to-use product.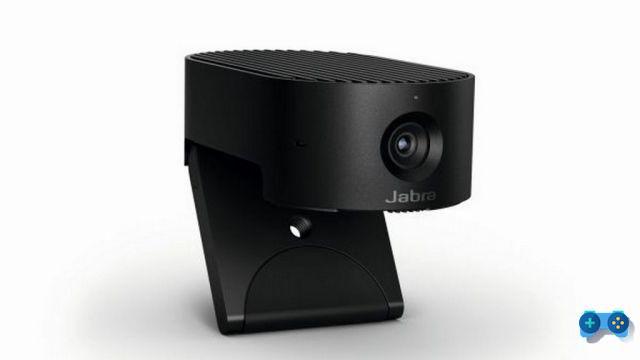 The camcorder is equipped with Artificial intelligence managed on the device with Edge processing, and advanced experiences are generated directly on the device without sending extra data to the cloud for processing, and without the need to install additional software, significantly reducing the risk of security breaches and maximizing speed, accuracy and overall quality. The camcorder has a built-in lens cover to ensure privacy and prevent the device from being left "on" accidentally.
Security guarantees for those who work away from the office are important, but so are the quality of the video and images. The PanaCast 20 offers all this through 4K Ultra HD video, HDR video and the custom Intelligent Zoom function, which always frames the main user correctly, no matter where they are. The camcorder also features automatic lighting correction.
For more information https://www.jabra.com/panacast
Jabra PanaCast 50 - Main features and specifications:
World-class sound quality, guaranteed by world leaders in professional audio
The unique 180 ° field of view allows all participants to respect the safety distance2
Virtual Director intelligently adjusts video in real time for more engaging and immersive meetings2
The Safety Capacity and Room Usage Insights functions generate anonymous data on room occupancy, simultaneously for all ongoing meetings
The network-connected system allows for easy remote management and agile data delivery
Real-time whiteboard streaming for more inclusive remote collaboration
Advanced system architecture and built-in dual Edge AI processors power a host of intelligent features
Plug-and-play function for quick setup and maximum ease of use
Easy installation, with a choice of wall, table and screen (VESA) mounting 3
Works with Microsoft Teams, Microsoft Teams Rooms, Zoom and Zoom Rooms, and all major UC platforms
Jabra PanaCast 50: Available June 15, 2021 in Black and Gray. Suggested retail price: € 1.065,00 excluding VAT
Jabra PanaCast 20 - Key Features and Specifications:
Custom "smart" zoom
Automatic light optimization function
Picture-in-Picture Function: Users can easily define and integrate a second video stream into their main image
4K Ultra and HDR video
Processing through Edge AI: Adds advanced experience processing and an extra layer of security to work flexibly from anywhere
Plug-and-play connectivity for immediate use
Works with Microsoft Teams, Zoom and all major UC platforms
Jabra PanaCast 20: Available August 1, 2021 in Black.
Suggested retail price: € 267,00 excluding VAT
* includes wall mount
1 Jabra Research w. Kantar: "Work from Home during Covid-19", November 2020
2 Choose between Virtual Director and Intelligent Zoom via Jabra Direct and Jabra Xpress
3 Table Stand and Screen Mount sold separately