Instagram beauty filter. Below are the best apps that will help you edit photos naturally.
Taking a selfie might seem easy, but it's actually an art and practice is certainly the most important factor in enabling you to improve your selfies. Having the right tools to get a selfie that everyone will admire is at the same time as important as practicing.
In this article, in addition to giving you tips on how to take a selfie, I will also reveal the best app for Android and iOS to apply the Instagram beauty filter at any time.
How to take selfies for Instagram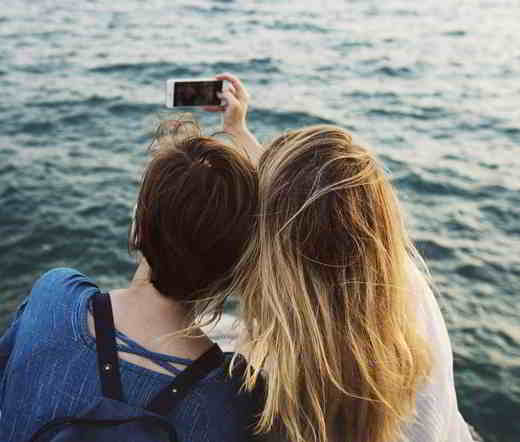 They do not exist rules for taking a perfect selfieHowever, there are techniques you can apply to have selfies close to perfection. Let's see what they are:
Angles are important: try to imagine that your phone's camera is the eye of an Instagram follower and then decide what you want them to see. Generally, it's not a good idea to hold the phone directly in front of your face, simply because it will look like you're staring at your phone.
Hold the camera above your head: The so called high angle shot is very flattering and will make your selfie more dramatic.
Don't forget the light: Natural light can make you look more beautiful even if you don't wear makeup, especially in the morning when you are still cool after a good sleep. Fluorescent lighting, on the other hand, can be a good thing to avoid if you want to take perfect selfies.
Find your filter and keep an eye on it: If you want to give your Instagram feed some consistency, choose the photo filter that flatters you the most. The important thing is not to stick to the same filter at all costs and try to experiment every now and then.
White face: for your face that is too white you can increase the heat and color of the photo by trying to choose yellow or orange. This way your face will appear brighter and more colorful. The advice is to use the filter Valencia adjusting it to 50% and leveling the contrasts and brightness well.
Expression lines: to make wrinkles disappear, use the filter Trays or try to adjust the saturation of the photograph by intensifying colors that are too cold.
Brightness: the light hides defects and imperfections of the surface on which it is reflected.
How to put Instagram face filters
Best Instagram filters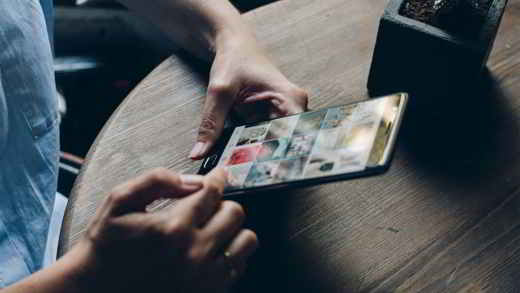 Once your photo is uploaded, Instagram filters will allow you to edit and improve it. The Instagram filters that arouse the most engagement among social users are: N, Mayfair, Increased, Valencia e yeast. But also the latest generation filters such as: Slumber, lark e Aden, thanks to their warm, yellow or pink hue.
Avoid cold colors like Hudson e Walden.
The filters Valencia e Juno, are the ones most appreciated by Instagram users, however for selfies there is no better filter than the other. Indeed many influencers do not apply any filter, alternatively the advice is:
Avoid filters that increase the saturation.
Avoid filters that create effects vintage e Retro.
Aim for filters with color tones red e yellow.
Best Instagram beauty filter apps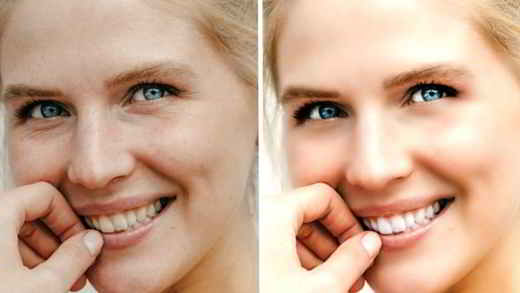 If your photographic skills can't guarantee you a perfect selfie, you can count on apps that can help you create portraits and selfies that attract lots of likes on Instagram
Facetune (iOS)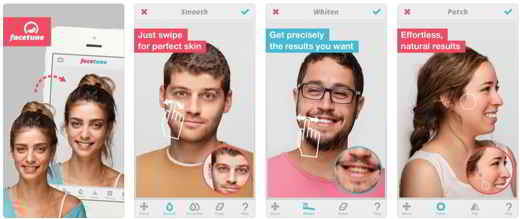 Facetune is a face photo editing app for iOS that will help you take flawless selfies and portraits for your Instagram profile. The app allows you to embellish every little detail of your face in a few simple steps, thanks to features such as customizable filters and lively tricks that can transform you into a real work of art.
You can improve your hairstyle, broaden your smile or accentuate your eyes by applying effects that can remove any imperfections in a photo. The various photo filters provided by Facetune will allow you to enhance the colors of your photos as well. It costs $ 3,99.
Perfect365 (Android, iOS)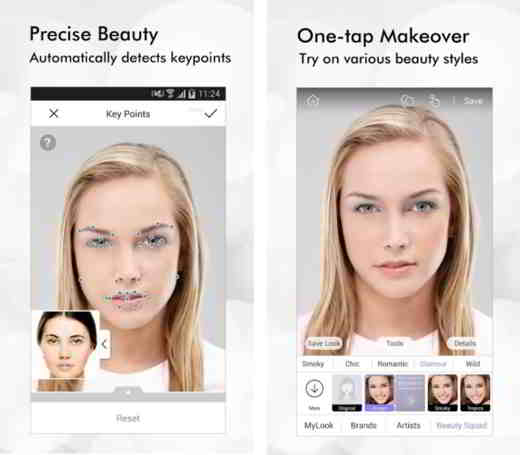 Perfect365 is a free face makeup app for Android and iOS where through a series of tools you can create a flawless selfie. If you are an influencer or want to become one, with this app you can experiment with more than 200 preset styles that you can apply to your photos with a single tap. Additionally, lipstick, shadow or teeth functions are also available, while the app's color options ensure that every edited photo meets the highest aesthetic standards.
The app Perfect365 it is free but if you want to take advantage of some vital options you will have to buy them which makes this app a bit expensive. Price € 0,73 - € 9,49 per item.
Spring (iOS)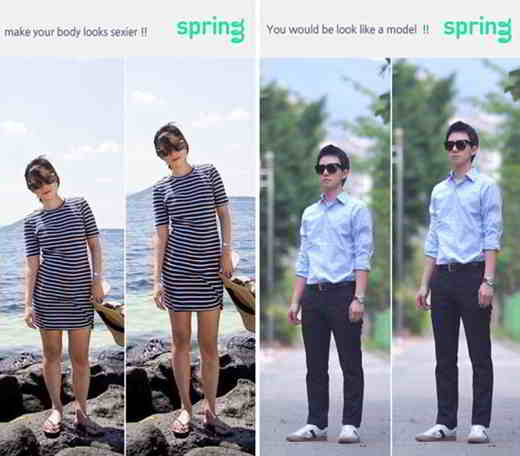 Spring is an Instagram beauty filter for iOS that allows you to resize your head or stretch your neck. In fact, this app is a powerful tool that reduces your body in a natural and very realistic way, so users who use it never have to feel uncomfortable with how they look in a photo. Also, the head scaling feature plays an important role in creating the illusion of realism as it allows you to make the head proportional to your body.
The features Spring offers can be fun and even useful enough for creating amazing selfies, but the app doesn't provide any other beauty filters or makeup effects other than the ones I mentioned to you.
TouchRetouch (Android, iOS)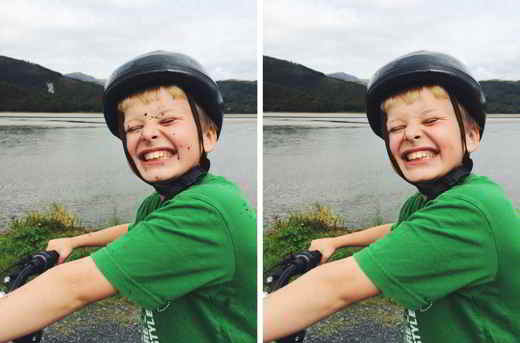 The app TouchRetouch compatible with Android and iOS facilitates the removal of unwanted objects from any type of photo. The instruments Lasso or Clone Stamp allow you to have perfect control over the photo manipulation process. App users don't have to worry about making mistakes because the tool Eraser (Eraser) allows you to undo any mistakes made. If at any point of your Instagram selfie, you need assistance, the app provides a tutorial worthy of all possible information on how to use the TouchRetouch app. The app is paid.
Microsoft Selfie (iOS)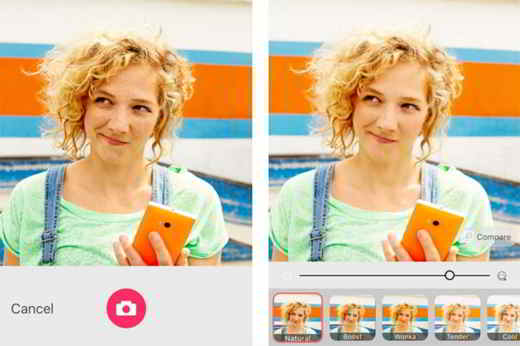 Microsoft Selfie is a free iOS app that can automatically enhance your photos by taking into account age, gender and skin tone. The app also influences the light values ​​that produce perfectly natural images, so that they don't appear modified. The function Denoise automatically activates when the app recognizes a photo taken in low light conditions and reduces the amount of noise in an image.
Choosing the filter mode Boost users of this app can correct the exposure of a photo or create a sharper image that offers less blur. Despite its amazing features, Microsoft selfie it lacks advanced photo editing features that can be useful during the process of creating a great selfie.
Adobe Photoshop Express (Android, iOS)

Adobe Photoshop Express is a free app perfect for editing your selfies. The function Correction automatic allows you to correct exposure, white balance and contrast with a single tap, while i scrolling controls are available for options such as clarity, tint, or vibrancy. The app offers 45 photo effects in different categories, which means that creating stunning black and white selfies is a simple task. The abundance of features supported by Adobe Photoshop Express might be overwhelming for the inexperienced, but this app will undoubtedly allow each of its users to create beautiful selfies for their Instagram accounts.
More Instagram beauty filter apps
Selfissimo (Android, iOS)
MakeApp (IOS)
Panda (IOS)
Meitu (Android, iOS)
Airbrush (Android, iOS)
Other useful articles