Have you recently bought a new Android smartphone and are trying to transfer WhatsApp conversations on an iPhone to it, but you don't know how to do it? Quiet below you will find all the explanation about how to transfer WhatsApp from iPhone to Android quickly and easily and without wasting time.
A good help to help you transfer, backup and restore your WhatsApp messages can give it to you iSkysoft Toolbox. It is a multifunctional app capable of transferring WhatsApp (including videos and images) from iPhone, iPad or iPod Touch to another iOS or Android device. Below you will find valid suggestions on how to use the many features of the iSkysoft Toolbox app.
How iSkysoft Toolbox works
iSkysoft Toolbox is a program available in free or paid version that can be downloaded from the official website by clicking on the button free Download for Windows or Mac, to test its incredible potential.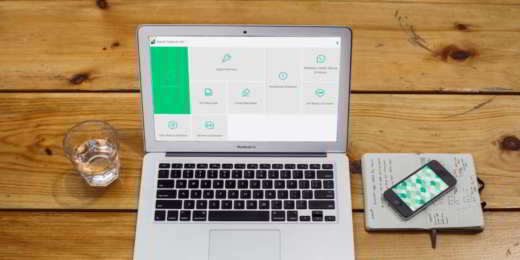 Upon startup, iSkysoft Toolbox comes with a very intuitive user-friendly interface with featured features that you can download and apply at any time, which are:
Recovery: Recover your Android or iOS phone data. Recover deleted contacts, messages, photos, notes, etc. from iOS devices, iTunes and iCloud backup files. Recover deleted contacts, messages, photos, notes, etc. from Android devices, including broken devices and SD cards. Connect the USB cable device to the PC and unlock its screen.

Transfer: Transfers data between your Android or iOS phone and your computer. After connecting your device to your PC, select what you want to transfer from the categories Music, Videos, Photos, Applications, and much more.
Repair: Repair your iOS system by fixing issues like black screen of death, stuck Apple logo, freeze loop on startup, frozen iPhone, lock on connect to iTunes, and so on.

Clear: permanently delete data from your phone.
Go: Copy data from one phone to another. Connect the phone through the USB cable to the PC and backup the phone data. Restore the backup data to the new phone.

Backup and Restore: Backup and restore phone data including iTunes and iCloud backup files.
Unlock: remove the phone screen lock. Connect your device with USB cable to the PC and you will be able to unlock the screen of your mobile device both if you have forgotten the password and if the device is locked.

Reset Social App: Transfer WhatsApp from iOS device to iOS device or Android device, restore WhatsApp messages to iOS device, backup iOS WhatsApp messages to computer and export photos and videos, restore WhatsApp messages to Android device.

How to transfer WhatsApp from iPhone to Android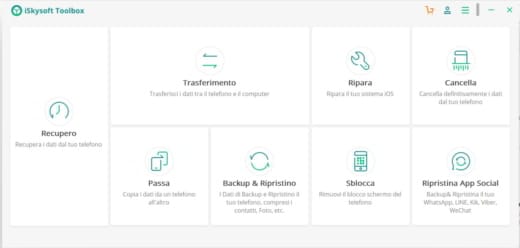 Since the iOS operating system is completely different from Android, the difficulty of a transfer process between iPhone and an Android phone may prove impossible. Yet there are some simplified modalities offered by iSkysoft Toolkit that allow this process.
Below are four ways to transfer WhatsApp data from iPhone to Android that will help you in your intent.
How to transfer WhatsApp chat history from iPhone to Android
After installing iSkysoft Toolbox and launching it, to transfer WhatsApp from iPhone to Android select the option Reset Social App and, in the following screen, click on Transfer WhatsApp messages.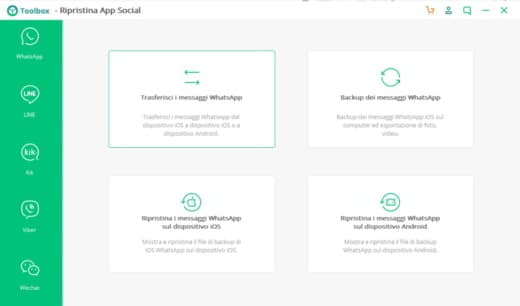 Connect iPhone as source device and Android phone as target device to PC via USB cable. Press the button Transfer. A window will appear asking you to confirm overwriting existing WhatsApp messages on the target device.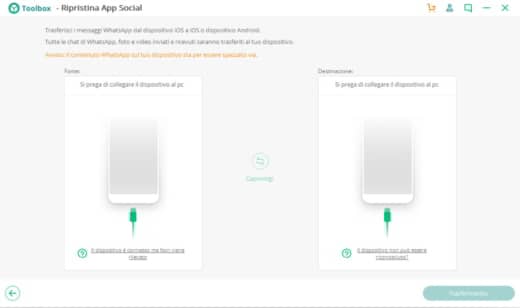 Click on Si to confirm and start the process. Make sure you keep the two devices connected for the completion of the process. When finished, all WhatsApp chats, photos and videos sent and received will be transferred to your new Android device.
How to export WhatsApp chats from iPhone to Android via email
Another solution to transfer WhatsApp messages from iPhone to Android is via email. Open WhatsApp on your iPhone and enter the chat list. Find the conversation you want to email and make a movement of swipe from right to left on the conversation and press on Other. Choose the voice Export Chat to export WhatsApp chats via email.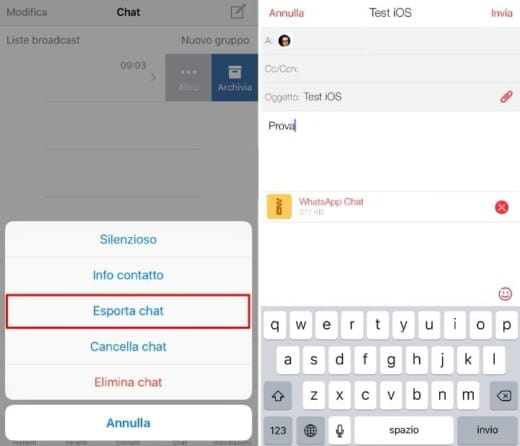 You can also decide to export not only conversations but also multimedia files: press on Attach Media o Without Media. When finished, the default email app will open and you will be able to see the attachment with a .zip extension.
Enter the recipient's email address and press Send.
To view WhatsApp messages sent from your iPhone, access the email address from the Android device with WhatsApp installed. and that's it. Remember that the file is zipped and you can easily open it with WinZip o WinRAR. The content is a file called chat.txt with other files, such as documents, images, videos and so on.
How to transfer WhatsApp data from iPhone to Android using Wazzap Migrator
Wazzap Migrator is a very useful app to transfer WhatsApp chat from iPhone to Android. This is especially useful for users who have recently switched from iPhone to Android phone. The app can also transfer attachments.
The first step to move WhatsApp conversations to Android is to extract the WhatsApp backup using the iTunes backup file. This can be done using an iTunes backup extractor.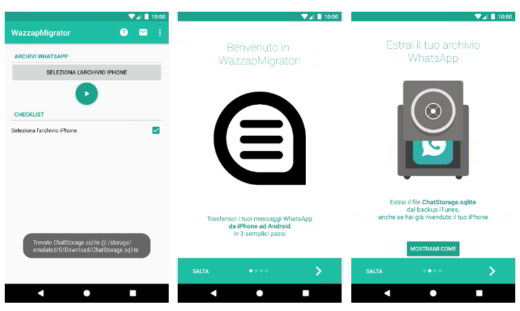 Download the app Wazzap Migrator from Play Store on your Android phone (costs € 5,99). Proceed with the installation of the app, open and stop on Select the iPhone file. Select the backup file you created and read and follow the app instructions carefully. When finished, a message will appear Conversion completed.
Now you can check WhatsApp and view the chats and attachments transferred from your iPhone.
How to transfer WhatsApp messages from iPhone to Android using WhatsApp Backup
The last mode of transfer is by backing up messages in WhatsApp, including attachments. It basically consists of backing up to iCloud o Google Drive to then be downloaded to an Android device.
Open WhatsApp on your iPhone and go to Settings> Chats> Chat Backup. Stop on Run Backup now and make sure you have an active internet connection.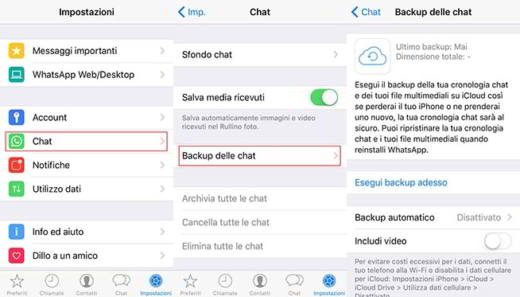 The backup data will be stored on iCloud. Log in on the Andoid device, install WhatsApp and log in with the same phone number as the iPhone (where you backed up your WhatsApp chats). You will find all the chats restored and automatically detected by WhatsApp, stop on Restore to transfer WhatsApp from iPhone to Android.
Conclusions
As you have seen iSkysoft Toolbox is an easy to use program with many features. If you want to have the full version of iSkysoft Toolbox – Restore Social App you can buy it for $ 19.95 with a 1-year license for Windows, otherwise you can buy a lifetime license for $ 29.95. Alternatively you can also choose iSkysoft Toolbox for iOS with 1 year of subscription on Windows and the inclusion of all modules for iOS devices (Restore, Transfer, Repair, Backup, etc.) at the price of 99.95 dollars.