After buying a new iPhone, you are in urgent need of transfer data from iPhone 7 to iPhone 8? I know when you buy a new iPhone, the first thought is not only to move the data from an old iPhone to a new iPhone, but also not to lose them.
Searching the net for effective software to transfer content from the old iOS device to the new one is not as simple as it seems. That's why I recommend that you continue reading this guide if you want to make a backup before switching to the new iOS 11 operating system.
transfer data from iPhone to iPhone for free EaseUS MobiMover Free it is currently the best solution on the market. It is a software that helps to transfer files from iPhone to iPhone, from iPhone to computer, from computer to iPhone. It also supports new iOS devices such as iPhone 8, iPhone 8 Plus, iPhone X and other iPhone versions with iOS 11 system.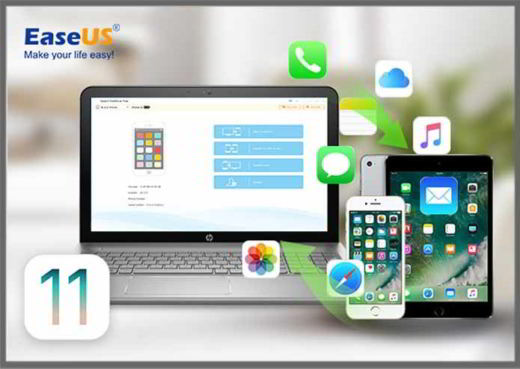 Free, simple and fast, MobiMover not only moves old iPhone or iPad data to new devices, it also allows you to:
Back up iPhone / iPad data to avoid accidental data loss.
Free up space on iPhone / iPad.
Share iPhone / iPad data with other iOS devices.
Freely add or delete your iPhone / iPad data.
With a simple click you can transfer photos, music, video, contacts, notes, ringtones, ebooks e favorite di Safari from PC to iPhone. Data transfer with MobiMover can be complete or manageable by selecting the relevant categories or creating and deleting new items in the current category. By doing this, you will be able to restore data in a targeted manner or create backups to free up space on Apple mobile devices.
HOW TO TRANSFER DATA FROM IPHONE TO IPHONE WITH MOBIMOVER

How does MobiMover work? The first step to start using MobiMover Free, now in version 2.0, is to download it by connecting to the official website and clicking on the button Download Free. When the download is complete on a Windows PC, double-click the file you just downloaded: mobimover_free.exe. Start the installation and in the window that opens, check the item I accept the agreement then click on the button Next, for three times. To conclude, press the button Finish.
All'avvio Easeus MobiMover Free comes with a user-friendly interface with clear and intuitive functions. Connect the old iPhone, from which you want to transfer data, to the USB port of the computer, and wait for the four options to appear next to the identikit of the Apple iOS devices on the initial screen of the program:
Transfer to This Device, to transfer data from PC to iPhone.
Transfer to Other Device, to transfer data from iPhone / iPad to iPhone / iPad.
Transfer to computer, to transfer data from iPhone to PC.
Custom, to customize data transfer such as Safari Contacts, Notes, Calendars, history and favorites.
transfer data from iPhone to iPhone you will have to connect the other Apple mobile device (also applies to iPhone 8 plus and iPhone X) via USB always to the computer and then press on Transfer to Other Device.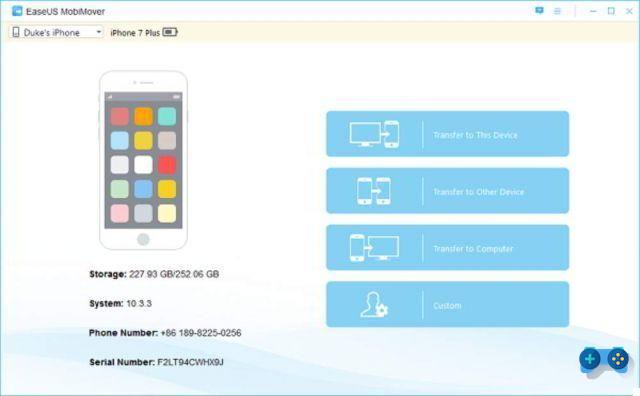 In the new window that appears click on Transfer and wait for the transfer operation avoiding disconnecting the two connected iOS devices from the PC.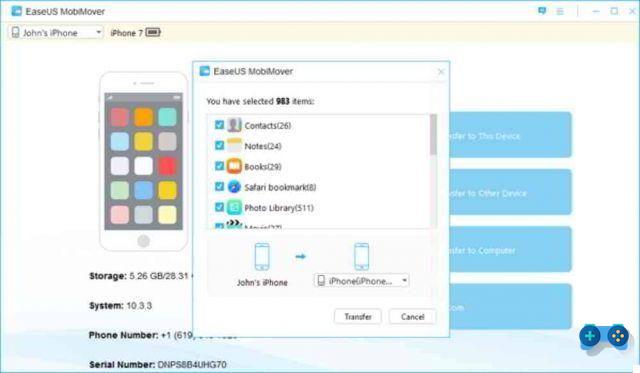 The process will start immediately after selecting the types of files you intend to transfer. Check the box corresponding to the item you want to export (for example: Contacts, Notes, Messages, etc.) and wait for the transfer to complete.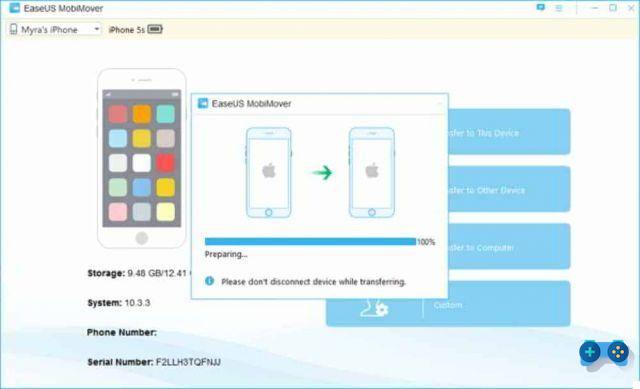 If in addition to transferring data you are also interested in adding, deleting, modifying data, you can act on the option Custom. In this customization section you can select a specific data category, which you will find on the left side, or choose all the files in the category by checking the box next to Name, top left.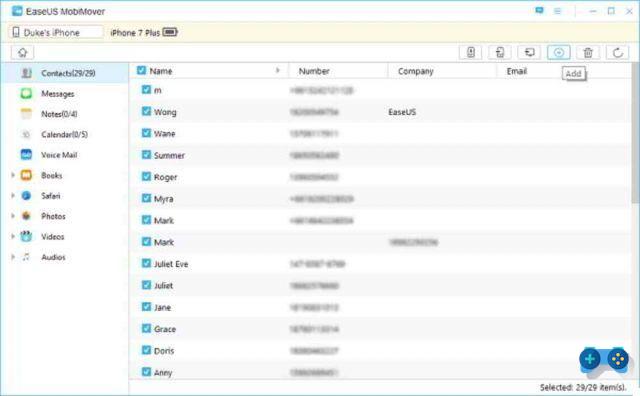 Attention, managing this option requires deactivating iCloud on your iOS device and entering the access code for the message and voicemail management authority.
If you don't know how to disable iCloud on your iPhone go to Settings> your name and scroll until you find the item Logout. Click on it and type the your Apple ID password, confirming the willingness to exit iCloud, and click on disable. Go back to MobiDevice and if requested click on the button refresh.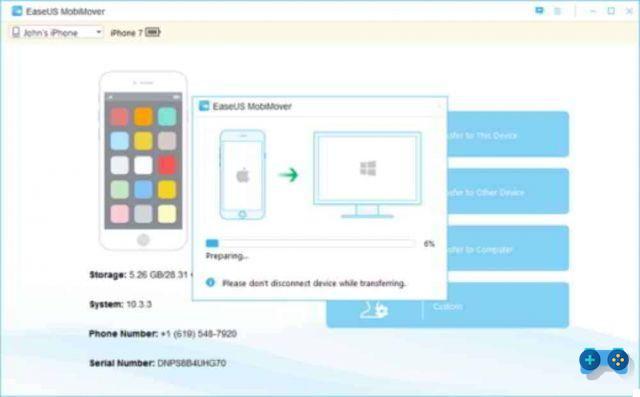 In case you want to make backups on PC by transferring data from the old iPhone, and then export them to the new iPhone, MobiMover offers two other options: Transfer to Computer e Transfer to This Device.
By clicking on the option from the main interface of the program Transfer to Computer, a window will open in which you can choose which elements to move and any destination folder that you can assign by pressing on KATEGORIEN. Then click on the button Transfer and wait for the operation to complete.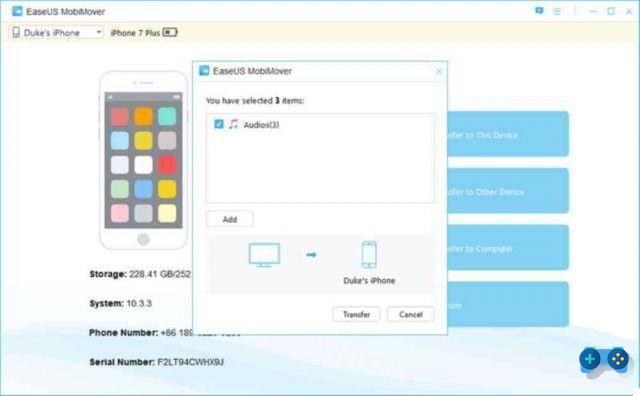 Transfer to This Device instead it is the reverse operation. By clicking on it you can choose whether to import an entire folder or a single file (for example a photo or an audio file). In the window that appears you can continue adding other elements by pressing the button Add and at the end press the button Transfer to start the move operation.
CONCLUSIONS
MobiMover, available for Windows 10, 8.1, 8, 7, is a high-level free software that can support Apple devices: iPhone 4s, 5, 5s, 6, 6s, 6 plus, 6s plus, 7, 7 plus, 8, 8 plus, X e iPad mini2, 3, 4 iPad Air, iPad Air 2, iPad Pro. In addition to the free version, there is also the Professional version, which can also be tried for free, which offers not only advanced features, including the ability to directly save files transferred to Apple applications, but also professional technical support for 7 x 24 and a guarantee of 30 days for refund.
The costs of EaseUS MobiMover Pro are: 36,95 euros (instead of 45,95 euros) with a license for 1 PC, free update and save data for 9 euros. 55,95 euros (instead of 115,95 euros) with license from 2 to 5 PCs, free update and save data for 60 euros. The latest license for commercial use is the one available from 6 to 10 PCs for € 72,95 (instead of € 229,95) with free upgrade and save data for € 157.
Adriana gil We are a specialized and passionate team of virtual reality. We have extensive experience in this area. We decided to create ForVirtualRealityLovers to share all our information with customers and users. We have quality information. You can find tips, guides, interviews, top products and much more! If you are curious, enter our site ForVirtualRealityLovers.com and discover the virtual world! 😉 Air Video HD the best App for streaming videos ❯
Articles related to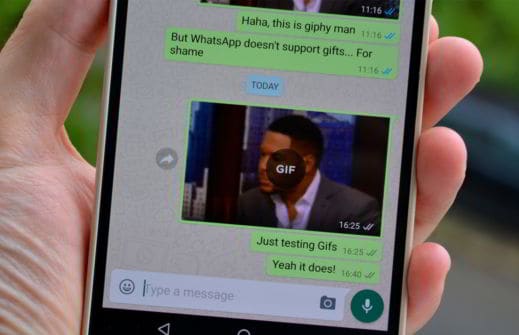 Free animated images for WhatsApp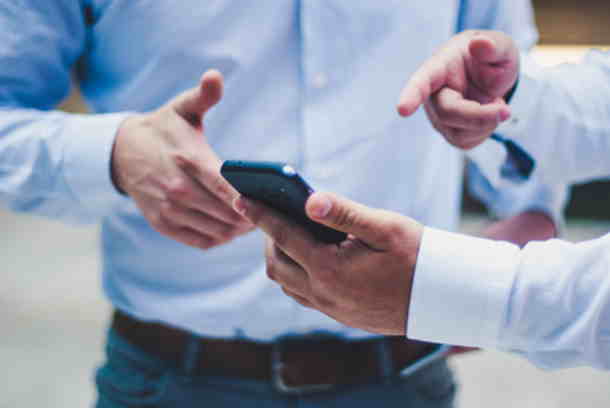 How to disable smartphone microphone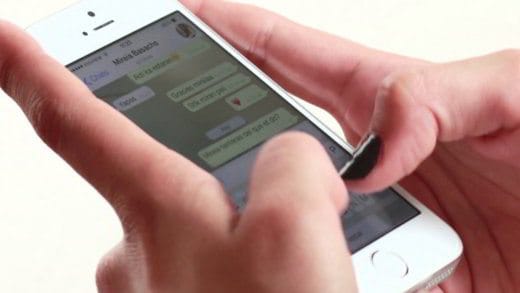 How to see who reads Whatsapp group messages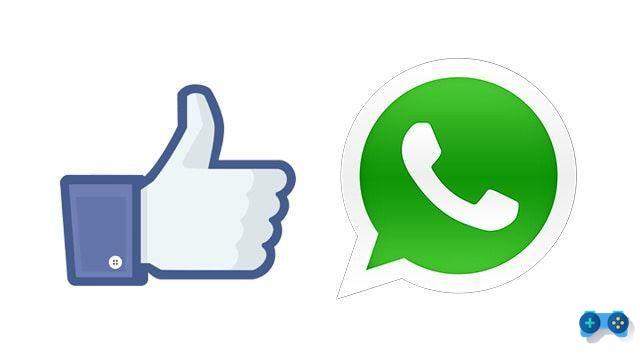 Facebook buys Whatsapp for $ 19 billion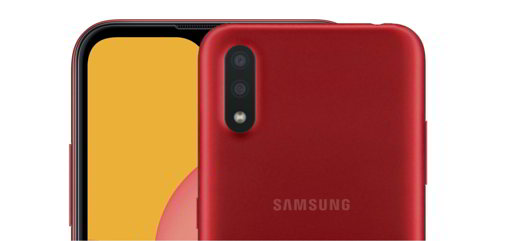 Best smartphones under 200 euros 2022: buying guide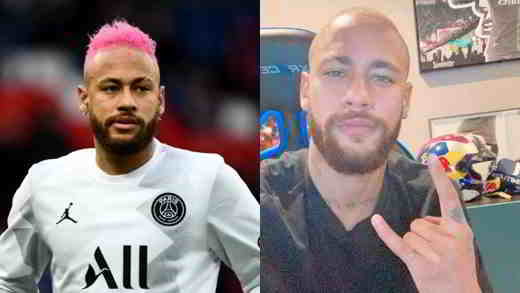 Peeled Instagram effect
Add a comment from How to Transfer Data from iPhone to iPhone with MobiMover Free
Comment sent successfully! We will review it in the next few hours.

Telephony
Come fare screenshot Xiaomi Mi A1
How to change the SIM card PIN on Android
How to publish an App on the App Store
Instagram: how to apply filters to photos without sharing them
How to install Flash Player on Android
How to save iPhone, Android and Windows Phone battery
How to transfer files from PC to Android smartphone
In 2017 WhatsApp will no longer support old smartphones: here are what they are
How to take polls on Instagram
How to recharge I have: all methods of recharging
How to set up DNS on Android and iPhone
How to change WhatsApp wallpaper
What is the name of the TikTok song, where it comes from and why it is so popular
Boot Android in Safe Mode
Introducing the new Samsung Galaxy S5 - Price, Photos and Features
How to download and save photos and videos from Instagram
How to do a survey on Telegram
How to convert iPhone video to Android
WhatsApp chain scams, how to defend yourself and block them
How to hard reset the Galaxy
❤️Chi Sleep For Virtual Reality Lovers?
For Virtual Reality Lovers we are a team of people who aim to give you all the best information about Virtual Reality.
What information do we share?
We share everything you need to know about virtual reality, tips, prices, features, guides and much more !.
🤖What are the best virtual reality products?
We have the best information section on the best virtual reality products.



This work is under a Creative Commons Attribution-Non-Commercial-No Derivatives 4.0 International License. 2021/primerpaso.me X
Check out our best articles!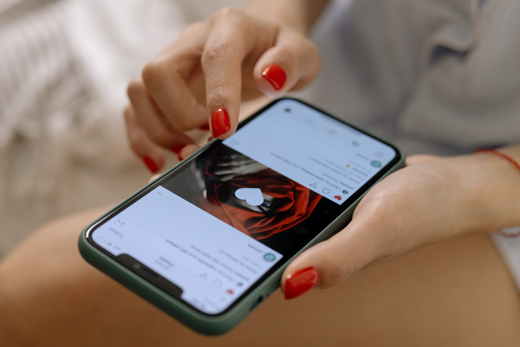 How to grow an Instagram page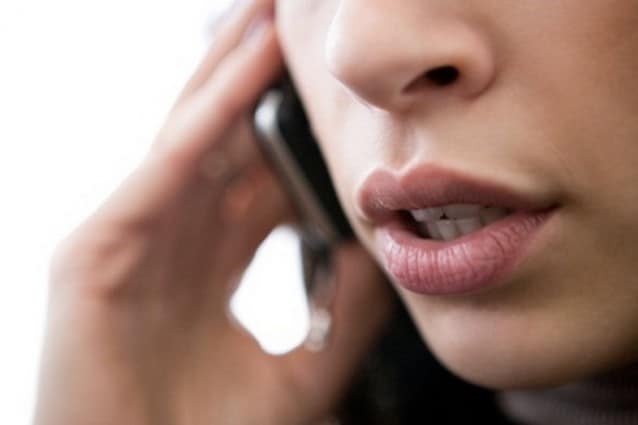 How to find out the number of an anonymous call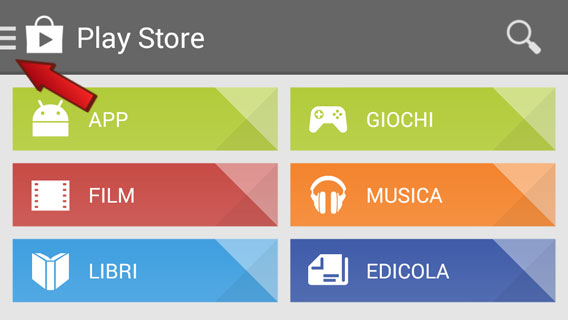 How to remove automatic app updates on Android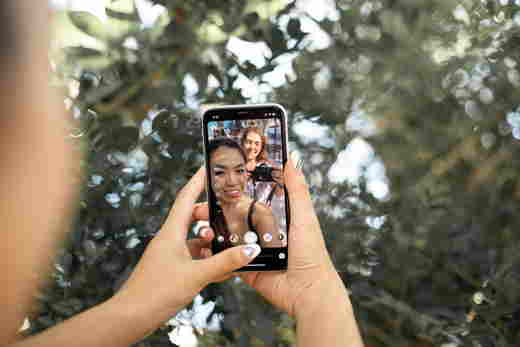 How to take photos for Instagram