How to switch from iPhone to Android without losing messages, photos, messages and apps. Switching from iPhone to Android operating system has always been a drama, let's see how to dispel this myth.
Have you recently purchased an Android smartphone? You've decided to take the plunge and ditch the iPhone for switch from iOS to Android? Well, in this guide I will explain step by step the operations to be performed for switch from iPhone to Android without losing contacts, photos, messages and apps, all you have to do is sit back and read carefully what I am about to tell you.
How to switch from iPhone to Android without losing contacts, photos, messages and apps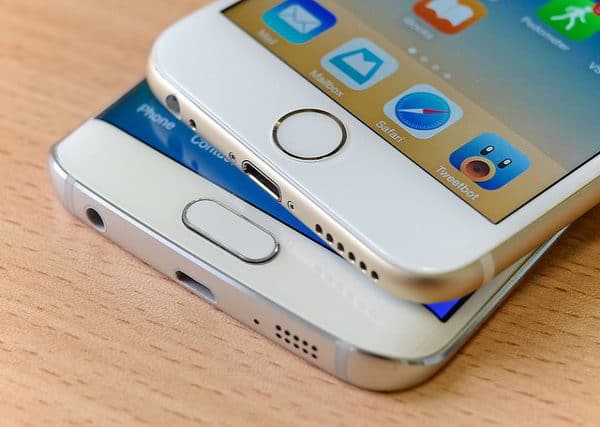 Making the transition to Android and therefore to the Google world, to abandon the safe and secure Apple operating system, is not as easy as it seems, given that we are facing two completely different operating systems.
Becoming an Android user after years and years of the iPhone will scare you but try to relax because the experience with the green robot will bear fruit over time. Unfortunately, you'll have to say goodbye to apps FaceTime e iMessage (they do not exist on Google Play) but I am sure with Android you will discover other useful advantages.
How to transfer contacts from iPhone to Android
To transfer iPhone contacts to Android you first need to start saving contacts. For transfer contacts from iPhone to Android, in iOS you need to backup the address book to iCloud. So give Settings> iCloud you have to select the item Contact Us and scroll down to locate the item Backup. Stop on Backup and back up to iCloud manually (attention to perform these operations requires a Wi-Fi connection). After saving on icloud, connect to iCloud from the PC browser and log in to the site with the username and password you use for iOS.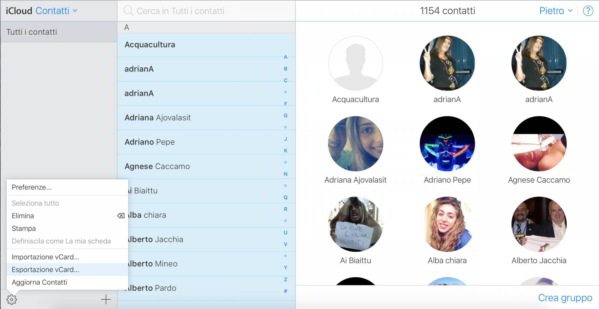 Access the contacts item, click on the gear icon, at the bottom left, and choose Select all. Click for your VCard export.
Once the operation is complete, open a new browser window on the PC and open gmail to log in with the same credentials you use on Android. From the drop-down menu at the top left, choose Contact Us e scegli l'opzione Other then import the saved file from iCloud. When you activate Android the contacts will be downloaded and synchronized automatically.
Another viable alternative is Google Drive. Switching from iOS to Android and moving contacts and calendars with Google Drive is super easy. All you have to do is open the app and go up Settings> Backup and choose the data to transfer and then click on Start backup. Always do this with Wi-Fi connection and with iPhone charging.
How to transfer photos from iphone to android
The fastest way to transfer photos and videos from iPhone to Android is through Google Gallery. It is a free app downloadable from the app store and which allows you to upload photos taken on iPhone or iPad to the Google cloud. Once you have installed the app on your iPhone, select the item Backup and synchronization from the gear icon at the top right.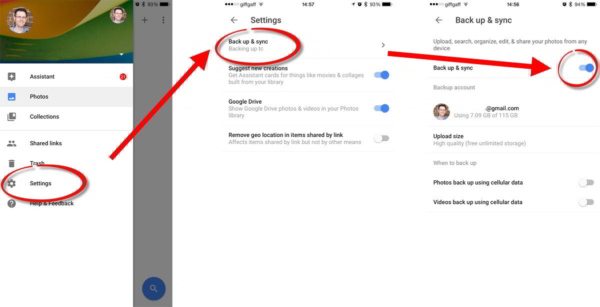 After you have authorized Google Photos to access the collection of images in memory, start uploading files (photos and videos). I always recommend that you apply these operations with a Wi-Fi connection in order to avoid wasting data traffic and speed up the upload. The time required will depend on the number of photos and videos and the connection speed.
At the end you should find in the Google cloud all your images associated with the user that you will use later to access Android. Remember that the images will be available in the Google operating system only if you have also installed Google Photos on the target smartphone or tablet and activating the synchronization of elements from the Android settings menu.
How to transfer data from iphone to android (SMS, email and messages)
Transferring messages, chats and SMS from iPhone to Android is not as easy as it sounds. While for apps such as Telegram and WhatsApp it is possible to backup the smartphone operating system in the reference cloud: iCloud for iOS and Drive for Android, for Facebook Messenger and Skype the situation is quite different. The two apps keep the saving of messages centralized. For this reason, you will need to install them on Android too if you want to retrieve the conversation history.
Before leaving iOS, remember to disable iMessage inside Settings> Messages not to lose any messages written by other iPhone / iPad owners.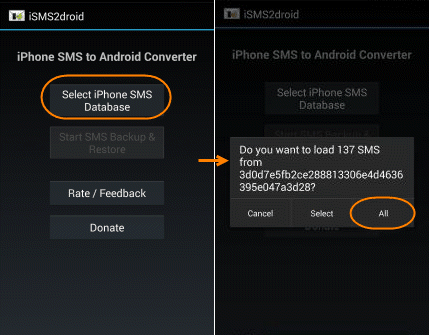 To transfer SMS from iPhone to Android, I recommend using the iSms2Droid app. This is a free app also available for Android, therefore downloadable from Google Play, which will allow you to retrieve messages in the archive of the iOS device to transfer them to the Google operating system.
To transfer emails from iPhone to Android, simply type in the server, username and password in the Android Email app to access the inbox.
How to transfer apps from iPhone to Android
To replicate the apps installed on iOS on your new Android smartphone there is only one method: manual installation. Unfortunately there is no compatibility between the Android and iOS apps. That is, it is not possible to have the guarantee that what was purchased with Apple can be downloaded at no additional cost on Android. You will need to make a double purchase. Different speech concerns the data.
The most popular and important apps take advantage of different centralized and cloud backup systems such as iCloud or Google Drive. In this way they allow the retrieval of personal information regardless of the operating system.
For example WhatsApp saves the backup in the systems predefined by the OS, generating an archive that is difficult to transport. In this case it is possible to act in two ways:
Export the chat directly from the app window and email it
Use the so-called "migrator"Available for Android, manually retrieving the streams of messages from the iPhone memory. Activity recommended only for the most experienced.
All this does not apply to the subscription plans (Spotify or Netflix), which remain active even by downloading the app for a different OS.
How to transfer music from iOS to Android
A viable solution to transfer your music from iOS to Android is through Apple Music that you can download for free from Google Play Store.
For songs purchased on iTunes, you will need to have an Apple Music subscription in order to use the app and get your songs back. If you used Spotify instead, you just need to install the app on your Android smartphone, log in with your credentials and find the old playlists like when you were on iOS.
Also check out: How to switch from Android to iPhone fast