How to register on TikTok, you can really do it? Of course yes, if your goal is to subscribe to the most used and downloaded social platform in the world and you want to become part of a growing community that now has millions of people, you've come to the right place.
As always, the only thing you will have to do is get comfortable and take some time to devote yourself to reading our guide and you will see that we will be able to explain fully and in detail all the procedures necessary to register, even if you have some problems.
So are you ready to get started? Let's go!
Read also: How to acquire old TikTok account
Minimum age, privacy and data processing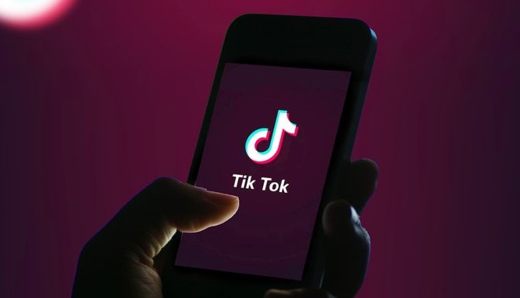 How to register on TikTok it is a procedure, as you will see, really simple in all the methodologies it makes available, but obviously there is a minimum age to access the service which is specifically 13 anni.
Due to the existence of some sporadic contents not suitable for minors, in fact, the Privacy Guarantor since February 9, 2022 has determined at this age the minimum registration limit for users, under the age of 13 the account will be automatically blocked.
And if you are worried about the processing of your personal data and your privacy, you can sleep peacefully as TikTok has drawn up some guidelines decidedly clear without resorting to any strange formula or excessively bureaucratic language.
All user data, in fact, are treated by the platform as a virtual contract aimed at usability, translating means that the information received is used exclusively to allow you to access the service itself, that's all.
If, during the registration phase, you should also check the item relating to commercial consent, in this case TikTok may send you targeted advertisements and promote internal and / or external services and updates. If you wish not to receive any communication from TikTok just do not tick the appropriate box.
Read also: Short guide on how TikTok works
The various ways of registering on TikTok
Many social networks are characterized by complicated registration methods and which can make you lose several minutes while trying to enter all the required data, TikTok instead differs for a decidedly user friendly approach that will allow you to immediately use the service.
Do not you believe it? Keep reading and you will discover some good ones!
How to register on TikTok with email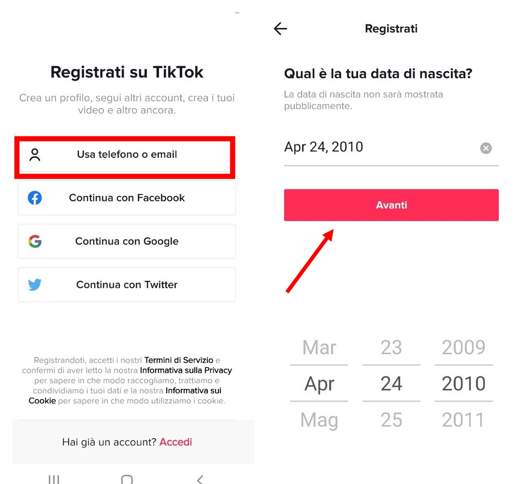 Register on TikTok through your email it is certainly one of the most used methods by virtue of its simplicity.
First of all you will obviously have to download the official social app on your mobile device, we remind you by the way that TIkTok is a completely free app available for both Android and iOS.
Wait for the complete installation and then quietly start the app. You will notice the voice immediately Me contained in the Menu at the bottom, from which you can access the item Sign Up.
By clicking on it you will be directed to the various registration methods available, in this case choose Use Phone or email, entering yours date of birth and pressing on NEXT.
At this point the moment has come when you will be asked for your email which you will have to enter in the space marked with the wording Email address, then click again on NEXT.
The next step will be to create a password to access the service which must necessarily be between 8 and 20 characters, possibly alphanumeric, and which you will insert in the space of the same name Password then press the button again NEXT.
It is close and your registration will already be completed. What you need to do now is create your nickname that you will enter in the reserved space Username being careful not to create a name already present on the portal and then conclude by clicking on Sign Up.
We remind you that you will be able to change your username every 30 days simply by going to the item Me contained in the menu below and selecting thepencil icon.
Finally, if at the time of registration you still have no idea about your future nickname, don't worry, you can decide it later and proceed anyway through the entry Salta.
How to register on TikTok with Facebook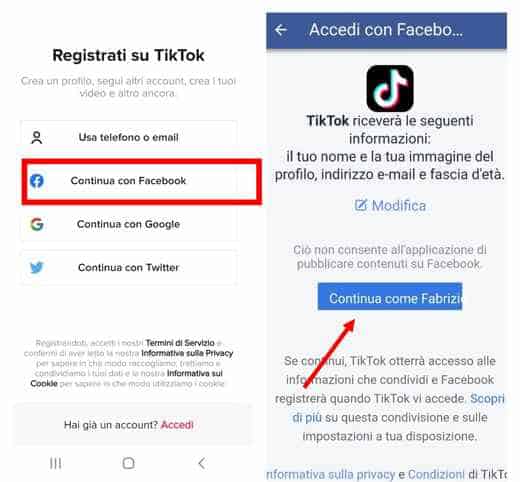 Register on TikTok using another social network? Can you really do it? Sure, as long as you keep reading us.
We assume you've already downloaded and installed the TikTok app, so let's get right into the action.
Launch the app and by voice Me placed in the menu at the bottom identifies the item Sign Up. Now select the option Continue with Facebook.
Obviously, in order to use this methodology it is essential that the official Facebook app is installed on your device.
If you are already logged in with your account, just click on Continue as username; if you are not logged in yet, enter your credentials including Phone number or email and relative Password and click on Log in and then Continue as username.
Regardless of the two cases, TikTok will ask you to confirm your date of birth by voice What's your date of birth?, after entering it click on NEXT, create your new username and click on Sign Up but I will complete the procedure.
We remind you that for all future accesses, if you have used this method, you will always have to refer to the option Continue with Facebook to be able to access the TikTok service.
How to register on TikTok with Twitter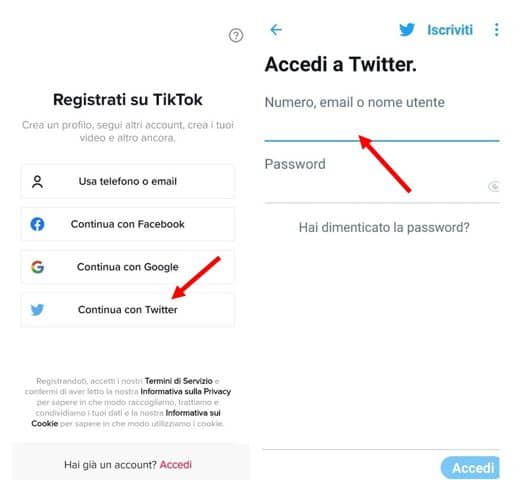 Don't have a Facebook account and don't even want to use your email? Why not use your Twitter to register on TikTok?
First start the TikTok app on your device and click on the item Me located on the menu at the bottom, locate the item Sign Up e seleziona l'opzione Continue with Twitter.
At this point, enter your Twitter login credentials specifying your phone number or email and password and click on the Authorize app item. If, on the other hand, you are already logged into Twitter, simply click on Authorize Whatsapp.
As usual, specify your date of birth in the TikTok section of the same name and click on NEXT.
Now you just have to create your new nickname to insert in the entry Your name user and finish the procedure by clicking on Sign Up.
How to register on TikTok with Google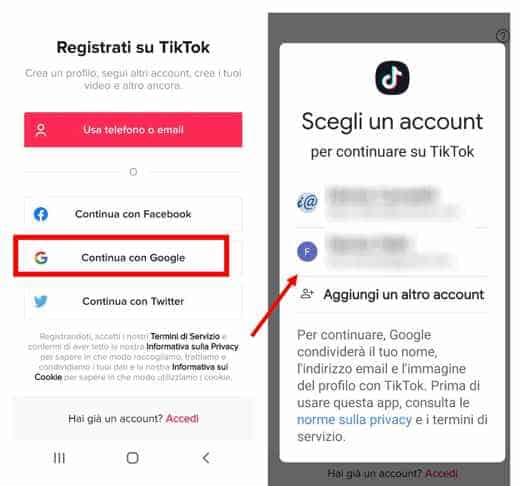 Did you know that you can register on TikTok even only through your Google account? Let's see how to do it.
The first usual step will be to start the app installed on your device and press on the Me option contained in the menu at the bottom and then on Register.
In the new screen select the item Continue with Google and click on Continue and, on the page just appeared through the voice Scegli an account, locate and enter yours.
In case your account is not among those present, do not despair. Click on Use an altro account, enter the relative access credentials including the email address and relative password and press on NEXT.
In the What's your date of birth? Enter the corresponding value, click on NEXT, create your new username and complete everything by clicking on Sign Up.
Obviously if you intend to log in from another device in your possession or more simply you have had a temporary disconnection, you will have to select the option Log in and then Continue with Google.
How to register on TikTok with Instagram
How to register on TikTok using Instagram? we're sorry, but At the moment it is not possible to create an account with Instagram. Creating an account with Instagram is no longer available. Use other methods to create an account.
Read also: How to put Instagram on TikTok
I can't register on TikTok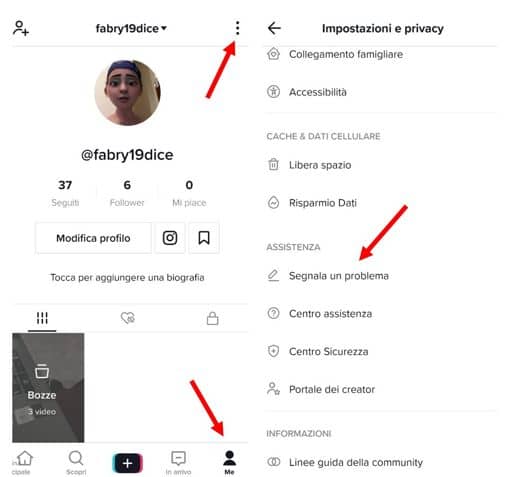 It may happen that, despite our comprehensive guides, you failed to register on TikTok and now you don't really know what to do.
You can rest assured, we will never abandon you, much less in times of need! On the contrary, we provide you with comfortable solutions that we are sure will be able to solve this situation.
The most suitable tool to use is certainly that of function Report a problem integrated into the app.
To use it you will first have to start the TikTok app and then, through your voice Me placed on the menu below, go up Settings and privacy (three dots at the top right) and then click on the option Report a problem.
In the new page that opened click on Account and profile, Then Create an account and finally on Problems when creating an account.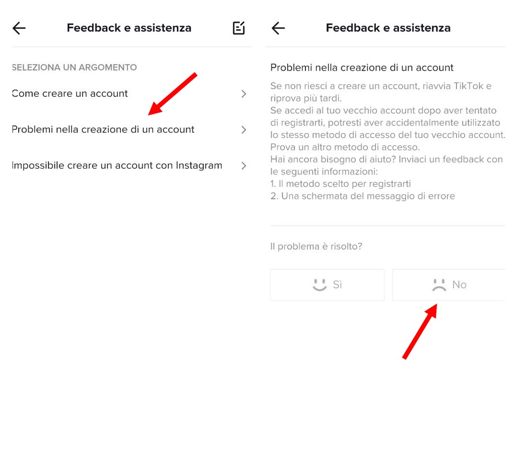 The indications present are very clear and will guide you by the hand through the various options available until you find the one that's right for you.
If you still have problems registering, go back to the previous section, the one with the relevant item Problems creating an account, and click your cousin No and then on the link Do you need more help?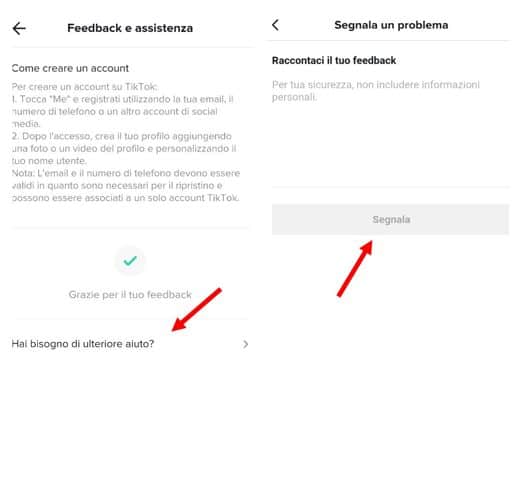 In the new screen, through the appropriate space Tell us your feedback, you will be able to describe the problem by having several characters available so that you can be as clear as possible.
If you want you can even attach a special explanatory screenshot. Finish the procedure by clicking on Report.
Through the Report a problem section you can also take into account all your previous reports.
How to have two accounts on TikTok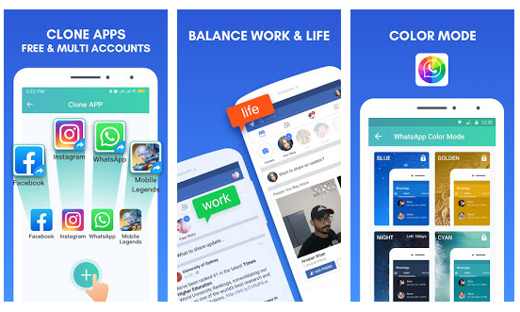 If you want to differentiate your published content, start your tiktoker career from scratch, or just want to use two TikTok profiles simultaneously on different devices, you might find the ability to have two accounts on TikTok.
The first step, of course, will be to create a second account. To do this you can use the methodology you want among those we have just illustrated, or, alternatively, you can also decide to register by simply using your mobile number.
To do this, just start the TikTok app, select the item Me placed in the menu below and click on Sign Up.
At this point, please enter your mobile number, confirm your age as usual and create your username and password. At the end of the process, just click on NEXT and the procedure will be completed as scheduled.
Using two different TikTok accounts on two different devices does not involve particular problems. If, on the other hand, you have to do it using only one device it is necessary that at least one account is not logged in, this to allow the other to be able to do so.
To disconnect your first account from Tiktok, just go to your personal profile:
Go up Me, from the menu bar
On the profile screen, click Settings and privacy (the three dots at the top right).
Scroll down the page and click on Logout and finally on Confirmation.
Now you will be free to enter the login credentials of your second TikTok account following the same steps that we have explained to you and here you will be successful in your enterprise.
Finally, a tasty alternative you can use. They exist on both the Android and iOS stores app specific who have the ability to literally clone any application, except the system ones, present on the device.
These are the best around:
Clone app
2Accounts
Do Multiple Space
Multiple Accounts
Just download one of your choice, paying close attention to the number of downloads and their rating, so as not to run into app scam, install it, start it and following the instructions clone any app you want. Yes, even TikTok, with a simple click.
THEcloned app it will not be physically present on your device next to the original app, but to be able to access it you will first have to start the cloning app which contains within it a reserved space where all the clones are present.
The cloned app behaves exactly like the standard one and by simply entering your new data, you can have two TikTok accounts on the same device.
Read also: How to use 2 WhatsApp accounts on one phone
How to enter TikTok without registering
Who said that to enjoy the TikTok show you must necessarily have an account or undergo one of the registration procedures available?
Did you know that you can watch any video you want or follow any international tiktoker or star that comes to mind without any registration?
Dreams? No, solid realities as the well-known advertising said, let's see how.
First you will necessarily need the official app of TikTok which, we remind you once again, is available for free and present both in the Android Play Store and in the iOS App Store.
After downloading and installing it, do not start it otherwise you will inevitably be prompted to continue with a registration method of your choice.
Instead, move to Google and, through the search engine, type the name of the star or tiktoker you want, being careful to add the denomination "TikTok".
The first result obtained will be that of the official profile of the desired user. Now, by simply clicking on it, you can choose whether to continue using the browser view mode or switch to the view via the TikTok app.
Confirm this last option and here you are actually logged into TikTok even though you never registered!
Conclusion
How to register on TikTok now it has no secrets for you, so why not enjoy the trendiest contents and maybe take a look at the most hilarious ones with the hope of replicating them and becoming a successful tiktoker too?
You can find out how to do it simply by reading our article: How to make a perfect TikTok if you are a beginner.