How to recover deleted android phonebook. An effective guide on how to recover a number deleted from the Android phone book due to a broken phone, broken screen, phone reset, deletion by mistake and so on.
If you have accidentally deleted names from your smartphone's address book or your phone no longer turns on, don't worry, I have the solution for you. Below you will see how to recover Android phonebook contacts with gmail, from VCF files and from previous backups.
In case you have deleted a contact and you did not have active synchronization with gmail or a cloud service, the only solution you can apply is the use of a data recovery software. But let's see in detail the steps described above.
How to recover deleted phonebook numbers from Android with Gmail
If you have an old Android smartphone and want to retrieve its address book, to have it available in the new phone, you will need to activate the Gmail sync on both phones.
In the old smartphone go up Settings> Accounts (On some phones the Account section may be under other categories, on Android find it below Accounts and backups). Then look for the logo of Google and select your email in order to verify that the entry Contact Us is active (on Android Oreo after selecting your email, press on Synchronize account and verify that the option Address book is active). If not, activate it.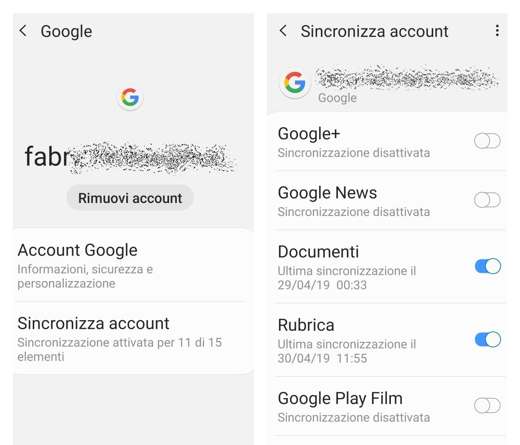 Then go to the new smartphone and perform the same steps always verifying that in the account settings Google the option Contact Us o Address book is active.
If you then noticed that you haven't set up a Google account, you can do so by going to Settings> Accounts, choose the item Add account, tap on Google logo and log in withaccount gmail with which you synchronized your address book.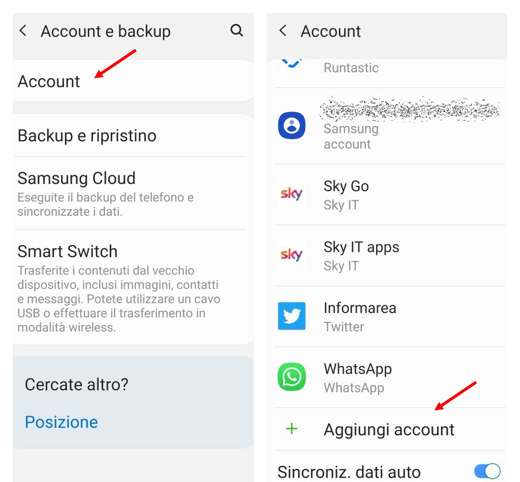 How to restore the address book to a previous state with Gmail
Do you want to return the address book to a previous state? If you've done all the instructions above, you should know that Gmail has built-in functionality for return the address book of your contacts to a previous state. To recover the Android address book with deleted contacts, you need to connect to the service Google contacts and click Moreover, located in the left sidebar and immediately after choose Annulla modified it.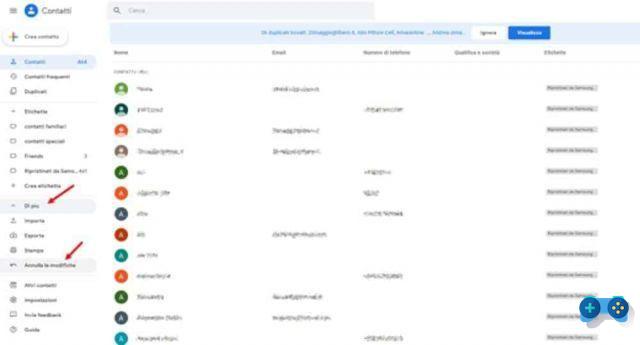 In the window that opens, you will be able to restore any state from the last 30 days for your contact list by choosing from 10 mins ago, 1 hours ago, 1 weeks ago or custom, to select a specific date. Then click on Confirmation to apply your choice.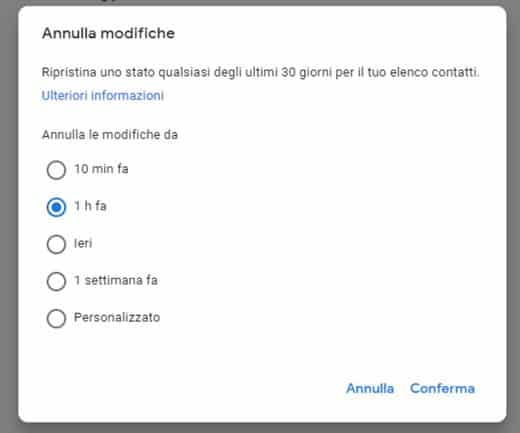 Once the Gmail address book has been restored, all you have to do is enable contact synchronization on Android and the names deleted by mistake will be put back in their place.
A valid alternative is that of export the VCF file of the Gmail address book e import it on your Android mobile device.
How to recover deleted android address book from VCF file
As an alternative to Google synchronization, you can also recover a deleted contact by exporting the address book of your old smartphone to import them to the new one. To do this go to the application Contact Us (icon with the little man) of the old phone and choose the Contacts tab. Click on the button with i three dots (...), top right, and select Settings> Contacts> Import / Export and then tap on the option to export phone contacts as file vCard (VCF).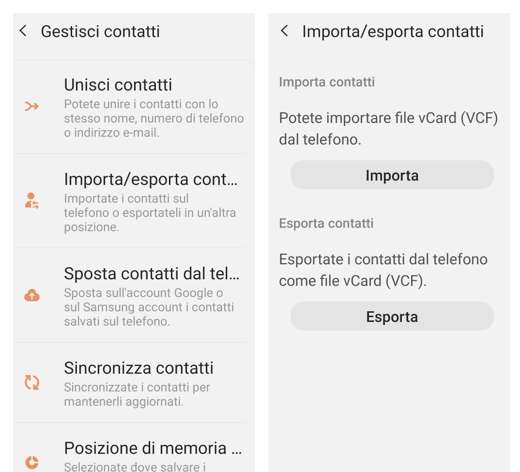 Select the location to export them to, whether in internal memory or microSD card. On Android Oreo Import / Export is under the heading Manage contacts.
Once you have saved the .vcf file (for example 00003.vcf), you can, through the integrated file manager, or by downloading Fx file explorer, share it and email it to your mailbox or save it to a cloud storage service such as dropbox.
Then log into the new Android smartphone and into the app Contact Us go up Contacts tab, then on the button with i three dots top right and then up Settings> Contacts> Import / Export and select Import uploading the vcf file from a cloud storage or from your email.
Exporting and importing a VCF file can also be done from the Google Contacts service. Click on More, located in the left sidebar and then on Export. In the window that ticks Google CSV and then press on Export.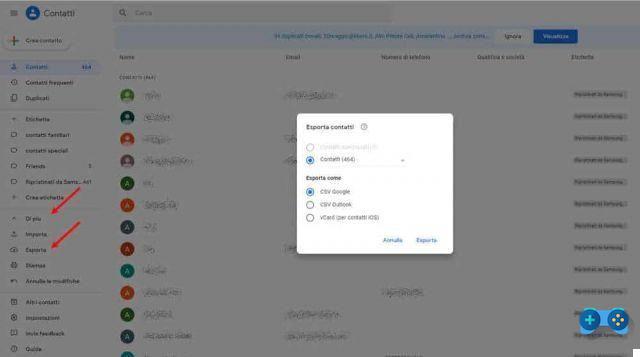 To import a VCF file, you just need to always press the item More> Import. In the window that appears, click on the Select file button to load it from your PC, and immediately press Import to complete the operation.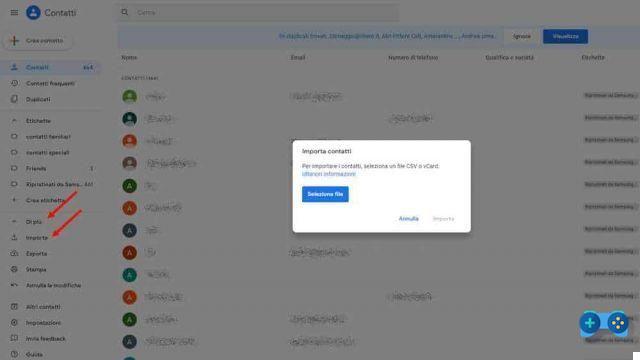 How to recover deleted android phonebook from previous backups
Do you periodically backup your phone to a microSD card or to a PC? Then you can easily recover your contacts by uploading one of the previously created backups.
If you have a Samsung smartphone, use the Smart Switch program or the desktop version that works on both Windows and Mac. For smartphones from other brands I recommend Easy Backup & Restore.
Software to recover contacts and address book from SIM

What happens if you lose your phone or if you accidentally delete a contact or the entire address book on Android phone? Here are the best software to recover Android phonebook working on the most popular phones, such as Samsung, Huawei, LG, Motorola, Nexus, Asus and so on.
EaseUS MobiSaver for Android: is the simplest tool to recover lost contacts, SMS, photos, videos, audios or documents from Android devices.
Fonelab Android Data Recovery: is a program designed to recover lost or deleted data from Android devices, even in the ABSENCE of backup, including the phone book.
Dr.fone Android Data Recovery: Compatible with 6000+ mobile devices, recover photos, videos, contacts, messages, call logs and more.
Other useful articles